Australia's daunting Simpson Desert, formed 40,000 years ago, is home to more than 1,000 wind-fanned parallel dunes running north-south. They are between three and 30 metres in height, all crammed into a 160km stretch. Today, while many adventurers drive the remote desert trek annually as a rite of passage, only one has vehicle to successfully cross has been a true sportscar – a Porsche 911 Carrera 4 Coupe, back in 1999.
Sand-driving wasn't exactly new to Porsche. Back in 1984, a factory-entered four-wheel-drive 911 won the 1984 Paris–Dakar Rally with the crew of René Metge and Dominique Lemoyne taking some advice from Porsche Motorsport engineer Roland Kussmaul at Weissach.
Five years earlier in 1979, Kussmaul and his Porsche engineer co-driver Jurgen Barth, had finished ninth outright in the 19,000km Repco Reliability Trial out of just 13 official finishers in the world's first right hand drive Porsche 924. They were the second two-person crew to finish, behind their Porsche 911 Carrera 3.0 team-mates of Edgar Herrmann and Dean Rainsford in what Kussmaul still describes as the hardest thing he ever did in motorsport. However, along with a justified dread of endurance rallies, he had valuable experience of off-road and desert driving to share.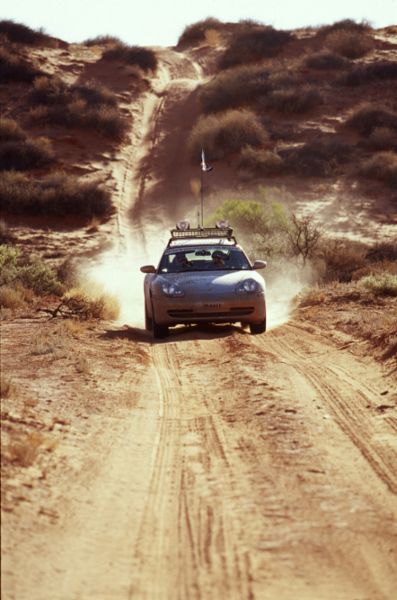 Porsche Cars Australia's quest to conquer the Simpson Desert was different. Rather than beating competitors, its mission was to demonstrate the quality of Porsche's four wheel drive technology in the lead-up to the arrival of the new Cayenne SUV, which at that stage was in its final stages of hot weather testing and high speed development, including work by Porsche AG engineers from Germany on assignment in Australia. The aim was not to meet this challenge in a rally car with special modifications and tuning, but with a standard production model Porsche.
Porsche's first volume all-wheel-drive sportscar, the Type 964 Carrera 4, was introduced in 1989 and the new Type 993 twin-turbo – the first AWD 911 Turbo – went on sale in 1995. However, when Porsche Cars Australia decided to re-state its AWD credentials in 1999, the production weapon of choice was the 911 Carrera 4 Coupe type 996.
"Suitable only for four wheel drive vehicles in excellent condition", warned the road sign at the western end of the Desert. On face value, not exactly the place for a gleaning, silver Porsche 911 capable of 280km/h.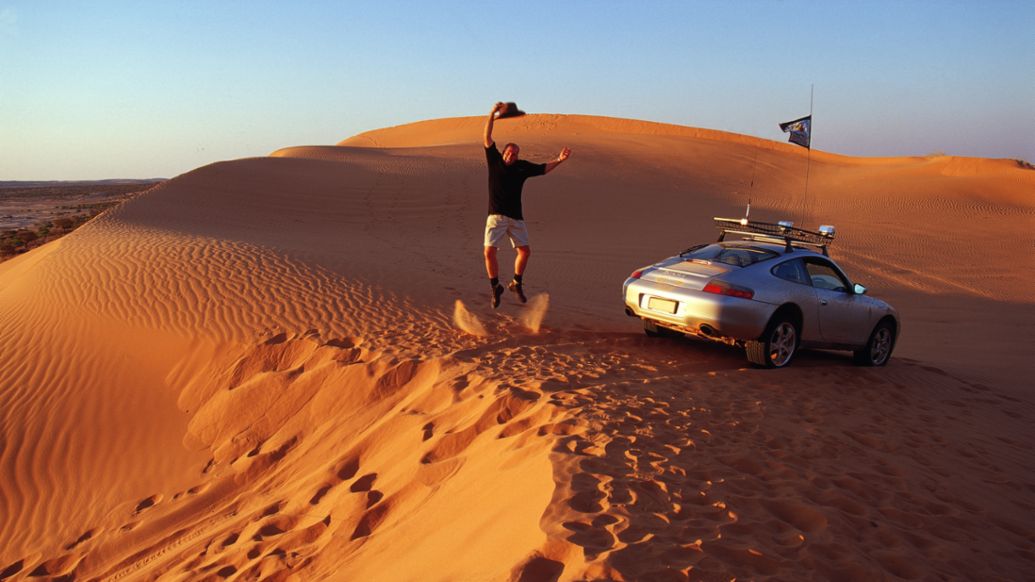 Given that preparation of the chosen Carrera 4 Coupe was intentionally minimal, a phone call was placed to Kussmaul at Weissach. His advice was simple: increase the ground clearance as much as possible and fit a new air cleaner element half-way. After all, the Carrera 4 drive system was developed in the deserts of Morocco, Mauritania and Senegal, so to him, it could easily handle the conditions.
The chosen silver C4 former press car had already covered a healthy mileage in various hands, but during a service, the otherwise standard Porsche was given a little extra ground clearance for the challenge by fitting the largest-available 17-inch road tyres to its alloy wheels and inserting 200mm-thick aluminium spacers between its body and suspension. A roof rack and realigned headlamps completed the modifications. Its power, 220kW, was considered sufficient to take on the desert.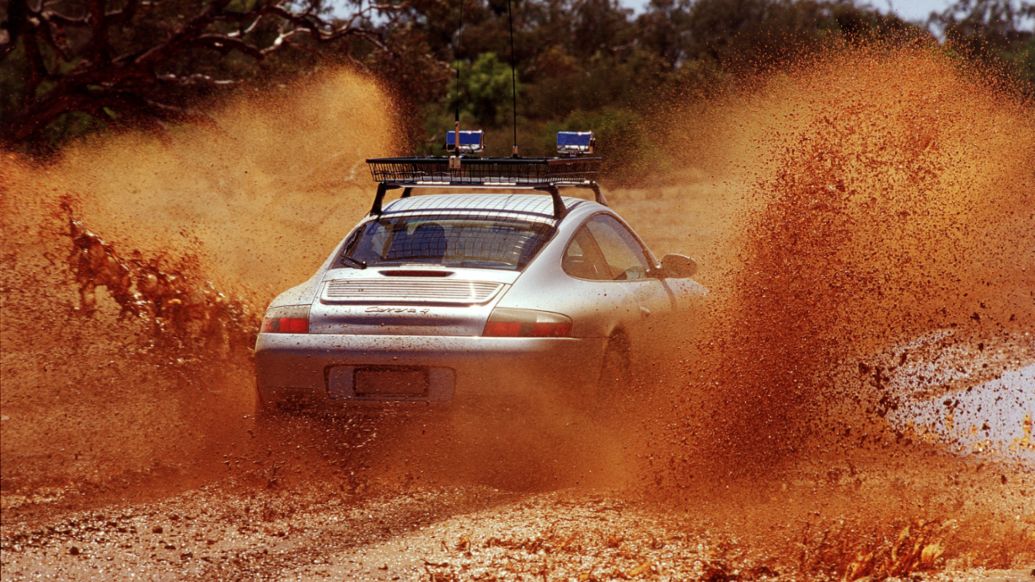 Although trucked to Adelaide for convenience, the Porsche was driven the remaining 4,000km of the round trip from Porsche Cars Australia's headquarters in Melbourne, travelling through some of the flintiest and remote Australian Outback terrain in the process, including the 7,800 square kilometres Cordillo Downs – Australia's largest sheep station.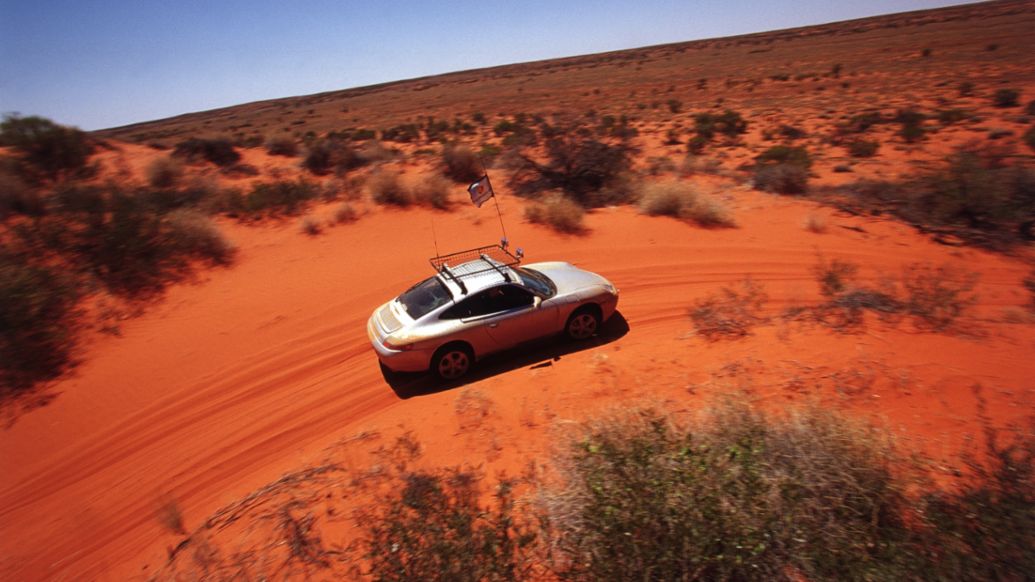 Other than running reduced tyre pressures on the sand, getting its belly rubbed regularly on the soft dune crests and occasionally burying its nose deep into sandy holes on the other side, the Carrera 4 made it through with nothing more than lower tyre pressures and a new air filter element.
Even the towering dune 'Big Red' at the eastern end of the 'French Line' proved no obstacle for the Carrera 4, verified by a photograph that proudly hangs in the bar of the famous Birdsville Hotel of the 911 'getting air' as it surged over the crest of the massive dune.
Rumour has it that the Birdsville publican proposed that if the 911 could successfully cross 'Big Red', he would mount a photo of the feat on the wall of the pub. The photo still adorns the wall of the drinking hole to this day.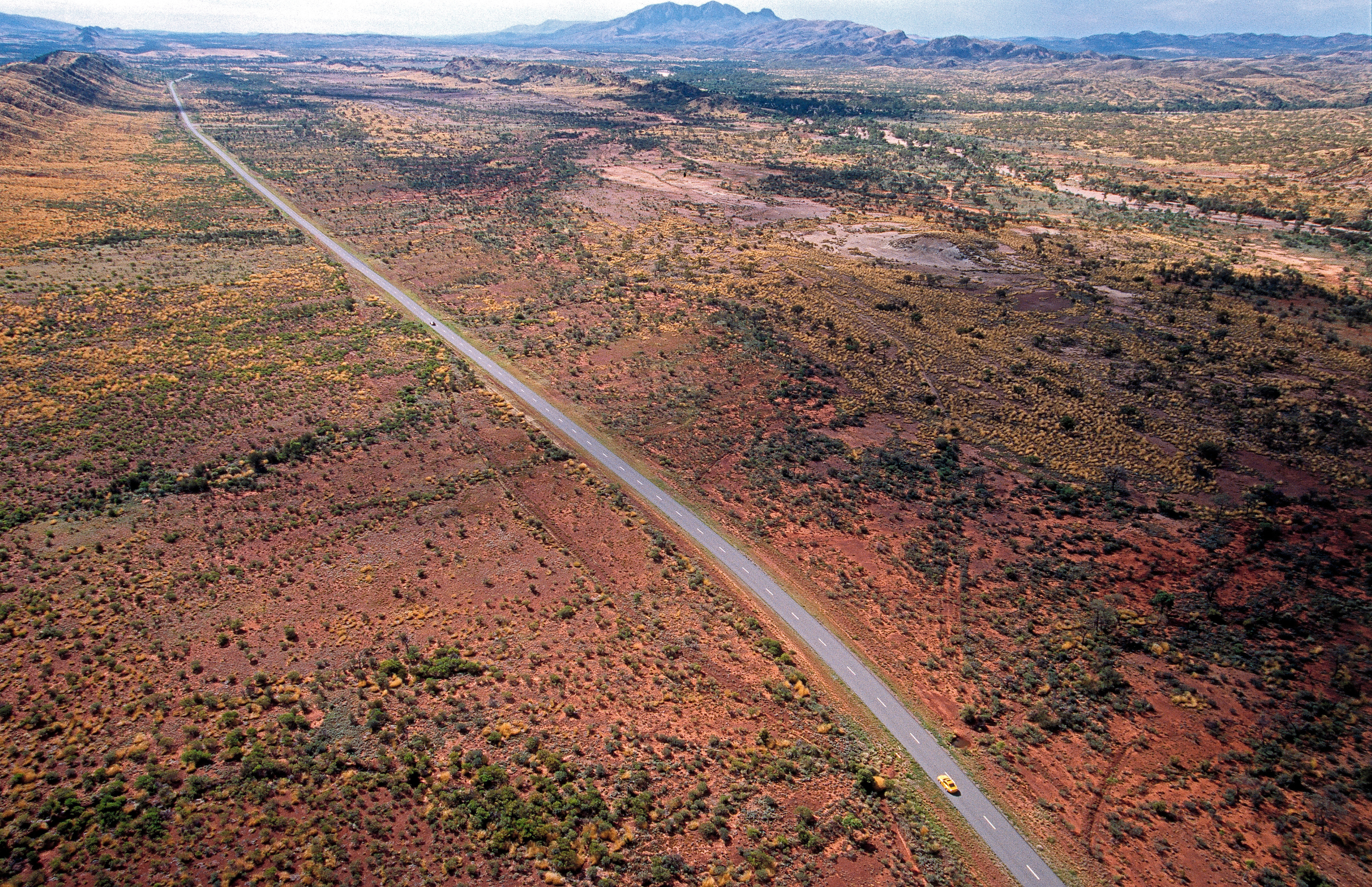 Nineteen years later in 2018, a fleet of new, third generation Porsche Cayenne SUVs crewed by guests and journalists from around the world completed a successful East-to-West crossing of the Simpson Desert on their way to Uluru, as part of a Porsche Cayenne World Expedition.
You could sense a smug grin from the now-classic Porsche 911 Carrera 4 that had done it all before.
Further reading
Click here to read Michael Stahl's feature from the January 2000 edition of Wheels magazine.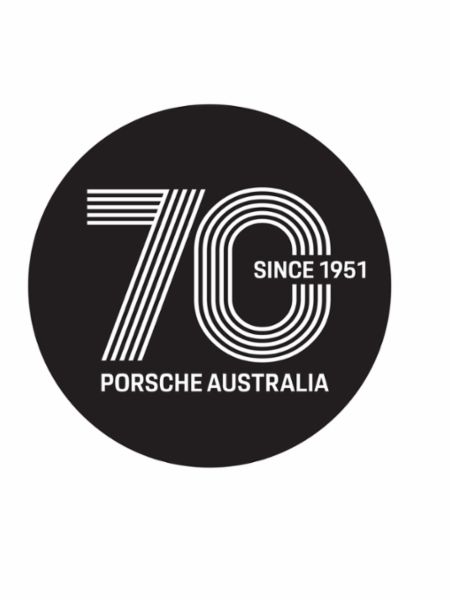 Visit porsche.com/australia/70years for more information regarding 70 Years of Porsche in Australia, as well as following @PorscheAus on social media.
Follow Porsche Cars Australia
On Instagram
On YouTube
On LinkedIn
On Twitter