T: One letter with lots of history at Porsche
The letter "T" represents a unique form of dynamic driving at Porsche. This special model designation stands for "Touring" and it's been applied to selected Porsche models since the 1960s.
The meaning of T: Porsche models with the T designation offer an especially authentic driving experience thanks to precise tuning, exclusive equipment and efficient engines.
The Porsche Macan T is the first four-door Porsche sports car to bear this special model designation: It has previously been reserved for 911 and 718 models.
Model positioning: The product-based hallmarks of Porsche's Touring models mean the Macan T is positioned between the Macan and the Macan S.
Australian model series
The introduction of the new Macan T increases the Australian Macan model range to four variants:
Macan
Macan T
Macan S
Macan GTS

Engine: Light on the front axle
The Macan T uses the newly developed turbocharged 2.0-litre four-cylinder engine, which is familiar to the entry-level Macan: This compact aluminium engine delivers a weight saving of 58.8 kilograms over the front axle compared to the V6 Biturbo fitted to the Macan S and Macan GTS. The ancillaries and model-exclusive equipment reduce the vehicle weight by a total of 95 kilograms.
The lighter engine weight in the Macan T delivers significant benefits: This significant weight saving increases agility, steering response and handling in the new Macan T.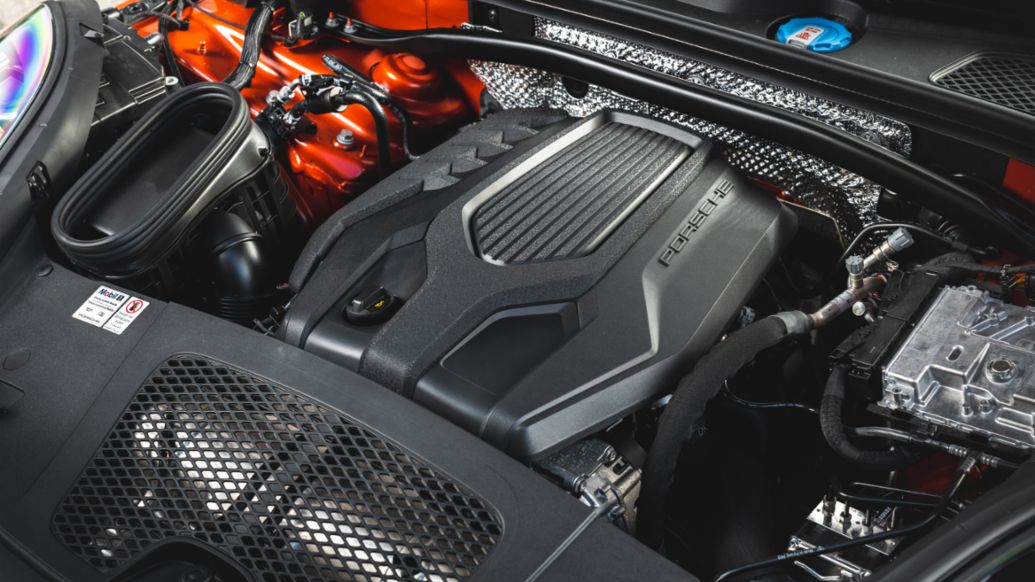 The turbocharged petrol engine develops 195 kW (265 PS*): It also develops a maximum torque of 400 Nm between 1,800 and 4,500 rpm, which means strong acceleration and responsiveness from a stranding start as well as across a wide speed range.
The Macan T offers good fuel efficiency to match its sportscar abilities (9.5-litres per 100 km and 217 grams of CO₂ per kilometre, tested in accordance with ADR 81/02)**, giving it an excellent touring range from its 75-litre fuel tank.
The Macan T accelerates from 0 – 100 km/h in 6.2 seconds (when the standard-fitment Sport Chrono package is used) and can reach a top speed of 232 km/h on a closed racing circuit.
Fuel is delivered to the engine's combustion chambers at 350 bar of pressure: This helps achieve optimised combustion thanks to the ideal distribution of fuel inside the cylinder. It also means fewer soot particles are produced during combustion.
Other clever engineering technologies combine to reduce internal friction: A smart timing chain design and special piston rings minimise friction. They also promote efficiency and noise comfort.
Transmission: all-wheel drive performance
The Macan T is fitted with a seven-speed PDK (Porsche Doppelkupplung, German for 'double coupling') dual-clutch automatic transmission as standard equipment.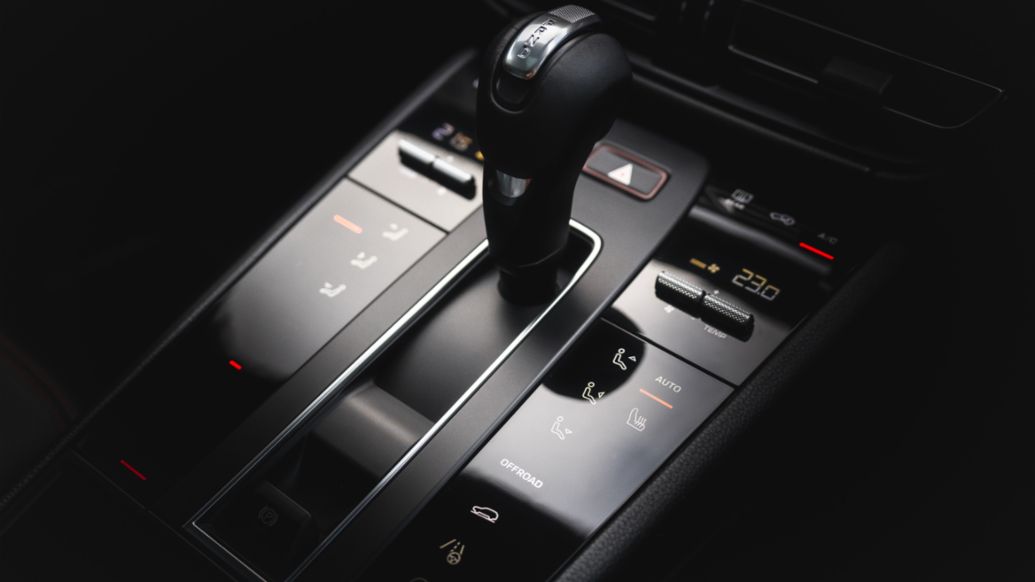 An all-wheel drive layout is used: The Porsche Traction Management (PTM) all-wheel drive (AWD) system, also fitted as standard equipment, has been specially adapted for the Macan T. This is an active AWD system that uses an electronically variable, map-controlled multi-plate clutch, automatic brake differential and anti-slip regulation to make full use the Macan T's 195 kW of maximum power and its peak torque of 400 Nm.
It has a rear-wheel drive bias to further optimise the impressive driving dynamics available in the Macan T, made possible in part by the lighter-weight powertrain, which is an essential element in the traditional character of all Porsche 'Touring' models.
Chassis: optimum dynamics
The combination of powertrain and chassis technologies used in the Macan T are not only exclusive to this Macan variant but also underline its claim as the sports car choice in its segment.
The Macan T uses steel-sprung suspension, Porsche Active Suspension Management (PASM) and a 15 mm lower ride height: This is the first four-cylinder Macan model variant to offer this combination of suspension elements.
The chassis has been recalibrated in the Macan T: This is in part due to the lower front axle load. The Macan T also uses stiffer anti-roll bars on the front axle to reduce body roll and provide a more direct steering feel for the driver.
The result is the Macan T delivers an ideal handling mix: Its increased agility, responsive steering behaviour and sportscar handling deliver great driving pleasure along with long-distance touring comfort and everyday usability.
Porsche Traction Management (PTM) has been specially tuned for the Macan T: This model-specific tuning, in combination with the powertrain's rear-wheel drive bias, helps unleash the purist character of this Touring model, especially on winding roads.
Power Steering Plus: The standard-fitment Power Steering Plus gives drivers additional comfort and sportscar feel through the steering wheel.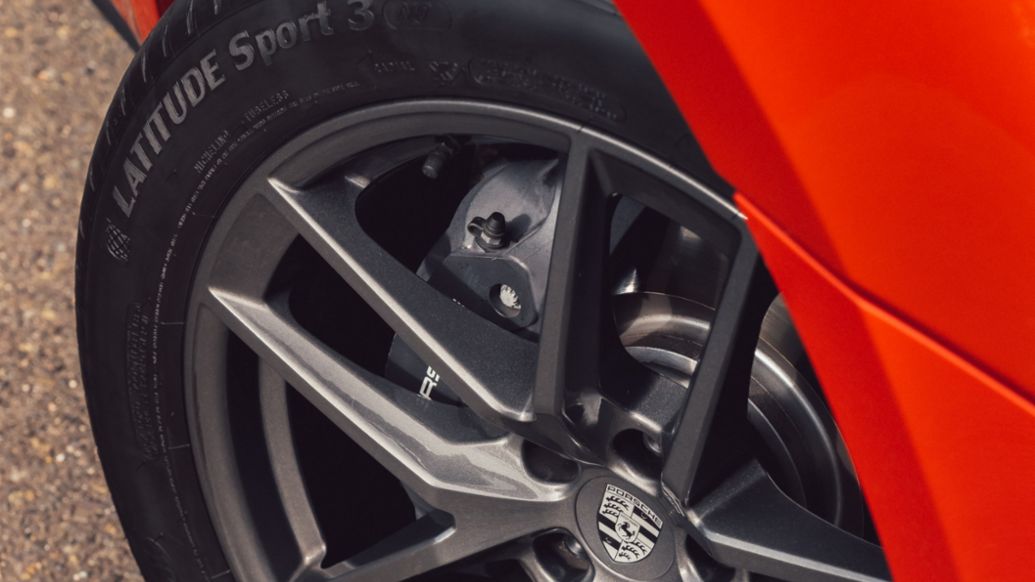 Brakes: The key components of the braking system fitted to the Macan T are:
- Front brakes:
350 mm diameter discs (34 mm thickness), internally vented
Four-piston aluminium monobloc fixed brake calipers

- Rear brakes:
330 mm diameter discs (22 mm thickness), internally vented
Combination floating calipers
The brake calipers on the Macan T are black in colour.
An electric parking brake and Porsche Hill Control are also fitted as standard equipment.
Wheels and tyres: 20-inch light alloy Macan S wheels finished in Dark Titanium are fitted to the Macan T. (Note: the wheels fitted to the Macan S are finished in highly polished Dark Titanium).
Their dimensions are:
Front: 9J x 20 ET 26 with 265/45 R 20 tyres
Rear: 10J x 20 ET 19 with 295/40 R 20 tyres

Driving performance
The Macan T delivers sportscar driving performance. Its key figures are:
0 – 100 km/h takes 6.2 seconds (when the standard-fitment Sport Chrono package is used)
Top speed is 232 km/h (on a closed racing circuit)

Exterior design
The independent identity of the Macan T is emphasised by specific design and equipment elements.
Agate Grey Metallic accents characterise the exterior of the Macan T: This colour is applied to the front trim panel and the flanks of the Sport Design exterior mirrors. At the rear, Agate Grey Metallic is also used in the Porsche logo and model designation as well as the roof spoiler. It is also applied the side blades, which feature a 'Macan T' logo in high-gloss black.
High-gloss Black is also a highlight on the Macan T and is applied to the sports tailpipes and side window trims.
The powerful appearance of the Macan T is also emphasised by its 15 mm lower ride height and 20-inch light alloy Macan S wheels finished in Dark Titanium.
The Macan T is offered in 13 different exterior paint colours.
Interior design
Inside, the Macan T is an emblem of Porsche's philosophy of exclusive interior design.
The Macan T is fitted with 8-way electrically adjustable sports seats. Both front seats have a heating function (as standard equipment) and also feature the Porsche crest in their head rests. The driver's seat comes standard with a memory package.
The split-fold rear seat has 40:20:40 folding options, which makes carrying longer parcels simpler. A folding centre armrest is also fitted for rear-seat passengers.
The Macan T enjoys all the latest interior updates recently applied to the entire Macan model range. The newly designed centre console uses touch-sensitive surfaces in place of conventional switches. Intuitive control panels are located on either side of the new selector lever, which is 15 mm shorter than before. Below the shifter is an open storage compartment, which has a larger capacity than its previous design.
The Macan T interior package comprises the leather Package in Black with seat centres in Sport-Tex stripe, with contrasting silver stitching.
The silver stitching in the Macan T echoes the exterior highlights and can be found on the heated multifunction GT sports steering wheel, which houses the standard-fitment Sport Chrono mode switch.
The door sill guards in Aluminium Black feature the Macan T model designation.
Piano Black trim is fitted to the interior of the Macan T.
Porsche Communication Management (PCM)
The Porsche Communication Management (PCM) system offers full connectivity and has a permanent mobile connection via its 10.9-inch full-HD touchscreen display. Online navigation is standard, along with voice control, a WiFi hotspot and the Porsche Connect app. Apple CarPlay® with Siri® voice control are also included.
A free subscription to Porsche Connect~ is included from new for the first 12 months.
The Macan T is fitted with the 150-Watt Sound Package Plus, comprising 10 loudspeakers, an integrated amplifier and digital sound processing.
A 665-Watt BOSE Surround Sound system with 14 loudspeakers including subwoofer, 14 amplifier channels is available as an option.
Assistance and comfort systems
Various assistance and comfort systems make the Macan T safe, comfortable and enjoyable to drive. The highlights include:
LED main headlights including the Porsche Dynamic Lighting System (PDLS)
Park Assist (front and rear) including Reversing Camera and Surround View
Lange Change Assist
Lane Departure Warning
Cruise Control, including speed limiter
Exterior mirrors with kerb view parking aid, which makes manoeuvring near kerbs and concrete edges safer and easier
Automatic hold function, which makes moving away on hills easier
Porsche Entry & Drive, which makes getting in and out of the Macan T driver's seat more comfortable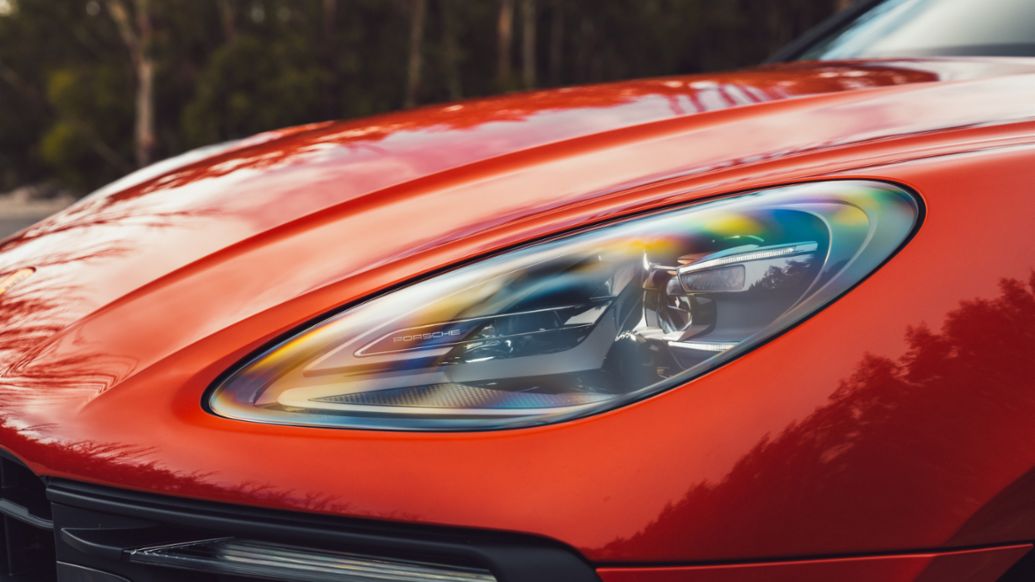 By the numbers
1,984 cc 4-cylinder petrol engine, single turbocharger
195 kW / 265 PS* maximum power (5,000 rpm – 6,500 rpm)
400 Nm of peak torque (1,800 rpm – 4,500 rpm)
7-speed PDK (Porsche Doppelkupplung) dual-clutch automatic transmission, Porsche Traction Management (PTM) all-wheel drive system
6.2 seconds 0 – 100 km/h
232 km/h top speed (on a closed racing circuit)
15 mm lower ride height
13 exterior colour choices

In summary:
The most popular Porsche model in Australia now includes the dynamic and exclusive Macan T.

Driving comfort and dynamics
Porsche Traction Management (PTM) active all-wheel drive with Automatic Brake Differential (ABD)
Tyre Pressure Monitoring (TPM)
Porsche Stability Management (PSM) – also includes these integrated control systems: ABS (anti-lock braking), ASR (anti-slip regulation for the drive wheels), ABD (automatic brake differential to control wheel slip), MSR (controls wheel slip on trailing throttle)
Porsche Active Suspension Management (PASM)
Porsche Hill Control (PHC)
Trailer Stability Management
Lane Departure Warning
Automatic hold function

Audio and Communication
Porsche Communication Management (PCM) including navigation, mobile phone preparation, audio interfaces and voice control
WiFi hotspot and Porsche Connect~ services
150-Watt Sound Package Plus with 10 loudspeakers an integrated amplifier and digital sound processing.

Australian standard specifications
18-inch collapsible spare wheel
Porsche Entry & Drive
Automatic dimming interior and exterior mirrors
Privacy glass
75-litre fuel tank
Lane Change Assist (blind-spot monitoring)
Park Assist (front and rear) incl. Reversing Camera and Surround View
Side airbags in rear compartment
Interior package in Piano Black finish
Driver Memory Package
Apple CarPlay®
Digital radio (DAB+)

Warranty and Service Pricing
3-year / unlimited kilometre warranty
1-year / 15,000-kilometre service intervals
Service pricing varies from state to state due to different labour rates at Official Porsche Centres. For an indication of service pricing please visit the website of your nearest Official Porsche Centre.

Info
More information for consumers: here.
More information for media: here or contact press@porsche.com.au
*PS (Pferdestärke, German for horsepower) is the standard unit used in the European Union to measure the power output of a motor in 'metric horsepower'
** The published consumption (l/100km and Wh/km), emissions (g/km) and kilometre (km) range figures are determined by Porsche AG testing in accordance with ADR 81/02 on test vehicles. Actual figures will vary as they are dependent on many factors, including without limitation: individual driving style, road and traffic conditions, environmental conditions, fuel quality, a vehicle's or battery's condition, load and use. Extra features and accessories (eg: equipment, wheels or tyres used etc.) can change relevant vehicle parameters such as weight, rolling resistance and aerodynamics and can also affect the consumption, emission, range and performance values of a vehicle. CO₂ emissions can also be generated at the power source when vehicles are being recharged, unless 100% renewable energy is used. Generally, consumption, emissions, kilometre range and charging times will vary from the published figures in real world Australian driving and charging conditions.
Apple®, Apple CarPlay® and Siri® are registered trademarks of Apple Inc.
~The availability of Porsche Connect services is dependent on the availability of wireless network coverage which may not be available in all areas, and may be subject to eventual technology sunset or deactivation, thus nullifying services. The vehicle equipment necessary to use Porsche Connect is only available factory-installed and cannot be retrofitted. Some functions may require separate subscriptions, or data charges may apply. Porsche Connect includes a free subscription period of 12 months. For further information on free subscription periods, follow-on costs and availability of individual services in your country, please visit www.porsche.com/connect or consult your Official Porsche Centre.