The Cayenne Turbo GT is officially the fastest production SUV to lap the Nürburgring Nordschleife
Australian model range
New range-leader: The arrival of the new Cayenne Turbo GT Coupé completes the Australian Cayenne Coupé model range. The Cayenne Turbo GT is now the new range-leading model, bringing the model series to 10 variants.
Cayenne Coupé
Cayenne Coupé Platinum Edition
Cayenne E-Hybrid Coupé
Cayenne E-Hybrid Coupé Platinum Edition
Cayenne S Coupé
Cayenne S Coupé Platinum Edition
Cayenne GTS Coupé
Cayenne Turbo Coupé
Cayenne Turbo S E-Hybrid Coupé
Cayenne Turbo GT (new)

Engine
The new Cayenne Turbo GT uses a bi-turbo V8 petrol engine that sets a new performance benchmark.
This is Porsche's most powerful eight-cylinder engine: The Cayenne Turbo GT's 4.0-litre bi-turbo V8 petrol engine is based on the same unit from the Cayenne Turbo but produces about 16 percent more power:
Maximum power: 471 kW / 640 PS* (horsepower) at 6,000 RPM.
Peak torque: 850 Nm at 2,300 – 4,500 RPM.

It uses uprated engine internals: The Cayenne Turbo GT's key engine components have been uprated to ensure robustness during track use. Components such as the crankshaft, connecting rods, pistons, timing chain drive, and torsion vibration dampers have been designed for higher load peaks.
Higher-flow fuel injectors have been fitted: New fuel injectors operate at the same maximum injection pressure of 250 bar but they supply fuel at a flow rate that's about 10 percent higher, contributing to higher power and torque levels.
Turbochargers with larger compressor wheels: These have increased boost pressure to 1.6 bar, thus increasing the volume of pressurised air entering the engine – and its peak power level.
Turbocharger pre-loading has been increased: This occurs at higher engine speeds to ensure responsiveness and performance. It does this by building up a reserve of boost pressure between the turbocharger and the throttle valve during overrun and partial load. When the driver presses the accelerator pedal the response is instant, as is the torque output.
The air/water intercoolers are larger: With the greater flow of compressed air from the larger turbochargers, these let a higher volume of air to pass through and be cooled before it enters the engine.
The engine's compression ratio has been lowered slightly: From 10.1:1 to 9.7:1. This is to help prevent the knock limit being exceeded.
Three additional radiators have been fitted: This ensures optimum engine cooling under all conditions, letting the driver call on the Cayenne Turbo GT's reserves of power at any time.
Exhaust sysyem
The standard-fitment sports exhaust system with its centrally located tailpipes are unique to the Cayenne Turbo GT.
Titanium is used in the exhaust system: From the middle of the vehicle backwards, the exhaust gas tract, including the rear silencers, is made from lightweight titanium. Stainless steel is used in the exhaust system section that exits the engine.
There's no centre silencer: This has been removed from the Cayenne Turbo GT.
The exhaust system is 18 kilograms lighter: The use of titanium, the omission of the centre silencer, and the overall design results in an exhaust system that's 18 kilograms lighter than the one fitted to the Cayenne Turbo.
The sound is unmistakeable: The two exhaust system branches in the Cayenne Turbo GT route separately under the vehicle. Each branch uses continuously adjustable flaps to either fully or partially route gases around the main silencer, depending on engine load and engine speed. The result is a distinct motorsport-inspired sound unique to the Cayenne Turbo GT.
Transmission - gearbox
Compared to the Cayenne Turbo, the eight-speed Tiptronic S operates differently in the Cayenne Turbo GT.
In Normal mode: The gears change more quickly and the downshifts deliver an emotive crackle sound on the overrun.
In Sport mode: Gearshift reaction times are shorter and the acoustic feedback is distinct.
In Sport Plus mode: Sport Plus mode lets the driver pre-select a lower gear manually under braking, which engages as soon as the engine speed permits. Sport Plus mode offers the optimum set-up for racetrack use and is designed for maximum performance. It was developed on the Nürburgring Nordschleife, the famed race track in Germany's Eifel mountains.
A gearbox cooling system has been fitted: This water-cooled system helps maintain the gearbox at the right temperature under all conditions. This is important given the higher peak loads (both mechanical and thermal) that can be experienced by the drive train, specifically on a racetrack. This gearbox cooling system is exclusive to the Cayenne Turbo GT.
Transmission - all-wheel drive system
The instant power delivery from the Cayenne Turbo GT's uprated engine, and its potential for wheelspin, necessitated a special set-up for the all-wheel drive system.
Porsche Traction Management (PTM) responds even faster: This helps ensure power distribution is applied even more rapidly and is optimised for the race track. It uses variable strategies to control power between the front and rear axles. It also continually monitors driving conditions and even pre-loads the all-wheel drive system as a preventative measure if necessary.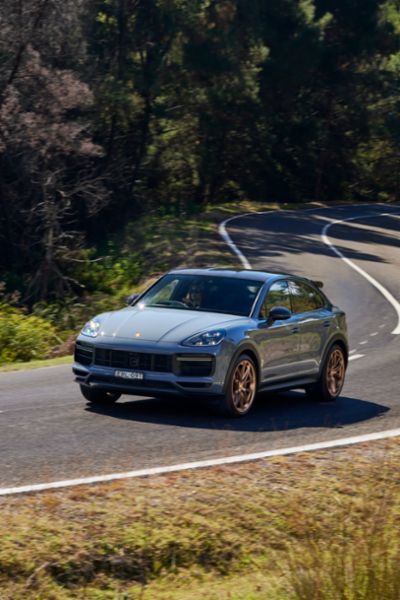 Chassis
The Cayenne Turbo GT's driving dynamics have been set up to sports car standards and designed with racetrack use in mind.
The suspension system is bespoke: The Cayenne Turbo GT's combination of passive chassis components and active control systems have been modified to achieve outstanding driving dynamics. The way these components and systems are configured to work together are also unique to the Cayenne Turbo GT.
The centre of gravity is lower: The carbon fibre roof panel replaces the panoramic glass roof usually fitted to other Cayenne Coupé models. This saves 22 kilograms in weight at the car's highest point. This weight reduction helps lower the Cayenne Turbo GT's centre of gravity and reduces body roll when cornering.
The ride height is 17 mm lower: Compared to the Cayenne Turbo Coupé.
All available control systems are fitted: Every active control system designed to enhance driving performance that's available in the Cayenne model range is fitted as standard to the new Cayenne Turbo GT. These include Porsche Active Stability Management (PASM), Power steering Plus, rear axle steering and Porsche Torque Vectoring Plus (PTV Plus), and the Porsche Dynamic Chassis Control (PDCC) adaptive roll compensation system, which features control software adapted for the Cayenne Turbo GT.
The air suspension is more rigid: The rigidity of the adaptive three-chamber air suspension has been increased in all three areas. In Normal mode it's about 10 percent more rigid. In Sport Plus mode it's about 15 percent more rigid. Damping characteristics have been adapted, which are now significantly firmer at the front.
Longer helper springs have been fitted: These help reduce pitching and roll movements.
Stiffer damper mounts are fitted to the rear axle: These ensure more sensitive suspension response.
The resulting driving dynamics are impressive: The Cayenne Turbo GT has higher roll stability, better road-holding, and its more precise turn-in behaviour permits higher cornering speeds.
Ride comfort is equally remarkable: Porsche's engineers set out to fully exploit the entire dynamic potential of the Cayenne Turbo GT when in Sport Plus mode, but still generate harmonious chassis characteristics typical for a Porsche. The result is a pleasant ride when in Normal mode, despite the firmer chassis settings.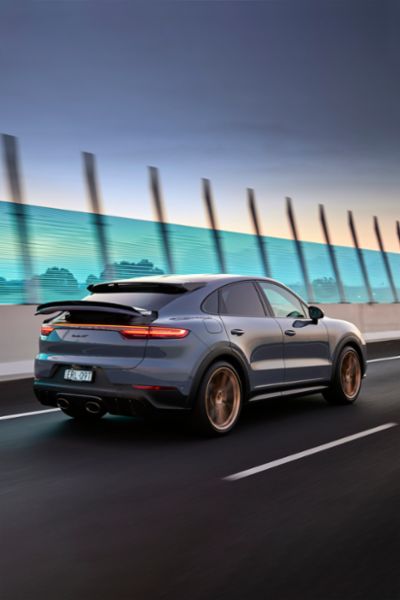 The Pirelli P Zero Corsa tyres have been specially developed for the Cayenne Turbo GT: Compared with the 21-inch performance tyres already optionally available on all Cayenne models, these offer even more grip, are balanced for enhanced performance and reduce understeer. Their sizes are:
Front tyres: 285/35 ZR22
Rear tyres: 315/30 ZR22

The wheels are wider: At the front, the flange-to-flange rim width is now 10.5 inches – one inch wider than the standard Cayenne Turbo wheels and 0.5 inches wider than the optional 22-inch GT Design wheels of the Cayenne Turbo Coupé.
The 22-inch GT Design wheels finished in satin Neodyme fitted to the Cayenne Turbo GT have the following sizes:
Front wheels: 10.5 J x 22 ET 49
Rear wheels: 11.5 x 22 ET 52

The Cayenne Turbo GT turns in more precisely: It also permits higher lateral acceleration. This increased cornering grip is supported by 0.45 degrees more negative camber.
Cleared for take-off: Porsche's chassis engineers ensured the wheels clear the wheel arches in even the most dynamic driving manoeuvres.
The steering systems have been updated: The front axle steering now delivers increased feedback to the driver without affecting steering comfort or requiring additional steering forces. The standard-fitment rear-axle steering, which applies a gradual steering angle either in the same direction as the front wheels or the opposite direction – depending on the driving manoeuvre – has been modified to exploit the potential of the Cayenne Turbo GT's specially designed sport tyres. The effect is enhanced stability, especially at racetrack speeds.
The Cayenne Turbo GT feels much smaller and lighter from the driving seat: This is thanks to the adapted Porsche Torque Vectoring Plus (PTV Plus) system, which supports turn-in behaviour with targeted brake interventions and ensures better traction when accelerating out of bends with the fully variable differential lock.
Carbon Ceramic Composite Brakes: The Cayenne Turbo GT is fitted with the top-specification Porsche Carbon Ceramic Composite Brake (PCCB) system. The grip potential of its specially designed tyres makes it possible to achieve even more ABS interventions. The dimensions of these brakes are:
Front brakes: 440 mm diameter / 40 mm thick Carbon Ceramic Composite discs (internally vented) with ten-piston Aluminium monobloc fixed brake calipers (yellow in colour)
Rear brakes: 410 mm / 32 mm thick Carbon Ceramic Composite discs (internally vented) with four-piston Aluminium monobloc fixed brake calipers (yellow in colour)
Performance
0-100 km/h: Takes 3.3 seconds in the new Cayenne Turbo GT.
Top speed: Is 300 km/h.
The Cayenne Turbo GT is officially the fastest production SUV to lap the Nürburgring Nordschleife: Porsche test driver Lars Kern completed a full lap of the legendary 20.832 kilometre Nürburgring Nordschleife is a time of 7:38.925 minutes. In the official rankings of Nürburgring GmbH, the time was certified by a notary public and now stands as a new record in the 'SUV, off-road vehicle, van, pick-up' category.
Design
The Cayenne Turbo GT is available exclusively as a four-seat coupé.
It has the unmistakeable styling features of a sports car with Porsche DNA: The roofline falls steeply to the rear, it has an elongated silhouette, it uses sophisticated aerodynamics and powerful air intakes, a wide track and a distinctive finish.
The front-end of Cayenne Turbo GT displays its performance intent: The front apron is painted mostly in the exterior colour with the air intake grilles and other details in matt Black. The larger side cooling air intakes guarantee the necessary air supply to the biturbo engine. A pronounced spoiler lip ensures aerodynamic downforce on the front axle and rounds off the front apron towards the road.
The headlights are tinted: The standard-fitment Porsche Dynamic Light System (PDLS) have darkened LED headlamps.
The rear spoiler generates more downforce: The adaptively extending rear spoiler has a spoiler lip that has been increased in size by 25 mm to 50 mm compared with the Cayenne Turbo Coupé, generating up to 40 kg of downforce on the rear axle.
Various extra details complete the Cayenne Turbo GT's high-performance look: The black roof spoiler is finished with sideplates made of carbon. The 'turbo GT' model designation on the rear lid is finished in matt Black. The rear diffuser in carbon has four pronounced ribs and frames the two central tailpipes of the titanium sports exhaust system. The titanium shimmers blue on the inner sides as soon as the exhaust system has been exposed to high temperatures for the first time.
Interior
The interior of the Cayenne Turbo GT has been designed for functionality and optimum ergonomics during dynamic cornering. The Alcantara® and extended leather interior creates an exclusive and sporty atmosphere in the Cayenne Turbo GT.
8-way electric sports front seats are fitted as standard: They provide comfort and support, especially during high-speed cornering. They include a memory package and integrated headrests. Seat heating is fitted to both the front and rear seats. 18-way electric Adaptive Sports Seats for the front (with memory package and integrated headrests) are optionally available.
Alcantara® is used throughout the interior: The black Alcantara® steering wheel offers perfect grip. Its 12 o'clock marking in Racing Yellow offers a visual reference point for the current steering angle in every driving situation. The grab handles, upper dashboard section supports, upper door trim panels including armrests, centre console cover, roofliner, A-, B- and C-pillar trim, centre console edging at the rear, and the perforated seat centre panels of the eight-way sports seats in the front and on the two rear seats are all finished in this high-quality material.
GT interior package: This is fitted as standard and includes contrasting stitching in Neodyme (same colour as the wheels) in various components, such as the multifunction Sports steering wheel Dashboard upper section and seat belts.
Carbon Interior package: This is also fitted as standard and sees various trim frames and strips, such as the air vents, finished in black.
Infotainment
The Cayenne Turbo GT is fitted with the sixth generation of Porsche Communication Management (PCM), known as PCM 6.0.
In-depth Apple integration: Apple Music subscribers have ad-free access to more than 75 million songs thanks to a free three-year in-car internet connection. They also have access to all artists and radio hosts who broadcast on the global livestream stations Apple Music 1, Apple Music Hits and Apple Music Country. To access these, all they have to do is connect to their vehicle using their Apple ID. The smartphone does not even have to be in the car in order to use Apple Podcasts or Apple Music.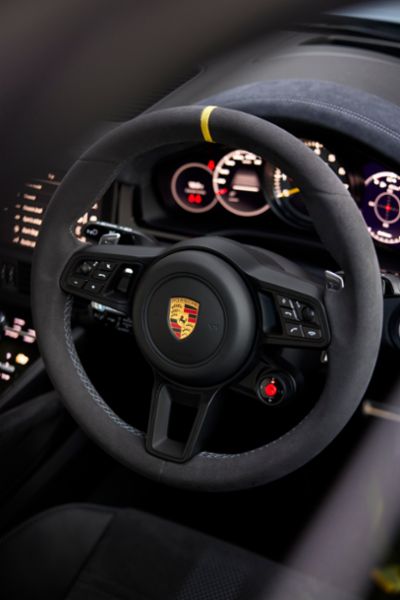 Wireless support for Apple CarPlay: Owners can easily establish a wireless connection between their iPhone and the Cayenne Tubo GT. They can receive traffic-optimised navigation routes, make voice calls, and send and receive messages simply using either Siri voice control or tapping the touchscreen display.
Android Auto is now available: Google's Android operating system can also be integrated into the infotainment system of Cayenne Turbo GT. Android phone users simply need to connect their phone to the vehicle via a USB cable.
Voice Pilot has improved language recognition and is capable of learning: It's also simpler to use: the driver can now access in-car features using the phrase "Hey Porsche", as is already the case in the Taycan. For example, the phrase "I need petrol" results in the navigation system finding a route to the next filling station. Saying "I am cold" automatically increases the interior temperature.
PCM 6.0 offers many easy-to-access features. The interactive digital 'Good to know – Driver's Manual' is integrated into the system, smartphone calendar entries are displayed on the PCM 6.0 touchscreen via the Porsche Connect app and, if there is an active Bluetooth connection between car and smartphone, Porsche drivers can also dial into conference calls using the calendar service.
Faster, more powerful navigation system: This is thanks to the new hardware and software architecture in PCM 6.0. It takes into account real-time traffic information, such as traffic jams. Waypoints on the route are shown in a clear way.
PCM 6.0 receives over-the-air updates: Future software updates for its control units will be sent using over-the-air technology. This wireless process removes the need to visit a workshop for these updates.
By the numbers
3,996 cc V8 biturbo petrol engine
6,800 RPM maximum engine speed
471 kW / 640 PS* (horsepower) maximum power at 6,000 RPM.
850 Nm maximum torque at 2,300 – 4,500 RPM.
8-speed Tiptronic S gearbox
300 km/h top speed
3.3 seconds 0 – 100 km/h
17 mm lower ride height (compared to the Cayenne Turbo)
7:38.925 minutes: lap time of the Nurburgring Nordschleife (new record for a production SUV)

Summary: The Cayenne Turbo GT delivers best-in-class performance in a stylish package with everyday usability.
Driving comfort and dynamics
Adaptive air suspension with levelling system and height adjustment including PASM (Porsche Active Suspension Management)
Integrated Porsche 4D Chassis Control
Porsche Dynamic Chassis Control (PDCC)
Porsche Torque Vectoring Plus (PTV Plus)
Power steering Plus
Rear-axle steering
Vehicle stability system with Porsche Stability Management (PSM) with ABS, ASR, ABD, MSR, Trailer Stability Management, and expanded PSM SPORT mode
Four driving modes: Normal, Sport, Sport PLUS, Individual

Audio and Communication
Porsche Communication Management (PCM 6.0) with 10.9-inch HD touch display including online navigation, mobile phone preparation, audio interfaces and Voice Control
Porsche Connect with Apple® CarPlay (wireless) and Android Auto (cable required) Music streaming
Online radio
Access to remote services
Sound package Plus (10 speakers, 150 Watts of power)
BOSE® Surround-Sound system (14 speakers, 710 Watts of power) as a No-Cost Option (NCO)
2 USB charging and connectivity ports in front passenger area; 2 USB charging ports in rear passenger area
3 sockets (12-volt): underneath glove department, in centre console at front, side of luggage department

Australian standard specifications
20-inch collapsible spare wheel
Privacy glazing
Seat ventilation (front) as a No-Cost Option (NCO)
Side airbags in rear compartment
4-zone Advanced climate control
Ambient lighting
Porsche Entry (Comfort Access)
Lane Change Assist
ParkAssist (front and rear) including reversing camera and Surround View
Head-Up Display
Adaptive Cruise Control with Emergency Assist
Lane Keeping Assist as a No-Cost Option (NCO)
Digital radio
Apple CarPlay

Warranty and Service Pricing
3-year warranty
1-year / 15,000 km service intervals
Service pricing varies from state to state due to different labour rates. For an indication of service pricing please visit the website of your nearest Porsche Centre.

Info
More information for consumers: here.
More information for media: here or contact press@porsche.com.au
* PS (PferdeStärke, German for horsepower) is the standard unit used in the European Union to measure the power output of a motor in 'metric horsepower
# The published kilometre (km) range figures are determined by Porsche AG testing in accordance with ADR 81/02 on test vehicles assuming the battery is fully charged. Actual figures will vary as they are dependent on many factors, including without limitation: individual driving style, road and traffic conditions, environmental conditions, a vehicle's or battery's condition, load and use. Usage of specific features and accessories (eg: vehicle equipment such as air-conditioning, or wheels or tyres used etc.) can change relevant vehicle parameters such as weight, rolling resistance and aerodynamics and can also affect the range and performance values of a vehicle. CO₂ emissions can also be generated at the power source when vehicles are being recharged, unless 100% renewable energy is used. Generally, kilometre ranges will vary from the published figures in real world Australian driving and charging conditions. Published figures should only be used for the purpose of comparison between vehicles. Please contact an Official Porsche Centre to obtain specific information about vehicles and features.
Apple App Store is a registered trademark of Apple Inc.