Unlike its predecessor and other plug-in Hybrid vehicles on sale in Australia, the Cayenne E-Hybrid is tow-rated to haul the same braked 3500 kilograms as its sister petrol models.
So you can launch your cabin cruiser at the marina, haul you daughter's horse to the pony club, tow your GT3 to Targa Tasmania, or trailer your track car to Bathurst.
The combined 750 Nm of torque available from its 250 kW, 3.0 litre turbocharged V6 petrol engine and its 100 kW electric motor says you can.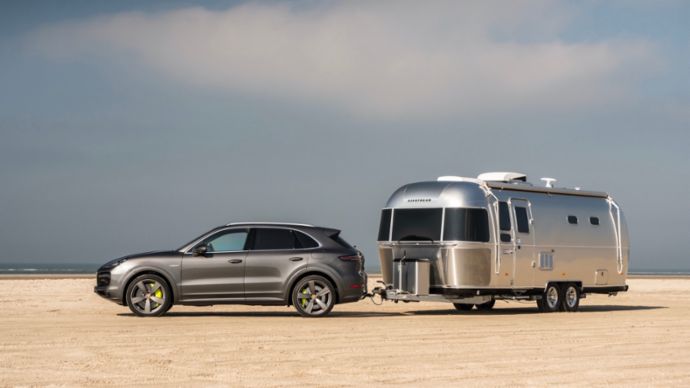 Of course, at this stage of lithium battery evolution, you're not going to travel fuel-free all the way, but the Cayenne will jockey seamlessly between stored battery or V6 power all the way, depending on what demands you are making of its PHEV (Plug-in Hybrid Electric Vehicle) technology and how often you recharge its battery from mains power to deliver unmatchable towing economy.
Victorian Matt Close found the Cayenne E-Hybrid to be the perfect tow car for his assault on Targa tarmac rallies around Australia in his GT3 RS.
"Towing with a Cayenne, I was already dialled into the feeling of driving a Porsche sports car by the start of the first closed road timed stage," he said.
Info
Author Michael Browning
Photos Michael Browning and Porsche AG