As the direct progenitor of the 356A-1500 GS in 1955, it was fitted with an enlarged and more powerful 1587cc version of Dr Ernst Fuhrman's rough, but feisty quad camshaft four cylinder boxer engine, which he had designed in 1954 for the open-top Porsche 550 Spyder.
Sold alongside the Carrera de Luxe as a registerable, road-going competition car, the GT was light and ready for racing. Its larger engine producing 86kW at 6500rpm featured alloy cylinders with hard-chromed bores and a one-piece forged crankshaft. It was basically the same, but featured twin 40 DCM2 Weber carburettors instead of the de Luxe model's Solex units. It also had a muffler had fewer baffles.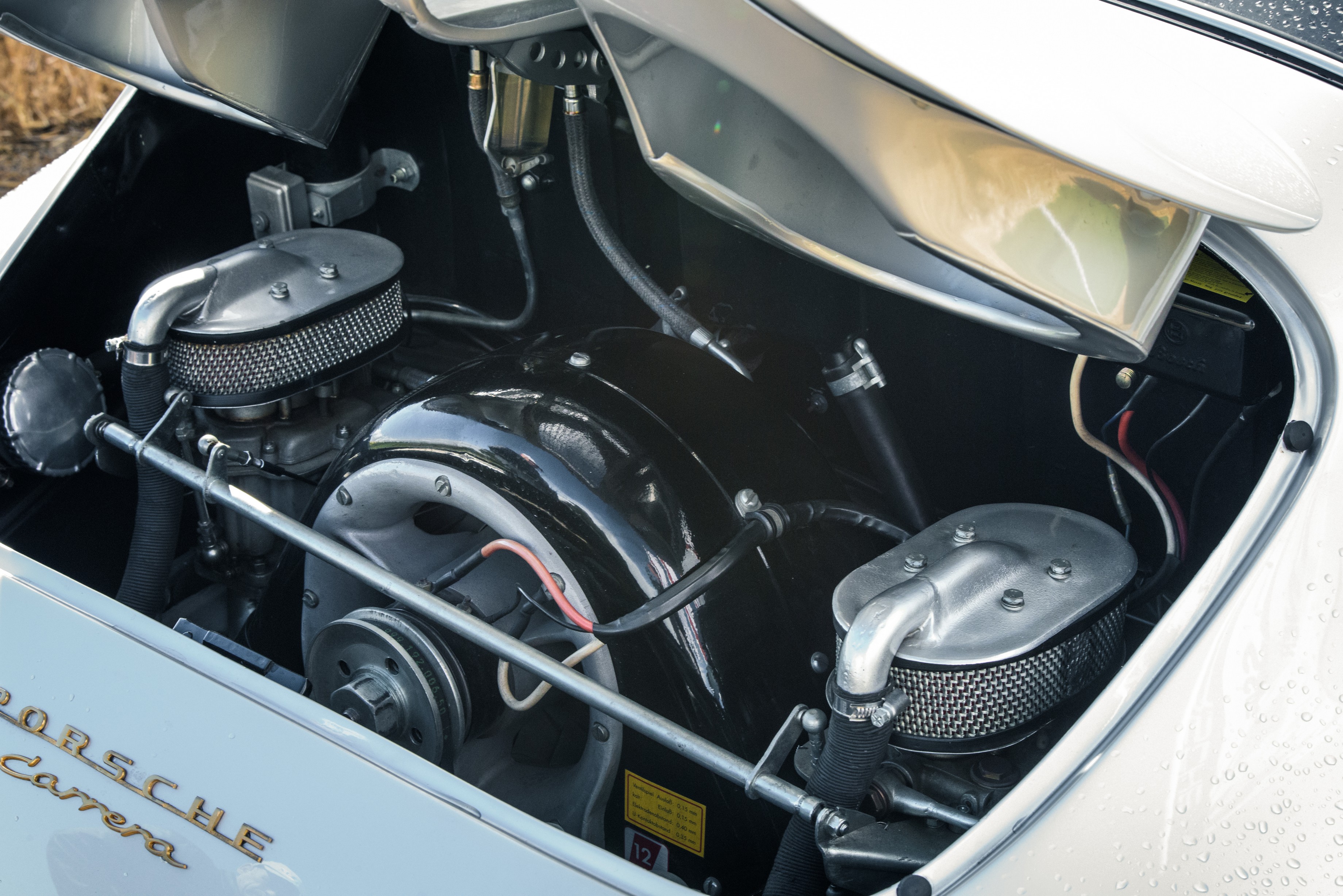 The new engine and its Type 716 transaxle were attached more rigidly than in the 1500 GS, with the use of an updated engine shroud. The four-speed manual gearbox was fitted with improved synchromesh to handle the larger engine's increased torque of 135Nm produced at 5200rpm.
Although visually similar, except for the thin aluminium trim strips that replaced conventional bumpers, the Carrera GT employed the same basic T2 steel Reutter-built body as other volume-production 356A models, but had aluminium doors, an alloy front bonnet and a new louvred engine lid, while 15-inch light alloy rims were fitted to steel centres.
Inside, its minimalistic interior saw twin bucket seats scalloped in aluminium instead of steel, while simple slotted leather straps replaced winders for the lightweight Perspex side windows. Skimpy needle-felt matting covered the floor.
Professor Fuhrmann designed his original jewel-like Type 547 quad cam engine for racing in the 550 Spyder, which meant it never needed to run slowly, pull smoothly in traffic, nor put up with disrespectful daily drivers.
While it would spin willingly to 7500rpm, Porsche cautioned that 6500rpm should be considered the upper limit for normal driving in the Carrera GT. It would idle at 1,000rpm and take full throttle from as low as 1,500rpm, but this sort of disrespectful use fouled plugs with frustrating consistency, causing Porsche to advise Carrera owners to run their engines sparingly at less than 2,500rpm.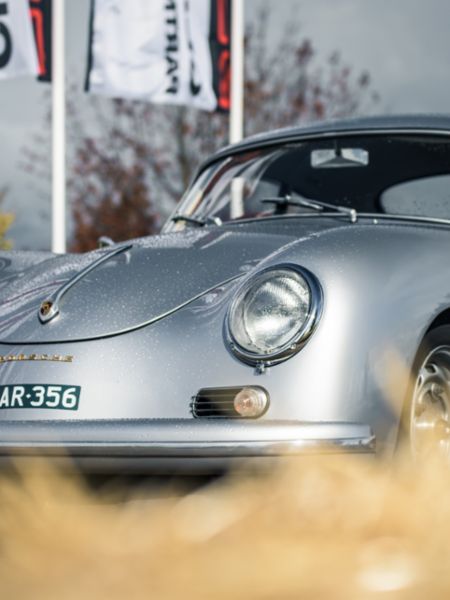 Even in this gloved form, the 356 Carrera was too compromising for most Porsche buyers and only around 114 Carrera GS and Carrera GT coupes were built for the 1958-59 model years. Most enjoyed illustrious racing careers. Just three right hand drive examples are believed to have left the factory in 1959. One was sold to an Australian; one to a New Zealander.
Bacchus Marsh, Victoria farmer and Porsche enthusiast David Calvert was captivated by the Carrera GT from the moment it was released. His right hand drive Field Green coupe was built to order, arrived in Australia in early 1959 and was delivered through Porsche agents, Norman Hamilton & Co.
Keen to explore its legendary performance, Calvert lent the Carrera to then-leading race and trials driver Harry Firth to run at Melbourne's Sandown Park in the early 1960s, but it was forced to retire when it dropped a valve.
Firth pulled the engine apart and negotiated the sale of the car with the engine still dismantled to race engineer Jack Godbehear, who had previously maintained Australia's only 550 Spyder.
After it was rebuilt, the Carrera GT was exchanged for a 356B Super 90 owned by Sydney enthusiast John 'Jumbo' Goddard, who immediately repainted the car in its current silver.
When Goddard died in 1983, the car was no longer in running order. After being purchased from his estate, it lay idle for some years with its engine out, gathering dust.
In the early 1990s, former Porsche distributor Alan Hamilton heard that the car was for sale and after alerting Melbourne Porsche enthusiast and then Myer CEO, Peter Bartels, he flew to Sydney to check it out and negotiated a sale.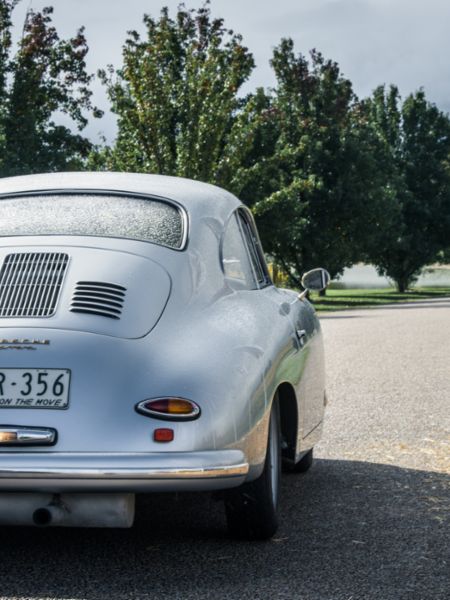 When it returned to Melbourne, Hamilton undertook a bare metal restoration and a full engine rebuild for Bartels, who after finding the car required more regular driving and 'TLC' than he had time to give, negotiated an exchange for a new 911 Carrera 4S with Porsche Cars Australia.
With an estimated current-day value of around $1 million, the silver Carrera GT is arguably worth more than any current new Porsche on the showroom floor.
However, true to Professor Ferdinand Porsche's dictum that the cars bearing his family's name were designed to be driven, its throat is cleared regularly at historic racing events and on special Porsche occasions.