The trip down memory lane started in Port Melbourne, where the 356 models first drove onto Australian soil when imported by Norman Hamilton seven decades ago. The next stop was the South Melbourne Town Hall, the historical site of the cocktail event that officially introduced Australia to Porsche on the 1st of November 1951.
To complete the journey, the pair of legendary forebears arrived at Albert Park, the home of Australia's iconic Grand Prix. Here, motoring journalist Andrea Matthews joined Alan Hamilton, son of Norman Hamilton, and Greg O'Keefe, long-standing Porsche enthusiast and owner of the original Australia-delivered 365 Cabriolet, to discuss Porsche's heritage meeting its future.
Alan explained how his father first came across Porsche while on a trip to Switzerland in 1951, and spoke of his family's passion for Porsche – something that continues to this day.
"It's like a Porsche but only better." Greg O'Keefe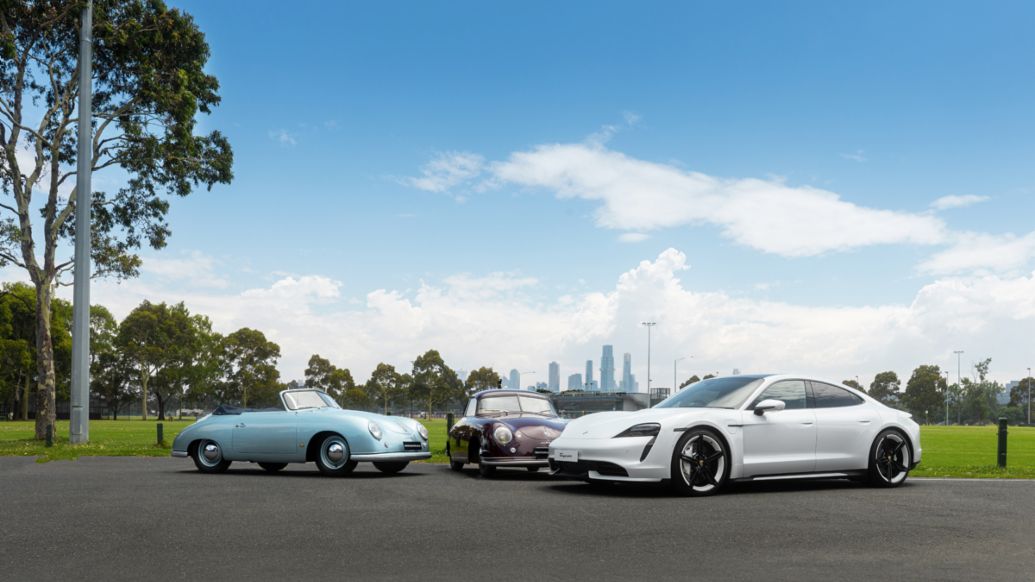 The highly anticipated Taycan is a four-door sports sedan offering all the performance and connectivity you've come to expect from Porsche, together with everyday usability. It is made with the same spirit of innovation anbd style that brought the 356 to life all those years ago.
The Taycan line-up arrives in Porsche Centres around Australia from 27 February 2021. For further information, please contact your local Porsche Centre.