Above: Three Porsche 911 Turbo S thoroughbreds sitting on a runway, waiting ... often your first or last image captured is your favourite. This was no exception as it was one of the very first frames I captured for the event. I love how the beautiful and distinctive city of Sydney is visible to the right of frame. The moody skies add to the drama.
I always enjoy capturing in-motion images. It is often hard to capture three cars in the one frame. This illustrates just how this can be done and the result is stunning. Great work by the professional drivers.
Part of my brief was to capture hero static images of the new 911 Turbo S, and as one could expect when you have access to a runway at Sydney Airport for just one day, you must be quick with your decision making and precise with your image capturing. Using the early morning sun off to the left of frame to wrap this beautiful car with light, I was able to capture this image.
Just as in the previous image, I wanted to capture a hero static of all three 911 Turbo S thoroughbreads. Working quickly I had the other two Turbo S's positioned on the runway to help create this stunning image. I love how the shadow falls to the right of frame drawing your eye to the main attraction in this picture.
Launch control activated. This is the view you have when you encounter 16L/34R in a 911 Turbo S.
This is undoubtably my favourite image captured from the event. For me it showcases all the key elements. The Porsche 911 Turbo S sitting proudly in the middle of runway 16L/34R, Sydney Airport to the top left of frame and the Sydney city skyline to the top right of frame.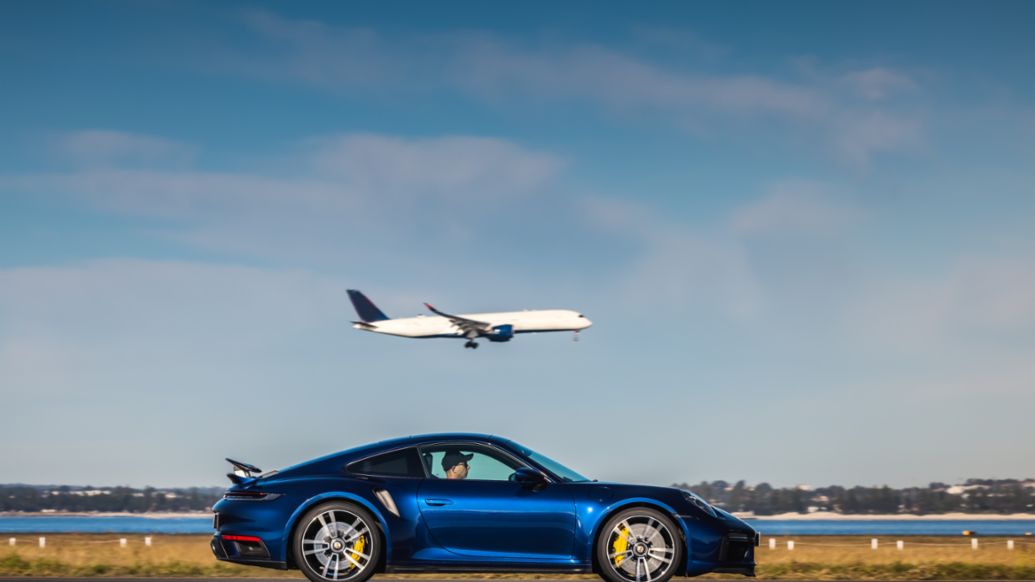 Not just a pan shot showcasing the beautiful profile of the 911 Turbo S, but also with an inbound aircraft overhead. A little luck sometimes helps you turn a picture into something special.
I absolutely love this image of the 911 Turbo S travelling down the runway with the Sydney skyline so prominent in the background. This was only visible at the southern end of the runway and by using a longer lens this helped me compress my image to bring the city closer to the car visually, which resulted in a unique image.
I love how this photo simply sums up just how beautiful and wide the runway is, a playground for the engine of the 911 Turbo S and its phenomenal launch control.
This isn't quite as easy as it looks to capture, however with a little planning and the help of an aviation app it allowed me to capture this amazing photo. Not something that you get to witness nor photograph everyday, absolutely amazing.
Info
Daniel Kalisz on Instagram: @danielkaliszphotographer