"Porsche wouldn't be as successful if we didn't have such fantastic employees." Andreas Haffner, Member of the Executive Board – Human Resources
The coronavirus pandemic has permanently changed the Porsche working world, in particular in indirect areas. Mobile working has become the norm and the demands made of the working worlds of the future have further evolved. Looking ahead, Porsche is focusing on a healthy mix of on-site and mobile working. New workspace is being created on-site on the basis of an increasingly connected working world. Throughout, the focus is on people, as it is they who make the difference. It is therefore especially important to the Executive Board and Works Council that all Porsche AG employees are offered a perspective in the automotive industry's far-reaching transformation. Repeatedly high approval ratings in the Porsche mood barometer indicate that the workforce is very much on board with this journey. It is particularly pleasing to note that the external perception of Porsche as an employer remains highly positive too. The sports car manufacturer again ranked highly in numerous surveys conducted among students and young professionals in 2021.
Employees – Porsche AG
| | | |
| --- | --- | --- |
| 2019 | | 35,429 |
| 2020 | | 36,359 |
| 2021 | | 36,996 |
New agreement re mobile working
Porsche responded to the coronavirus pandemic with a special agreement regarding mobile working. From March 2020 to the end of October 2021, all the employees whose work allowed it were able to work remotely for up to five days a week. Based on the positive experience on both the employer and employee sides during the pandemic, the original company rule regarding mobile working was broadened in March 2021. Whereas two days a week were previously possible during regular operations, this will henceforth be up to 12 days a month. Porsche is therefore taking the business interests into account while also orienting itself even more to the wish of its employees to strike a better balance between career and private life.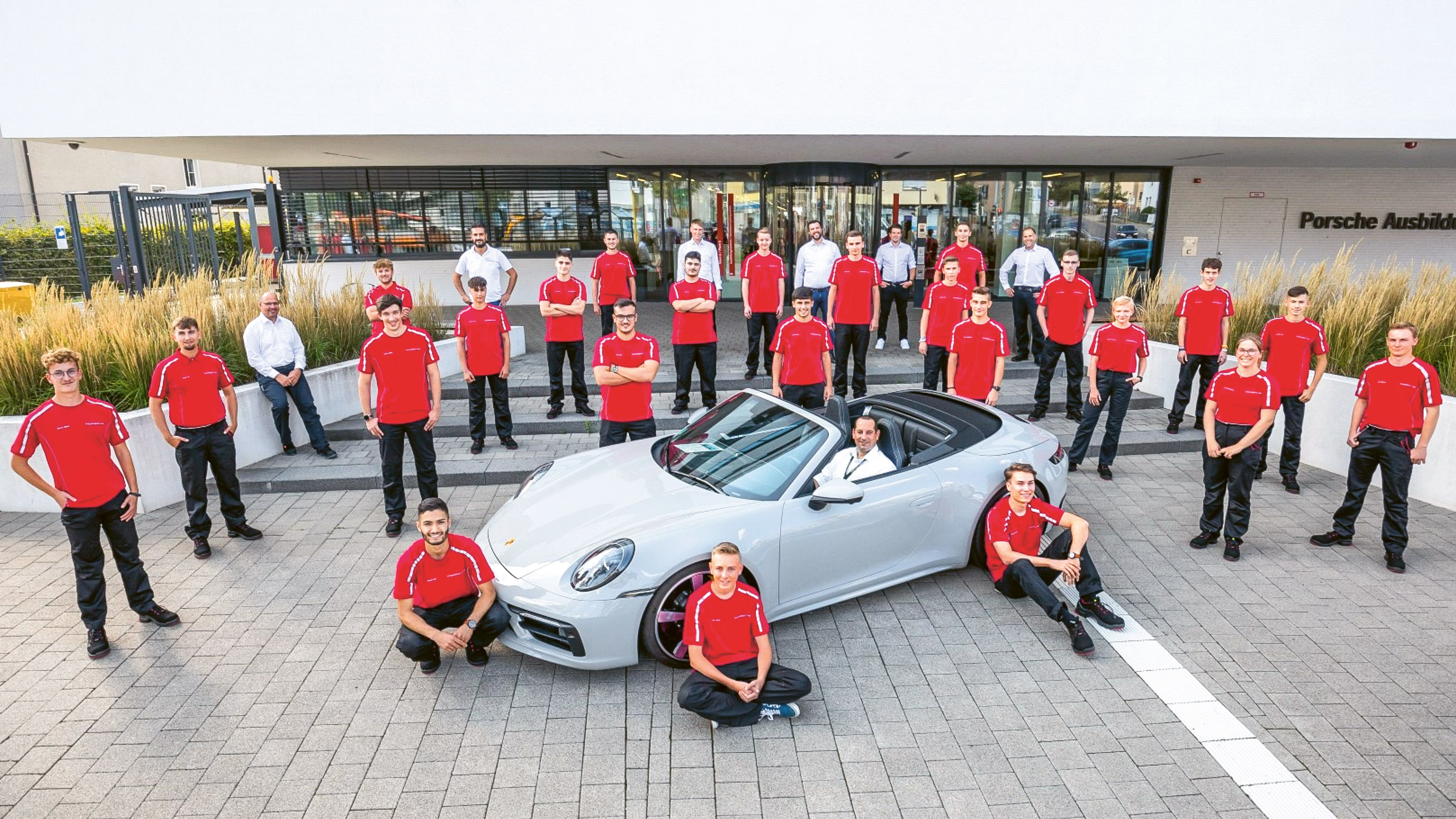 New apprenticeship indicate transformation
The transformation of the automotive industry is changing vocational training. Examples here are digitalisation, Industry 4.0, mobility of the future and electrification. Porsche's sustainability strategy has an important part to play too when it comes to preparing the next generations of employees. The transformation is evident in the apprenticeship trades in particular. A vehicle interior designer is now a vehicle interior mechanic – a skilled worker who applies their craftsmanship to handling all kinds of different materials and who is also able to install numerous interior electronic com-ponents. Training as a motor vehicle mechatronics technician now focuses on system and high-voltage technology. And the electronics technician for industrial engineering is now an electronics technician for automation technology. These examples illustrate how Porsche systematically focuses on the future in terms of training its skilled workers. This is rounded off by new focuses on intelligent systems and data science in the IT study programmes. Transformation is also changing the training formats. New digitalised offerings have evolved to complement the existing training methods, promoting people's learning abilities in entirely virtual or hybrid formats. Among others, the 150 new Porsche employees who met in a virtual meeting in September ahead of the start of their training or studies were able to experience this.
Special payment based on new method
Porsche determined the special payment for employees covered by collective pay agreements on the basis of the new calculation method for the first time. Porsche employees faced particular challenges in financial years 2020 and 2021 due to the ongoing coronavirus crisis. This was due among other things to the existing supply bottlenecks. The company succeeded in keeping its profit high year-on-year thanks to systematic crisis management and the considerable efforts of the entire workforce. The calculation allows the Porsche workforce to fairly and consistently participate in the success of the busi-ness. In view of this and based on the per-formance indicators of return on sales (ROS) and return on investment (ROI), Porsche paid a bonus of 7,850 euros for financial year 2020 in April 2021. In this way, the company recognised the particular commitment of the workforce in a difficult environment.

Safeguarding of Group company sites
In 2020, Porsche AG adopted a pioneering site safeguarding strategy under the heading "Tradition. Transformation. Future.". In 2021, other Group companies – Porsche Deutschland GmbH, Porsche Engineering Group GmbH, Porsche Engineering Services GmbH, Porsche Financial Services GmbH and Porsche Leipzig GmbH – followed suit with their own site agreements. The agreements safeguard the ability of Porsche AG and its Group companies to compete and each include employment protection for the core workforce up to 2030. The agreements cover a 10-year period. They are founded on numerous measures that will boost flexibility and productivity and sustainably secure profit. At the Leipzig site, the Executive Board, management and Works Council also de-cided to reduce the working week from 38 to 35 hours in two steps up to 2025.
Diversity of views is a key driver of Innovation for Porsche
Clear commitment to diversity and tolerance
During its fifth Diversity Days, Porsche again sent a clear message of backing tolerance and of being against exclusion and discrimin-ation. During a themed week around German Diversity Day in May 2021, 21 digital dialogue formats addressed the value and opportunities of diversity. A diverse project team also had the idea of a diversity 911 marked with messages and facts about diversity at Porsche. In adding their signatures to the vehicle at the beginning of the Diversity Days, the Porsche Executive Board and Works Council affirmed their unconditional backing of diversity and tolerance. Diversity was also a focal issue during the Sustain-ability Festival held in October 2021, illus-trating the importance of diversity of views as a driver of innovation and a future success factor. New points of view were also the focus of Porsche hilft in the year under review. This placement platform lists voluntary engagement options and gives Porsche employees the opportunity to broaden their perspectives by enabling them to see beyond their own noses.
Incorporating change into day-to-day usiness
Change is occurring faster than ever. Porsche sees this development as an opportunity. The company assists its employees in per-manently keeping their knowledge up to date and developing new skills. This is important in particular with the advancement of digitalisation in mind as it radically reduces the half-life of knowledge and skills. Porsche believes in lifelong learning and an active approach to change. This offers the employees a unique opportunity to learn something new and, in so doing, develop themselves. Learning space plays a crucial part in Porsche evolving from a knowing to a learning organisation. The Porsche Learning Lab stands on the one hand for the concept of a physical learning room where the sports car manufacturer creates space for experimentation, networks people and gives them guidance on their personal development. And with the integrated offer of a virtual studio, the employees also have the option of recording and sharing what they have learned. Virtual rooms are also created, assisting the employees in developing learnability and a growth mindset.
Porsche launched an innovative internal learning format called the Online Learning Lab in 2021. Here, up to 100 Porsche employees jointly hone their mindset, in other words how they think and their inner attitudes. In the course of six weeks, they learn how to incorporate learning and change into their day-to-day work, all with the aim of shaping change together in times of transformation. The Online Learning Lab is a vir-tual space where employees can grow with others both personally and professionally and enhance their own learning aptitude and pace. The participants are taught methods and hacks that make it easier to incorporate learning into their day-to-day work. They are also equipped with the tools they need to be better able to meet strategic requirements. It is all about a growth mindset (will), learn-ability (ability) and self-leadership (action). This is all directly related to Strategy 2030 as the strategy includes many new topics that all the Porsche employees will have to address in the future. Acquiring new knowledge and new skills and being able to deal with change are therefore part and parcel of day-to-day business.
Changing working worlds
Leadership Lab on a feedback culture
The second Porsche Leadership Lab was concluded in 2021 following a hiatus due to the coronavirus. Approximately 1,500 managers attended. With the aid of external input, constructive feedback and individual reflection, they considered Porsche's management culture, their own management behaviour and their future roles as managers. The second wave began with an intensive preparatory stage in which the managers were able to collect voluntary and anonymous feedback on their management behaviour from their employees, co-workers and superiors as part of the Porsche Code Feedback. At the actual events, the focus was on the managers all developing their personal management behaviour. In coaching sessions, the managers discussed the feedback they had received and learned new methods. From this, they derived concrete measures. The participants were also offered external input by scientists from the University of St Gallen on the topic of positive leadership and promoting change. The Porsche Executive Board members partici-pated in Executive Board dialogues in which they answered people's questions.
Sights firmly set on future requirements
The sports car manufacturer has pooled various transformation initiatives under the heading of Porsche Workforce Transformation (PWT) and is orienting itself even more strictly to the requirements of the future. In times of far-reaching change within the automotive industry, PWT is proactively managing the Porsche employees' development. The primary objective is to get the workforce on board with this change and to offer the Porsche employees sustainable prospects. This is achieved by transparently presenting the various transformation fields and based on the clear desire to occupy future fields with internal candidates wherever possible, backed by intensive professional development offerings. To this end, Porsche has, among other things, founded a Digital Academy, whose purpose it is to strengthen people's digital skills as part of transformation qualification. The sports car manufacturer will not lay off any staff during transformation and will continue to focus on the collaboration of all age groups.
Changing working worlds at Porsche
The office working world is rapidly changing. Whereas individual offices and clearly designated meeting rooms once dominated, what's needed these days in an increasingly connected working world is collaboration space and agile project space. This will, in particular, make the increasing project work across mixed teams from different departments easier. With the new Porsche working worlds, the company is readying itself for this cross-functional collaboration – and therefore also for the needs of Generations Y/Z/0. The Human Resources department blazes a trail for the Porsche working worlds. The various Human Resources divisions have been con-solidated in a central location. Individual offices have been entirely eliminated, including at the Executive Board level. And due to the expanded mobile working options, employees will henceforth no longer have a dedicated workstation. Instead, the employees have the option of freely selecting an appropriate work opportunity based on desk sharing – in project and innovation spaces or in silent working and meeting rooms. Going forward, this will considerably reduce the company's space requirements and will therefore make a key contribution to Porsche AG's sustainability strategy.
Porsche is a highly regarded employer
| | | |
| --- | --- | --- |
| 2019 | | 31,690 |
| 2020 | | 32,661 |
| 2021 | | 33,089 |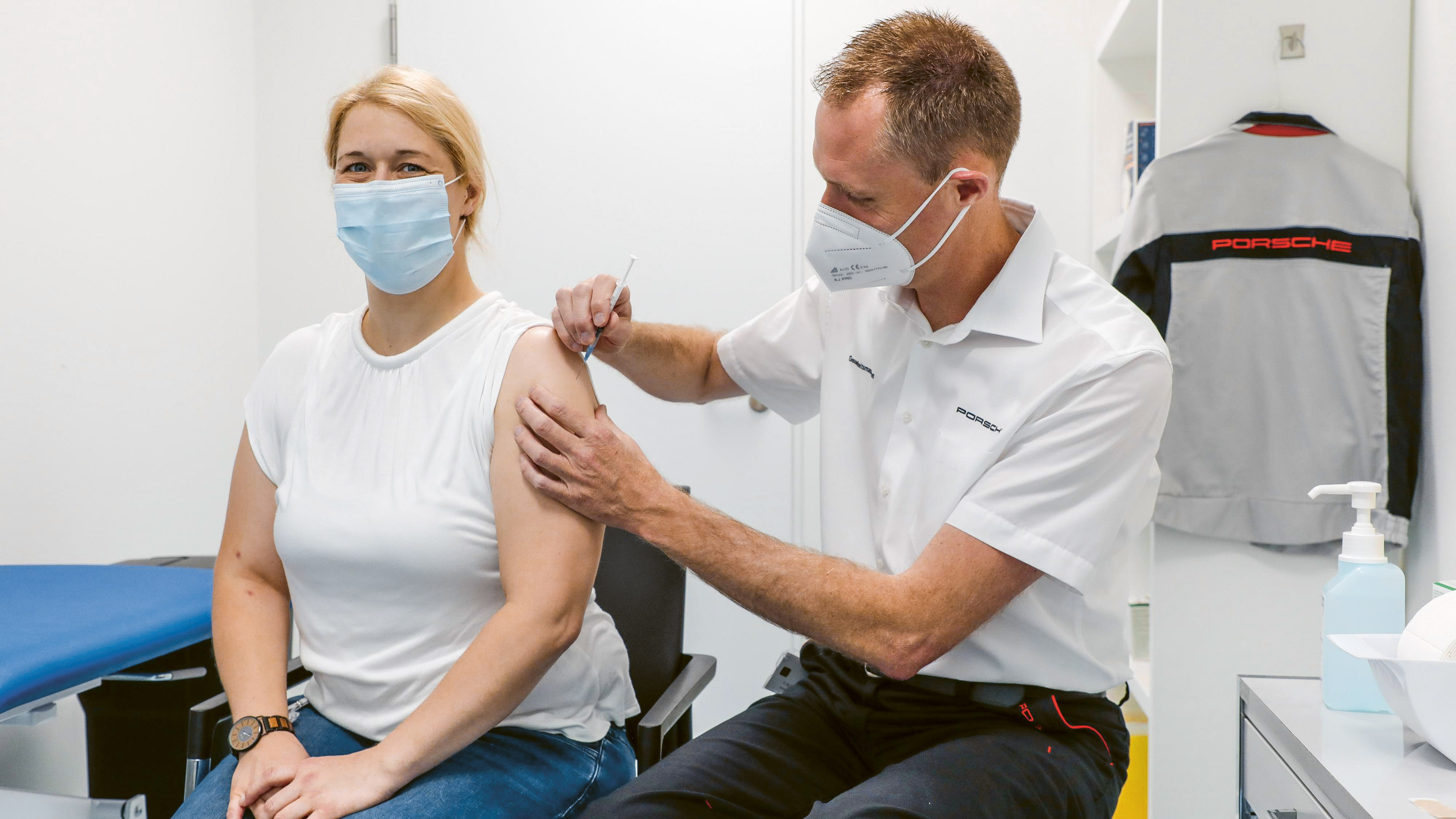 Successful vaccination campaign
Again in 2021, the coronavirus pandemic was a key issue for Porsche's Health Management department. The company significantly con-tributed to Germany's level of vaccination being increased with three vaccination centres in Zuffenhausen, Weissach and Leipzig. In total, more than 14,000 vaccine doses have so far been administered to Porsche employees and their families thanks to the vaccination campaign. The campaign's success was down to a cross-departmental project team consisting of around 100 Porsche employees.
The Health Management department is also responsible for medical advice within the company's Crisis Management Team during the pandemic. It serves as a point of contact for a wide variety of bodies and has been operating a medical hotline in relation to COVID-19 since March 2020. The Health Management department additionally assists the local health authorities with identifying the contacts of people with coronavirus. It offers PCR tests and rapid antigen tests and initiates the necessary measures in accordance with the applicable occupational health and safety regulations. It also ensures that risk groups within the company (the chron-ically ill, pregnant women) are protected. At events and during test drives, the Health Management department is the central contact point when it comes to determining the necessary hygiene measures and ensuring protection from infection.
Porsche's high level of attractiveness as an employer is also demonstrated by its high number of applicants. The Porsche Group received more than 100,000 applications in 2021. Its staff turnover rate likewise remains low at 0.6 per cent.
Porsche is a highly regarded employer
Porsche remains a highly regarded employer. The company again scored very highly among students in all the relevant employer rankings in 2021. In the Universum Student Survey, Porsche was again named the most attractive employer for engineers in 2021. As in the previous year, it achieved top rankings for economics and business administration too. In the Trendence Institute's annual student survey, Porsche improved its scores across all the target groups – engineering, economics and business administration, and IT/computer science. It was the same picture among professionals, with the Universum Young Professionals Survey once again ranking Porsche at the top. In the individual categories, the company defended its first place in engineering. The sports car manufacturer also knocked Google off the top spot for economics and business administration. According to Trendence too, the popularity of Porsche as an employer among young professionals remains strong – Porsche is second in the overall ranking across all areas. And last, but not least, the premium manufacturer was again voted the most attractive employer in the automotive industry in a study conducted among students and future graduates by Automobilwoche and the Institute of the Automotive Industry (IfA), reaping it the Automotive TopCareer Award 2021.
Sustainable employer campaign
Porsche launched a digital employer branding campaign called Sustainable Career in 2021. This focuses on employees who are reducing the company's environmental footprint in a variety of ways, driven by the shared vision and goal of making Porsche the most sustainable brand for exclusive and sporty mobility. The message of the entertaining clips is that the employees take the topic seriously, but don't take themselves too seriously. The employer campaigns intentionally pick up on topics that outsiders wouldn't initially associate with Porsche. The new campaign is a textbook case here as it is founded on the huge significance of sustainability to the company. Porsche is the first automobile manufacturer to have set itself the goal of being balance-sheet CO₂-neutral across the entire value chain by 2030. This calls for co-workers who turn these visions into a reality with a great deal of dedication and pioneering spirit. The Sustainable Career campaign expresses this – it is people with their variety of ideas that make the difference.
In keeping with the times, the campaign publication is digital. It comprises five films on the topics of CO₂ reduction, species conservation, electrification, education and variety of views. The Porsche employees' passion evidently goes above and beyond sports car construction. They are just as dedicated to, for example, the company's own biotopes, its bee colonies which produce the company's own Turbienchen honey and a rock dust facility which is helping to turn car paint residues into cement. Like the multi-award-winning predecessors, the Sustainable Career clips are all about authenticity and spontaneity. They depict actual daily life and do without perfectly staged lead characters voicing text blocks which are learned by rote. They are human and not everything is perfect right away.
Promoting young talent
When it comes to promoting young talent, Porsche continues to back partnership-based cooperation with relevant higher education institutions and organisations. Ex-amples include its cooperation with Formula Student Germany and the partnership with the business information systems and industrial engineering courses at the Karlsruhe Institute of Technology (KIT). A cooperation was established in 2021 with the 42 programming school in Wolfsburg and Heilbronn. The aim of this cooperation is to achieve close coordination of science and practice in relation to digitalisation already at the studies stage. Porsche also awards five Women in Tech scholarships at the Heilbronn site and it has another scholarship programme for computer science students at RWTH Aachen University, which was extended by two years in 2021. Every year, 15 students from the computer science, media informatics, software systems engineering and data science courses receive a scholarship. International university contacts are also carefully maintained and continually developed. One such example is the permanent cooperation with the IT chair at Babeș-Bolyai University in Cluj, Romania. Supporting young talent does not just begin at university, however. Since 2001, the best high-school leavers of the year in Baden-Württemberg in the core subjects of mathematics and physics/technol-ogy have been awarded the Ferry Porsche Award. In 2021, 326 young people received the coveted award. Following a prize draw, six of them were awarded an additional one-year scholarship.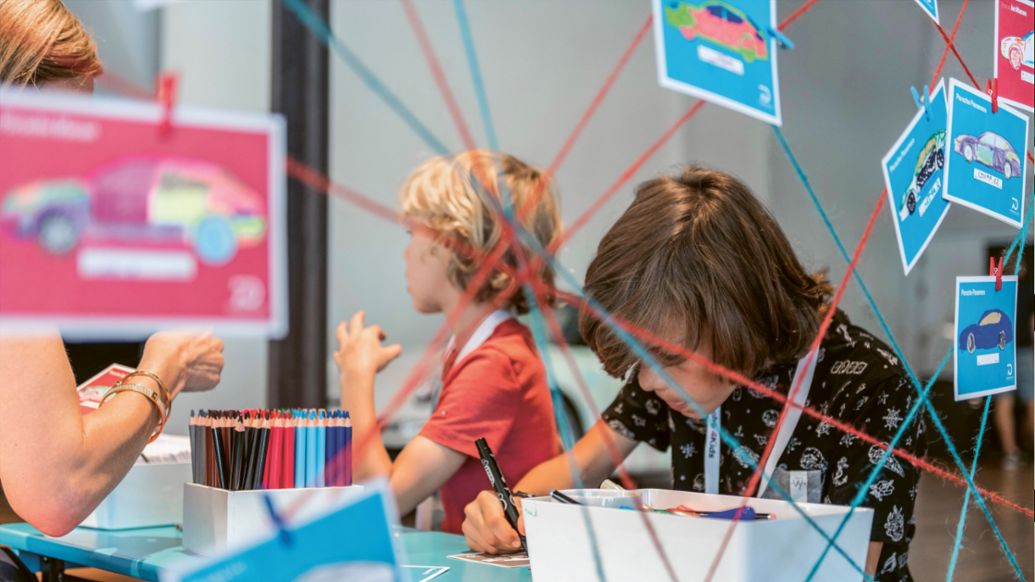 Work-life balance
Porsche strives to ensure that its staff can achieve a work-life balance. Employees receive support from a wide variety of different measures and options. Local cooperation partners ensure that regular childcare places are available in nurseries close to the com-pany's sites, for example. In emergencies, add-itional childcare places are available at day care centres in Stuttgart. Parents can also take their children to work for a few hours and make use of the KidsBox, a mobile playroom containing all kinds of play opportunities. Another special service is the programme for the children of employees that runs throughout the school holidays. This helps families get through the six-week summer holiday period. With its family service, Porsche also offers extensive, free and individually tailored advice and support on all aspects of family life, in particular for parents-to-be and in the area of care for the elderly.
Porsche Gastronomy even more sustainable
Porsche Gastronomy continued with its sustainability drive in 2021. For example, the food selection at the operations in the Stuttgart region was made more seasonal and more regional. The aim is to next reach certification level 2 of the Baden-Württemberg quality label. The network of regional sup-pliers is being expanded to this end. Together with regional partners, production methods and processes were developed to guarantee needs-based and high-quality supplies. For example, in addition to locally sourced fruit and vegetables, beef and pork, Porsche Gastronomy will henceforth also source its fries and poultry regionally.
Porsche Gastronomy is also succeeding in using artificial intelligence (AI) to reduce overproduction and food waste. This is especially important because the number of meals is fluctuating more and more. A key reason for this is the expanded mobile working options at Porsche. Thanks to AI technology and a deep learning algorithm, the needs can now be planned more precisely. The system draws on past data and also incorporates weather data and annual leave into its forecast.
Porsche Gastronomy is also adopting a sustainable approach to equipment, one example here being the new company canteen for the Taycan production staff, which went into use in April 2021. This is equipped with especially energy-efficient kitchen appliances and self-cleaning cooking pots. Traditional doors have been replaced by high-speed doors and height-adjustable work surfaces result in improved ergonomics. A multifunctional dining hall concept increases the space used and also invites the employees to spend time here outside of the canteen opening hours too, for example for meetings.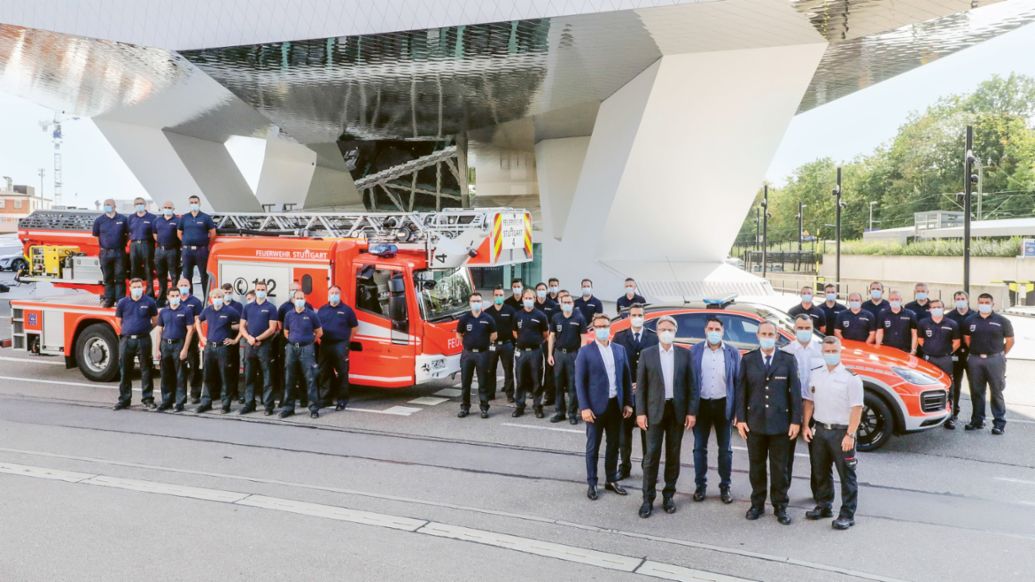 With the Porsche Stuttgart Fire Service, the company s responding to the massive expansion of the Zuffenhausen plant in recent years. Thirty-five experienced full-time firefighters were recruited for the service.
New site fire service in Zuffenhausen
Stuttgart's professional fire department successfully attended to the Porsche site in Zuffenhausen for many decades. In September 2021, the newly created Porsche Stuttgart Fire Service assumed responsibility for this. Thirty-five experienced full-time firefighters were recruited for the service. These new Porsche employees all have professional fire department and rescue service training. A dedicated fire station for the site fire service will be built in a central location at the plant grounds in Zuffenhausen between now and 2023. Until then, an interim building at Plant 2 will serve as the crew's base. With the Porsche Stuttgart Fire Service, the company is responding to the massive expansion of the Zuffenhausen plant in recent years. The increased use of high-voltage components as the model range is increasingly electrified likewise means a number of specialists are needed who can be given specific training. The site fire service is the first fire department in Germany to be equipped with a modular training simulator for this purpose. The firefighters are also being provided with new work clothes that will offer them the best possible protection during these special incident calls. In addition to standard fire protection, the clothing offers additional protection from thermal hazards in the event of electric arc faults.
Cybersecurity training programme
Digital transformation is changing the automotive industry at an immense pace. The new virtual world is increasing the cybersecurity requirements. Porsche is responding to this with its own Cyber Security Management Professional for Automotive (CSMPA) training programme in cooperation with the Institute for Security and Safety (ISS) at Brandenburg University of Applied Sciences. The developments in the digital sphere go hand in hand with the transformation of the automotive industry – in the direction of more connected, semi-autonomous and autonomous driving. But it is not only the vehicles themselves that are connected and digitalised – so too are the business processes and vehicle production. This is changing the company's vulnerabil-ities, be it social engineering, ransomware or industrial espionage. The programme is also in response to changes in legislation such as those caused by the new UNECE regulation UN R155 on cybersecurity in automotive development and Germany's IT Security Act 2.0. The latter now also takes companies with a special economic focus into account. Due to the high level of interest shown, Porsche is now opening up the programme to participants from other Volkswagen Group brands and companies too.