More than 2.5 kilometres above sea level, amid the snow-capped peaks of southern Austria's Ötztal Alps, a multi-coloured convoy is snaking its way up the Timmelsjoch Pass. Ruby Star, Mint Green, Racing Yellow, Shark Blue, a vivid and fast-moving train of Porsche's latest sports cars, scything through the countless switchbacks and short straights that lead to the summit.
This is the midway point on a remarkable road trip organised by Porsche Club Great Britain, created to celebrate its own 60th anniversary and 70 years of Porsche Clubs worldwide. The 10-day, 4,500 km journey has seen up to 50 cars and 100 members criss-crossing Europe, meeting fellow national Porsche Clubs, taking part in track days and factory tours while seeking out many of the greatest driving roads the continent has to offer. From 356 to Taycan Turbo, with an assortment of Boxster, Cayman, 911, Macan, Cayenne and Panamera models in between, the convoy represents the whole spectrum of modern Porsche ownership, every car being enjoyed as its maker intended.
Porsche Club Great Britain is one of the oldest clubs in the world and has been conducting annual trips to Zuffenhausen since the mid-1960s. A hugely popular event for members, these 'Factory Tours' have forged firm ties and lifelong friendships between the British club and Porsche. In order to mark this anniversary year in suitable style, Porsche Cars Great Britain and senior volunteers from the Club devised an ambitious itinerary for 2022 which would bookend a visit to the 911 and Taycan production lines with a series of unique experiences.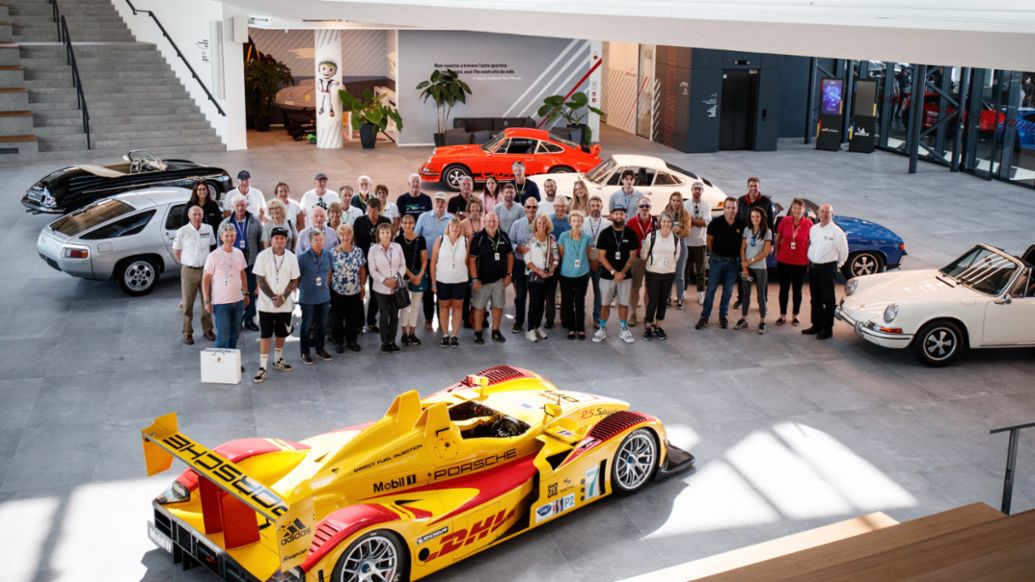 Having crossed the English Channel in small groups, the first official meeting point was Spa, where members were able to experience hot laps of the famous Belgian GP circuit ahead of a welcome dinner with members of Porsche Club Francorchamps in the Pit Brasserie that overlooks Eau Rouge. The following day they would head in convoy to Stuttgart ahead of a two-day programme that included a drive-out to the historic Schloss Langenburg, private tours of Porsche's oldest and newest production lines and an exclusive gala dinner in the Porsche Museum.
Throughout these first few days of the trip, Club members were met by numerous figures from Porsche's past and present, including legendary 1970 Le Mans winner Richard Attwood, celebrated former designer Tony Hatter and representatives from the GT department, Porsche Classic and Porsche Exclusive Manufaktur. They also spent time with visiting groups from Porsche Club America and the numerous German regions before joining members of Porsche Club Italia for a spirited drive over the snow-covered Stelvio Pass. At every point, the British group was greeted with a warm welcome and the shared passion that continues to define the international Porsche family community.
Having already passed through France, Belgium, Germany and Austria, the group's arrival in Italy meant the opportunity to visit the recently opened Porsche Experience Center Franciacorta, the newest and largest such PEC in the world. This striking new development in the heart of Brescia offers more than 5,600 square metres of exhibition and entertainment space alongside a 2.5 km FIA-approved circuit, low friction handling track and complex off-road course. The club spent a full day at the new PEC before exploring what else the region has to offer, including tours of the Riva restoration workshops, Mille Miglia museum and local wineries.
The final days of the trip saw the group return to the UK via various routes, some taking a scenic detour around Lake Como while others tackled the Gotthard Pass that connects northern Italy with neighbouring Switzerland. While here, the Club was also treated to an exclusive behind-the-scenes tour of TAG Heuer's factory in La Chaux de Fonds. Porsche's long-time motorsport partner was even able to offer its guests a sneak preview of the limited-edition RS 2.7 watches, created to mark the 50th anniversary of the first Porsche to bear the Carrera name.
For several days of the tour, club members were chaperoned by Mathias Menner, a specialist in Porsche's Global Community Management who has worked alongside Porsche Club Great Britain for several years, facilitating the unique access so many Porsche Clubs enjoy to the very heart of Porsche in Zuffenhausen. "I've been organising the Factory Tours for years but this was the first time I actually joined the drive," says Menner, who led the drive over the Timmelsjoch in a Shark Blue 992 Turbo S. "It is wonderful what we have been able to do together to celebrate these two anniversaries. It was an amazing few days with Porsche Club Great Britain, especially crossing the Alps and spending so much time at the Porsche Experience Center Franciacorta. It's been an incredible occasion."
Porsche Club Great Britain is already planning its next Factory Tour and looking forward to sharing similar experiences with fellow Clubs around Europe and beyond. To read more about the more than 700 Porsche Clubs around the world and what they have been doing to mark the 70th anniversary, click here.