At the historic Brands Hatch circuit in southeast England, 'We Drive with Esmee Hawkey' offered 12 women from all over Europe the chance to take part in a day of driver tuition, workshops and Q&As. Hawkey, the 2020 Carrera Cup GB Pro-Am champion, was joined by a number of other professional racing drivers and instructors alongside members of Porsche Cars Great Britain's own Motorsport and Communications teams.
Following the success of the first We Drive event that focussed on addressing the gender imbalance in motoring journalism, this second initiative sought to encourage women from a variety of backgrounds to learn more about motorsport and the varied career opportunities the industry can offer. "Porsche is on a drive to improve diversity and representation," explains Rebecca Diver-Clarke, Senior Press Officer at Porsche Cars GB, "and one of the areas where women are hugely underrepresented is in motorsport. Only eight per cent of race license holders in the UK are women, so their chances of getting into professional motorsport are tiny."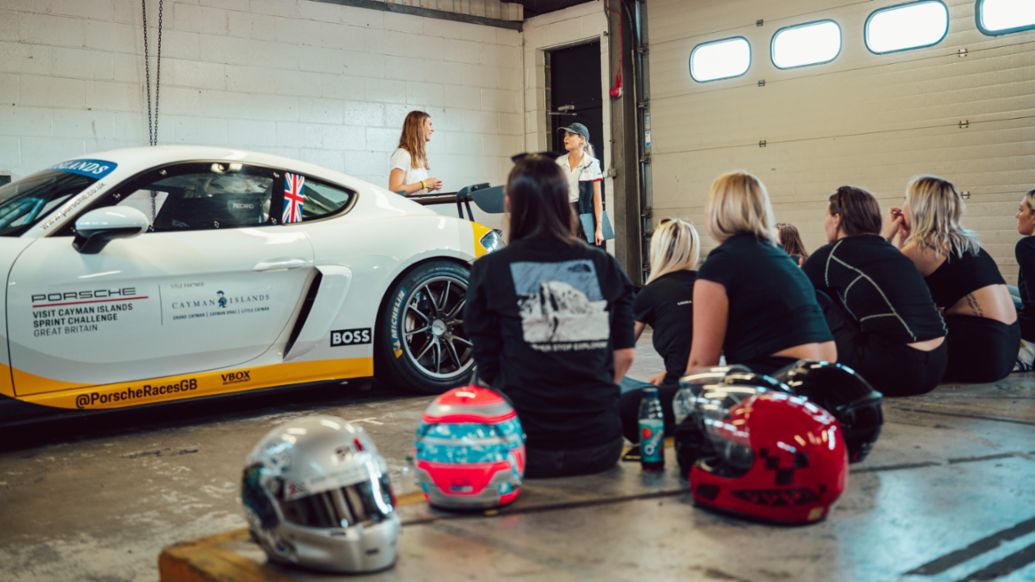 Hosting the Sprint Challenge and Carrera Cup single-make series, both of which are accessible to both professional and amateur drivers around the world, Porsche is uniquely placed to support women in motorsport at a grass roots level. Porsche Cars GB asked Hawkey to reach out to her followers on social media and the response was overwhelming. In the end, 12 applicants were chosen based on their experience and passion.
Breaking boundaries to encourage diversity in motorsport
"We Drive with Esmee Hawkey is about breaking boundaries to encourage greater diversity in motorsport at all levels," continues Diver-Clarke, "and the object of the day was to inspire more women to pursue careers in motorsport. We're using Porsche's platform to bring people together and provide a day of practical coaching with on-track experience in a range of Porsche models. But also to explore how motorsport is about more than just driving. There are so many amazing careers available, from marketing and events to communications and technical roles. If just one of our guests goes on to achieve a career in motorsport after today, that's a success for us."
A packed schedule saw four back-to-back track sessions in the morning, with every driver getting the chance to experience four different 718 models including the Boxster GTS 4.0 and Cayman GT4. During this time, the women were also free to chat to representatives from Porsche's media and motorsport departments before a lunchtime Q&A session with Hawkey. The afternoon gave the women the time to consolidate what they had learned around the challenging Brands Hatch Indy circuit and enjoy some flying laps with Hawkey aboard a 911 Turbo S.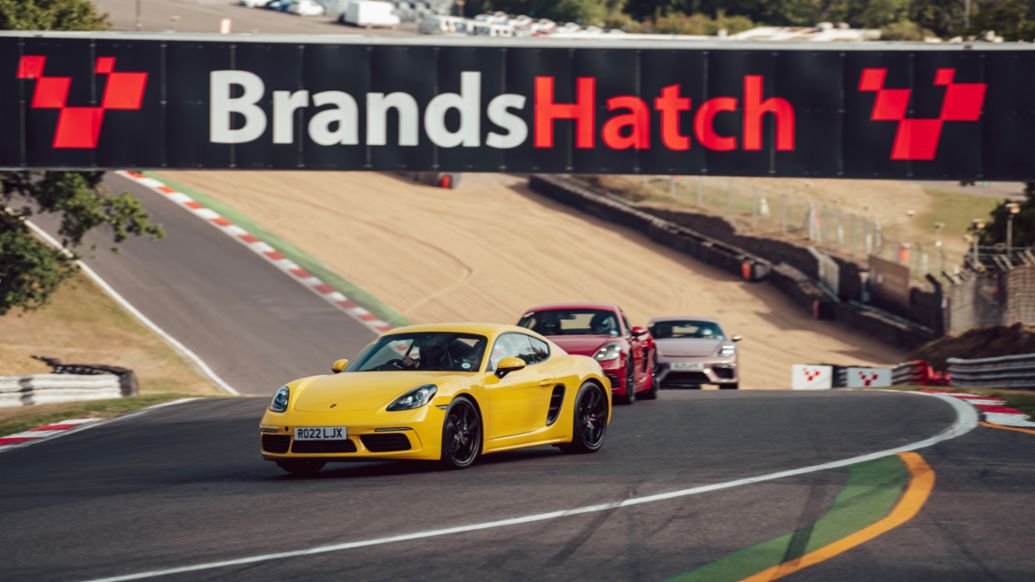 "Today has been a huge success," said Hawkey afterwards, "which is nice to see because I put out the invites on my social media channels and got all the messages back from the women, hearing their stories and why they wanted to get involved. Throughout my whole racing career, I've flown the flag for females in motorsport, so to be able to spend a day with 12 like-minded women who all aspire to a racing career was always going to be great fun. To see how passionate they are, to see them smiling throughout the day, has been such a positive experience. I hope they'll all be able to take something away that will help them further their motorsport dreams."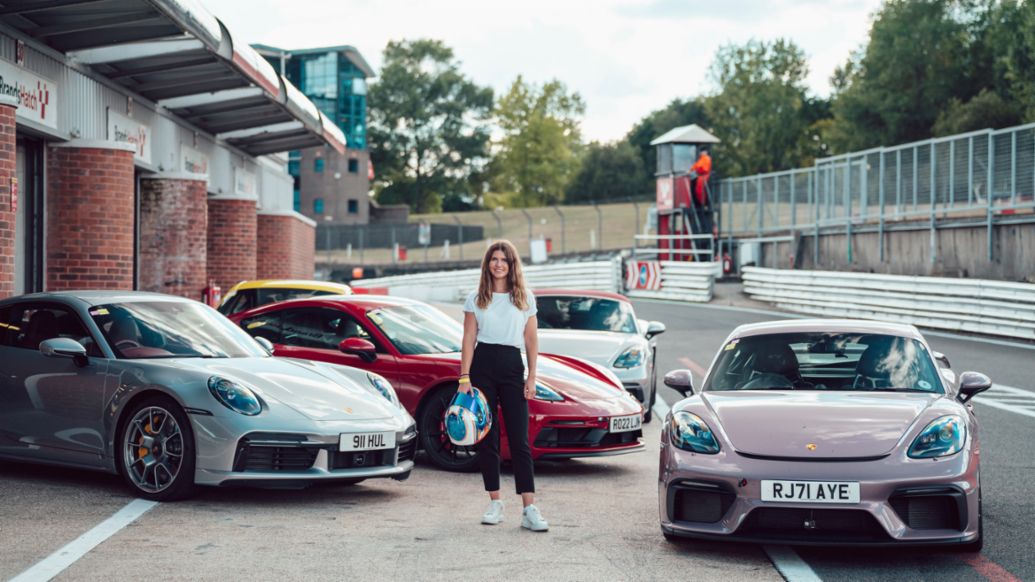 After a long, action-packed and hugely rewarding day, Diver-Clarke reflects on the ongoing challenges and ultimate goals of We Drive: "The amazing thing about motorsport is that, even at the elite level, there's absolutely no reason why women can't compete on equal terms with men. And statistics show for example, that interest in Formula One is actually split pretty evenly between the sexes, so we need to ask what the barriers are. We don't have all the answers yet," she concedes, "but days like these are going to help find them. It's about bringing people together and understanding the problems before you can put in some well-considered solutions."
Kate Morris, 32 – motor industry professional
"I wasn't really around motorsport growing up, but always had a passion for cars. I used to play with toy cars as a little girl, not dolls! I found my way into the automotive industry when I was 17 years old and got my racing license in 2017. A year later I did my first race.
"Today was all about learning from the instructors and rebuilding my confidence following a recent accident. I've raced at Brands before and it's really helped me piece together a nice flowing lap. It's also been great to meet drivers whose careers I follow, like Esmee and Abbie Eaton. My long-term aspiration is to get into Carrera Cup or the Sprint Challenge, and it's been so useful to have a chat with the motorsport team and get closer to those cars."
Becca Taylor, 23 – automotive Youtuber
"I was given a track day for my birthday last year and decided that I really wanted to pursue it. I started a YouTube channel to document my journey, got my race licence in March and did my first race in April. I've already upgraded my licence and am pushing to develop my skills so that I'm really fighting for position.
"Today was an opportunity to network, meeting the Porsche team and like-minded women, which has been great. We've all been sharing our stories while getting coaching in cars I've never experienced on track before. It's been a real confidence boost in my own ability. I feel like I'm on the right path after today, which is great."
Marie Igoulem, 21, Masters student
"I'm currently studying small business management in Monaco in order to work in motorsport afterwards. I've done a Caterham Academy test and some karting, but this was my first real track day, so I was hoping for a lot of experience and to meet some inspirational women from the world of motorsport. I'd like to race in the future, but only as a hobby. My goals are more towards marketing and communications.
"Driving the cars was mind-blowing, however. The instruction was really useful and I hope I've made some progress since the start of the day. I certainly feel much more confident already!"
Louise Deason, 36 – project manager and technician, Little Car Company
"I've always been a bit of a petrolhead and when my husband asked me what I wanted for my 30th birthday I jokingly said a racing car. In the end we went halves on a Caterham, but he doesn't like it while I love it, so now I race it and he doesn't!
"It was really important for me to meet other women in motorsport, to know they exist, because I'm the only woman among 150 men in the Caterham championship. It's been really nice to see I'm not alone and to put some faces to names – and to drive some amazing cars. I know Brands Hatch already but the instructors have really helped me finetune a few bits and find some more speed. I'd like to try endurance events one day, but really I just love being in a car and racing, so however and whatever that looks like, I'm happy to roll with it."
Lauren Tayla, 28 – automotive retail
"My dad always took me racing and I got into karting aged eight. That lasted until I was 16 when I sold my kart to buy my first road car. In October last year I decided it was now or never and to just give it my all. I'm now racing in the Mini Challenge and am halfway through my first season.
"I was looking for experience today because I've got to race here in November! But as a woman in motorsport it can get quite lonely and it's also been nice to spend time with girls you can relate to. I have lots of friends who don't understand, whereas everyone here is totally with you. And the coaches have been amazing, which has given me a massive confidence boost."
Jasmin Mekisch, 24, data analyst
"I've been interested in motorsport since I was a small child, watching Formula One, and I started karting when I was eight years old. I did some test in Formula Renaults and the KTM X-Bow, but I didn't have the money to go further and that looked like the end of my racing experience.
When I was 18, I decided to work in motorsport as a data engineer and I've been doing that for several years now as well as working in race control at the Red Bull Ring, monitoring track limits. I wanted to connect with women with the same passion as mine and drive a few nice Porsches on a race track! It was an absolutely amazing day. I had so much fun but also improved every lap."