A lot has changed since the IMSA WeatherTech SportsCar Championship last visited VIRginia International Raceway (VIR) in 2019. The world has become a very different place since fans last crowded into the 3.27-mile, 17-turn circuit in Alton, Virginia to see the world's fastest and most competitive sports cars battle for supremacy in the Michelin GT Challenge at VIR. Sadly, spectators won't be able to line the fences to watch Porsche challenge Corvette and BMW for top honors in GTLM or the German marque facedown Ferrari, Lexus, Acura, Lamborghini, Aston Martin and Mercedes in the production-based GTD class. But, while everything changes, some things remain the same… a Porsche at VIR is still a strong combination.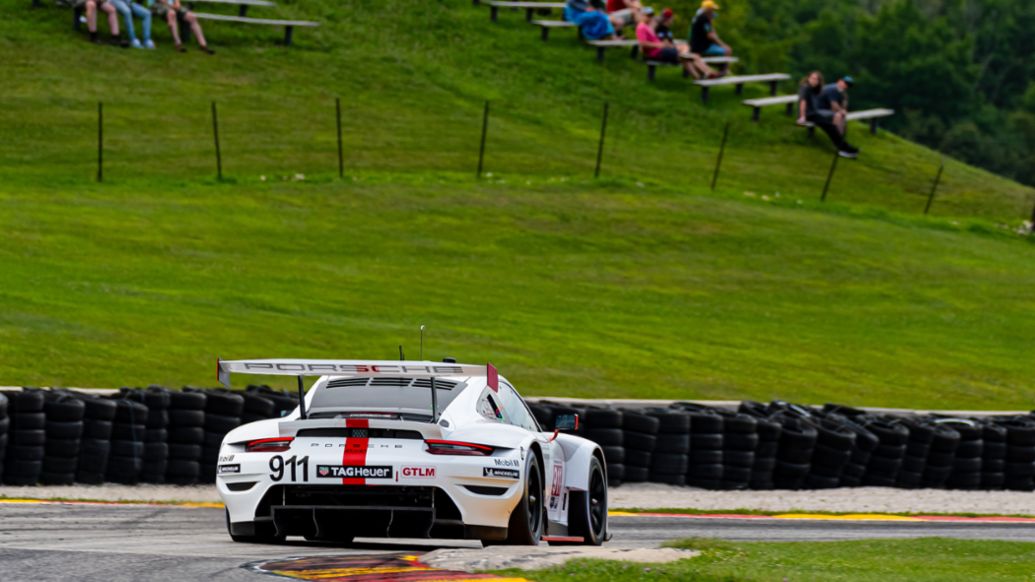 Having been built with a mindset that racing makes the road car better, it is no coincidence that the world's most successful motorsport brand – with over 30,000 international victories – also leads the lifetime wins tally at VIR. In fact, it was a Porsche 550 RS being piloted by Bob Holbert that took the checkered flag first in the inaugural VIR race in 1957. To put that into perspective, Porsche had only started building cars under its own name in 1948 and the first Porsche was not seen on U.S. soil until 1950. Since that first victory, the German sports car manufacturer has stepped onto the top step of the podium 21 times in major race series at VIR.

It was hard to beat the small and nimble Stuttgart, Germany-built machines of the 1950s and '60s. Eight VIR trophies adorn Porsche drivers through 1968 – half of which went home with Holbert. In 1971, the legendary combination of Peter Gregg and Hurley Haywood won the Danville 300 driving a Brumos Racing-prepared Porsche 914-6 in a nail biting finish against Corvette. Haywood was still enlisted in the U.S. Army when he took that first win since his return from duty in Vietnam. Gregg/Haywood would return to lead a Porsche top-five sweep in 1972 driving a Brumos Racing 911.
Porsche success in Virginia did not end in the '70s. While the track closed after the "Dynamic Duo" from Brumos won in '72, the rear-engined 911s would storm back when the gates were unlocked and racing continued here in 2004 with Randy Pobst and Mike Levitas hoisting the GRAND-AM Rolex GT trophy. Paul Miller Racing won the 2007 GRAND-AM Rolex Sports Car Series round at VIR. Andy Lally/Ted Ballou took the honor in 2010 sharing a Porsche 911 GT3 Cup race car. In 2011, Action Express won the Rolex Series race overall in a Riley Daytona Prototype powered by a Porsche Cayenne-sourced engine. SRO World Challenge GT America race and class titles would further fill the record books.

In 2020, despite the impact COVID-19 has had on the entry list, Porsche still plays a major part. Twin Porsche 911 RSR-19 race cars will be at the sharp-end of the grid when the two-hour and 40-minute GT-only race takes the green flag on Saturday, August 22. Fighting for the GTLM championship – a feat they are attempting to replicate from 2019 – "works" drivers Earl Bamber (New Zealand) and Laurens Vanthoor (Belgium) in the No. 912 Porsche GT Team entry will face their factory teammates Fred Makowiecki (France) and Nick Tandy (Great Britain) who will share the No. 911. Tandy and Patrick Pilet (France) paired to win the race last year. Tandy also holds a VIR victory from 2015 when he and Pilet won the race overall in a previous generation Porsche 911 RSR. Bamthor – as Bamber and Vanthoor have come to be known – were in second-place last year at the checkered flag. In the same race but running in the privateer GTD class, North America's only Porsche factory driver, Patrick Long (Manhattan Beach, California), will team with Atlanta Georgia's Ryan Hardwick in the No. 16 Wright Motorsports Porsche 911 GT3 R, 500-horspower racer. While the only Porsche entry in the class, success at VIR is familiar to Long. He took the overall win there in a Porsche-powered Daytona Prototype in 2006.

Porsche race cars are also sprinkled throughout other events at VIR this weekend. The Porsche 718 Cayman GT4 Clubsport will lead the Porsche contingent at the Southern Virginia-area facility as the weekend finale on Sunday, August 23. The two-hour race for GT4-spec machines – which share up to 80 percent of their components with their road-going counterparts – will see the No. 7 Archangel Motorsports driven by Alan Brynjolfsson (Tampa, Florida) and Trent Hindman (Wayside, New Jersey) and the No. 38 BGB Motorsports mid-engine Porsche race cars compete. BGB's entry will be shared by Thomas Collingwood (Canada) and Jan Heylen (Netherlands/Dunedin. Florida). In addition, 17 Porsche 911 GT3 Cup race cars will run in two, 45-minute events on Saturday and Sunday. The world's most prolific race car is the sole entrant in the IMSA Porsche GT3 Cup Challenge USA by Yokohama.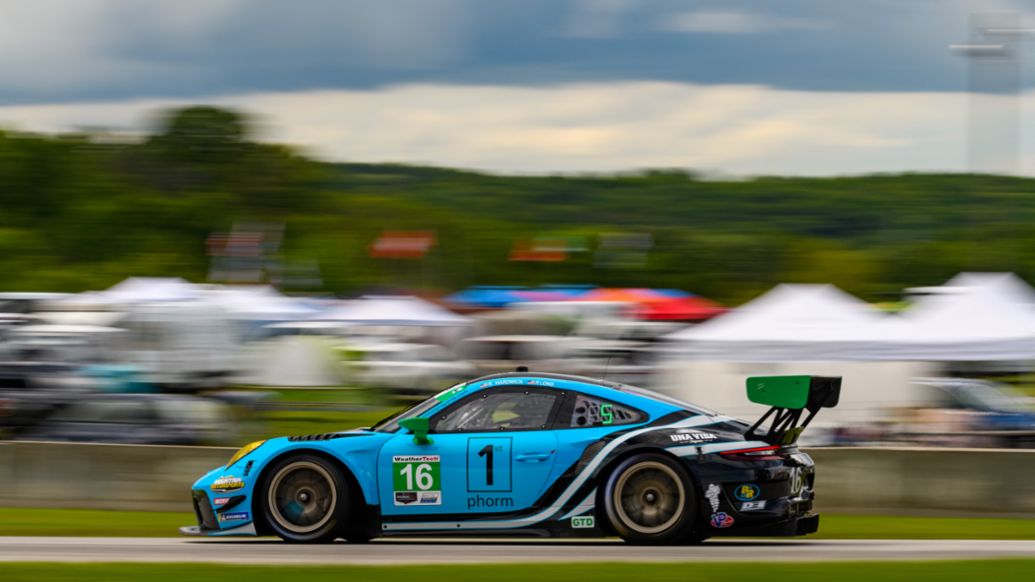 The Michelin GT Challenge at VIR can be seen live online at IMSA.TV as well as on the NBC Sports TrackPass, Saturday, August 22 at 2:00 p.m. ET/ 11:00 a.m. PT. A delayed broadcast of the two-hour, 40-minute event will be shown on NBCSN at 10:00 a.m. ET, Sunday, August 23.