Christmas 2022 was not the usual snow-white affair for Emma Raducanu. Instead of the familiarity of a family gathering in a chilly UK, the 20-year-old tennis champion and Porsche brand ambassador celebrated the festive season with friends in sunny Singapore, squeezing in a week of training before heading to the summer climates of Auckland in New Zealand for the ASB Classic, and then to Melbourne for the Australian Open, the first grand slam event on the 2023 WTA Tour.
"Australia is one of the best places to play. It has such a good atmosphere and there's always a good feeling about the place here." Emma Raducanu
"I'm really excited to get the season underway," she says, enjoying Melbourne's January warmth and atmosphere. "I had a long off-season and put a lot of physical work in so it's great to get back to competition."
Getting underway in Australia is something of a bonus. The 2021 US Open winner says Seoul and Singapore are two of her favourite places to play competitive tennis, and is quick to add the land "down under" sits alongside them.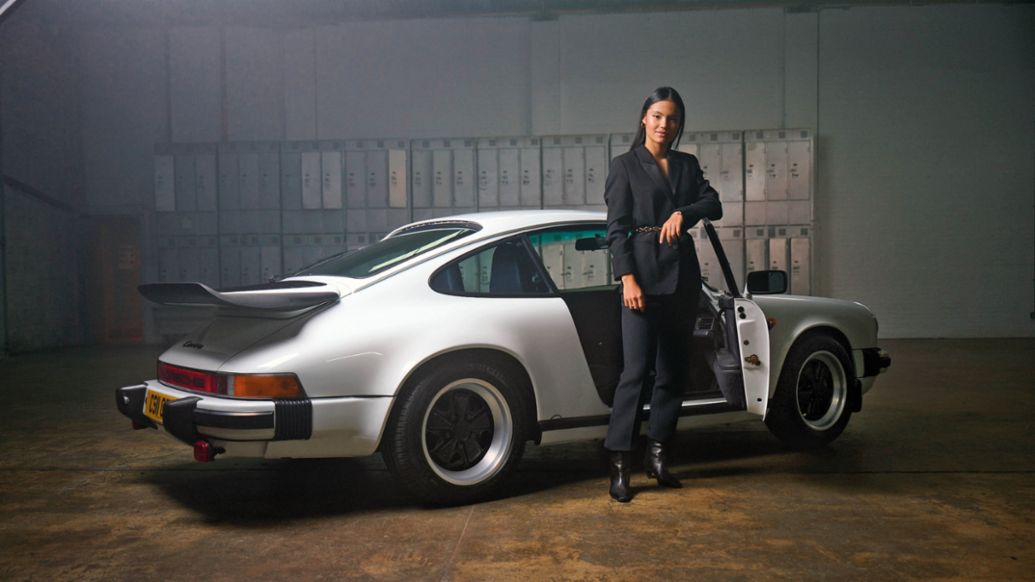 "Obviously I haven't played everywhere. I'd still love to play tournaments in China and Japan. I really like being in Asia, I always feel so welcome and feel at home with the culture. Australia is one of the best places to play. It has such a good atmosphere and there's always a good feeling about the place here."
Even with a few extra countries yet to be stamped in her playing passport, travel is a big part of Emma's busy schedule. Life on the road as a top-flight professional tennis player regularly keeps her from home but the young Briton approaches it with her trademark positivity.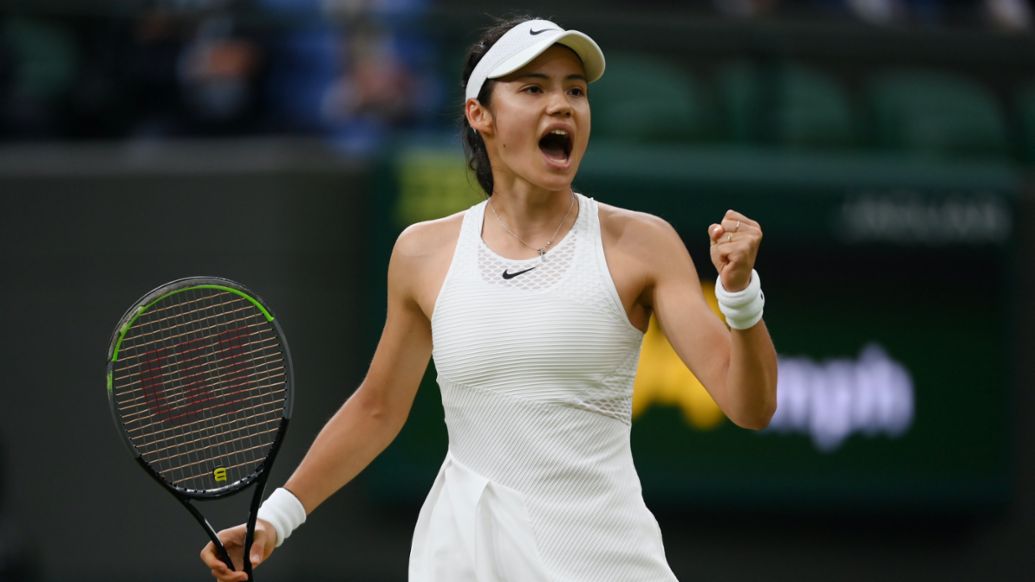 "There are certainly sacrifices you make being on the pro tour, but I think there are sacrifices you need to make in any profession if you want to be successful. Being away from home is one of ours, but at the same time it's an opportunity to see the world."
Recognising opportunities is the mark of any successful competitor. Harnessing them for maximum advantage is the mark of a champion, something Emma has demonstrated many times during her impressive playing career. But even with her laser-like focus to make it to the top of her chosen sport, there's always a curious what if? question the world is keen to hear answered. So, if it wasn't tennis, what would she pursue?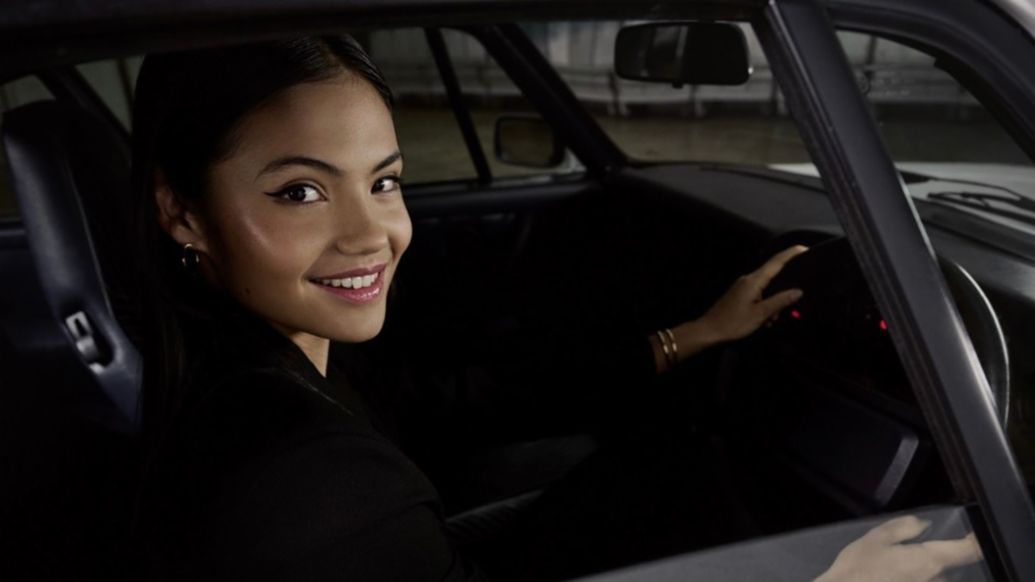 "I would love to have been a racing driver but I think realistically if I wasn't a tennis player I would have worked in finance. I like working with numbers and studied maths and economics for my A Levels so I would probably have continued down that path."
Her reply makes perfect sense. The precision, discipline and methodical approach she uses so effectively on-court are the perfect ingredients for a numbers-based career. And as a talented and skilled athlete, she has already shown her natural abilities behind the wheel, including a stint driving a Porsche 911 Carrera S with fellow Porsche brand ambassador Mark Webber, and a day spent driving the all-new 911 GT3 at the Brands Hatch circuit in the UK.
The idea of Emma Raducanu as a professional racing driver is tantalising. It's a natural connection. Her relationship with Porsche started many years ago when a tennis coach from her early days drove a 911, something she still remembers well. And it sparked a love that remains to this day.
"Owning a 911 GT3 RS would be a dream," she says. "I was able to drive a 911 GT3 at my local track a last month and that was very cool, but the RS would be the next step up."
And it would need to include one important detail: "The colour I want the most is Porsche Forest Green."
"Owning a 911 GT3 RS would be a dream." Emma Raducanu
Along with time, authenticity underpins Emma's long-standing passion for Porsche. It is an important part of her connection to the sportscar maker.
"I've always been a big Porsche fan and driving is one of my favourite hobbies. I think we work together very well because we just bounce ideas off each other and make cool things happen. Porsche is also providing an amazing platform for me to build my driving and engineering skills so it makes sense on so many levels."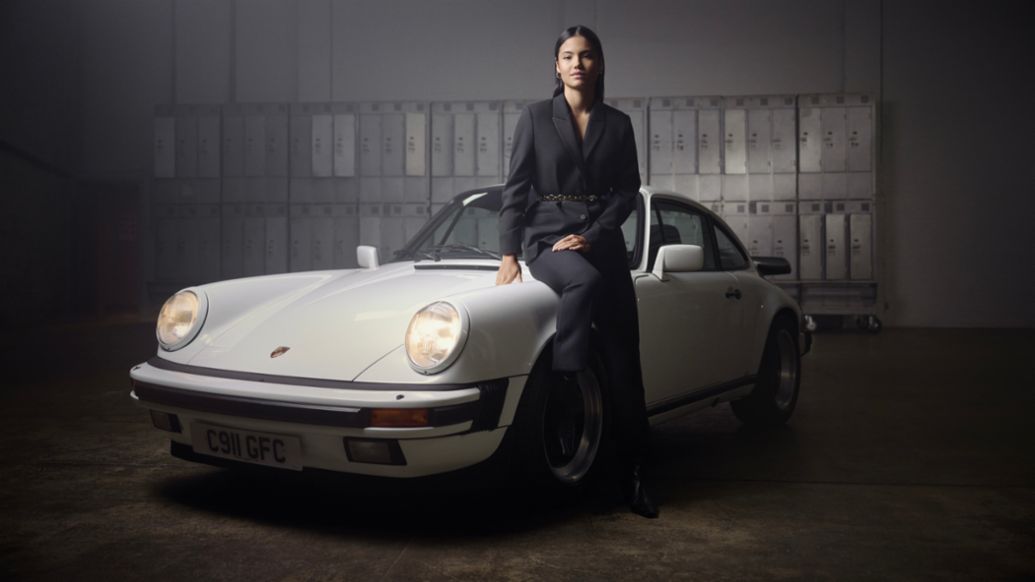 Along with her authentic approach, Emma's commitment to win shows in everything she does. Her home country acknowledged this last year when she was honoured with an MBE for her services to tennis, which she received at a special ceremony with King Charles III. It was more than a memorable moment: "It was a great honour, and an amazing experience to receive it from His Majesty himself." But the celebrations that followed couldn't escape her trademark commitment to the sport she loves.
"I went to Windsor Castle with my family to attend the ceremony in the morning, dressed in a day dress and hat. And then two hours later I was on-court training, having got changed in the car! So that was how I celebrated!"