Multidisciplinary artist Jack Vanzet keeps three vehicles in his personal garage: painting, music and design. He uses them to create enjoyable emotions for people, reflecting the same creative impulse that sparked Ferdinand Porsche 75 years ago.
Ask Jack Vanzet what he wanted to do growing up and you'll discover his destiny was all but written.
"My siblings and I have always been exposed to the world of art and music," he says. "It's a major part of our family culture, so becoming an artist never felt like a decision that I consciously made. I don't really know any different."
"My parents instilled a sense of meaning and wonder through the arts and creativity early on, but they never pressed us on a profession in the industry. They facilitated an environment where we were able to experiment, explore and – more importantly – fail safely, which was vital in being able to discover what it is that we found meaningful. I feel very fortunate to have experienced this; I wouldn't be where I am today without that."
Those formative years sparked Jack to build the creative world he inhabits today, and he discovered a special richness along the way.
"One of the things that drew me to the arts was the diversity of projects that artists and creatives can work on," he says. "For example, a writer might be engaged to write about a new medical breakthrough, which would require them to gain a deep understanding of the subject matter. In this way, their profession allows them to be exposed to completely different worlds outside of their own profession. As an artist, I'm not limited to one particular subject or field, but rather have the opportunity to explore a diverse range of topics and ideas. This not only expands my knowledge and skills but also allows me to develop a broader perspective and pushes me to innovate. "
This exposure to multiple worlds is reflected in the variety of subjects he addresses in his music and visual work, all of which follow his vision of creating art as a tool for understanding. He achieves this by imbuing his works with utility and meaning so they contribute positively to the lives of others.
For example, his mesmerising visual series Abstract comprises a collection of floating colour-rich streaks that replicate and synthesise movements and forms found in nature. Their dreamy state and sedative blends have a 3D-like effect. Their properties are calming. They evoke the desire to reach out and embrace them.
In creating the visual campaign for Hayden James's album Lifted, Jack focussed the primary design around the pleasing symmetry of a single icon, an arrow, creating a clever narrative that captures the essence of the album's title.
His collaboration with classical pianist Josh Hooke occurred during the widespread lockdowns sparked by the COVID-19 pandemic. The album, titled Composites, took its name from the collaborative process that created it, which involved each artist exchanging short piano sketches to build on each other's ideas. It resulted in nine original piano compositions, each of which inspired the album's visual identity, which comprises nine unique artworks; one for every song.
"Profound moments with art and music are like conversations that cannot be expressed through speech or body language." Jack Vanzet, Multidisciplinary Artist
Along with his other works, these examples reveal Jack's quest to explore and innovate artistically.
"I have been working as a professional artist for over 10 years, and while I don't feel completely settled in my career, I try to see this as an opportunity to continue exploring, innovating and evolving my craft. I believe that constantly challenging myself with new mediums, techniques, and ways of expressing emotion is a complete necessity. Of course, this process can be challenging and even frustrating at times. There are days when I feel like I'm back at square one, struggling to find inspiration or make progress in my work. But I've come to realise that these moments of uncertainty and doubt are a natural part of the creative process, and that they often lead to breakthroughs and new discoveries."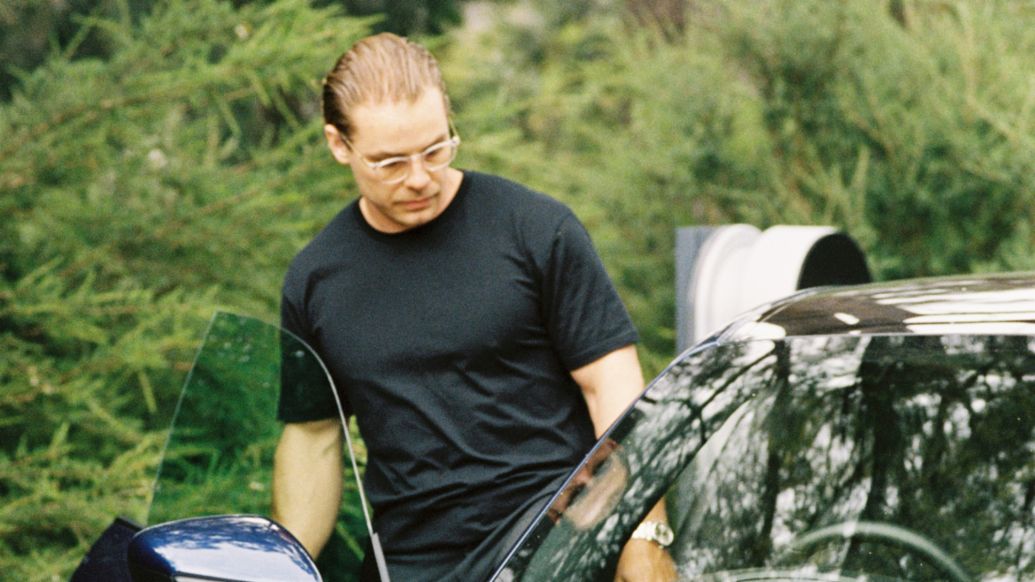 He's also quick to add that his ability to convert creative dreams into memorable realities isn't all about talent.
"Growing up, I was surrounded by hard-working people who instilled in me the importance of dedication and perseverance. I've found that my work ethic and values around craftsmanship and creativity have been valuable assets in my career."
His mindset and approach have sparked an array of creative opportunities. For example, some of the world's largest companies have sought his inventive methods to convey their stories, which he crafts with memorable impact. Indie-electro music trio RÜFÜS DU SOL turned to Jack to create the visual branding for their platinum-selling album Bloom. Musical performers such as Ta-Ku, Wafia and Chet Faker collaborate with him.
"When I think about Ferdinand Porsche and his first seminal work 75 years ago, he would have been the perfect creative partner." Jack Vanzet, Multidisciplinary Artist
Despite the diversity of the visual and audio projects he's offered, one thing remains the same.
"I believe the only way I can create meaningful work is to stay true to my vision and work on projects that feel authentic to me."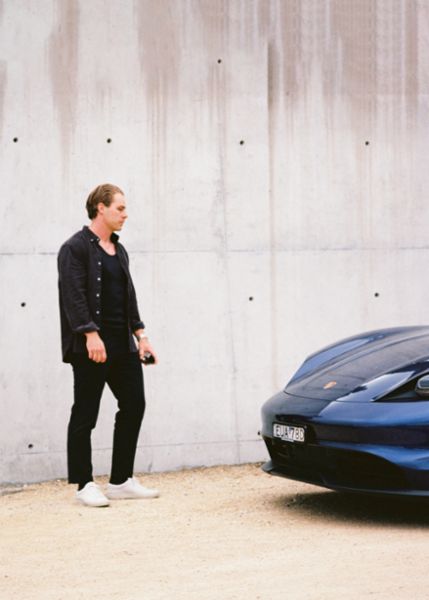 It's a point he was reminded of when he recently experienced the Taycan, Porsche's first all-electric sportscar.
His drive along the winding roads through Tasmania's Freycinet National Park was the perfect natural setting to express his views about its exterior design and craftsmanship, which he says blends Porsche's rich heritage with its forward-looking vision.
"It felt like driving a 911 from the distant future," he said, sliding out of the driver's seat.
His impressions also reflected his own creative process.
"A key part of my practice is the marriage of traditional methods of creation with new-age technologies. My music almost always starts at the piano before it ends up being treated inside the computer.
"Similarly, my visual work starts with pencil and paint before being transformed and expanded upon digitally. I want to keep acting on these curiosities and continue to innovate and push the boundaries of what I can achieve with my work.
"When I think about Ferdinand Porsche and his first seminal work 75 years ago, he would have been the perfect creative partner."
Info
Visit jackvanzet.com to discover more about Jack Vanzet, his music, and his art.
Images: Jack Vanzet