The week consisted of diverse and innovative designs on the runway and a strong presence of Porsche's first all-electric sportscar, the Taycan.
View the highlights of the week here.
Bianca Spender Opening Runway Show presented by Porsche
On Monday May 9, the Bianca Spender Marquee Runway Show opened Afterpay Australian Fashion Week at Carriageworks, Sydney. The show exhibited the union between fashion and luxury automotive: Cutting-edge design, craftsmanship, empowerment, and sustainability.
Bianca Spender recently spoke to Jane Rocca for Porsche's woman with drive to discuss sustainability, inspiration for her latest collection and her role as a leading designer in women's fashion. To view the interview click here.
One on One with Bianca Spender presented by Porsche
Presented by Porsche, Bianca Spender shared her design process and where she finds inspiration in an intimate discussion moderated by Caitlin Judd and Anna MacKenzie from Lady-Brains.
Watch the interview with Bianca Spender via the link here. Please create a log in to access the full video.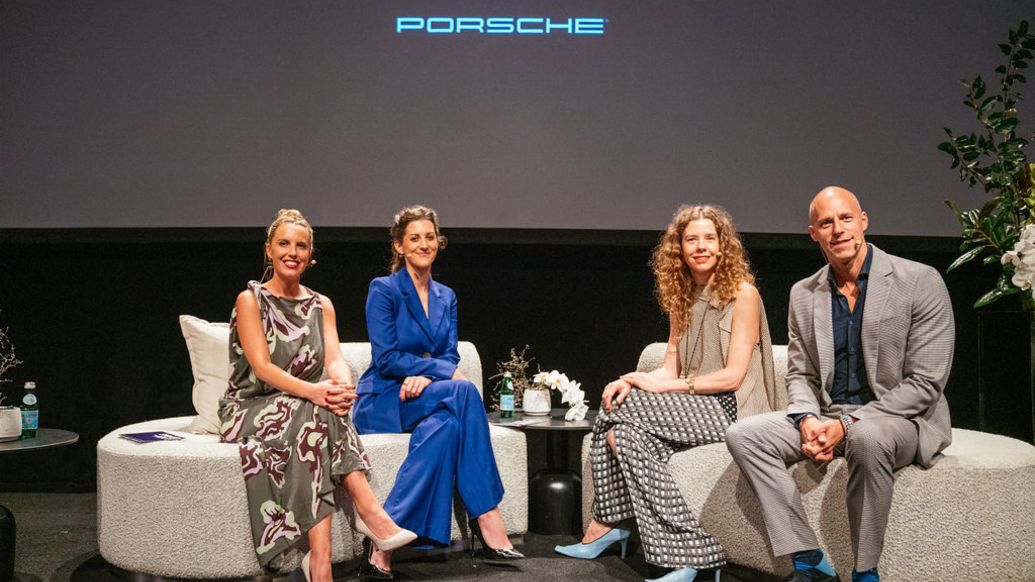 Electrifying Afterpay Australian Fashion week with the Taycan
Porsche's first all-electric sportscar was fitting for fashion week. The ethos of Afterpay Australian Fashion Week combines cutting-edge design with sustainable fashion practices. Enter the Taycan: A luxury performance car that's built for a better, brighter future.
The Taycan was highlighted at two bespoke activations at Carriageworks. The eye-catching hero display included an impressive LED light display with eight interchangeable colours shining a light on the sleek contours and design of the car.