The Sydney mother of two is all about empowering women through tailoring – a process that reflects her values and commitment to living mindfully while keeping style at the forefront of her fashion crusade.
Spender's fashion journey began in 2004 while working with her mother, the late fashion icon Carla Zampatti. Bianca went on to launch her eponymous brand in 2009 and has ever since remained true to her sartorial quest to be better and do better.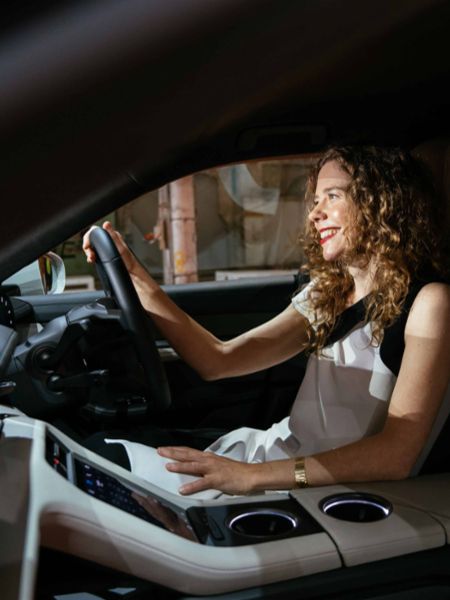 Spender has always been about elegant tailoring – a commitment that never wavers and one that goes beyond the two-piece suit. She's still driven by design that in uncompromising – where unexpected tailoring twists have kept her creations timeless classics. This is the era of investment dressing, but it's been part of Spender's DNA ever since she emerged with her label.
This year's Bianca Spender is bringing deadstock back to life - steering her business into a new era of social consciousness, where ethical design is key. She's always pioneered quality fabrics and made in Australia, with 2022 all about being more transparent in her pursuit for fashion leadership. She leaves no stone unturned in her mission to create less landfill and unearth more memories through her capsule collection.
Spender's personal growth is reflected in the fashion she creates; her pieces inspire women to embrace their own identity and find their own style. She's all encouraging women to be strong and confident human beings who want to make change and lead the charge while doing just that.
She speaks to Jane Rocca for Porsche's woman with drive.
What has inspired your latest collection you'll be showing at AAFW?
The range has been inspired by the concept of disruptive beauty. To me the collection represents bravery, optimism and pushing the boundaries of beauty.
What sustainability practices are you largely focusing on/working towards for your brand?
We are talking a lot about shifting the creative process and how we approach sustainability. There can be an incredible outcome from repurposing an existing resource and that idea has a huge amount of scope and undeveloped potential. We haven't yet got to the "ugly fruit" in fashion, we haven't seen the revolution of how fashion approaches its waste.
How have you engaged sustainability into the collection you'll be presenting at AAFW?
For this collection we are using predominantly deadstock fabrics. 90% of the runway styles are created from repurposed deadstock fabric.
Can you describe the Bianca Spender woman? Who is she, what does she stand for/believe in, is she driven career and fashion wise?
She's wearing the clothes for her. Even more so than ever with this collection we can talk about this idea of an element of surprise within the resolve. The way that you put things together that has an unspoken conversation. From a woman's point of view wearing clothes is so much more than beauty or conforming.
How have you grown more comfortable in the role as designer and leading in women's fashion in Australia?
I think it's about being comfortable with the uncomfortable, it's not about asking yourself for the creative space to feel comfortable. When I started, I thought if you are a great designer, things will come easily, and it was a more straight road. Now I suppose, experience has taught me that the journey is the beauty in the process – the mistakes, discoveries from experimentation and to believe in sometimes getting lost before you get found.
"I think there is no way to exist in fashion without drive! I'm always evolving how I look at design and creativity. I will never be bored."
How has the way women dressed changed over the years in the time you have been designing?
I think the way women have dressed has seen the biggest shift in the past two years. There's of course a conversation around comfort, but what I see is that it's more for themselves than it is for an occasion. There are less rules and that's very exciting! I hope it leads to people being more playful and spirited."
Any muses for this collection in particular?
There is no one muse for this collection, it's more about the idea of individualism. She is not shy!
Would you describe yourself as a woman with drive - someone who is empowered by the design process of your practice?
I think there is no way to exist in fashion without drive! I'm always evolving how I look at design and creativity. I will never be bored. I feel very lucky to work in a field that connects to everything from psychology to art and with women at the core of it all, who as we know are wonderful, complex, and layered creatures. They will always keep me intrigued!
Personal and work Goals for 2022 - what do you hope to achieve with this year ahead?
For me it's about giving my creativity space to experiment and really celebrating the team. It's not a single individual that makes a collection, it's a whole team behind us who need to be recognised and celebrated. It does take a village! I also want to inspire people to be brave.
Describe yourself in three words.
Playful, curious, dedicated.
Afterpay Australian Fashion week will run from 9-13 May 2022 at Carriageworks, Sydney, and livestreamed at AAFW.com.au.