Both off the track and on it, Australian racing talent has always punched above its weight on the global motorsport landscape. From the legendary Ron Tauranac, whose partnership with Sir Jack Brabham changed the world of Formula One, to Malcolm Oastler designing Reynard's most successful IndyCars or Chris Dyer dominating Grands Prix as Michael Schumacher's race engineer, the list is long.
Add the name Jeromy Moore to that list: an Aussie perhaps best-known down under for working with V8 Supercars legend Craig Lowndes but now regarded internationally as a Le Mans winning engineer and the brains behind Porsche's stunning new 2019-specification 911 RSR GTE racer.
The big change
When Roland Dane purchased the team formerly known as Briggs Motorsport in late 2003, Moore was already a part of the team as a young data engineer. Initially working as a data and design engineer, Moore quickly rose through the ranks as Triple Eight Race Engineering grew to become the most competitive force in Australia's top category. By 2008 he was winning the Bathurst 1000 as Craig Lowndes' race engineer before ultimately rising to lead the team's entire engineering efforts as they set about dominating the sport with Lowndes and Jamie Whincup.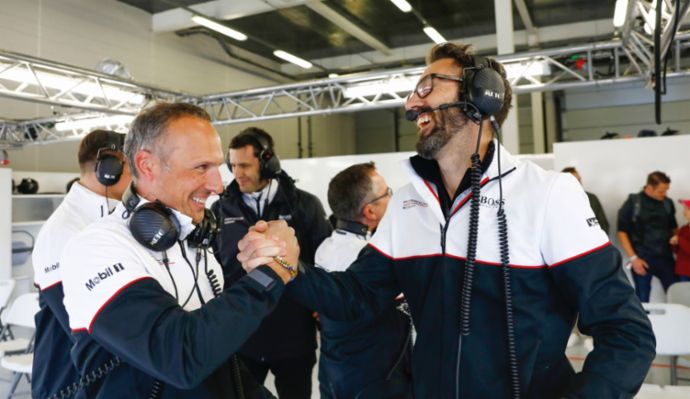 "I'd done seven years of data engineering and seven of race engineering and felt like I had reached where I was going to reach within the company structure that was there at the time," recalls Moore. "I wanted to expand my horizons, do something different."
With Dane's blessing, Moore reached out to 'a guy who knew a guy' and within a few days had secured an interview with the Porsche motorsport division in Weissach, Germany. By Christmas that year the deal was done and by January he was embedded in Stuttgart just as Porsche turned a corner into a remarkable period of sustained success.
The 919
Porsche's 919 Hybrid program, designed to return the marque to outright contention at the renowned Le Mans 24 Hour endurance epic, was beginning to bear fruit when Moore landed in Germany to assume his role as a performance engineer within the team.Having been launched two years prior, Porsche returned to the top class at the Le Mans in 2014 and though the results didn't flow, the potential was clear when the car qualified on the front row.
With rivals around and a rapid rate of development and innovation, Moore fell into a competitive hotpot that was endurance racing at its best.
"I don't think there'll be a better time or type of motorsport to be involved in than at that time," he smiles. "We had four manufacturers in the paddock with Nissan, Audi, Toyota and us, so it was everyone going hard. It was also all different concepts—not like Formula One where everyone has the same rules; so it was a fantastic time to be involved there, especially with Porsche, one of the best motoring companies out there with their heritage."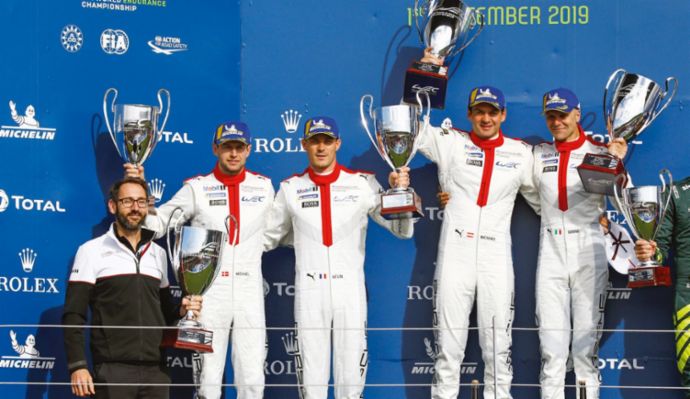 Despite the operation enjoying staffing and resource levels similar to many Formula One teams, Moore found the transition period into a fully blown factory Le Mans team to be easier than expected.
"You'd almost expect to walk in the door and everything was sorted: motorsport's been running at Porsche for 60 years. But because it's so cyclical, it was like a young team building up—but with the full background and backing of the motorsport department of Porsche.
"It was quite cool to get there like that. It means you could put in ideas and be listened to and you probably have more of a say compared to coming into more of an established structure when they know what they're doing and you just get in there and do the role and go. While it was a big structure with all the people there, it was still quite a small team in that respect."
It was also a team beginning to fire on all four of its powerful turbocharged, hybrid-assisted cylinders.
The road to Le Mans
Responsible for coordinating the key elements involved in turning out a competitive LMP1 racer week in, week out, Moore found fortune in his first assignment as he linked with drivers Timo Bernhard, Brendan Hartley and Mark Webber for his first full season.
"It was cool working with the Aussie guy," says Moore. "I did have to be the translator sometimes when Mark was saying something on the radio and all the engineers would ask 'What is he saying?'. He would fire out all the Aussie slang when he was in the car, so I'd have to translate that to up to 100 engineers on the intercom, so that was quite cool.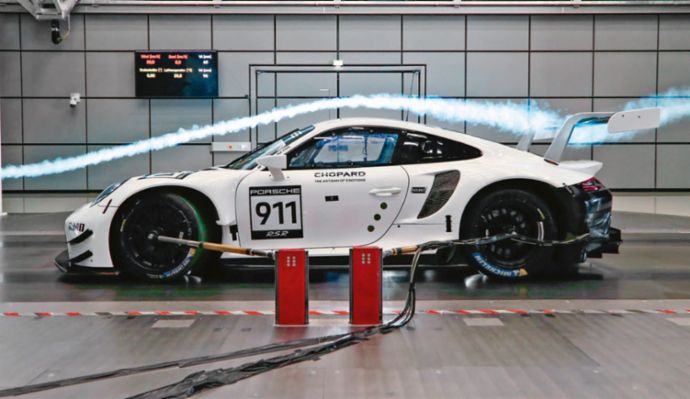 "Mark is one of the most down to earth racing drivers I've ever known. He has a lot of experience from Formula One and working with cars with a lot of aero sensitivity, so he brought that to the team in promoting that to the people to focus on."
2015 would prove to be a remarkable season: Moore's car finish second, narrowly, at Le Mans to the Bamber/Tandy/Hulkenberg Porsche. But softening the blow of that near miss were four straight victories after Le Mans, securing Moore and his driving triothe World Endurance Championship after a classic, year-long battle with the leading Audi. Crucially, Porsche also sealed the coveted Manufacturers Championship in the process.
In 2016 Moore shifted to the sister car, crewed by the experienced trio of Marc Lieb, Romain Dumas and Neil Jani and in the process stepped up to the leading role of Race Engineer—essentially responsible for all aspects of the program as the team chased the biggest prize of all; a Le Mans victory.
The year would bring both a second world title but also, most importantly, an 18th overall victory for Porsche at the Circuit de la Sarthe.
"When you're working on a 911 you have pressure that it has to be a nice-looking car and it has to represent the brand and perform." Jeromy Moore
"At the time we weren't the fastest car between the two team cars, but we were consistent and reliable and we were doing our thing," Moore remembers. "We were fighting back and forward and holding the gap to the Toyota and they had their issues. It was unbelievable! I could not describe it and I was in tears as the car crossed the line.
"It's not only because it's a big event, but you've just endured the biggest two weeks—when you include the pre-event test day—building up to it. On race day you get up at 6 am and the race starts at 3 pm and you keep going until 3 pm the next day. It's just a huge day. You are physically and emotionally exhausted and to come out with the win on top is just unbelievable. It will always be a highlight of my career."
RSR revolution
With Le Mans conquered in 2016, Porsche won the race again the following year before withdrawing from the top class of prototype racing. But Moore's rising status in the team ensured he wouldn't be out of a job, instead moving across to lead the development of the brand-new GTE racer, the 911 RSR, that would form the platform for the brand's attack on the World Endurance Championship, IMSA Racing in the United States and a four-pronged attack on Le Mans.
Where working on the LMP1 program saw him part of the bigger picture, his promotion to Technical Project Leader of the RSR programme ensured Moore was overseeing everything from the top: it would be his baby.
"That was up there with the LMP1 program for me," he explains. "It was me who was deciding what we do with the car from a concept. You're starting with a clean sheet of paper but at the same time it has to look like a 911, it has to fit the dimensions, but you also have to fit a performance window to make sure you're within the BOP (Balance of Performance). It's all about optimising that within the window."
The car was instantly successful: scoring a 1-2 result on debut in the opening round of the 2019-20 FIA World Endurance Championship at Silverstone.
"It came down to Fritz (Enzinger, Porsche's Vice President of Motorsport) complimenting me by saying 'this is one of the best ones we've made'. It was a very humbling experience being told that from someone very high up within Porsche: when you're working on a 911 you have pressure that it has to be a nice-looking car and it has to represent the brand and perform. It is another level again when you have to make a good race car and a good 911."
Coming home
With the RSR successfully launched and with a second baby daughter joining his expanding family, Moore's five-year stint in Germany came to an end in late 2019 as he elected to return home; assuming the position of Technical Director at Triple Eight Race Engineering.
Happy to be back on Australian soil with his family, Moore retains a working relationship with Porsche's German base. With a raft of memories from five years at the top of global sports car racing, what is the highlight?
"Seeing that car, the RSR, get out there and race," Moore responds. "The first time at Silverstone and the result we got there. It was the first time I had developed the car as the Technical Project Leader, so taking a 1-2 was crazy. Le Mans is the easy one to pinpoint but that would be equally as good: You put a lot of effort in and have a lot of pressure to make sure the car is successful and to get the result in the end was incredible."
Info
Author Richard Craill
Photos Richard Craill and Porsche AG