"They don't make them like they used to."
Wrong: they do. Even better sometimes.
Owning a classic Porsche can be either an important step towards new Porsche ownership, or an homage to a current model already in your garage. Either way, it's a serious consideration, with the increasing appreciation by enthusiasts of early models confirmed by soaring international values.
As you might expect, original 'unmolested' vehicles and those recommissioned by the Porsche factory invariably are in the greatest demand. Porsche AG and its select coterie of Official Classic Partners around the world don't have the option of cutting corners like backyard boys can. For them, there is only one way—the Porsche way—and serious Porsche enthusiasts wouldn't accept anything less. When Porsche Centre Melbourne (PCM) was awarded Classic Partner status early last year, it was the first and only Porsche Centre in Australia to be granted this honour and one of just 50 worldwide.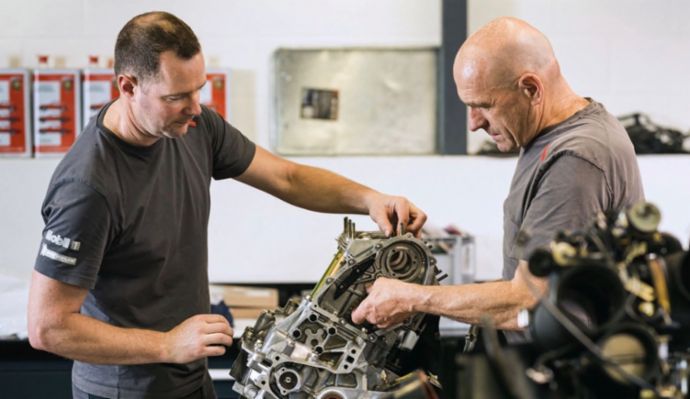 To be elevated to this status, technicians Brett Bowen and Matthew Walton had to be factory-certified to perform all service and repair tasks on every Porsche built since 1948, from the earliest 356 to the very latest Taycan electric sports car that is coming out later this year. Since then Brett's vastly Porsche-experienced technician father, Peter Bowen, and Paul Weeda who manages PCM's Classic Partner restoration work, have completed similar training and joined them.
To qualify, aspirants must be able to diagnose and solve problems that might be found on early-model Porsches. This might include disassembling a carburettor, reconditioning and tuning it and then getting the car running perfectly again—skills no longer a prerequisite in the modern Porsche workshop with its advanced electronic diagnostic equipment.
"It was just like having the Porsche factory rebuild my car." Adrian Kinderis, customer
The expansion of the PCM workshop and staff has been justified. From its early beginnings with two dedicated work bays, PCM's Classic Porsche restoration work is now booked out until late this year—in contrast to the dealership's new Porsche service work, which aims to be as responsive as possible.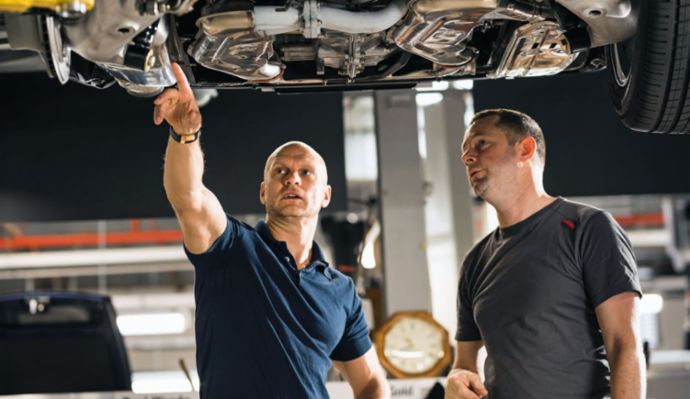 But speed is not the priority for Porsche Classic customers; quality and authenticity are. Multiple Porsche owner Adrian Kinderis wanted to add a classic model to his predominantly late and current model collection. Originally he planned to ship the one-owner, 175,000 kilometre-old 1990 model 911 Carrera 4 Targa he bought for this purpose to a noted North American specialist for a complete rebuild, but when PCM was appointed an Official Classic Partner, he changed his mind.
"It was just like having the Porsche factory rebuild my car," he said. "As a bonus, it was in my home city, so I could follow its progress all the way and discuss everything with the technicians working on it."
While its body was stripped to bare metal and repainted inits original Venetian Blue metallic, technicians Peter Bowen and Paul Weeda oversaw the Porsche's mechanical transformation.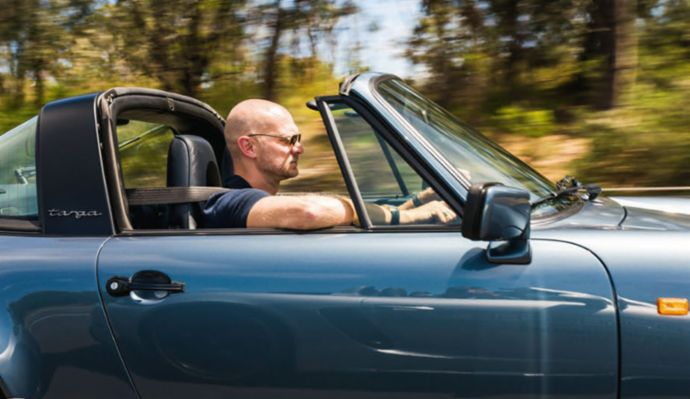 Accustomed to the performance of the latest level Porsches, Kinderis wanted the C4's 3.6 litre engine internally upgraded to a Type 993 3.8 RS specification. Other modifications, using only factory parts, included fitting an RS CS single mass flywheel, while a 993 Turbo clutch was employed to handle the extra power.
However, word of PCM's Classic credentials has spread a lot further than its home city. A 1988 model Porsche 911 Carrera 3.2 Widebody Cabriolet owned by a West Australian enthusiast is currently at PCM for a full mechanical restoration.
"We are getting enquires from around Australia and even overseas," said Weeda. "The quality of our work, endorsed by our Official Porsche Classic Partner appointment, is our calling card."
Porsche Centre Melbourne has special status as Australia's only Porsche Classic Partner.
An unforeseen benefit of having classic Porsches back in the PCM workshop and on display in the dedicated 'Classic Corner' of the showroom has been the interest they have generated in customers.
"Our showroom is naturally heavily focussed on the current range of new Porsche models," explained PCM General Manager, Piero Pellegrini. "Having classics on display and in adjacent workshop bays brings our history to life and reminds everyone why the Porsche brand is so highly respected. Some of our new vehicle customers have become inspired to own a classic Porsche after seeing them here and of course if they do, we can help them enjoy it the way it was made."
What Porsches are 'classics'?
A classic Porsche is defined currently as every Porsche built from the earliest 356 model up to and including the first water-cooled type 996 911 Carrera and 986 Boxster models. As well as the promise of original parts, Porsche Classic Partners offer owners of these models a preferential hourly labour rate and a parts discount to reward their owners' passion for Porsche history.
Info
Author Michael Browning
Photos Rob Blackburn