Every Porsche has motorsport in its genes – from the 911 GT2 RS to the Cayenne S. And this is exactly what the sports car manufacturer is now showcasing with its photo shoot of the current vehicle range. The vehicles have been photographed on the test track and also in front of the workshops belonging to the top-secret development centre in Weissach and Flacht, the heart of Porsche Motorsport. Porsche Newsroom attended the photo shoot and is able to share some exclusive insights: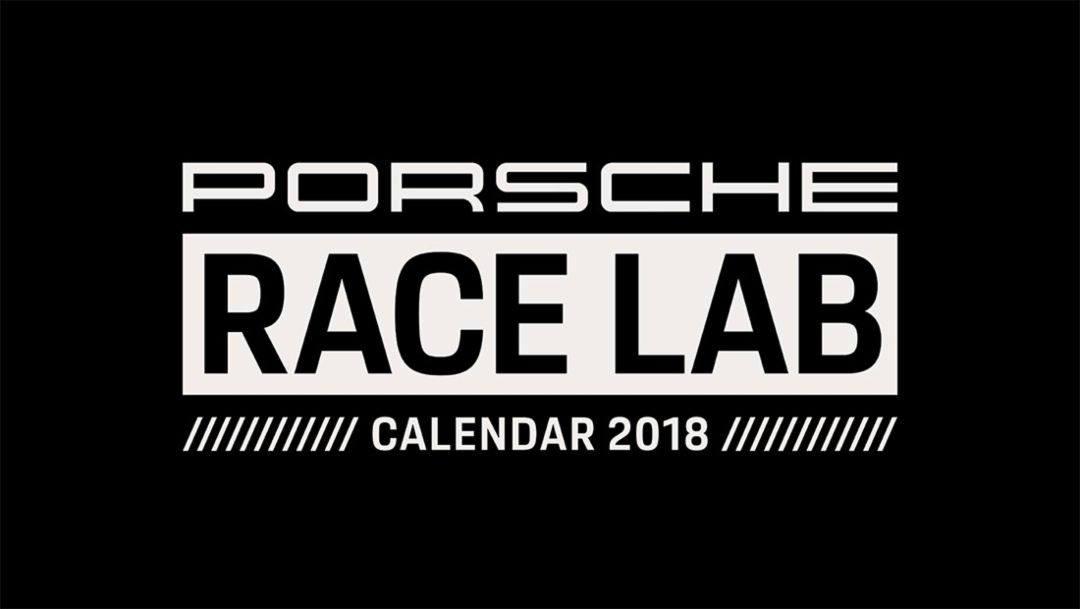 You can explore the results in full in the current "Race Lab" Porsche calendar for 2018. In addition to the 13 images on the calendar (cover image plus one image for the 12 months of the year), interested parties, fans and customers have the opportunity to discover more photos and information about each of the vehicles on a microsite.
This image gallery offers a preview of the calendar:
The calendar is available in the Driver's Selection Shop.
Consumption data
718 Boxster S: Fuel consumption combined 8.1 – 7.3 l/100 km; CO2 emissions 184 – 167 g/km
718 Cayman S: Fuel consumption combined 8.1 – 7.3 l/100 km; CO2 emissions 184 – 167 g/km
911 GT2 RS: Fuel consumption combined 11.8 l/100 km; CO2 emissions 269 g/km
911 GT3: Fuel consumption combined 12.9 – 12.7 l/100 km; CO2 emissions 290 – 288 g/km
911 Targa 4 GTS: Fuel consumption combined 9.7 l/100 km; CO2 emissions 220 g/km
911 Turbo S Exclusive Series: Fuel consumption combined 9.1 l/100 km; CO2 emissions 212 g/km
Cayenne: Fuel consumption combined 9.2 – 9.0 l/100 km; CO2 emissions 209 – 205 g/km
Cayenne S: Fuel consumption combined 9.4 – 9.2 l/100 km; CO2 emissions 213 – 209 g/km
Macan GTS: Fuel consumption combined 9.2 – 8.8 l/100 km; CO2 emissions 215 – 207 g/km
Panamera Turbo S E-Hybrid: Fuel consumption combined 2.9 l/100 km; CO2 emissions 66 g/km; electricity consumption (combined) 16.2 kWh/100 km
Panamera Turbo Sport Turismo: Fuel consumption combined 9.5 – 9.4 l/100 km; CO2 emissions 217 – 215 g/km