Top women for a top brand
They are the faces of Porsche in tennis – Angelique Kerber and Emma Raducanu represent the sports car manufacturer all around the globe as Brand Ambassadors.
Angelique Kerber, who won the Porsche Tennis Grand Prix in 2015 and 2016 and who became the first German world No. 1 since Steffi Graf, has been a Brand Ambassador since 2015. Emma Raducanu sensationally won the US Open in 2021 and was thus the first qualifier ever to win a Grand Slam. The Briton has been a Brand Ambassador since 2022.
"The players are strong personalities and role models for young people far beyond the realms of sport," says Oliver Blume, Chairman of the Executive Board of Porsche AG. "They embody Porsche's values in the widest variety of ways and are therefore perfect ambassadors for the brand."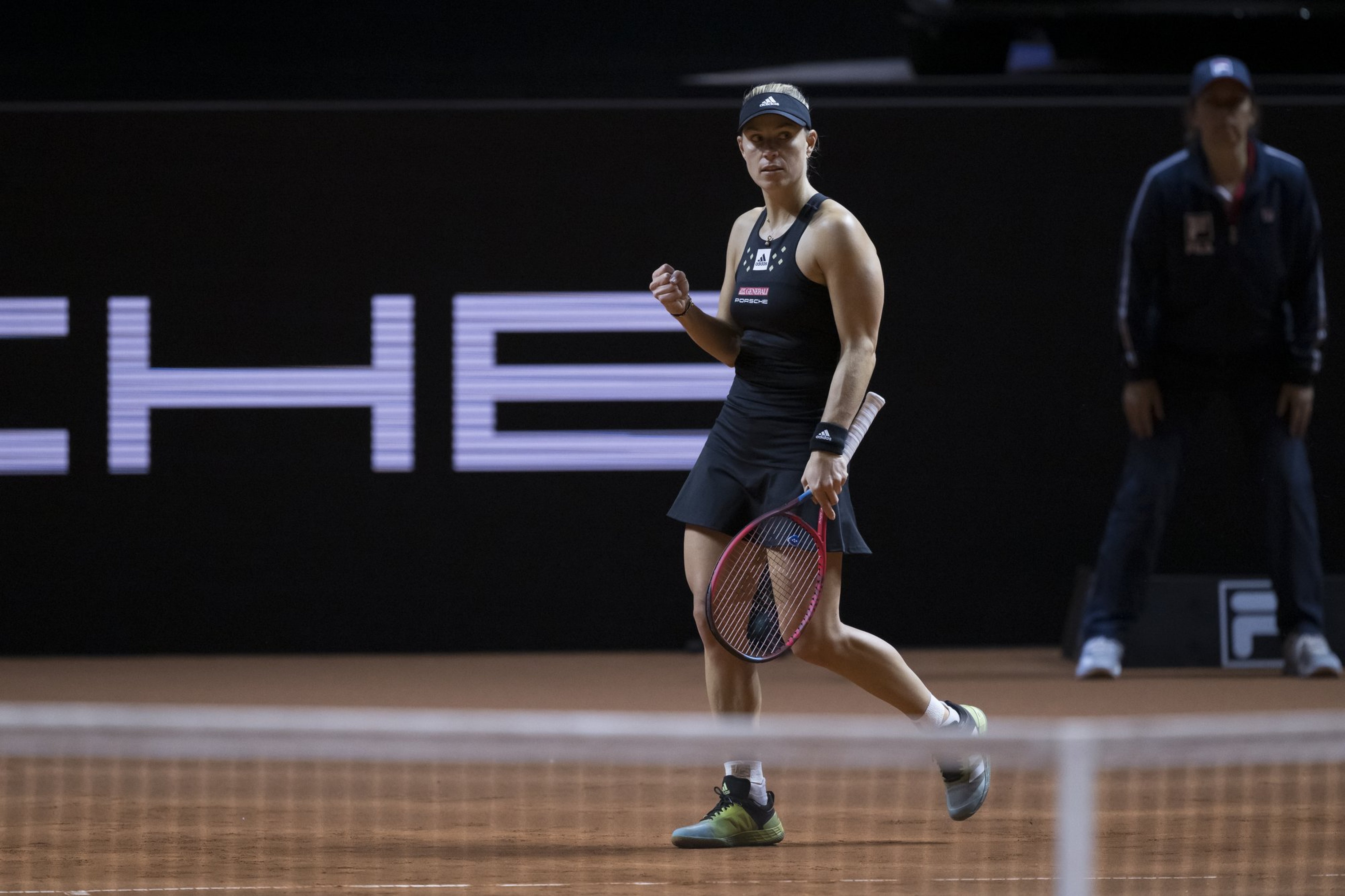 "I was really looking forward to playing in New York but two against one just isn't a fair competition," said Angelique Kerber when jokingly announcing her pregnancy on social media before the 2022 US Open – and then took time off for maternity leave.
The Porsche Brand Ambassador is one of the world's most successful women tennis players. In her super year in 2016, she topped the world ranking after Grand Slam wins in Melbourne and New York. She was first German to do so since Steffi Graf in 1997. As equally impressive as the successes was the energy with which she fought her way out of the downturn that followed the heady heights. She came back and fulfilled her big tennis dream by winning Wimbledon in 2018.
On the way to becoming the No. 1, she had got over many setbacks and had learnt from defeats and victories. She described the way she managed it all in her autobiography "A Question of Will" that was published in 2022. He successes are a spur not only for the hopeful talents that are jointly fostered by Porsche and the German Tennis Association in the Porsche Talent Team and the Porsche Junior Team. Her strong will and irrepressible belief in herself make her a role model for young people far beyond the bounds of sport.
"I'm still around and can still win"
After the corona pandemic and an unlucky start to the 2021 start to the season in Australia, the new Porsche supported WTA tournament in Bad Homburg, Germany was one of many turning points in her career. "Holding the trophy high as the winner was one of the moments, I work so hard for," said Angelique Kerber looking back. "I was so happy that fans were back in the stadium, and I could show them that I'm still around and I can still win."
Afterwards in Wimbledon, she reached the semifinals and then went on to play impressively at the US Open. She won her last tournament to date in Strasbourg in 2022. However, the successes Germany's top women's player enjoyed in the past years did not come overnight as she says: "To be successful, one has to work hard on oneself, one needs lots of discipline and patience but also passion and fun.," she says. "One has to pick oneself up after defeats and continue down one's path. One can't have the wins without the losses."
Angelique Kerber has been a Porsche Brand Ambassador since 2015. Her fighting spirit coupled with her stamina and dynamism are attributes that are also a feature of Porsche. The feeling of going out onto court with the Porsche patch is something she also enjoys as a member of Porsche Team Germany in the Billie Jean King Cup. However, being a Brand Ambassador is something personal she says, special and for an individualist like herself, it takes on even greater magnitude. "I'm proud and happy to be able to represent such a prestigious company like Porsche as a brand ambassador. It's a big honour for me."
Angelique Kerber was born in Bremen on 18 January 1988. Her mother Beata is German, father Slawek comes from Poland. She has played tennis for as long as she can think. As a teenager she was a competitive swimmer but after passing her school leaving exams at the age of 16, she decided to embark on a career as a professional tennis player. Angelique Kerber's big breakthrough came in 2011 when, unseeded, she was the first German to reach the semi-finals of the US Open for 15 years. In February 2012, she claimed her first title on the WTA Tour by winning the indoor tournament in Paris.
Wonderful memories of the Porsche Tennis Grand Prix
As the team's No. 1, she led Porsche Team Germany to the Fed Cup final in 2014. In 2015, she won four WTA tournaments – including the Porsche Tennis Grand Prix in Stuttgart for the first time. 2016 was not only most successful year of her career up until then due to her claiming the Grand Slam titles in Melbourne and New York. She was also the runner-up in Wimbledon, at the Olympic Games in Rio de Janeiro and the WTA Finals in Singapore – and repeated her win at the Porsche Tennis Grand Prix. "I associate so many wonderful memories with Stuttgart," she says.
Her maternity leave does not mean the end of her career. "I'll try to get back to fitness as quickly as possible and return to the Tour. And I'll go for it again," she says. "An aim is the 2024 Olympic Games in Paris. I'd like to play there whatever happens. It's a while away, so there's no pressure on me."
Her triumph was a milestone in the history of women's tennis. A sensational winning streak in New York in the summer of 2021 had made her the first ever qualifier to win a Grand Slam.
New York, 11 September 2021, Arthur Ashe Stadium: two teenagers – Emma Raducanu and Leylah Fernandez – are standing in the final of the US Open. It was something the tennis world last experienced in 1999 when Serena Williams secured the last Grand Slam title of the year by beating Martina Hingis. On the road to her sensational victory, Emma Raducanu, only 18-years old like her opponent, ousted Belinda Bencic in the quarterfinals and Maria Sakkari in the penultimate round – both were Top 20 players at the time. The Briton was then also highly impressive when winning the final. She did not lose a single set in the whole tournament.
"I have no doubt your outstanding performance will inspire the next generation of tennis players," wrote the Queen when congratulating her in the night. The great Martina Navratilova tweeted: "A star is born."
Practice in school uniform
The first British woman to win a Grand Slam since Virginia Wade in 1977 was born in Toronto, Canada on 13 November 2002. Aged two, she moved with her parents – her father comes from Romania, her mother from China – to London where she took up tennis at the age of five in the borough of Bromley. She was allowed to compete in U-18 ITF tournaments after turning 13, and promptly won the Nike Junior International in Liverpool just eight days later. She was therefore the youngest tournament winner in ITF history. Her parents, both work in the financial sector, attached great importance to a good school education right from the start. Emma therefore practiced before going to school in her uniform and late on in the afternoon, also in winter when it was cold in England and got dark early. The floodlights did not always work.
"The dreams that kept me going back then were to win Grand Slams and to play at Wimbledon," she relates. As the world No. 338 in 2021, she went all the way to the last 16 at Wimbledon after being given a wild card. Just previously, she had passed her A-Level exams at the Newstead Wood School with top grades in maths and economics. She then fulfilled her dreams by sensationally winning the US Open. "I feel very proud of myself," she says, "But I'm obviously setting myself new goals now. For me, it's about continuous improvement and getting better and just trying to learn and experience new things."
New generation of successful young players
Emma Raducanu stands for a new generation of successful young players on the way to the top of women's tennis. After her gala performance at the US Open, she became the youngest woman ever to be named a Member of the Order of the British Empire for her services to tennis. The Grand Slam champion, a car and motorsports lover as a child and a kart and motocross racer as a teenager, has been representing Porsche as a Brand Ambassador since March 2022.
"It means a lot to me. Porsche is a brand that fascinated me as a kid," says Emma Raducanu. "One of the fondest memories I have is one of my first tennis coaches, he drove a 911 and whenever I would turn up to practice in the morning, I would see his Porsche, I'd go wow. I really like that car. I really want that car. But also, it's really important for me to align with partners and brands that I really feel passionate about and that I identify with. Everything is so perfect with Porsche. I think this partnership is incredible and I've already been able to experience lots and lots of exciting activities together with them."
The driving experiences in a Porsche 911 Carrera S at the Porsche Experience Centre Silverstone and in a 911 GT3 around the Brands Hatch circuit both gave her a massive thrill. She discovered the performance potential of the sports cars from Zuffenhausen under Mark Webber's – the former Formula 1 driver and endurance world champion – guidance at Silverstone. In the time-off from practicing ahead of the flight to the Australian Open, she joined the Porsche Carrera Cup Junior Adam Smalley in going to the limit at Brands Hatch.
For Oliver Blume, Emma Raducanu embodies not only a new generation of strong and self-confident players. "As a personality, she is also an inspiration and role model beyond the realms of her sport for young women all over the world," says the Chairman of the Executive Board of Porsche AG. "Through her own life, she exemplifies that one can achieve one's goals if one believes in oneself and is prepared to work hard. She's therefore an excellent fit for Porsche and the values for which the company stands."