911 RSR: A look at the team
The Porsche Team Manthey has plenty of experience in the WEC. In 2013, the 911 RSR already ran in Le Mans, achieving a double victory in its category.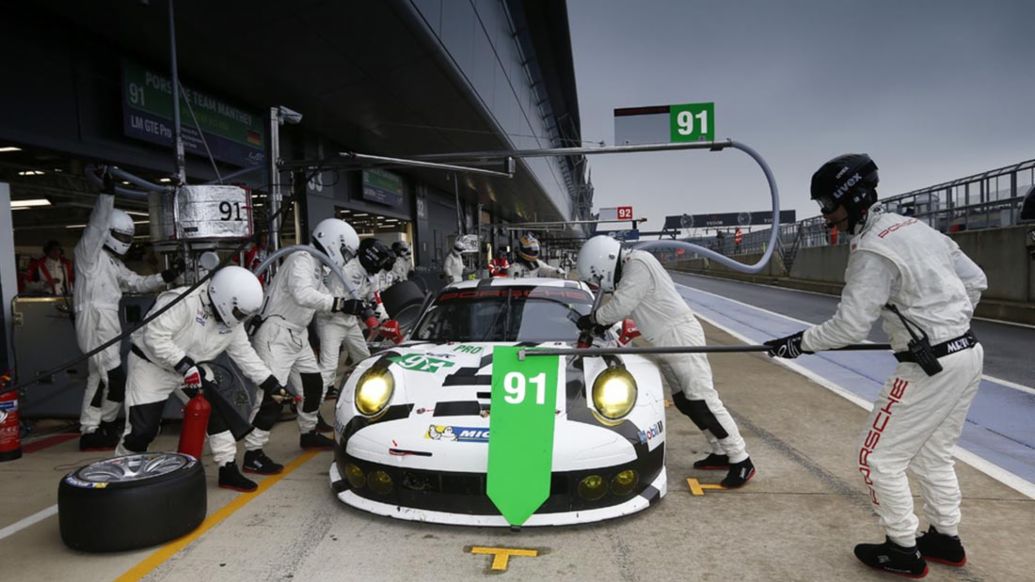 Hartmut Kristen, Vice President Motorsport
He had already worked at Porsche for 20 years before he became head of the Motorsport division in 2004 after ten years of heading up the customer sport and GT vehicles programmes. Ever since, he has not only been successful in making his mark in top motorsport racing, such as with the RS Spyder and the 911 GT3 R Hybrid; today he is also responsible for the global activities of Porsche in the GT classes – including global customer sport activities, which are "the backbone of Porsche Motorsport." He creates opportunities for promising talent. Under his aegis, Porsche has certainly developed the most extensive programme of support for new motorsport drivers. In 2013, he led the factory team of the new 911 RSR to first and second place finishes in its class at Le Mans, while he and his team kicked off the 2014 season with a victory of the further advanced 911 RSR at the 24 Hours of Daytona.
Dieter Georg Steinhauser, Director Motorsport Development
He sees new tasks primarily as a challenge. As manager for all technology in motorsport and in GT street vehicles (except LMP), he and his team have already initiated many projects that have attracted attention. The GT3 R Hybrid was such a project: "highly innovative and exciting." The veteran Porsche manager – who has been with the company since 1984 and also worked on Indy and Formula-1 engines – has advanced the development and successful implementation of the RS Spyder sports car prototypes in the USA and at Le Mans in his role as overall project manager. And then there was the GT1 as well, the car that Porsche used to achieve its most recent overall victory at Le Mans in 1998.
Jörg Bergmeister, Driver
Of all the successes that Jörg Bergmeister has already celebrated with Porsche, it is primarily the victories in the major endurance races that make him especially proud. Le Mans, Daytona, Sebring, Nürburgring, Spa – they are all part of the success statistics of the tall fair-haired driver, who, in 2000, won the Carrera Cup Germany and in 2001 the Porsche Supercup. Afterwards, he was named a factory driver. His collection of titles speaks for itself. He may have even set a record with five wins in the popular American Le Mans Series; in 2006, he even won championship titles in both the Le Mans and Grand Am series – a feat that only he has ever pulled off.
Marco Holzer, Driver
In motorsport, as in other disciplines, the training years are not always the winning years. Marco Holzer, who was sponsored as a Porsche Junior in 2008 and joined the Porsche factory team in 2011, certainly knows a thing or two about it. The golden boy, who celebrated an overall victory at the 24-hour race in Dubai in 2010 and a year later successfully drove the first hybrid race car from Porsche at the endurance classic on the Nürburgring, showed maximum flexibility in his racing efforts with customer teams across the globe. Now he is getting the opportunity of his life. He says: "I have always dreamed of driving for the Porsche factory team at Le Mans."
Richard Lietz, Driver
His victory with the 911 RSR at the 24-hour race in Daytona was a season opener entirely to his liking. The Austrian, who has been a Porsche factory driver since 2007 and participates in rallies and ice races in his free time with as much virtuosity as in the classic races, is familiar with success. In the previous year, he celebrated his third Le Mans victory since 2007 and 2010 and is looking towards a fourth victory to follow in June. This time, starting at Le Mans would be icing on the cake for him, because his primary goal is to win the championship title for Porsche at the new Tudor United Sports Car Championship in the United States and Canada. He has already made a good start with his victory in Daytona.
Frédéric Makowiecki, Driver
His ambitious efforts and patience in trying to win the Porsche Carrera Cup in France show just how much his heart beats for Porsche. Twice he had to settle for second place and once he finished third, before finally winning the long sought-after title in 2010. Even back then, he had a reputation as one of the world's fastest GT drivers. He gave proof of this in high-calibre championships such as the FIA GT1 world championship, where he finished second in 2012, and in the WEC. He now returns to his roots as a Porsche factory driver. "To drive for Porsche," he says, "is exactly what I have always wanted to do."
Patrick Pilet, Driver
He is a man for all seasons. Regardless of which championship Patrick Pilet is racing in, he is always good for a victory. In the American and European Le Mans Series as well as the International GT Open. He won the 24-hour race in Daytona in 2014 and the race in Dubai in 2010. He was also named Carrera Cup France champion in 2007. Only at the WEC has he not climbed to the top step of the victor's podium yet. This season, he wants to remedy the situation, preferably at Le Mans, of course. "For a Frenchman," he says, "a victory at Le Mans is as valuable as a victory at Wimbledon for an English tennis player. There is nothing greater."
Nick Tandy, Driver
The Brit started the new season just like he ended the last one – with a great victory. In October 2013, he won the Petit Le Mans at Road Atlanta – a race course steeped in tradition; and in January 2014, he won the 24 Hours of Daytona, together with Patrick Pilet and Richard Lietz. This season, he is sharing the 911 RSR with the Austrian driver in the Tudor United Sports Car Championship. In 2011, he was the overall victor in the Carrera Cup Germany and, in 2012, he won the Porsche Cup for the most successful private driver of the 911. In the following year, he was named a factory driver. He wants to fulfil his next race car driver's dream at Le Mans.