The free community event celebrated the Porsche brand in Switzerland as well as its 75-year anniversary. The exhibition was complemented by a stage program with talks by prominent guests, driving activities with current Porsche models and other attractions for the whole family. Just as in 2016 and 2018, the exhibition of guest vehicles once again formed the heart of the festival. The Gallery of Dreams, for example, included over 240 of the particularly high-performance GT models from Porsche. Rare super sports cars like the Carrera GT and the 918 Spyder were also on display to wow the crowd.
Directly adjacent to the exhibition area, a range of current Porsche models delighted guests in the form of a good 800 taxi trips, in which visitors took a ride in the passenger seat. In the motorsport area, guests stepped up to carry out over 100 wheel changes as part of the pit-stop challenge. Meanwhile, attractions like the Kids Driving School and the big Carrera track were well-attended from start to finish.
Illustrious personalities
VIP guests in Mollis included rally legend Walter Röhrl, Porsche Head Designer Michael Mauer, Le Mans overall winner Neel Jani and Porsche brand ambassador Jörg Bergmeister. Popular moderators Annina Campell and Salar Bahrampoori hosted the stage program.
Vehicle highlights
The line-up of prominent vehicles from 75 years of Porsche sports car history was also a big one: The high-tech Le Mans prototype 919 Hybrid (2016) was in the ranks, as was a show model of its successor, the 963. The all-electric Mission R and the associated test model, the 718 Cayman GT4 e-Performance, offered glimpses into the future of Porsche customer motorsport. What's more, a series of eight special Porsche 911 models celebrated the 60-year anniversary of the iconic sports car launched in September, 1963.
Concours d'Elegance
At the festival's very own Concours d'Elegance with 49 vehicles, seven winners were selected by the four-person jury in different categories.
Category 1 (Porsche 356): 356 European
Category 2 (Porsche 911, generations F and G): 911 Carrera RS 2.7
Category 3 (Porsche 911, generations 964 and 993): 911 (964) Carrera 4 Cabriolet
Category 4 (Porsche 911, generations 996 and 997): 911 (997) Turbo
Category 5 (Porsche transaxle models): 928 S4
Category 6 (Porsche Boxster and Porsche Cayman, generations 986 and 987): Boxster Spyder (987)
Category 7 (Best of Show; special and exclusive models): 911 (997) Carrera 4S
Legends Alive Contest
With another contest in Mollis, Porsche Schweiz AG honored the first generation of the Porsche Cayenne. Nine Swiss Porsche Centers entered the Legends Alive Contest to build the most original conversion of an early pre-owned Cayenne. Festival guests voted online for the winner of the public choice prize, the "Hippy Swiss" Cayenne Turbo (2004) converted into a van by the Porsche Center in Geneva. Later this year, the Legends Alive Contest will conclude with a specialist jury prize.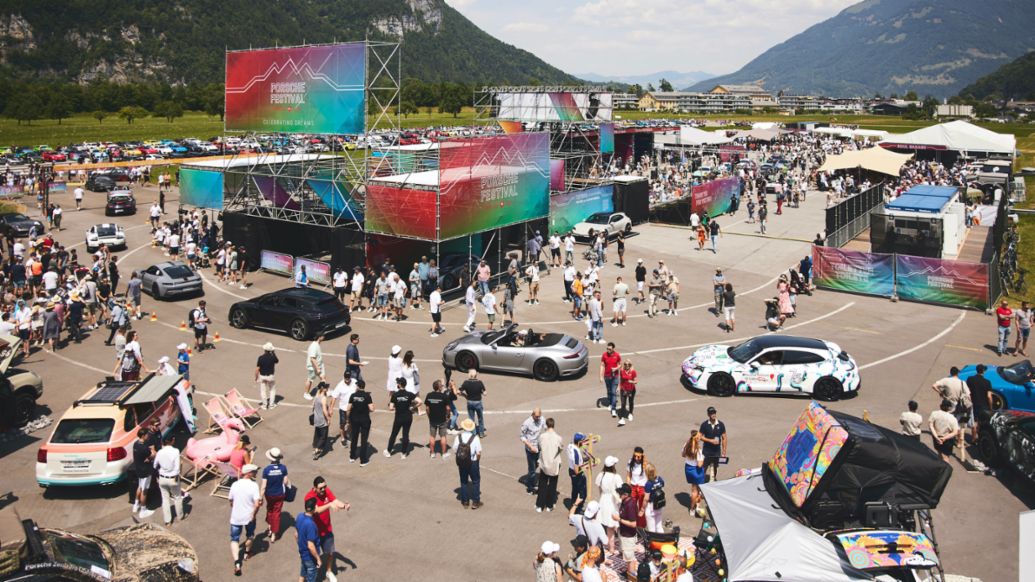 Impressions of Porsche Festival Mollis
Walter Röhrl, Porsche brand ambassador
"I can only speak in superlatives: I've never seen anything quite like it. It's extremely heartening for me to see that there are so many people who love beautiful cars. And all that with this magnificent mountain backdrop. Phenomenal."
Michael Mauer, Vice President Style Porsche
"Festivals like this one in Mollis show us the enthusiasm and sense of connection that fans have with the brand. One thing I really enjoyed was the whole range of cars, from the 356 to the 918 Spyder – fantastic."
Michael Glinski, CEO Porsche Schweiz AG
"More than 1,500 gorgeous Porsche sports cars united in one place. Many thanks to all the fans, our customers and all of the Porsche Clubs for your loyalty and passion! The day in Mollis once again showed us the huge enthusiasm that the Swiss have for the Porsche brand. Simply wonderful!"
Jörg Bergmeister, Porsche brand ambassador
"A stunning setting in which to view all the generations of Porsche sports cars. It was a great event in perfect weather."
Neel Jani, Le Mans overall winner and World Sportscar Champion
"It was a fantastic day in Mollis and a great atmosphere. I've seldom seen so many Porsche sports cars in a single place. The special thing about Mollis is that it's not a single Porsche that makes the festival, but rather the unbelievable variety of different models – and all that in a relatively small country like Switzerland."
Annina Campell, co-host
"Everyone wants to be in Mollis! It's an absolute highlight. The Porsche family from all around Switzerland coming together. It doesn't get more colorful or faster than that!"
Salar Bahrampoori, co-host
"The Porsche Festival Mollis was an absolute highlight. There were Porsche cars in every shape and color. The atmosphere at the event was incredible: Everyone loves the same thing, regardless of age, profession and origin. Days like this are real bonding experiences."