Consistent appearance across all model lines
Exclusive Turbonite trim
Special Porsche crest for exterior and interior
For almost 50 years, the Turbo models have enjoyed an exalted position at Porsche. They represent the pinnacle of every model series. To emphasize their unique standing, Porsche is introducing distinct design elements to sharpen their look and distinguish them from other models in the range. The Turbo models are, for one, being given a particularly exclusive version of the modernized Porsche crest, which is distinguished by the new Turbonite color, rather than gold. The designers developed this elegant metallic grey tone especially for the Turbo variants. It is also being used on a number of other selected exterior and interior components, lending the Turbo models an even more unmistakable appearance. Porsche will be successively introducing this more pronounced differentiation to all model lines. The new Panamera generation celebrating its world premiere on November 24, 2023 will be the first to receive the new upgrades.
Atlanta. "In 1974, we presented the first turbocharged 911. Since then, Turbo has become a synonym for our top models and is now more or less a brand of its own. We now want to make the Turbo even more visible, and differentiate it more markedly from other derivatives such as the GTS," explains Michael Mauer, Vice President Style Porsche. "This is why we've developed a distinctive Turbo aesthetic. From now on, the Turbo versions will exhibit a consistent appearance across all model lines – one that is elegant, high-quality and very special."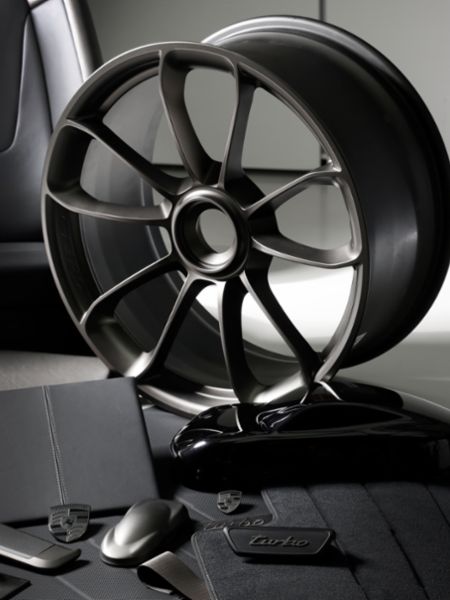 The new Turbonite metallic Crest and trim is exclusively reserved for Turbo models. Like all of our paints, this one was very carefully composed by the Porsche Color & Trim experts. Gold elements create an elegant, metallizing effect, with the top layer in a contrasting satin finish. The lettering on the rear and the Daylight Opening (DLO), as well as the surrounds of the side windows, will be given a Turbonite finish on the Turbo models in future. Depending on the model line, further details such as the inlays in the front fascia, the spokes, or the aeroblades in light alloy wheels could feature Turbonite paintwork.
Turbonite is also the dominant color in the exclusive crest of the Turbo models. All of the top high-performance models will soon feature the crest on their front, as well as on the wheels and the steering wheel.
Additionally, selected components in the interior, for example the trim strips and the belt straps, as well as a number of controls such as the mode switch and the air conditioning control panel, also come in Turbonite. In this case, too, the exact scope depends on the model line. In combination with a black interior, Turbonite is also being used as a contrasting color for the stitching on the seats, the door panel trims, instrument panel and floor mats.