RS: a special sporting credential at Porsche
Porsche models with the RS (RennSport, or 'racing sport') designation are either road-legal models that have been derived from their motor racing equivalent, or particularly sporty in nature.
In the case of the new 718 Cayman GT4 RS, it's a fitting application, given the first Porsche model to use the RS name was the famed 718 RSK racer of 1957.
Australian model series
The arrival of the range-leading 718 Cayman GT4 RS means the Australian Porsche 718 Cayman model range now comprises five variants:
718 Cayman
718 Cayman S
718 Cayman GTS 4.0
718 Cayman GT4
718 Cayman GT4 RS
Engine: high-revving, race-derived boxer engine
The mid-mounted naturally aspirated (non-turbocharged) 4.0-litre flat-six-cylinder engine in the 718 Cayman GT4 RS is the most powerful in the history of this Porsche model series.
The engine's outputs are similar to those found in racing cars: The 718 Cayman GT4 RS delivers a maximum power level of 368 kW (500 PS*) at 8,400 rpm and achieves a peak torque of 450 Nm at 6,750 rpm. The 4.0-litre flat-six achieves a maximum engine speed of 9,000 rpm.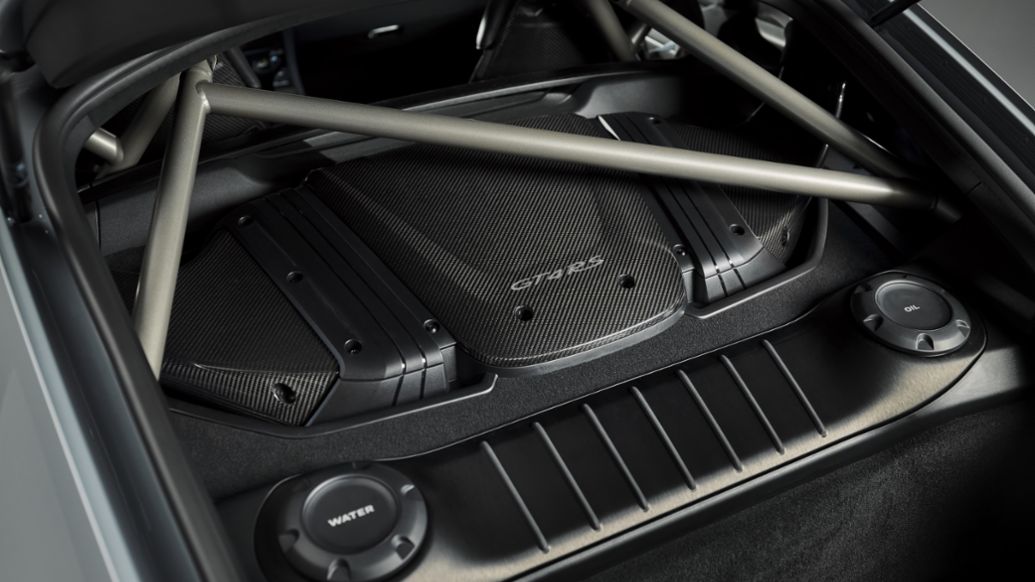 The engine achieves these impressive outputs because it is used in motor racing: The 911 GT3 Cup racing car uses this same engine, as does the road-going 911 GT3.
This makes the 718 GT4 RS a prime example of technology transfer from motorsport to series production: For example, the engine's 24 valves are actuated by rigid rocker arms that don't require hydraulic valve clearance compensation. This means the valvetrain is robust even under the harshest of conditions. Each of the engine's six cylinders uses an individual throttle body to control its air supply. Their design reduces the volume of air between each throttle valve and its corresponding intake valves, which means the engine responds to throttle inputs without delay. This effect applies equally when pressing the accelerator pedal and releasing it.
The engine uses a dry-sump lubrication system just like in a racing car. This is because of the high degree of cornering, acceleration and deceleration forces the 718 GT4 RS can achieve and the resulting need to manage oil supply in the high-revving engine. Its oiling system uses seven suction stages to ensure a plentiful oil supply and the crankshaft-driven oil pump directly lubricates the heavily loaded connecting-rod bearings.
Intake air for the engine takes an innovative route: The 718 Cayman GT4 RS has additional engine-air intakes through the locations usually occupied by the two rear side windows. Intake air is channelled from each side into a central airbox which is located behind the driver and visible through the rear window, giving not only a great look but sonorous sports-car intake sounds, especially at higher engine speeds.
The lightweight stainless steel sports exhaust system with two separate tailpipes in a high-gloss black finish delivers the flat six engine's distinctive tones.
Two separate petrol particulate filters (PPFs) and stereo Lambda control for both catalytic convertors in the exhaust system carry out emissions-control functions.
This is how the 718 Cayman GT4 RS engine outputs compare to the PDK-equipped 718 Cayman GT4:
Maximum power: 368 kW / 500 PS* (+59 kW / + 80 PS*)
Maximum torque: 450 Nm (+20 Nm)

Transmission: lightning-fast gearshifts
The 718 Cayman GT4 RS is fitted exclusively with the Porsche PDK (Porsche Doppelkupplung, German for 'double coupling') dual-clutch automatic transmission.
This PDK transmission has seven short-ratio gears and no overdrive function and allows gearchanges to be made in the same way as in motor racing: within milliseconds and without interrupting the engine's drive.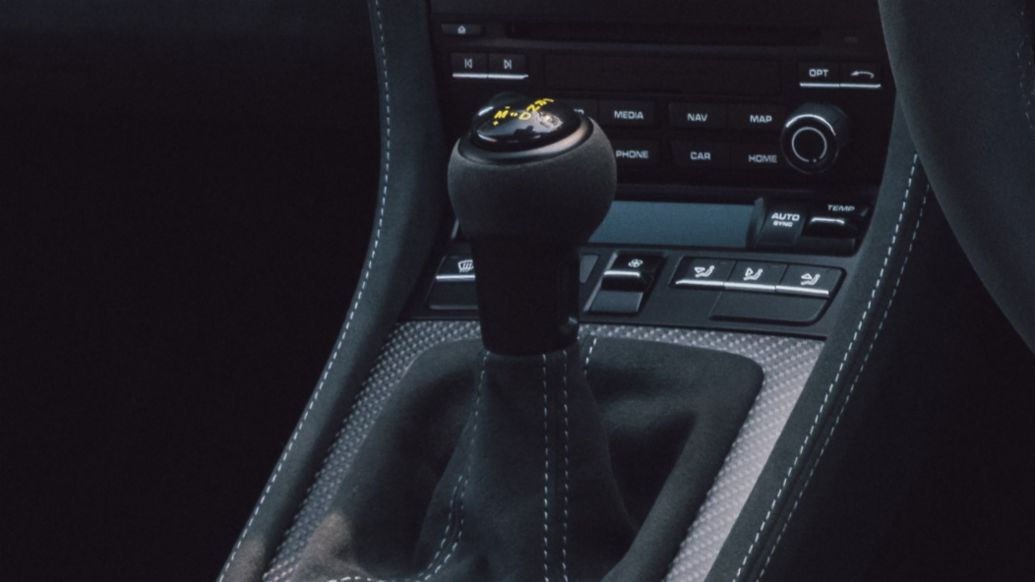 In PDK Sport mode, the upshift occurs at higher engine speeds. Downshifting is instant and the automatic rev-matching 'throttle-blip' function makes it an acoustic experience.
Drivers can manually make gearchanges using the steering wheel-mounted gearshift paddles (right paddle for upshifts, left paddle for downshifts). Alternatively, drivers can use the new gearshift lever to manually change gears sequentially (pull backwards to upshift, push forwards to downshift; the same directions used in motorsport). This new Race-Tex upholstered selector lever is the same used in the new 911 GT3.
Chassis: optimised for driving pleasure and performance
Porsche's chassis engineers looked to motor racing technology to achieve their main objective with the 718 Cayman GT4 RS, which was to provide the driver with a high level of steering precision combined with excellent cornering grip. These exceptional qualities give the driver confidence and driving pleasure.
The front axle in the 718 Cayman GT4 RS is taken from the 911 GT3 RS (991.2 generation). This is also used in the 718 Cayman GT4.
The front axle uses a MacPherson strut layout with helper springs that keep the main suspension springs under tension when they're deflected during driving, even under maximum driving loads. This benefits vehicle control, especially during dynamic driving. The rear axle also uses a strut-based layout.
Compared to the 718 Cayman, the body is 30 mm lower, the front track is 6 mm wider and the rear track is 8 mm wider. These changes reduce lateral inclination in the 718 Cayman GT4 RS. The camber angle on the rear axle has been increased by a quarter of a degree to allow the tyres to transfer more cornering forces, delivering greater predictability when driving through corners at speed.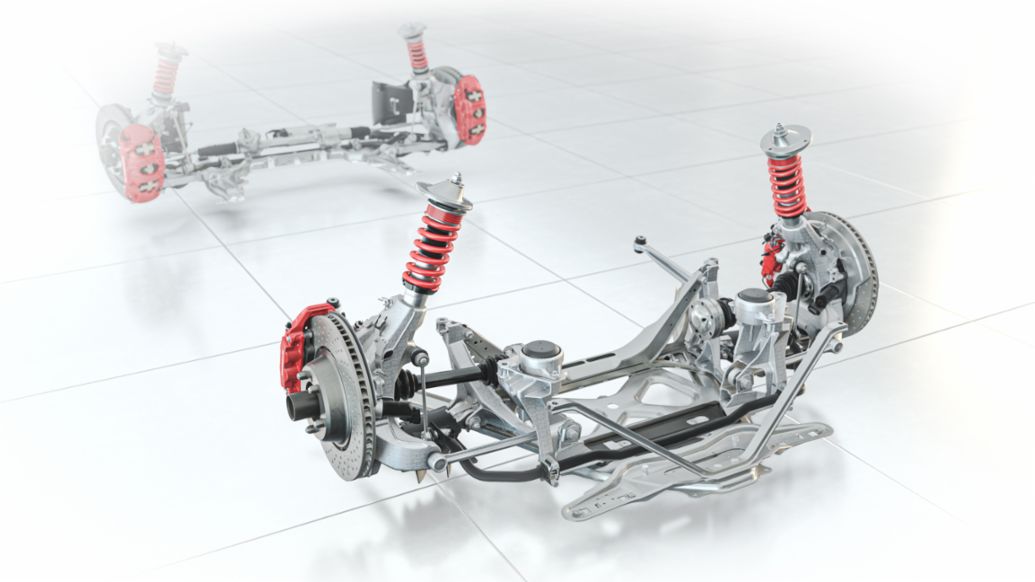 Ball joints are used at all connection points of the chassis, resulting in very precise and direct handling.
The spring rates and damper tuning are specific to the 718 Cayman GT4 RS.
The chassis can be adjusted for track driving: the tracking (toe), camber and anti-roll bars can each be individually changed for the driver's preferences and circuit characteristics.
Porsche Active Suspension Management (PASM) with sports tuning is fitted as standard. This active damping system offers drivers two modes: Normal mode provides a more comfortable ride. Sport mode delivers firmer damping for more agile handling. Sports tuning, which can additionally be switched on, results in even more tightly controlled damping and ensures even better performance on the circuit.
The Porsche Stability Management (PSM) system combines three control systems in the 718 Cayman GT4 RS:
Anti-lock braking (ABS)
Electronic Stability Control (ESC)
Traction Control (TC)

These systems work closely together and intervene sensitively when close to the limit on a racetrack. Porsche has sets up the chassis so that it already combines the best possible performance with safe handling even without the use of electronic control systems. Therefore, if drivers want to drive without a safety net on a racetrack, they can switch off the systems in two stages (ABS excepted): ESC OFF gives the driver sole responsibility for cornering stability, and the ESC+TC OFF setting overrides traction control as well.
Porsche Torque Vectoring (PTV) is fitted as standard equipment and delivers electronically controlled brake interventions on the rear wheels to enhance driving dynamics. This system works closely with the standard-fitment mechanical limited-slip differential with RS-specific locking values (traction 30 percent / overrun 37 percent). PTV provides more agile handling and faster cornering by controlling the speed of each rear wheel with precisely measured braking control and power delivery.
Electromechanical power steering with a variable steering ratio is fitted to the 718 Cayman GT4 RS. It also provides speed-sensitive power assistance.
Brakes: The enlarged braking system with additional ventilation fitted to the 718 Cayman GT4 comprises these key dimensions:
-- Front brakes:
408 mm diameter cast-iron / aluminium composite discs (28 mm larger than the 718 Cayman GT4), internally vented
Six-piston aluminium monobloc fixed brake calipers

-- Rear brakes:
380 mm diameter discs (30 mm thickness), internally vented (same as those used on the 911 GT3)
Four-piston aluminium monobloc fixed brake calipers

Two NACA ducts in the bonnet direct cooling air to the front wheels, which means the brakes can withstand continuous loads on a racetrack.
The brake calipers on the 718 Cayman GT4 RS are red in colour.
An electric parking brake is also fitted as standard equipment.
Wheels and tyres: The 20-inch wheels fitted to the 718 Cayman GT4 RS are made using aluminium forging technology. They are painted Dark Silver (in a satin finish) and use a centre-lock fitting (the first time in the 718 model series). An 'RS' logo is applied to the wheel centre.
The dimensions of the wheels and tyres are:
Front: 8.5J x 20 ET 61 with 245/35 ZR 20 tyres
Rear: 11J x 20 ET 50 with 295/30 ZR 20 tyres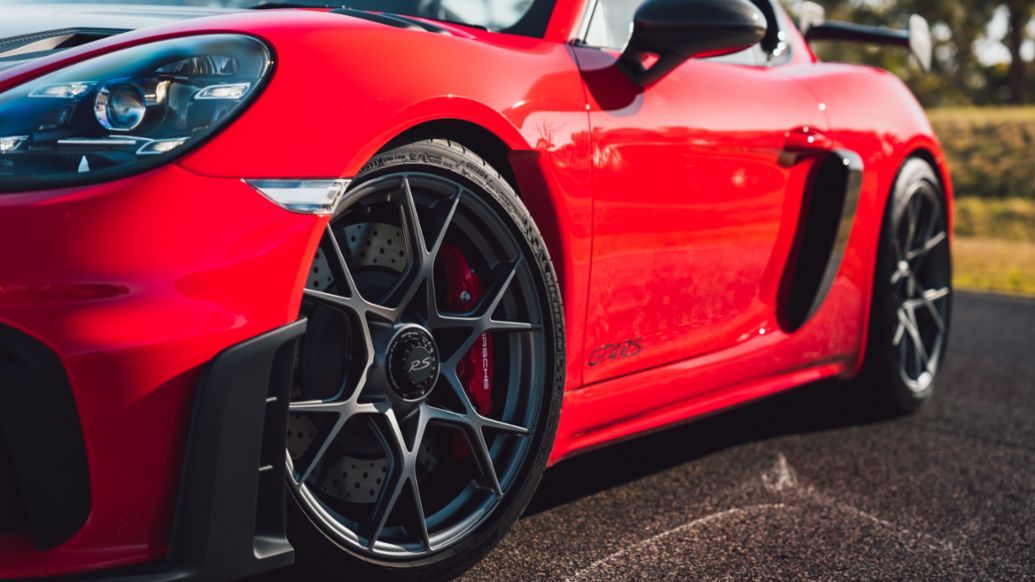 Tyre Pressure Monitoring (TPM) with Track mode is also fitted. It notifies the driver of gradual or sudden loss of tyre pressure. The system also considers pressure and temperature for racetrack use.
An optional front axle lift system is available in the 718 Cayman GT4 RS, the first time for the 718 model series. The car's front ride height is raised approximately 30 mm at the touch of a button, increasing the ground clearance at the front spoiler lip to around 40 mm, making it easier to navigate tall speed humps and steep garage entrances. It can be used at speeds up to 60 km/h.
Driving performance
The 718 Cayman GT4 RS combines its 368 kW peak power level with its 1,415 kg weight to deliver outstanding driving performance. Its key figures are:
0 – 100 km/h takes 3.4 seconds
Top speed is 315 km/h (on a closed racing circuit)

The 718 Cayman GT4 RS has lapped the 20.6-kilometre Nürburgring-Nordschleife circuit in a time of 7:04.511 minutes – 23.6 seconds faster than its model-range sibling, the 718 Cayman GT4.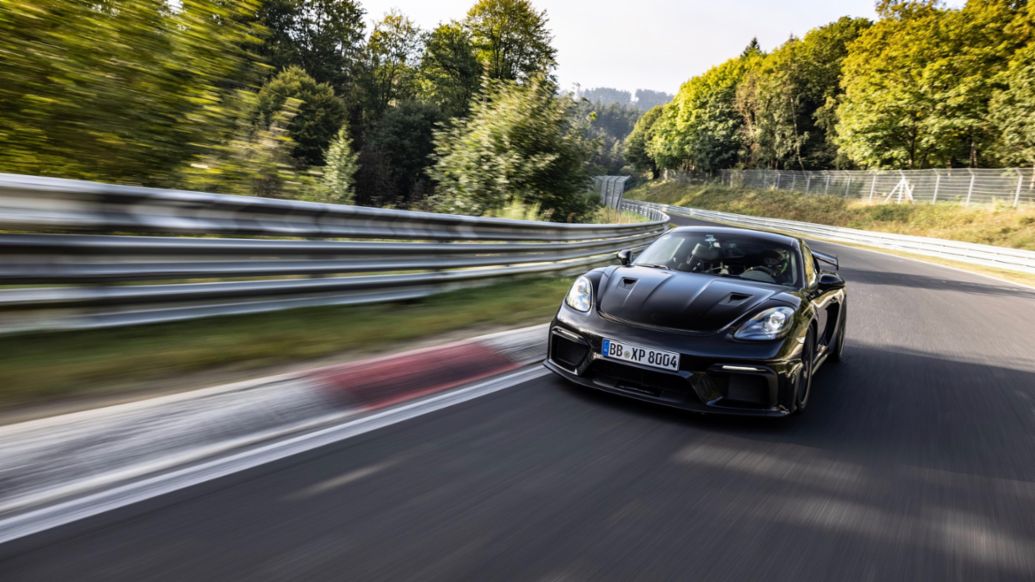 Body and aerodynamics: high-performance exterior
The 718 Cayman GT4 RS is clearly the flagship of the 718 range with its striking rear wing with swan neck attachment, cool-air NACA ducts in the bonnet and extra air intakes in the side windows.
The 718 Cayman GT4 RS produces 25 per cent more downforce than the 718 Cayman GT4 with the front diffuser and rear wing in their performance positions, a setting reserved for racetrack use.
The new rear wing with its swan neck attachment holds the wing from above using two firmly mounted aluminium struts, resulting in little disruption to the flow of air under the wing's surface. This helps maximise downforce at the rear of the car for high-speed driving.
The rear wing's design, with its fixed CFRP (Carbon-Fibre Reinforced Plastic) construction and fixed black side blades and swan neck attachment, is derived from the one fitted to the Le Mans class-winning Porsche 911 RSR GT-racing car.
The current 911 GT3 was the first Porsche series production car to use this rear wing design.
The rear wing's angle of attack can be manually adjusted in three stages. The front diffuser offers similar adjustment in four stages using sliding mechanical elements. This adjustability with the 718 Cayman GT4 RS offers drivers bespoke aerodynamic balance for personal driving preferences and circuit characteristics at a race track.
The new process air intakes for the engine replace the triangular rear side windows fitted to other model variants in the 718 Cayman model range, helping the 4.0-litre boxer engine achieve its 368 kW of peak power.
The tops of the front wheel arches have air vent slats. These four openings (on each side of the car) are a motorsport-derived design that reduce the excess air pressure in the front wheel arch housings caused by the rotation of the front wheels at higher speeds. This controlled ventilation helps prevent lift at the front axle. This design first appeared in the 991-generation 911 GT3 RS.
Two NACA ducts in the front bonnet improve brake cooling without impairing the drag coefficient of the 718 Cayman GT4 RS. These air intakes were originally designed by the National Advisory Committee for Aeronautics (NACA), the precursor to today's NASA space agency.
The entire front bumper has been optimised from the 718 Cayman GT4. The front splitter has been redesigned and fitted with flow-around side blades, improving ventilation and airflow through the wheel arch, aiding front-axle downforce.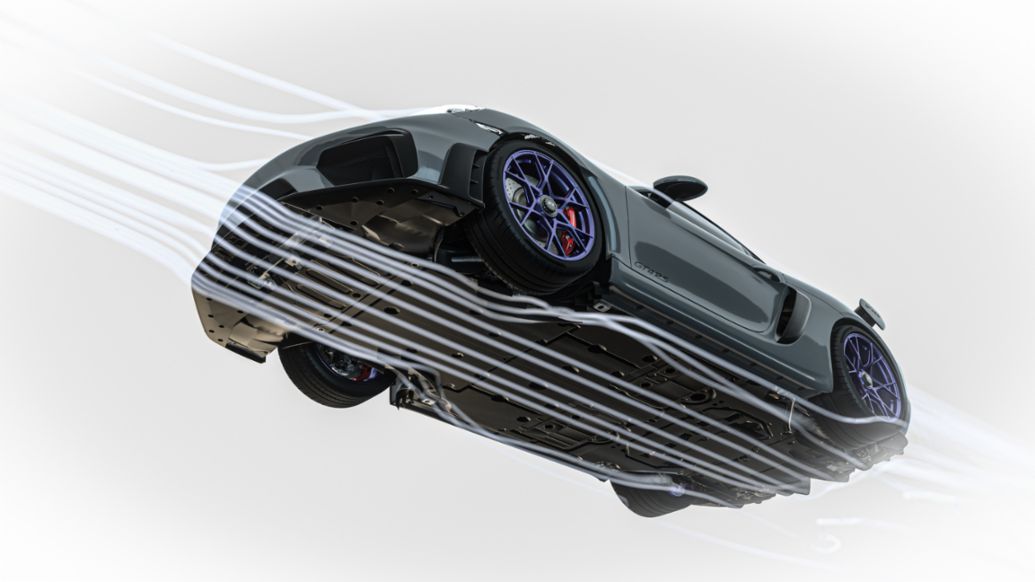 Airflow under the 718 Cayman GT4 RS is greatly accelerated via new deflectors on the fully clad underbody. This creates a vacuum at the rear of the car, providing more downforce at the rear axle.
Under the car, two extra NACA ducts provide cooling, mainly for the petrol particulate filters (PPFs).
All of the air travelling under the car exits via the rear diffuser, which has been taken from the 718 Cayman GT4 and optimised with improved aerodynamic fins on the sides. These stabilise the airflow at the rear and enhance downforce.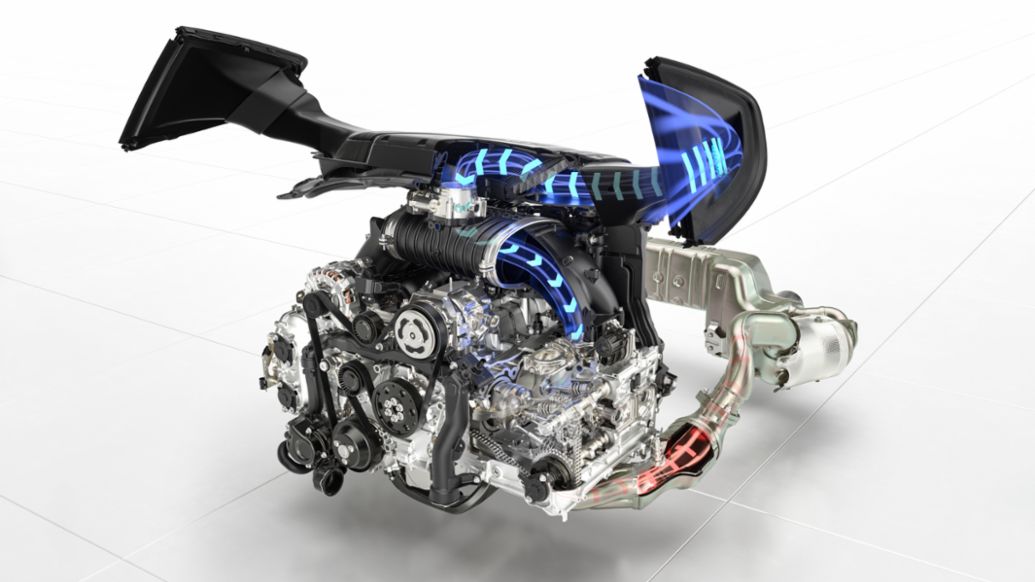 The lightweight construction of the 718 Cayman GT4 RS has resulted in a vehicle weight of 1,415 kg (according to DIN standards – with the car fully fuelled and without a driver). This means that each of the engine's 368 kW needs to accelerate just 2.83 kg (3.8 kg / kW).
The lightweight construction of the 718 Cayman GT4 RS was achieved with:
Both front wings and bonnet being made from Carbon-Fibre Reinforced Plastic (CFRP)
A rear window made from lightweight glass
Removing specific interior insulating material
Removal of the headlight cleaning system for the bi-xenon lightweight headlights
Removal of the privacy panel in the luggage compartment
Fitting lightweight carpets to the interior
Fitting lightweight interior door trim panels with flexible pull loops and nets for storage compartments

Overall weight-saving: the 718 Cayman GT4 RS weighs 35 kg less than the 718 Cayman GT4.
There are nine standard colours available for the 718 Cayman GT4 RS. In the Porsche Paint to Sample program, Porsche Exclusive Manufaktur offers a palette of 115 pre-approved colours.
Interior and equipment: fits like a glove
The 718 Cayman GT4 RS is a driving machine for the purist. The interior is functional, ergonomic and reduced to the essentials.
Lightweight full bucket seats in Carbon-Fibre Reinforced Plastic (CFRP) are fitted as standard, offering lateral support and light weight. These were first fitted to the Porsche 918 Spyder super sports car. A thorax airbag is integrated into their design. Height adjustment is electric and longitudinal adjustment is manual.
The seats are upholstered in Race-Tex (perforated with a black background). The headrests are embroidered with the 'GT4 RS' logo in a contrasting colour. Seat heating is available as an option.
18-way power-adjustable Adaptive Sports Seats are optionally available.
The 360 mm steering wheel upholstered in Race-Tex provides drivers with comfortable control. Its yellow top centre marking (at '12-o'clock') lets the driver know how far the wheels are turned, which is especially important during high-performance driving on a closed racing circuit.
The steering wheel is adjustable for both rake and reach.
The dashboard trim strips and centre console are finished in satin Carbon and the door sill guards in satin Carbon-weave finish have the model designation 'GT4 RS' in Silver.
The instrument dials have Black and Yellow indices and scales and the Titanium-coloured centrally mounted engine rev counter wears the 'GT4 RS' logo.
The standard-fitment Porsche Communication Management (PCM) system includes a navigation module, mobile phone preparation and audio interface. The Porsche Connect Plus function incorporates Apple® CarPlay, LTE telephone module with SIM card reader and WiFi hotspot.
The Sound Package Plus in-car audio system in the 718 Cayman GT4 RS comprises eight loudspeakers with a total system output of 150 Watts thanks to its integrated amplifier and digital sound processing. DAB+ digital radio is also fitted.
A BOSE Surround Sound System is optionally available at no charge.
USB interfaces are fitted in the centre console compartment and in the passenger footwell.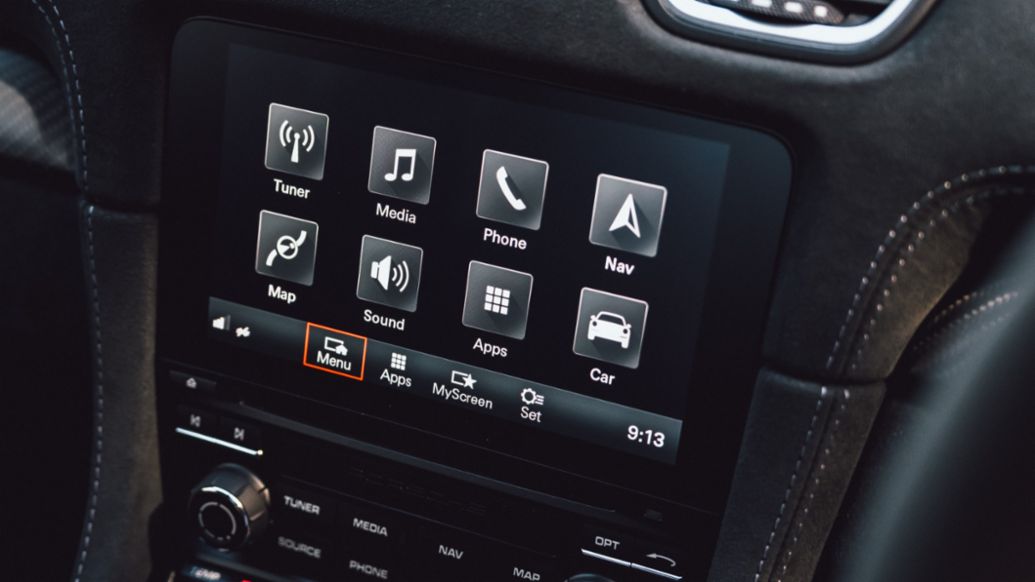 The optionally available Chrono Package is designed for use on racetracks and includes the Porsche Track Precision app. The Chrono Package lets drivers manually record lap times. The Porsche Track Precision app provides detailed recording, display and analysis of driving data on a smartphone or mobile device. Lap times are gathered automatically via a precise GPS signal from the PCM and can be compared on a smartphone. The Porsche Track Precision app also generates visuals for the vehicle's driving dynamics and displays sector times for each lap along with deviations from a pre-defined reference lap that can be recorded by, for example, a professional driving instructor or professional driver. Graphic processing of the driving data and video analyses help drivers further improve their performance on the circuit.
The audio and communications systems can be deleted by request. Centre-console storage is installed in their place when this no-cost deletion option is selected.
ParkAssist is fitted at the rear, which makes reversing manoeuvres simpler.
Club Sport Package with roll cage
The optional Club Sport Package in the new 718 Cayman GT4 RS comes with a bolted steel roll cage in the rear section of the interior along with preparation for a battery disconnection switch.
A six-point seat belt (in Black) for the driver's seat and a hand-held fire extinguisher with Aluminium holder come supplied ready to fit.
The Club Sport Package is designed to offer additional safety on track days and is only available with standard full bucket seats.
Weissach Package
Specifying the optional Weissach Package adds the following items:
Front lid, process air intakes in the rear side windows, and exterior rear-vision mirror trims all in carbon-weave finish
Rear wing in carbon-weave finish
935-look titanium tailpipe trim
Large 'PORSCHE' lettering on top of the rear window
Roll cage made in titanium (with a titanium-coloured finish); this makes the vehicle six kilograms lighter
Airbox and process air ducts in carbon weave finish with 'GT4 RS' lettering in silver
Upper dash panel upholstered in Race-Tex
Badge on bezel cup holder with 'Weissach Package' logo
Headrests with embroidered 'Weissach Package' logo
Six-point seat belt for driver and passenger side in Black
20-inch 718 Cayman GT4 RS forged Magnesium wheels are optionally available in conjunction with the Weissach Package (these wheels make the vehicle 10 kilograms lighter)

It is important to note that the rear roll cage made of Titanium is not FIA-GT or DMSB approved and cannot be extended to a full cage that includes the front.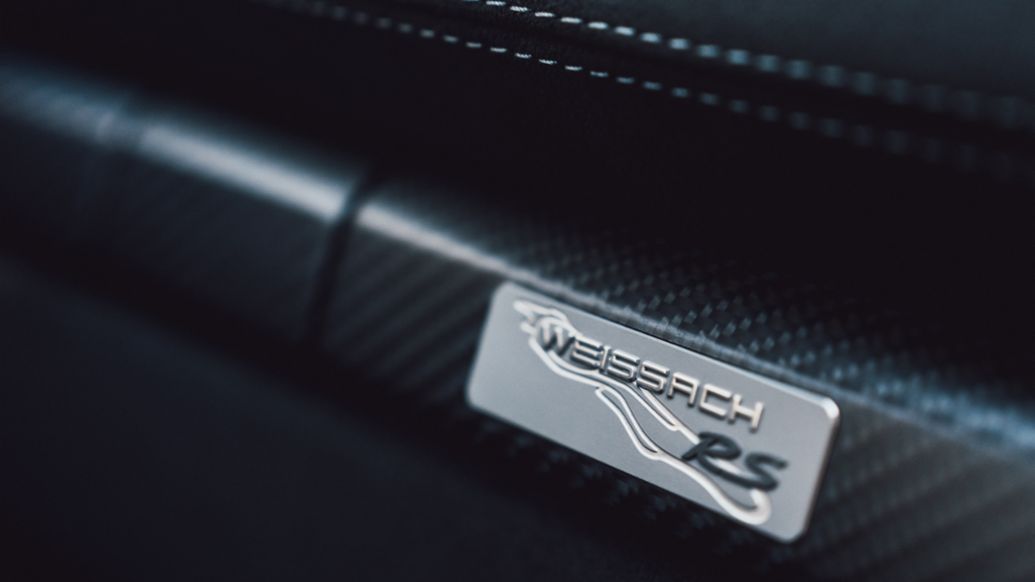 By the numbers
3,996 cc flat-6-cylinder petrol engine, naturally aspirated
368 kW / 500 PS* maximum power (8,400 rpm)
450 Nm of peak torque (6,750 rpm)
9,000 rpm maximum engine speed
7-speed PDK (Porsche Doppelkupplung) dual-clutch automatic transmission, rear-wheel drive layout
3.4 seconds 0 – 100 km/h
315 km/h top speed (on a closed racing circuit)
7:04.511 minutes (recorded lap time at the 20.6-kilometre Nürburgring-Nordschleife circuit, 23.6 seconds faster than the 718 Cayman GT4.)
30 mm lower ride height (compared to the 718 Cayman GT4)
6 mm wider front track (compared to the 718 Cayman GT4)
8 mm wider rear track (compared to the 718 Cayman GT4)
9 exterior colour choices

In summary:
The Porsche 718 Cayman GT4 RS is the flagship of the 718 model family – a driver's car designed to impress.
Driving dynamics
Porsche Torque Vectoring (PTV) including mechanically locking rear differential
Porsche Active Suspension Management (PASM) variable damper system with sports setup and ride height lowered by 30 mm
Porsche Stability Management (PSM) incl. ABS, with two switchable stages ('ESC OFF' and 'ESC+TC OFF')
Adjustable chassis for race track use (toe, camber, anti-roll bars)
Tyre Pressure Monitoring (TPM) with Track mode

Audio and Communication
Porsche Communication Management (PCM) including navigation, mobile phone preparation and audio interfaces
WiFi hotspot and Porsche Connect~ services
150-Watt Sound Package Plus with eight loudspeakers, an integrated amplifier and digital sound processing.

Australian standard specifications
Tyre mobility set
LED headlights including Porsche Dynamic Light System (PDLS)
Automatic dimming exterior mirrors and rain sensor
Cruise control
ParkAssist (rear) incl. Reversing Camera
Seat heating as a No-Cost Option (NCO)
Light Design Package
Digital radio (DAB+)
BOSE Surround Sound System is a No-Cost Option (NCO)

Warranty and Service Pricing
3-year / unlimited kilometre warranty
1-year / 20,000-kilometre service intervals
Service pricing varies from state to state due to different labour rates at Official Porsche Centres. For an indication of service pricing please visit the website of your nearest Porsche Centre.

Info
More information for consumers: here.
More information for media: here or contact press@porsche.com.au
*PS (Pferdestärke, German for horsepower) is the standard unit used in the European Union to measure the power output of a motor in 'metric horsepower'
** The published consumption (l/100km and Wh/km), emissions (g/km) and kilometre (km) range figures are determined by Porsche AG testing in accordance with ADR 81/02 on test vehicles. Actual figures will vary as they are dependent on many factors, including without limitation: individual driving style, road and traffic conditions, environmental conditions, fuel quality, a vehicle's or battery's condition, load and use. Extra features and accessories (eg: equipment, wheels or tyres used etc.) can change relevant vehicle parameters such as weight, rolling resistance and aerodynamics and can also affect the consumption, emission, range and performance values of a vehicle. CO₂ emissions can also be generated at the power source when vehicles are being recharged, unless 100% renewable energy is used. Generally, consumption, emissions, kilometre range and charging times will vary from the published figures in real world Australian driving and charging conditions.
Apple®, Apple CarPlay® and Siri® are registered trademarks of Apple Inc.
~The availability of Porsche Connect services is dependent on the availability of wireless network coverage which may not be available in all areas, and may be subject to eventual technology sunset or deactivation, thus nullifying services. The vehicle equipment necessary to use Porsche Connect is only available factory-installed, and cannot be retrofitted. Some functions may require separate subscriptions, or data charges may apply. Porsche Connect includes a free subscription period of 36 months. An integrated LTE-enabled SIM card with data allowance for use of selected Porsche Connect services will be included. For further information on free subscription periods, follow-on costs and availability of individual services in your country, please visit www.porsche.com/connect or consult your Official Porsche Centre.