Love, in the Pro class, and Talbot in Morris Pro-Am stood on the iconic Bathurst podium based on the strength of their race one results.

Love won ahead of Max Vidau and Dylan O'Keeffe, while Talbot claimed Pro-Am ahead of Geoff Emery and Adrian Flack.

Race two on Saturday was cancelled and never started due to the torrential rain and flooding at the circuit, while Sunday's race was started – but not completed to a distance where it could be classified as a complete race.

A delayed start due to circuit repairs, followed by an early Safety Car saw the race red flagged on account of the time considerations at the event.

The race was declared a no-race, with no points awarded.

The results of race one will see the final round of the 2022 championship on the streets of Surfers Paradise to commence with five drivers in title calculations.

Harri Jones continues to lead the championship, his margin 74 points to the now second-placed Aaron Love.

Dylan O'Keeffe sits third, five points behind Love, while former champion David Wall (-94) and David Russell (-104) remain in title calculations.

In Morris Pro-Am Geoff Emery becomes the first driver to lead the championship for consecutive rounds this season.

The Victorian, despite finishing runner-up to Liam Talbot this weekend, leads the class heading to the Gold Coast.

Five drivers are also in contention for the Pro-Am title with Emery leading Dean Cook 785-763 points.

Talbot sits third in the championship, a further 1o points back, while Sam Shahin and Rodney Jane remain in title calculations.

The final round of the 2022 Porsche Paynter Dixon Carrera Cup Australia Championship will be staged on the streets of Surfers Paradise at the Boost Mobile Gold Coast 500, on October 28-30.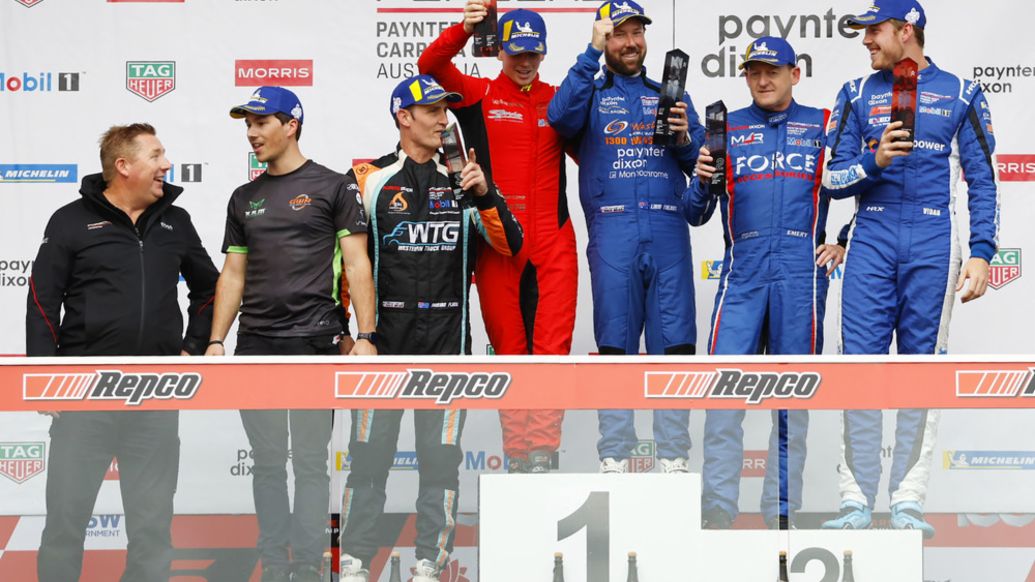 QUOTES:

David Stuart, Motorsport Australia Race Director:

"The parameters we had to deal with was the race start was delayed due to an on-track repair, which then meant that our original time certain time for the race needed to be revised.

"We were then advised that our new time certain time would be 10:07am plus 1 lap. We started the race under safety car for safety reasons at Turn 1 and track conditions. The opening lap was slower than racing speed and everyone got through, the safety car was then withdrawn. We then had two cars go off at Turn 21, one got out and the other did the very best they could to try and get out and ended up facing the oncoming traffic against the barrier.

"At that point, the time was winding down and we couldn't have the whole field coming through that corner under racing pace, because of the two cars that went off the lap before and there was high potential for more cars to go off and the stranded car was in a vulnerable position. We only had two choices and one was to deploy the safety car, which we did.

"The time certain time would have ticked over prior to the safety car even making the control line to start another lap, which would have been done under safety car.

"The considerations were at that point after we had deployed the safety car, whether to red flag the race or not prior to the time certain time – therefore it would be classified as a non-race, as we hadn't reached the time certain time nor had we done 50% of the scheduled laps.

"So given the situation that occurred at Townsville it was my view, and based on the feedback of teams from Townsville, that it would be the best option to suspend the race and not restart it, thus having it not classified as a race."

Aaron Love, Pro Round winner:

"We've had a pretty good weekend obviously coming away with pole and effectively two race wins, but everyone from myself to the person who finished last are all pretty disappointed as we realistically only got one race in.

"We got going again, but to no avail so we'll pack-up and look forward to Gold Coast at the end of the season, its one of my favourite tracks. Its been a good weekend, all considered. I love racing with Sonic in Carrera Cup Australia and Gold Coast, I went there in 2019 for my first Carrera Cup round and had an absolute ball, so regardless of what happens in the Championship I'm sure we'll have a great race."

Liam Talbot, Morris Round winner:

"Its been a good weekend, I love the wet conditions so I was rubbing my hands together thinking its going to be a good weekend. We unfortunately didn't get too much running yesterday and today, the conditions in Race 1 were treacherous so using all that experience to get the race win was very satisfying.

"The fact that we didn't get race 2 and 3, doesn't bother me. Its unbelievable to stand on the top step here in Bathurst, last time I was here I had a 9 month baby and my young daughter I was on the podium, so to be on the top step now, with them watching at home is really cool."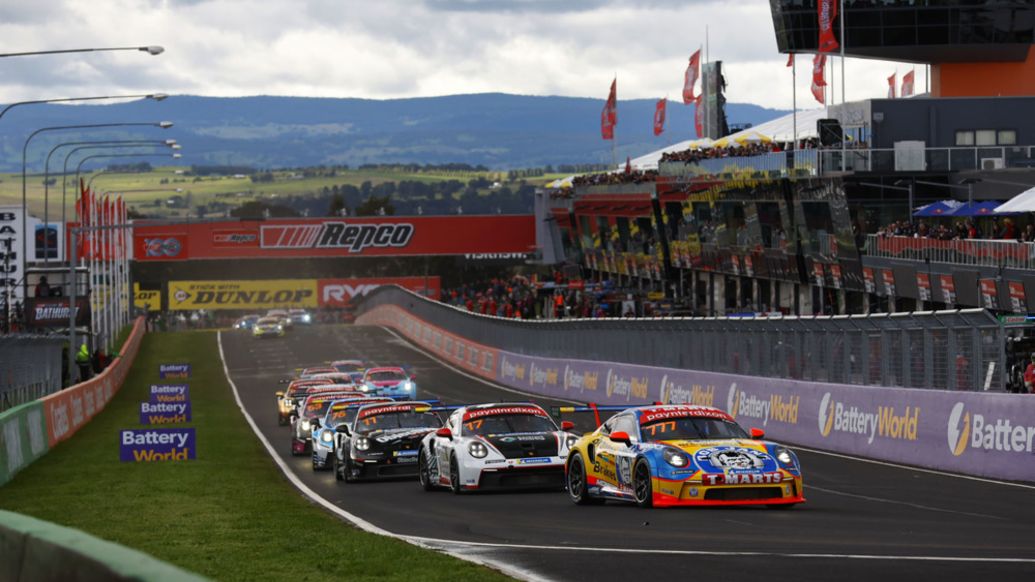 For more Porsche Paynter Dixon Carrera Cup Australia news and content follow the Porsche Motorsport Australia social pages: Instagram - @PorscheMotorsportAU / Twitter - @PorscheMspAU / Facebook.com/ PorscheMotorsportAU