The designers of the controversially-styled Centre Pompidou in Paris may never have seen the three unique 911 coupes prepared by the Porsche Competition Department in Stuttgart for the 16,694km 1968 London-Sydney Marathon, but comparisons are unavoidable.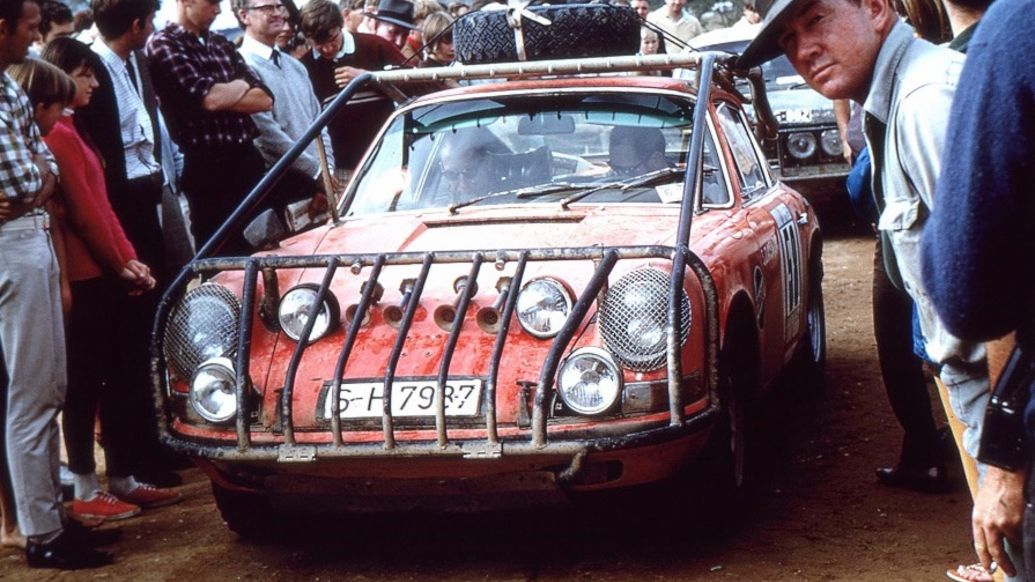 Opened in 1977 in the French capital's edgy Marais district, the Centre was a vast new public library, whose skeletal structure and plumbing were located on the outside.
In contrast, the decision to clothe the three factory-prepared London-Sydney Porsches with an enveloping external roll cage, was much more pragmatic than artistic.
Back in 1968, the challenges of driving at rally speeds from London to Sydney was more of an adventure than a political nightmare.
Amongst the unknowns was the potential damage that could be caused by wayward wildlife, so when Polish rally ace Sobieslaw Zasada destroyed his rented VW Beetle in a collision with a large red kangaroo while on a pre-event recce in Australia, the Porsche Competition Department under Huschke von Hanstein went into Teutonic overdrive.
Based on Zasada's description of the 'giant' marsupial, all three of the privately-owned Porsches being prepared for the Marathon were equipped with massive anti-kangaroo external cages, designed to tip wandering wildlife out of the way.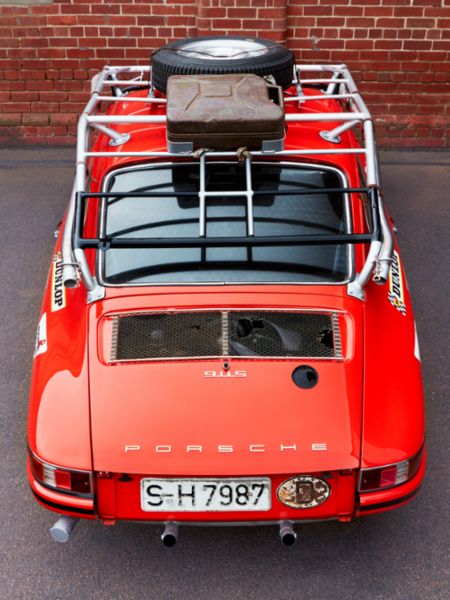 Taking full advantage of this plumbing, four wheels and tyres with quick-release
turnbuckles were located on the roof of each car, while at the rear, three jerrycans supplemented the cars' 200-litre long-range fuel and dry sump engine oil tank. And if deep water was encountered, flexible stainless steel pipe extensions could be fitted to their exhausts.
Inside, all cars carried a survival kit that included a hacksaw, an axe, a pulley winch
that could run off an extension to the rear wheel studs, while the cars were equipped with a switch to sound the four bonnet-mounted air horns to scare away curious onlookers. It is rumoured that the navigators seat headrest of the Zasada Porsche also concealed a pistol!
Although they began life as different 911 models, all three Porsches shared similar mechanicals, with their 1,991cc air cooled flat-six engines detuned with lower 8.6:1 compression ratios to deal with the poor-quality Asian fuel, dropping their output to 120kW. Meanwhile, close-ratio five-speed gearboxes and a limited slip differential completed their mechanical spec.
Although East African Safari Rally winner Edgar Herrmann captained one of the Porsches, the 'hare' of the trio became Polish rally ace Sobieslaw Zasada, who was then a two-time European Rally Champion and was Polish Sports Personality for 1967.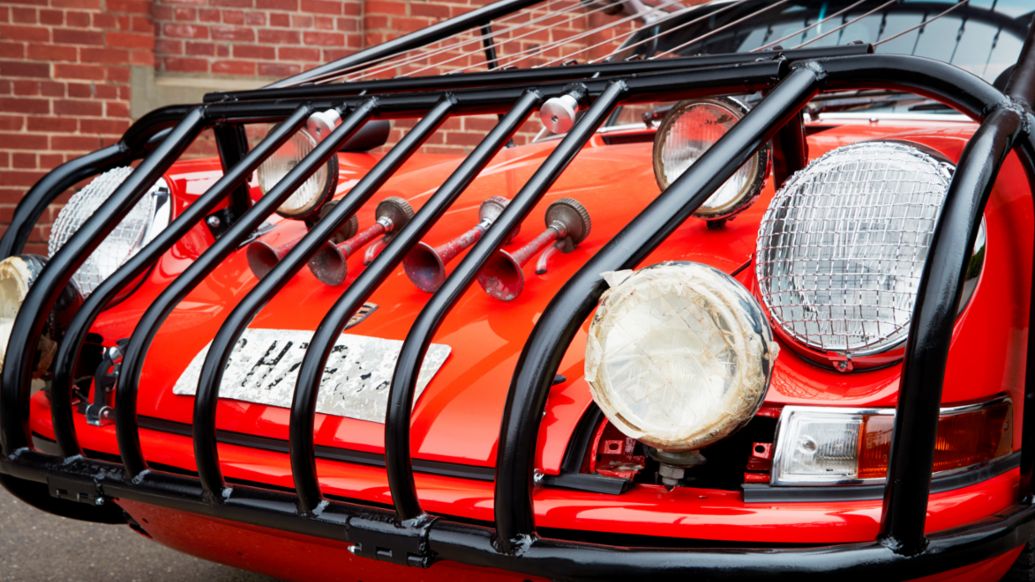 Never testing its anti-kangaroo cage, Zasada became a serious contender for outright victory in the Marathon, ultimately taking a fine fourth place.
After the event, two of the three Porsches remained in Australia, where they were re-purposed as local rally and rallycross cars, but the Zasada 911 went 'missing' for many years, before turning up, unrestored, in a large shipping container in Adelaide.
With values of classic racing Porsches surging worldwide, it then found its way mid-last year to classic Porsche restorer Jason Carroll in Melbourne in much worse state than he was expecting.
"Most of it was still there, including its special Marathon equipment and its original engine crankcase," said Carroll. "But it suffered a lot of body damage when it was transported to Melbourne in its container along with some filing cabinets and nothing was tied down . . . "
The Zasada Porsche became a serious contender for outright victory in the Marathon.
Giving it the respect that a genuine Porsche factory-built rally car deserves, Carroll completed a full body restoration, but left the car's bonnet-mounted air horns, shot-peened German number plates and plastic-covered driving lights in the same pock-marked condition as when they finished the Marathon.
"They are part of its unique history," he said. For the same reason, the car's signature kangaroo cage is back in all its glory.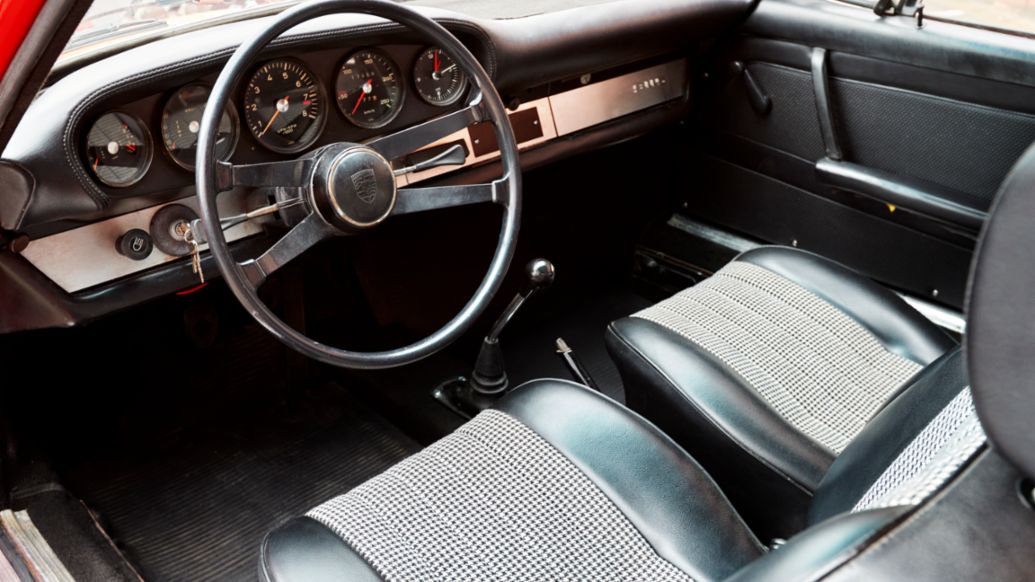 Carroll, who has now restored two of those three 1968 London-Sydney Marathon Porsches, is pleased with the result.
"These cars are survivors from a unique motorsport era and their stories need to be told," he said. "It has been a special privilege to look through a window into Porsche's past."