A life-long racer, driving instructor and enthusiast, the Melbourne-based veteran has been a leading figure in the motorsport industry ever since he ventured to the mainland after early racing success in his home state of Tasmania.
An Australian Touring Car champion, two-time Bathurst 1000 winner and Australian Drivers' Champion, Bowe is among the elite in both the record books and the hearts of the die-hards.
But for a man who is best known for his exploits in V8 Supercars, there's a mysterious road car obsession behind Australian motorsport's most famous beard.
And it starts with flat sixes and ends in Porsche.
"I have been a Porsche lover since a teenager," he revealed.
"A guy I knew had a 356B, so my passion for the brand started early.
"I grew up in Davenport, which is only a little town in Tassie. I worked with at a VW dealership, so I had become familiar with air cooled rear engined vehicles, and one of the guys there had a 1960 356B, and, you know, there wasn't many new, exotic cars around Davenport at the time. In fact, this was probably the only one!
"So it tickled my interest from then on and I've indulged with just about every model they've ever made."
How deep has he indulged, you ask?
37 deep, to be exact.
Since he bought his first Porsche – a 1972 model 911E close to 35 years ago – Bowe has owned almost 40 of the famous German thoroughbreds. That's right, more than one a year.
"I bought my first Porsche in 1986, which was the first year that I started to race in Group A Australian touring cars in the Volvo Dealer Team," he said.
"I bought the 911E, and I tell you, I wish I still had it now.
"When people think Porsches, they think 911, but I've had 944 Turbos, four 928s in various guises, which were a fabulous car. They were a fantastic open road, cruising, GT car. And of course I've had quite a few Boxsters, which are the best value Porsches on the market, even to this day.
"The only variant that I haven't had is an SUV. Most of the general car sales are SUVs these days, so I guess I'll convince myself to buy a Cayenne one day.
"Some of my cars I've had for a longer time. Some I had for six months. I wouldn't say any of them were multi-year things, so if they came along and I had some money, I would buy them. I'd drive them and then I'd sell them. It was a sort of half a hobby, half a passion."
For one person, 37 owned Porsches is an impressive tally. So you may assume it would be hard to pick a favourite.
After some deliberation, Bowe reveals that his heart lies with the flat six, two-door Boxster roadster.
"I've had two 993 Carreras, which were the last of the air-cooled variants. They are very sought-after now and were a pleasure to own and drive, but if I'm honest and need to pick my favourite, I actually love the Boxsters," he said.
"They are mid-engined, they have two luggage areas front and back, and they are beaut to drive. The later models, with the 3.4 litre engine are plenty quick enough for what we are allowed to do on the road here in Australia.
"I just love them. I love the look of them. They are half the price of the equivalent Carrera, so yeah, they would be my favourite."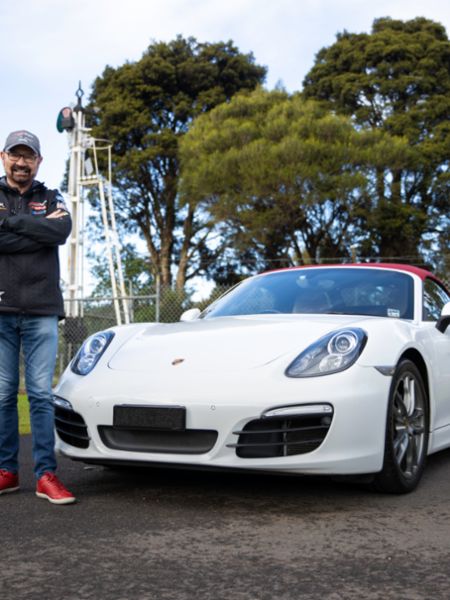 In life after professional racing, Bowe has never been far from a race track. Besides competing in various GT and heritage touring car championships, he has spent countless days at circuits like Sandown, Phillip Island, Sydney Motorsport Park and even Bathurst as a driving instructor and trainer, helping track day lovers get the most out of their own road-going performance cars.
He has seen good drivers, bad drivers, good cars and not so good cars, but the common theme was the brand of car that leaves the track under its own steam.
"My brother and a mate of mine had a business for quite a long time where people would bring their cars to the track and we'd coach them," he said.
"They were great times, and we would see all manner of weird and wonderful cars come join us.
"The one consistent, though, was that the Porsches were the only cars that people could bring to the track, drive hard and drive it home with nothing wrong with it. Most other exotics would run out of something – power steering, brakes, whatever.
"Porsches are just so good, and that is why they have such a following, even with so many rivals. They are just so well made. They are beautifully built, they are reliable, you can leave them in the garage for six months, turn the key and they'll drive as they should."
Bowe's passion for Porsche is undeniable, but the one anomaly in his love for the cars is that he didn't get a regular chance to compete in the machines on the race track.
"I don't have a lot of racing experience with Porsche. I raced a 911R at the Gold Coast in Nations Cup in 2003. It belonged to Prancing Horse," he said.
"And I've raced a Group N Porsche – a 911 SC, which belongs to a guy who lives in Melbourne called Mark Johnson. I've raced that in Tasmania at the Baskerville Historics and at the Phillip Island Historics. That is a beautiful car.
"It's funny. I raced so many different cars, I've just never found myself regularly in a Porsche. I have huge respect for them in a racing scene. They do Carrera Cup and the other series so well."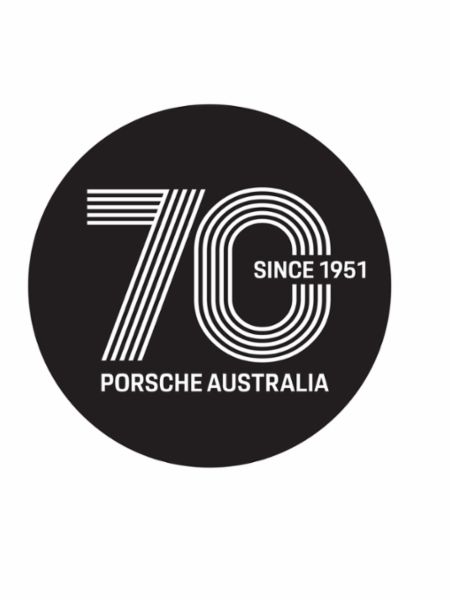 Visit porsche.com/australia/70years for more information regarding 70 Years of Porsche in Australia, as well as following @PorscheAus on social media.
Follow Porsche Cars Australia
On Instagram
On YouTube
On LinkedIn
On Twitter