So, it was not surprising that just 31 months later the world's first right hand drive 356 Coupe faced the stopwatch within weeks of arriving in Australia with its sister 356 Cabriolet.
With his enthusiasm fuelled by Porsche's 1100cc class victory in the 1951 Le Mans 24 Hour race, newly-appointed Australian Porsche agent Norman Hamilton agreed with the conviction of French importer Auguste Veuillet that the reputation of the fledgling sports car could be built on motor racing success.
Porsche's local competition debut took place at the dusty Hurstbridge Hillclimb.
On the Monday of the Australia Day weekend in January 1952, family friend and prominent Victorian hillclimb competitor Ken Wylie drove Norman Hamilton's new Porsche to third place in the 'Up to 1500cc' class.
It was an auspicious debut for the sleek, but little-known German newcomer that caught the attention of fellow competitors and paved the way for many successes to come.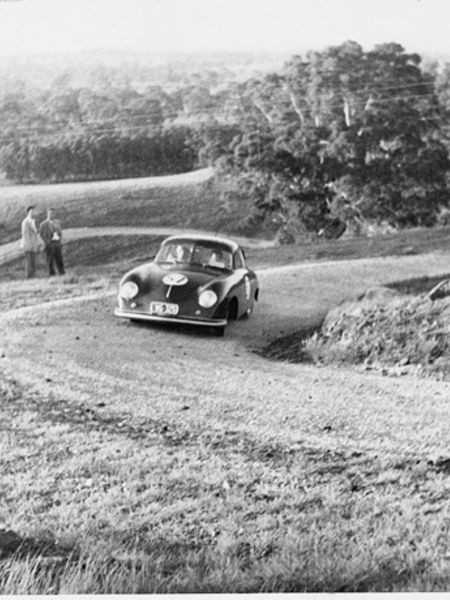 While that Burgundy Coupe and its sister Fish Silver Blue 356 Cabriolet blazed a path of class successes in sprints and hillclimbs throughout Victoria and South Australia in 1952 and the Coupe went on to complete the full 10,400km of the 1953 REDeX Reliability Trial despite suffering 14 punctures and a brush with a kangaroo.
Porsche's first of 21 Australian national motor racing championships had to wait another 13 years.
That milestone came at Collingrove, South Australia in October, 1966 when Norman Hamilton's 22 year-old son Alan won the Australian Sports Car Championship in a Porsche 904-based Bergspyder fitted with a six-cylinder, 2.0 litre 906 engine. It was an appropriate venue for the first of Alan Hamilton's four National Hillclimb Championships (the first three driving Porsches) as the hillclimb's owner, South Australian pastoralist Ron Angas, had become the first Australian Porsche customer when he purchased the first right hand drive 356 Cabriolet, 14 years earlier.
Hamilton's title victory, followed by two State Sports Car Championships, was a gamechanger, as the quirky German sports cars were now regarded as potential outright, rather than simply class winners.
Three years later, a Porsche 911 very nearly became an Australian Touring Car Champion, when Alan Hamilton failed to defeat the Ford Mustang of five-time winner Ian Geoghegan, by a single point in a 911T-R with the battle going down the Symmons Plains final round in 1969. Technically, the title victory was Porsches by three points, but under the prevailing regulations, Hamilton had to drop the four points of his worst result of the five 1969 rounds.
Breaking the drought, a Porsche 917 won Le Mans outright in 1970 and the following year Hamilton took his second National Hillclimb Championship in a Porsche 906, again at Collingrove.
When Porsche 911s took to sports car racing in the 1970s, further National titles came thick and fast. The late Ian 'Pete' Geoghegan won the 1976 Australian Sports Car Championship, driving a Porsche 911S, with Alan Hamilton a close runner-up. This seeded an unbroken six-year winning streak by Porsche in the Championship that included Hamilton and Allan Moffat each winning the title in the same single-turbo 934 model in 1977 and 1980 and concluded in 1981 with John Latham's victory at the wheel of a similar 934 Turbo.
But Porsche wasn't done with National titles. Far from it.
The Australian GT Championship, resumed in 1982 after a two year hiatus, saw Porsche resources redeployed behind 1980 Formula 1 World Champion Alan Jones, who won every of the nine title rounds in his ex-Georg Loos Porsche 935. Victorian Rusty French purchased the 935 at the end of the 1982 season and went on to give Porsche a repeat victory in 1983.
After another break of 20 years, the Australian GT Championship resumed again in 2005 to see further Porsche dominance, with 911 GT3 Cup cars winning the title in that year (Bryce Washington), 2009 and 2010 (David Wall), while Klark Quinn was victorious in 2012 and 2013 (in a later model Type 997 911 GT3-R).
In the meantime, the Australian Nations Cup that replaced the Australian GT Championship from 2000 to 2005, initially was dominated by Jim Richards, who won consecutive titles in the title's first three years in his 996-series 911 GT3 Cup, with similar Porsches runners-up in 2000 and 2003.
That makes 21 separate Australian Championship titles to Porsche in the 55 years to today since Collingrove in 1966.
Not a bad strike rate!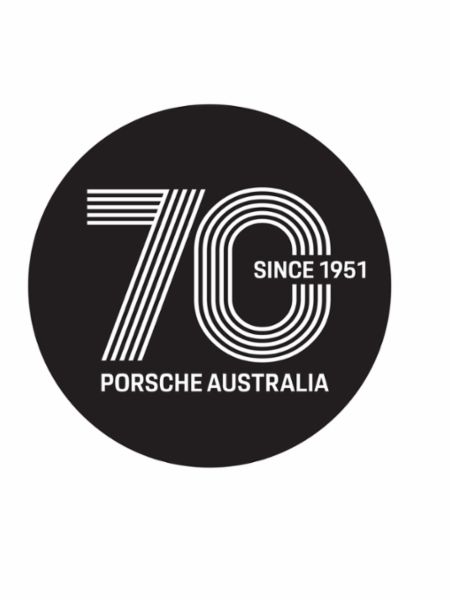 Visit porsche.com/australia/70years for more information regarding 70 Years of Porsche in Australia, as well as following @PorscheAus on social media.
Follow Porsche Cars Australia
On Instagram
On YouTube
On LinkedIn
On Twitter