In the mid-1980s, the prevailing view of Porsche's management was that its new front-engined models represented the future for the company and the ultimate version of the 944 Turbo (Type 951) was the Weissach-built racing version purpose-built for a new Porsche Cup racing series.
944 Turbo Cup events were usually support races held at major venues, often involving popular drivers, with the racing versions getting a slew of improvements from the Competition Department before being sent out to compete. The lightweight, steel, aluminium and fiberglass sunroof-deleted Coupe emerged with no less than 52 unique upgraded features, each tub reinforced with a full light-alloy roll cage, while additional welds were applied to the unibody design.
Adding extra muscle to the 2479cc inline-four cylinder engine was a larger, KKK K26-8 turbocharger with increased boost pressure, along with a magnesium intake manifold and oil pan.
Improved DME mapping allowing for maximum boost until 5,800rpm and in excess of 242kW / 325PS* (horsepower) now produced, up from 186kW / 250* (horsepower), on a near-272kg lighter chassis.
The transmission, clutch, differential and axles were all strengthened to handle the extra power and constant racing abuse, a fast-ratio rack-and-pinion steering box was fitted, as was a limited-slip differential, bespoke heavy-duty brakes with 300mm diameter rotors and a driver-controlled ABS system. Fully adjustable coil-over Bilstein shock absorbers, massive sway bars and a strut tower-brace made these already well-balanced cars even more predictable and better handling.
An oil cooler for the rear-mounted five-speed transmission, a lightweight battery and the use of magnesium instead of aluminium alloy for the production models' telephone-dial-style road wheels, completed to Turbo Cup's impressive specification.
Further performance gains were achieved by weight-savings, with the road-going model's air conditioner, power seats, leather upholstery, sun visors, power windows, power steering, rear wiper, headlight washers, mudguard liners, storage pockets and rear hatch release all deleted.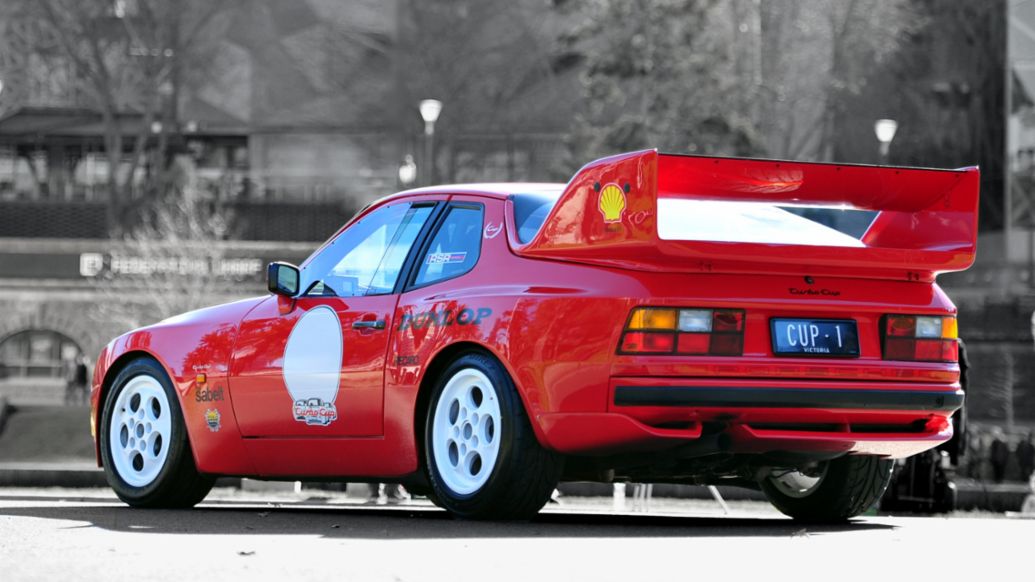 The bottom line was that the 944 Turbo Cup accelerated from 0-100km/h in around 4.4 seconds and had a top speed of nearly 275km/h.
By the autumn of 1987, a total of 192 cars had been built for one-make racing series in Germany, France and South Africa, with between 36 and 39 additionally built for North America, where Porsche was vigorously marketing the new 944 series.
Australian Porsche importer Alan Hamilton, who by then had three Australian Hillclimb and two Australian Sports Car Championships to his credit and had missed out on the 1969 Touring Car Championship for Porsche by a single point, wanted one and used his close connection with the factory to have it build a sole right hand drive example for track days.
It also differed visually from other factory 944 Turbo Cup models in being fitted with a massive fibreglass hatch rear wing. But not long after the car arrived in Australia, the Recession bit hard in 1989 and along with some other special racing Porsches, it was for sale on the floor of Hamilton's then-Church Street, Richmond showroom.
Melbourne Porsche enthusiast and collector Barry Fitzgerald had seen the 944 Turbo Cup in action at a Porsche Club Sandown sprint meeting. Further attracted to it by its unique right hand drive status, he purchased it in 1991.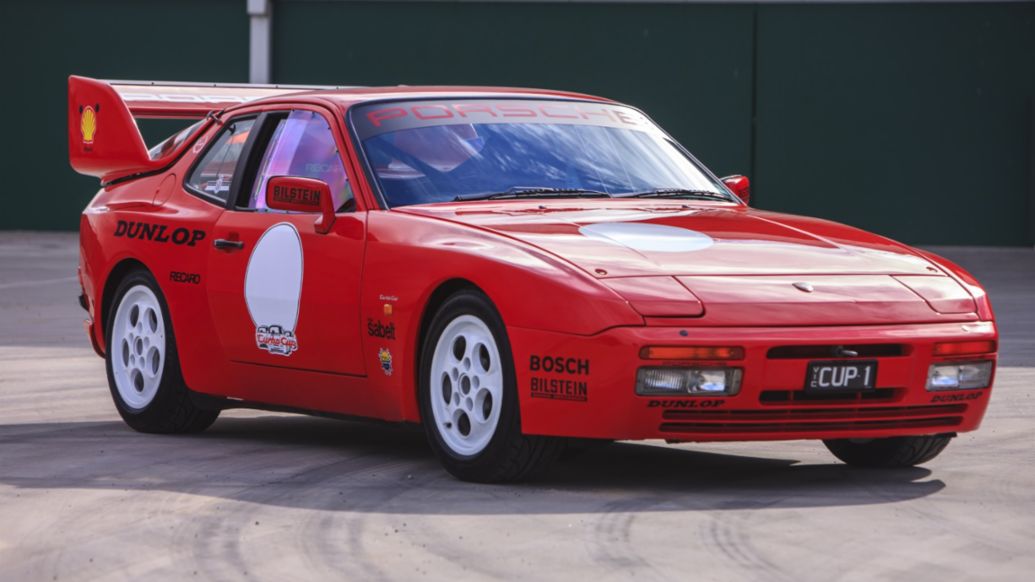 Then came Targa Tasmania in 1992 and Fitzgerald, caught up in a wave of enthusiasm that swept many other Porsche owners into the event, found himself with the ideal car for 2,000km of special stage tarmac rallying and touring the Apple Isle.
The problem was, neither he, nor his navigator, brother Bob, had ever been to Tasmania before, let alone rallied, but that didn't stop them.
"Things were a bit less serious then," Barry Fitzgerald recalled, "so we fitted a basic trip meter on the dashboard and took a stop watch. Pace notes? – we'd never even heard of them, so we didn't have any, nor did most of the other entrants in that first event".
However, the Fitzgeralds found the 944 unexpectedly competitive. "At one stage, we were running provisionally second outright," recalled Barry. "And we recorded the fastest time on one stage on Tasmania's East Coast. We were stoked – it was such a great car!"
"We were stoked – it was such a great car!" Barry Fitzgerald
Eventually they finished an impressive fourth outright, two places behind New Zealand's 1967 Formula 1 World Champion Danny Hulme, one place ahead of the Honda NSX of three-times F1 World Champion Sir Jack Brabham and, notably, well ahead of the rumbling but troubled V8 De Tomaso Pantera GTS of former top open wheeler racer Andrew Miedecke. It was the Fitzgeralds' one and only competition outing in the Porsche.
Miedecke is significant here, as when Barry Fitzgerald thinned out his car collection in 1993 to make way for one of just six of the new 911 RS models (Type 964) in his garage, the Port Macquarie car deal saw a much more reliable and potential Targa-winning vehicle in the 944 Turbo Cup.
While his previous Porsche experience was limited to co-driving a privately-entered Porsche 962 in the 1988 round of the World Endurance Championship held in Melbourne, his judgement was good and with local friend Alan Taylor navigating, they brought Porsche its first major Tarmac rally victory in the 1994 Targa Tasmania, finishing ahead of illustrious rivals including former European and Italian rally champion and four-time Monte Carlo Rally winner, Sandro Munari, in a factory-entered Lamborghini.
Miedecke and Taylor returned to Targa the following year in search of back-to-back victories, but changes he made to reduce the Porsche's turbo lag led to mechanical issues that masked its true potential. After the event, the Porsche sat around in Port Macquarie for several years before Miedecke sold it to a local friend, David Morton, who continued campaigning it in Targa Tasmania for many years, scoring a number of category victories.
But by then, the 944 Turbo Cup's Targa job had been done. In 1995, Jim Richards and Barry Oliver in Richards' new 993-series RS CS finished a close second for their second time together in three years, before going on to victory in a succession Richards' personal Porsches for the next seven out of eight years.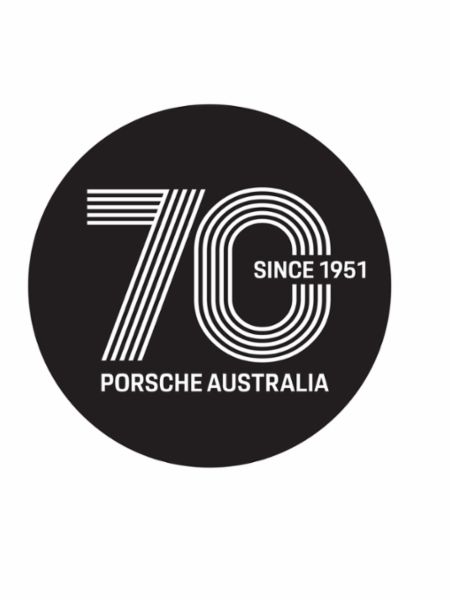 Visit porsche.com/australia/70years for more information regarding 70 Years of Porsche in Australia, as well as following @PorscheAus on social media.
Follow Porsche Cars Australia
On Instagram
On YouTube
On LinkedIn
On Twitter