Many car companies overstate the prowess of their products; Porsche has made a habit of understatement and its most sporting models are proof.
For example, all Porsche RS models of any '911' series are much more than the sum of their parts. The Motorsport Department pays special attention to every performance-enhancing component. From the engine and transmission, to brakes and suspension parts. Add an additional 'R' to the 'RS' model designation and the bar is raised even higher.
For a company with an enviable motorsport DNA, every RSR is a very mobile showcase of what Porsche is truly capable of. With very limited production numbers, they are nurtured through the built process like gifted children, from whom much is expected.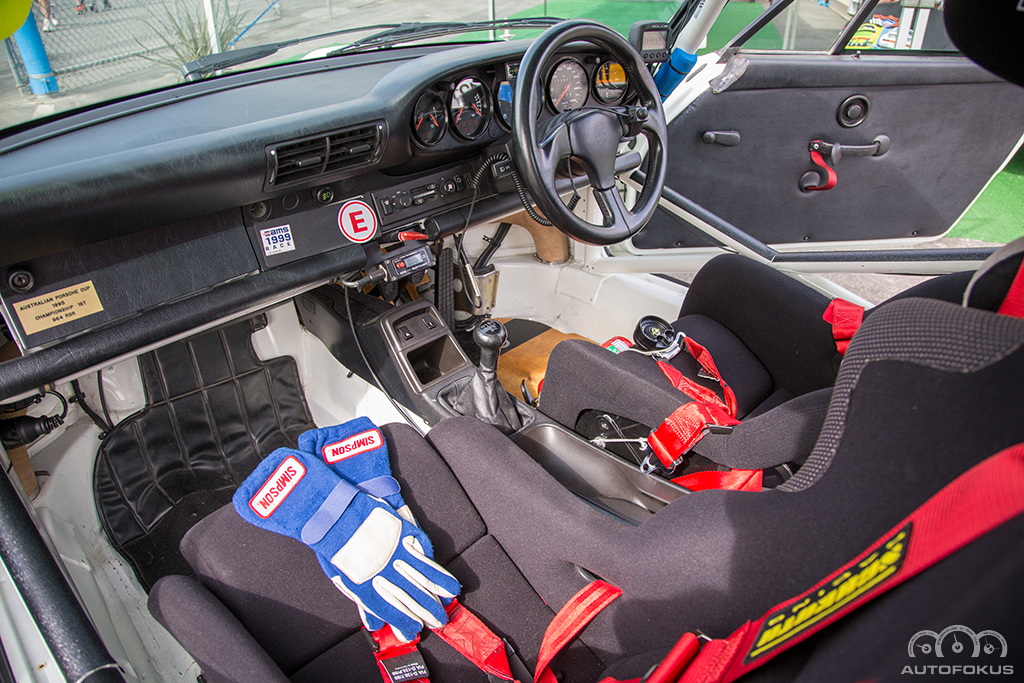 However, the Porsche 911 RSR 3.8 type 964 delivered to high-end Sydney recruitment consultant and successful Porsche racer, Geoff Morgan, was exceptional, even in this rarefied company.
Morgan ordered the car in 1993 and he says Juergen Barth will never forget chassis number WPOZZZ96ZPS496092 with its special M003 MOOS M406 M491 options out of all the Porsches built under his watch at the factory's then called Competition Department in Weissach.
For a start, it was the only factory right-hand drive 911 RSR 3.8 out of the 51 track-ready cars built by Porsche in 1993, with Morgan using his strong Porsche racing record and consequently good relationship with the Porsche Motorsport Department to convince it to build a right hand drive version when none was offered.
This sounds simple, when the factory had been building right hand drive road-going 911 Carrera 2 type 964 models since late 1989. But it wasn't.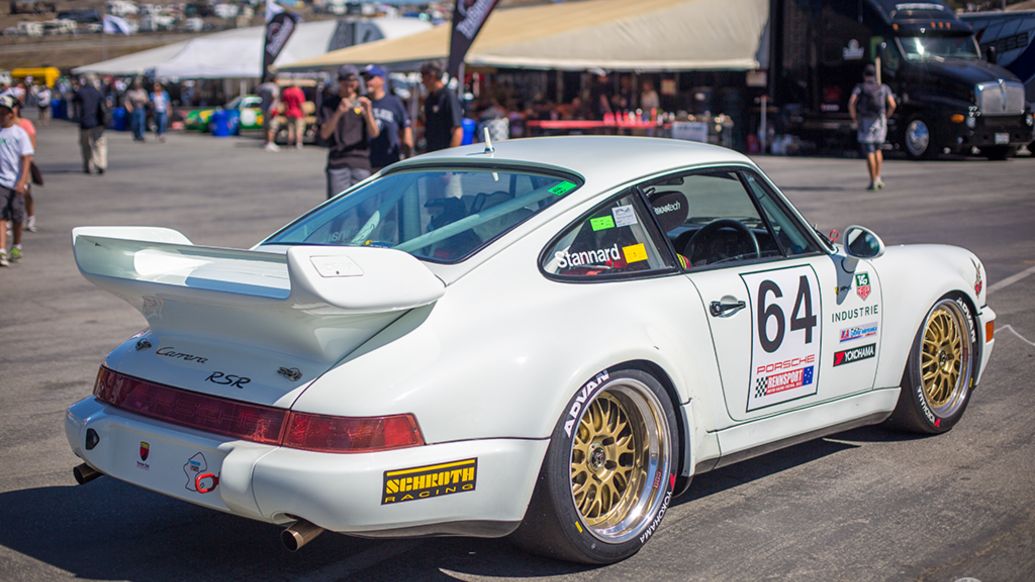 Unlike the Type 964 Carrera RS, which was based on the 3.6 litre Carrera's further strengthened narrow body, the RSR 3.8 combined the 911 Turbo's 3.3/3.6 factory wide bodyshell equipped with a more extreme aerodynamic package that encompassed a deeper front spoiler and a biplane rear wing that was both adjustable and formed in one piece with the engine lid. These body features were common to both left and right hand drive 964 RSRs.
Like all RS models, the shell was also strengthened over the standard 3.6 Carreras and contained additional welds, while aluminium was used for the doors and luggage compartment lid. Along with lighter glass and a cabin stripped of all extraneous trim and equipment, Porsche quoted a kerb weight of 1,210kg, making a significant impact on the model's performance, given the RSR's larger brakes and wider diameter wheels and tyres.
The new M64/04 3.8-litre air-cooled 'boxer' six cylinder engine gained its extra capacity via an increase in stroke from 100mm to 102mm, while its cylinder bores remained at 76.4mm. That was just the beginning. An increase in compression ratio from 11.3:1 to 11.6:1, a revised intake with individual throttle butterflies to sharpen its throttle response and tweaks to the engine-management system were amongst other enhancements. Larger inlet and exhaust valves were fitted too, with their diameters increased to 51.5mm and 43.5mm respectively, while cylinder head gas flow was improved with polished ports.
The result was 224kW / 300* PS (horsepower) at 6,500rpm and 360Nm of torque at 5,250rpm – both occurring at notably higher crank speeds than required by the 3.6-litre engine.
Just two factory right hand drive versions out of the 55 of its more road-focussed Type 964 RS 3.8 progenitor were built by Porsche, with one delivered to an enthusiast in Melbourne and the other to one in Britain.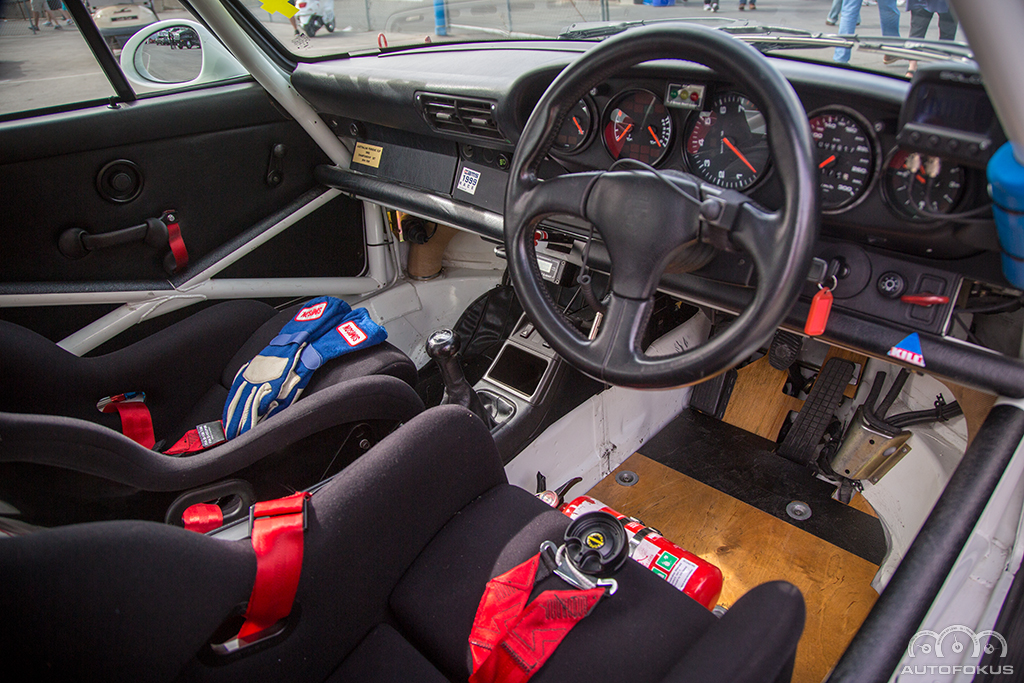 But the world's only right hand drive RSR 3.8 was built for Morgan and the 'RSR' spec brought additional challenges.
For a start, the layout required by the right hand steering precluded fitting the left hand drive version's special 120-litre endurance fuel tank, so the car was delivered with a standard tank, with the one-off larger endurance race tank delivered to Morgan 18 months after the car arrived. As the car has only ever sprint-raced, the larger tank has never been fitted and it is still brand new and unused.
For related reasons, the RSR is uniquely fitted with power steering, because Porsche's Competition Department couldn't accommodate the RSR's unassisted left hand drive steering system in the right-hooker 964 body shell.
Fulfilling Morgan's expectations for a Porsche factory racing car, the RSR was quick out of the box, from the moment it arrived in Australia in early 1994.
From the outset the RSR caused a stir in the Porsche Cup paddock. Painted by Morgan in an eye-catching patchwork colour scheme, it contested the Australian Porsche Cup from 1994, winning the all-Porsche multi-model series outright in Morgan's hands in 1995 and 1996.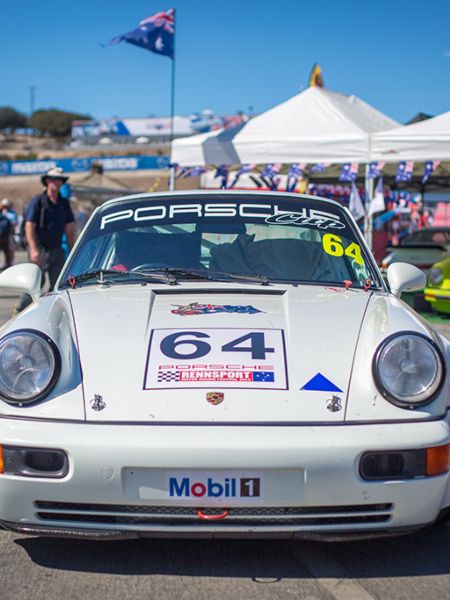 The only compromise required was that its racing-spec ABS braking system had to be disconnected in order to comply with prevailing Australian Porsche Cup regulations. According to Morgan, series officials checked that it was inactive every time it hit the track.
After its Australian Porsche Cup successes, Morgan sold the RSR to his long-time Sydney friend Chris Stannard in order to concentrate on building a Porsche Cup car based on a later 993 generation shell. Morgan went on to win the Porsche Cup again in 1997 and 1998 in other Porsches.
Stannard raced the RSR for two more years before he became concerned about its increasing value and retired it from serious competition.
The RSR was acquired in 2000 by a Western Australian enthusiast, who did little-to-no racing in it before selling it to active Victorian Porsche Club member and enthusiast, Don Tryhorn, who in 2003 became its fourth owner and raced it several times, believing it would be worth something one day.
On Tryhorn's unexpected death in 2008, the RSR was offered back to Stannard by Tryhorn's estate. As Stannard always regretted selling the car, he happily bought it back before treating it to a full restoration and adding it to his collection of 11 Porsches.
Over the next four years the RSR was restored, with a rebuilt motor, gearbox, suspension, brakes, bodywork and new Carrara White paint to return it to factory condition. One exception in the restoration was the car's minimalist interior, which was not painted, so it still wears its original racing war scars and stickers. A modern race seat and full harness are the only modifications to its factory spec.
A nice touch was when Stannard and Morgan, who have remained friends since their late teens, both drove it at its first outing after the rebuild.
Since then, the car has been used by Stannard on occasional, non-competitive drive days and in special displays. Today it remains one of the most original of all the 51 Type 964s in existence and being a true one-off factory-built car, one of the most valuable.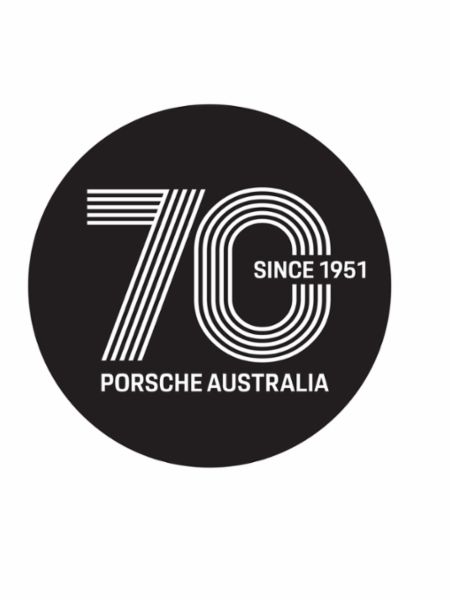 Visit porsche.com/australia/70years for more information regarding 70 Years of Porsche in Australia, as well as following @PorscheAus on social media.
Follow Porsche Cars Australia
On Instagram
On YouTube
On LinkedIn
On Twitter