The Cayenne Coupe is based on same proven platform as the Cayenne SUV, using the same running gear and front interior layout.
Designers in the 'Porsche Style' department have incorporated the iconic Porsche silhouette into the Coupe, but also maintained the versatility for which the Cayenne is well known.
With the new Cayenne Coupe, Porsche aims to not only keep, but to enhance, the sporting character of the car.
Clever packaging has ensured headroom has not been compromised. The rear seats have been lowered by 30mm to offer ample headroom, even with a roof line that is 20mm lower than the Cayenne SUV.
With the existing engine range of 2.9L, 3.0L & 4.0L engines, coupled to the 8-speed Tiptronic transmission and using the Porsche 4D chassis control system that monitors the Porsche Active Dampers and controls all the aspects of the chassis, the Cayenne Coupe ensures both performance and versatility are provided.
Suspension tuning to add slightly more track and a new wheel and tyre package that include four different sets of 22-inch wheels means the Cayenne Coupe is even more dynamic than the already sporty Cayenne.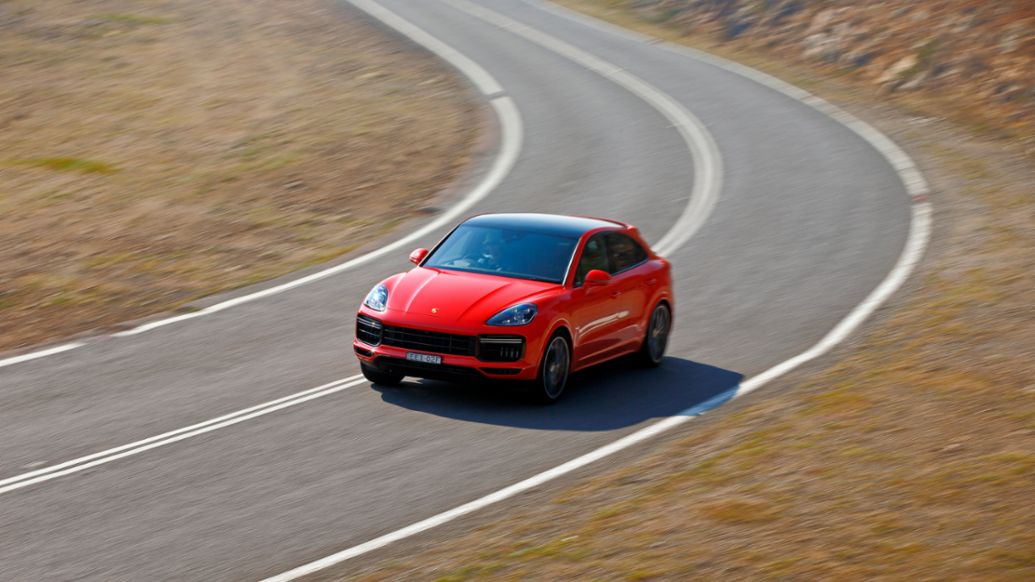 With active aerodynamic elements at the front and rear of the Cayenne Coupe, both balance and high-speed stability are at a level you would expect from a sports Coupe.
With a top speed of 286km/h in the Cayenne Turbo Coupe, it provides the confidence that only comes from having a true sportscar braking system, like the system developed for the Cayenne Turbo, the Porsche Surface Coated Brake system featuring 415 mm rotors clamped by 10 Piston calipers as standard.
Options include Four Wheel Steering, Porsche Dynamic Chassis Control (PDCC) active stabilisers, Porsche Active Suspension Management (PASM) active dampers, 10 Piston 440mm Porsche Carbon Ceramic Brakes (PCCB) braking system and Sports Chrono.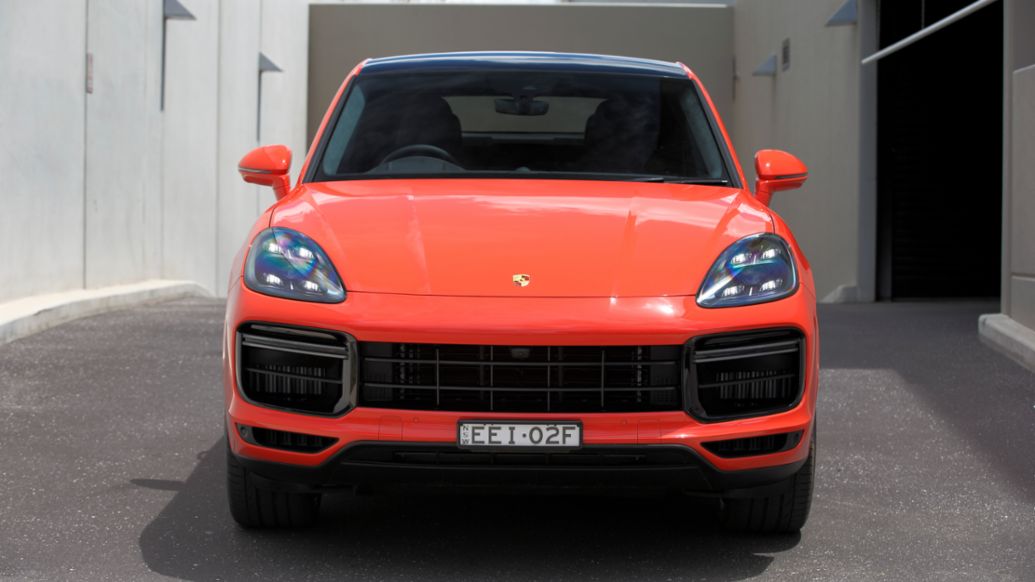 The Cayenne Coupe has a 'light weight' package available that includes the forged 22-inch wheels, PCCB and even a Carbon fibre roof to replace the standard full Panoramic glass roof (that includes a full sun shade).
A fully integrated infotainment system with a 12-inch touch screen, satellite navigation and telephone functions keep drivers connected with the outside world, including a 7-inch map just to the right of the central tachometer in the instrument cluster.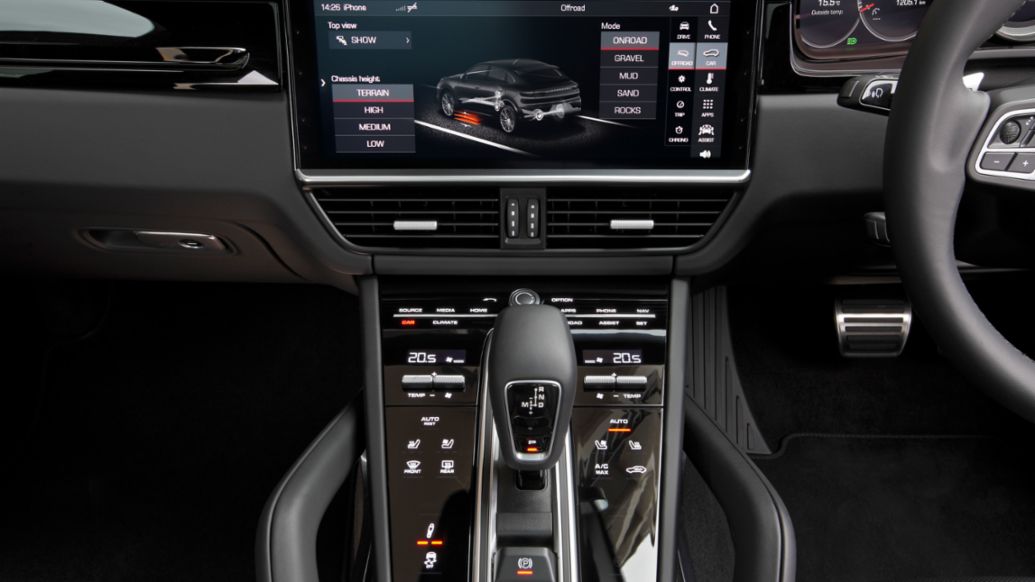 By the numbers
404 kW / 550 PS* (horsepower) for the Cayenne Turbo Coupe
Eight or four: For those with a more urban lifestyle, the V8-powered Cayenne Turbo Coupe can also run as a 4 cylinder using the Porsche cylinder deactivation system when travelling at slower speeds.
770 Nm for the Cayenne Turbo Coupe
Up to 286 km/h top speed
20 mm lower overall
20 mm wider track
135 mm of rear spoiler activation
12-inch infotainment screen fronting the Porsche Communication Management Systems (with wireless Apple Carplay)
In summary: "Everyday usability with the Porsche sporting character."
*PS (Pferde Stärke, German for horsepower) is the standard unit used in the European Union to measure the power output of a motor in 'metric horsepower'.
Driving comfort and dynamics
• Adaptive air suspension including Porsche Active Suspension Management (PASM)
• Porsche Dynamic Chassis Control (PDCC)
• Porsche Torque Vectoring Plus (PTV Plus)
• Rear-axle steering
• Porsche 4D Chassis Control
• Porsche Traction Management (PTM)
• Mixed tyres
• Porsche Surface Coated Brake (PSCB)
• Porsche Ceramic Composite Brake (PCCB)
What the press say
"There's no doubt the Porsche Cayenne Coupe is sporty, sophisticated and – for some – seductive." Feann Torr, Carsales.com.au
(full review here.)
"With adaptive air suspension and active anti-roll control, the Turbo Coupe turns in quickly to corners for a car of these dimensions and weight. It treads firmly and seems nailed to the road – you could be driving something lighter and lower."
- Phil King, The Australian (full review here)
"There's a lot of stylistic massaging and subtle enhancement to get the coupe look 'right'."
- Curt Dupriez, CarAdvice.com.au (full review here)
"The Cayenne Turbo S-E Hybrid Coupe is currently in a league of its own. And contradiction or not, it also proves you can have you cake and eat it, too."
- Justin Hilliard, CarsGuide.com.au (full review here)
"If you desire a design-driven SUV with coupe pretences and devastatingly capable performance, the Cayenne Coupe fits the bill."
- Trent Guinco, Wheels (full review here)
Info
For more information for consumers here.
For more information for media here or contact press@porsche.com.au.