Over 4,900 sim racers have already taken part in the qualifying rounds – twice as many participants compared to last year. The qualification concludes on 2 March, with the top 20 qualifiers gaining entry to contest the Porsche Esports Supercup. At present, the Formula 1 driver and avid sim racer Max Verstappen is competing, with the Red Bull racer from the Netherlands currently ranking 20th as at 10 February 2020. The illustrious grid line-up will be enhanced by the 20 top sim racers from last season. They automatically qualify for the 2020 races.
During the qualification, an iRating system created by iRacing ensures that the level of performance is evenly-matched. The individual numeric value gives an idea of the general skill and success of each driver. The key to achieving the highest possible numeric value is, for example, flawless driving and the corresponding result. Moreover, the points gained at the end of the qualifying rounds determine the performance level in relation to the entire starting grid.
Australian Joshua Rogers the defending champion
Last year, a total of 2,372 drivers attempted to qualify for the Porsche Esports Supercup. For the 2020 season, the defending champion Joshua Rogers (Australia) and his hottest rivals Max Benecke (Germany), Sebastian Job (Great Britain) and Mitchell deJong (USA) return as the favourites. In 2019, they clinched the first four places in the championship.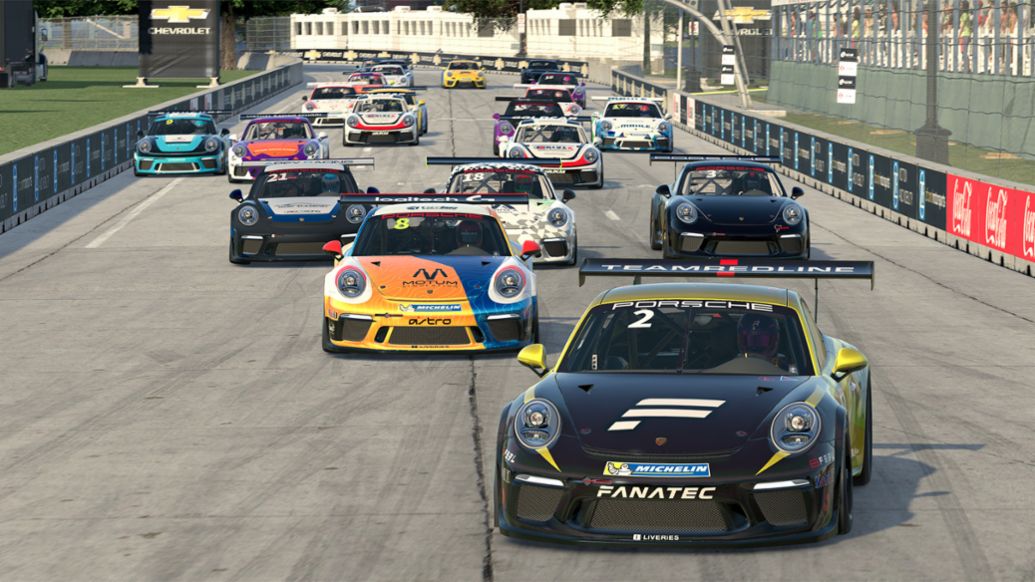 The world's best sim racers will contest the 2020 Porsche Esports Supercup. A total of 40 drivers will compete against each other in ten online races in a virtual Porsche 911 GT3 Cup. Most of these races take place parallel to the real championship rounds of the Porsche Mobil 1 Supercup, which are held as support to the European Formula 1 events.
The first championship sim race takes off on 2 May on the virtual version of the Circuit Zandvoort in the Netherlands. Simultaneously, the actual Porsche Mobil 1 Supercup will contest its first round at the same venue. On 19 September, Italy's Circuit Monza plays host to the final round of the Esports Supercup.
The 2020 rounds of the Porsche Esports Supercup
| | |
| --- | --- |
| Date | Racetrack |
| 27 - 29 March 2020 | Test drives (Circuit de Barcelona-Catalunya) |
| 2 May 2020 | Circuit Park Zandvoort |
| 9 May 2020 | Circuit de Barcelona-Catalunya |
| 23 May 2020 | Donington Park Circuit |
| 13 June 2020 | Circuit de la Sarthe (Le Mans 24 Hours) |
| 4 July 2020 | Nürburgring Nordschleife |
| 18 July 2020 | Silverstone Circuit |
| 1 August 2020 | Road Atlanta |
| 15 August 2020 | Brands Hatch Circuit |
| 29 August 2020 | Circuit de Spa-Francorchamps |
| 19 September 2020 | Autodromo Nazionale Monza |