When Porsche Cars Australia decided to host a gathering, 43 cars and their owners (in many cases couples) made it to the track complex at Tailem Bend, South Australia, in late August.
Months in the planning, it was a day in which Porsche turned it all on, organising logistics and providing accommodation and lavish hospitality at the Rydges Pit Lane Hotel. There was also generous track time with world class instructors on hand, and even detailing services to make sure the cars looked their best.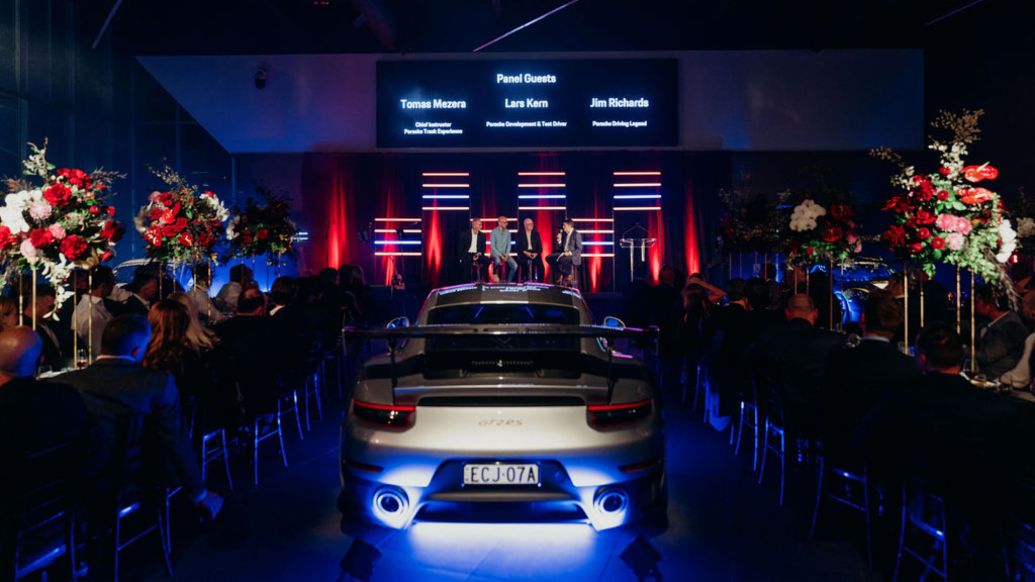 On the night before the track day, a grand feast was prepared by Porsche Cars Australia ambassador Jock Zonfrillo, founder of the restaurant of the moment, Orana in Adelaide.
Mark Webber made an appearance via video from Europe. The Aussie GP and sportscar legend had input way back in the track's design stage and had, only a few weeks earlier, set some spectacular lap times there at the Australian press launch of the eighth-generation Porsche 911.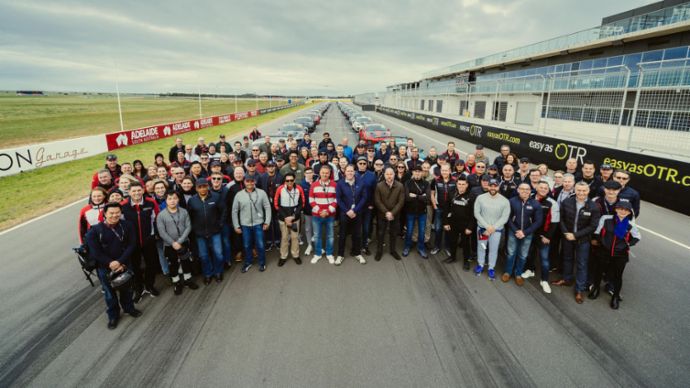 Job one the next morning was to line up on the grid the customer cars and Porsche Cars Australia's sole example for a 44-car team photo. They were in every colour of the GT2 RS rainbow, with several bespoke hues thrown in.
With a total length of 7.77 kilometres, when the East and West circuits are combined to create the "GT Circuit", The Bend is the second longest permanent racetrack in the world, behind only Germany's legendary Nürburgring-Nordschleife. The GT2 RS has now set production car records on both tracks.
After a driver briefing from Tomas Mezera – chief instructor, Porsche Track Experience – the owners followed instructors at gradually increasing speeds, learning the two shorter circuits via ducks and drakes. Then it was time to tackle the GT Circuit.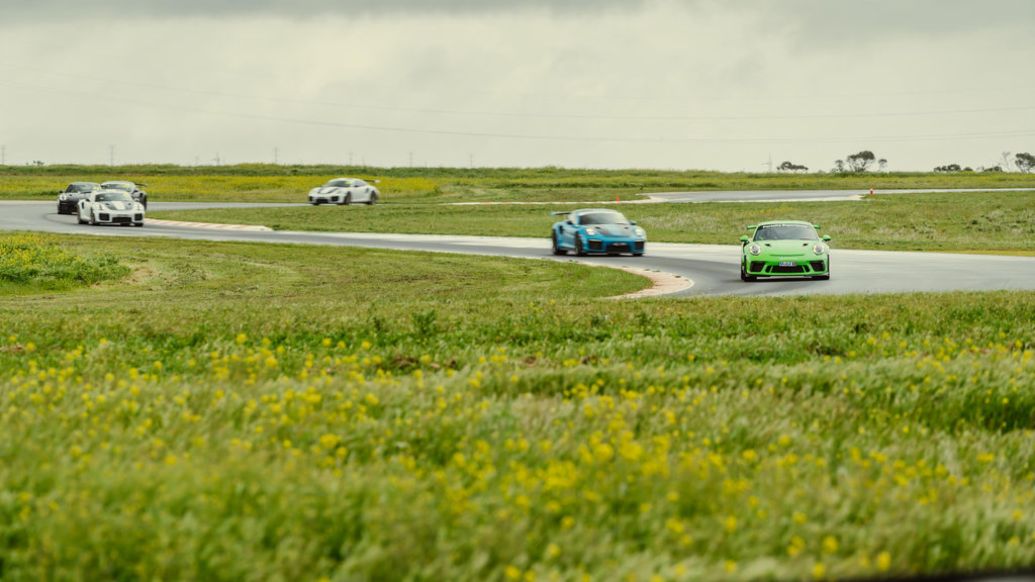 "To see 44 of them together in one spot is pretty overwhelming," said owner Cindy Gilbert, from Sydney. It was her first track experience in her GT2, which she describes as "a very raw machine" and, as a result, "a really fun car."
"It's incredible and you don't have to be a professional to handle it, as long as you don't drive over your limits. It has been awesome."
The weather gods provided a perfect morning. Even when the rain came down at lunch, Mezera was able to keep things upbeat. "What an opportunity," he announced. "You learn so much in the wet."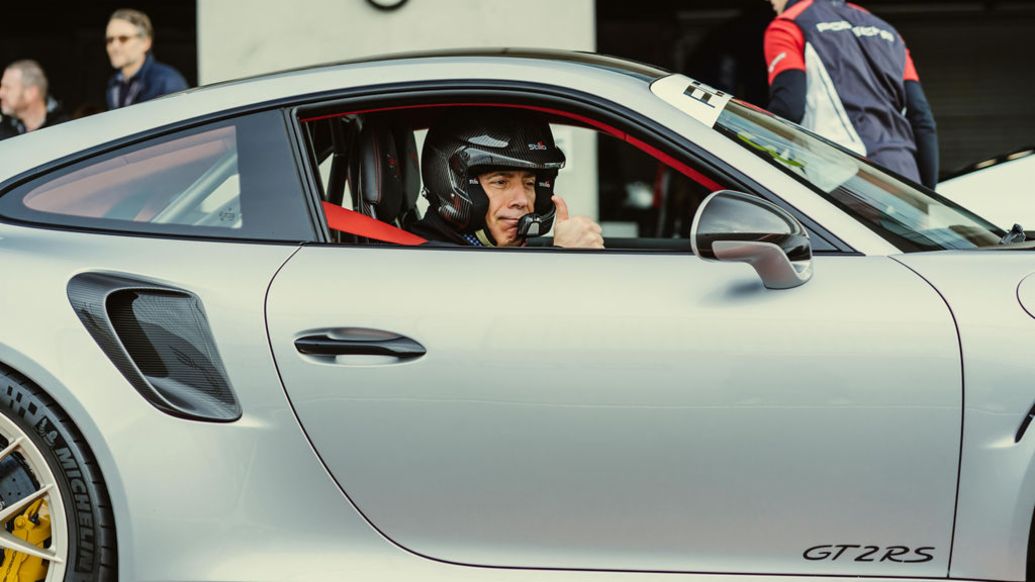 The Bend was chosen because it is new and so versatile, but it didn't hurt that circuit owner Dr Sam Shahin is a GT2 RS owner and a big fan of the brand. Dr Shahin is an inspirational character born in Palestinian refugee camp. With his family, he has developed the Peregrine Corporation, now the largest private employer in South Australia, with 4500 people on staff.
He says The Bend has involved his whole family, which his father brought to Australia in 1984. "We wanted to give back something to this wonderful country that has given us so much."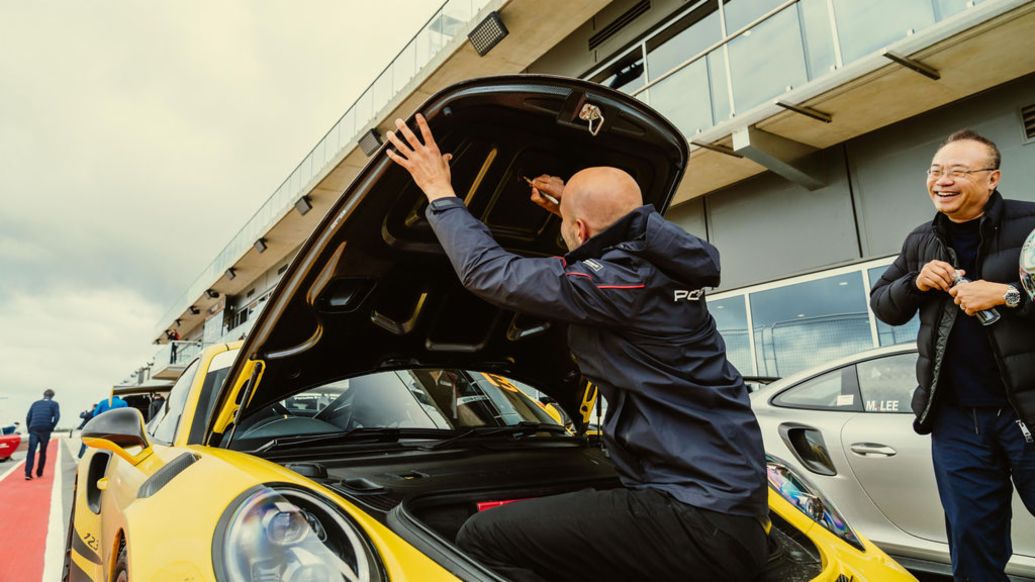 The special guest of honour, Lars Kern, had flown from Germany to sample the GT2 on the new circuit, meet Australian owners – and visit his uncle, who moved to the City of Churches 40 years ago. Lars is the very man who set the record for a road legal car at the Nürburgring-Nordschleife in a GT2 RS in 2018. His time was 6 mins 40.33 seconds.
That record was a great validation for the 31-year-old test driver, as he had been intimately involved in the car's development from the very first prototype. "We really designed a car which is suitable for autobahns, for mountain roads for racetracks but if you want to just go on track, you can do camber and toe, and adjust the wing. But at the start point it is quite good at everything. What clients do with their cars are so different."
Kern said that first prototype was "wild and rude" and that's exactly what they were trying to achieve. "It is brutal, it is two-wheel drive and you really have to be awake driving the car, because the balance between power and grip is very different to, say, a GT3 RS."
Kern took GT2 RS owners – and Porsche Cars Australia managing director Sam Curtis – for some hot laps, and showed even the best drivers among them that, however quick they thought a GT2 was, a man like Kern could make it go quicker still.
Managing director Sam Curtis also declared the day a firm success. "It was a loyalty reward program for our customers to say thank you and to acknowledge their trust and support of the Porsche brand. And you could see the grins from ear to ear."
Curtis had assumed customers would have already driven their car on track but discovered many hadn't yet squeezed it into their busy lives. "So today is a big tick of the box and we've facilitated that. To take a car like the GT2 RS to a track like this, it doesn't get much better."