Zynga Inc. and Porsche today announced a global content partnership in honor of the 70th Anniversary of Porsche sports cars that includes new in-game content in mobile racing game CSR Racing 2 (CSR2) and an extensive docuseries. Participants include Australian former racing driver Mark Webber, collector and designer Magnus Walker, custom tuner Akira Nakai, and creator of the Porsche 959 Canepa and former racer Bruce Canepa.
Players can also get behind the wheel of each car featured in the series, including Webber's 911 GT2 RS, Nakai's Porsche RWB 993 Rotana, Walker's 911 '277' and Canepa's Porsche Canepa 959. Additional in-game content featuring each personality will help bring players even closer to these Porsche enthusiasts and their beloved machines.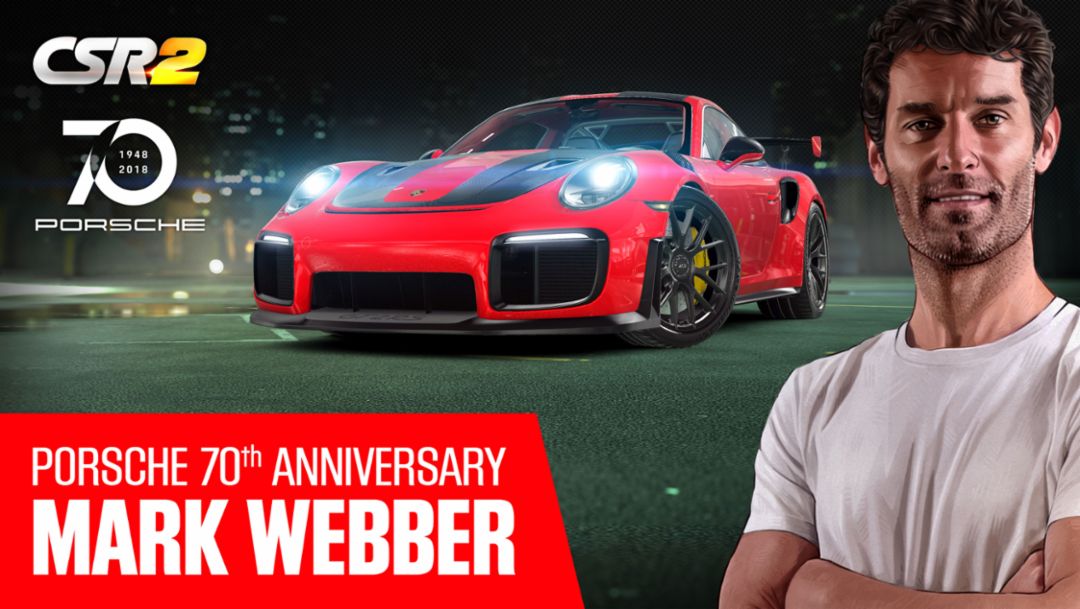 Players can race Mark Webber's Porsche 911 GT2 RS starting today in CSR2, while the other supercars will be introduced to the game over the coming weeks in celebration of Porsche's 70th anniversary. Players can also bring the cars to life with the augmented reality feature AR Mode.
The docuseries and the new in-game event series extend an existing partnership between Porsche and CSR2, which includes 23 true-to-life, expertly detailed versions of beloved Porsche vehicles such as the new 911 GT3 RS introduced to players in May, as well as the Porsche 718 Boxster S, 911 Turbo S and 918 Spyder.
Consumption data
718 Boxster S: Fuel consumption combined 8.1 – 7.3 l/100 km; CO2 emissions 184 – 167 g/km
911 GT2 RS: Fuel consumption combined 11.8 l/100 km; CO2 emissions 269 g/km
911 GT3 RS: Fuel consumption combined 12.8 l/100 km; CO2 emissions 291 g/km
911 Turbo S: Fuel consumption combined 9.1 l/100 km; CO2 emissions 212 g/km