At the end of the year, four Executive models will celebrate their world premieres: the Panamera Turbo Executive, Panamera 4S Executive, Panamera 4 E-Hybrid Executive and Panamera 4 Executive. One innovation is the basic engine of the four-door models. The fully redesigned 3.0-litre V6 turbo engine is the new entry-level model for the Gran Turismo class, and is used in the Panamera 4 Executive (Fuel consumption combined 7.9 – 7.8 l/100 km; CO2-emissions 180 – 178 g/km), the Panamera with rear-wheel drive and the Panamera 4 with all-wheel drive (Panamera: Fuel consumption combined 7.6 – 7.5 l/100 km; CO2-emissions 173 – 171 g/km; Panamera 4: Fuel consumption combined 7.8 – 7.7 l/100 km; CO2-emissions 177 – 175 g/km). Porsche will also unveil the 911 RSR racing car, yet another world innovation that will compete in the international arena in 2017.
The sportscar manufacturer presented the new, highly luxurious versions, with a wheelbase extended by 150 millimetres, at the Porsche press conference.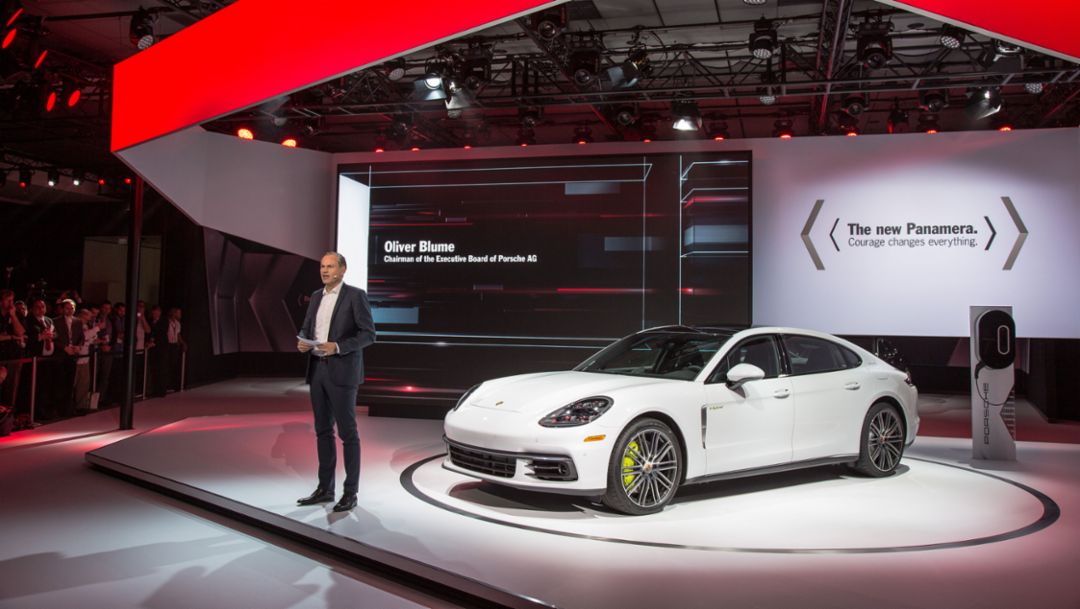 The USA remains one of Porsche's main sales markets. Up to and including October 2016, the sportscar manufacturer delivered 178,314 vehicles around the world, representing a three-percent increase over the same period in the previous year. This success can be attributed to the excellent reputation the company enjoys among its customers: In 2016, Porsche once again triumphed in the overall classification of the renowned J.D. Power APEAL study conducted by the US market research institute J.D. Power. In addition, the Porsche 911, Boxster and Macan achieved first place in their respective categories.
The most spectacular nine-eleven ever: #Porsche will present the new #911RSR @LAAutoShow! More: https://t.co/UiQzR0BsOk pic.twitter.com/yKjxyoSLqh

— Porsche Newsroom (@PorscheNewsroom) 14. November 2016
Consumption data
Panamera 4 Executive: combined fuel consumption 7.9 – 7.8 l/100 km; CO2 emissions: 180 – 178 g/km
Panamera 4S Executive: combined fuel consumption 8.3 – 8.2 l/100 km; CO2 emissions: 189 – 187 g/km
Panamera Turbo Executive: combined fuel consumption 9.5 – 9.4 l/100 km; CO2 emissions: 217 – 215 g/km
Panamera 4 E-Hybrid Executive: combined fuel consumption 2.5 l/100 km; electricity consumption 15.9 kWh/100 km; CO2 emissions 56 g/km; efficiency class (Germany): A+
718 Boxster model line: Fuel consumption combined 8,1 – 6,9 l/100 km; CO2-emissions 184 – 158 g/km