With four world premieres planned, Porsche has presented novelties at the Los Angeles Auto Show: The Panamera Turbo S E-Hybrid Sport Turismo, the 718 Boxster GTS and the 718 Cayman GTS are each the flagship of their respective model lines, while the 911 Carrera T takes the role of puristic lightweight. In addition, the new generation of the Cayenne is celebrating its first outing in the United States.

See the recording of the Porsche press conference here: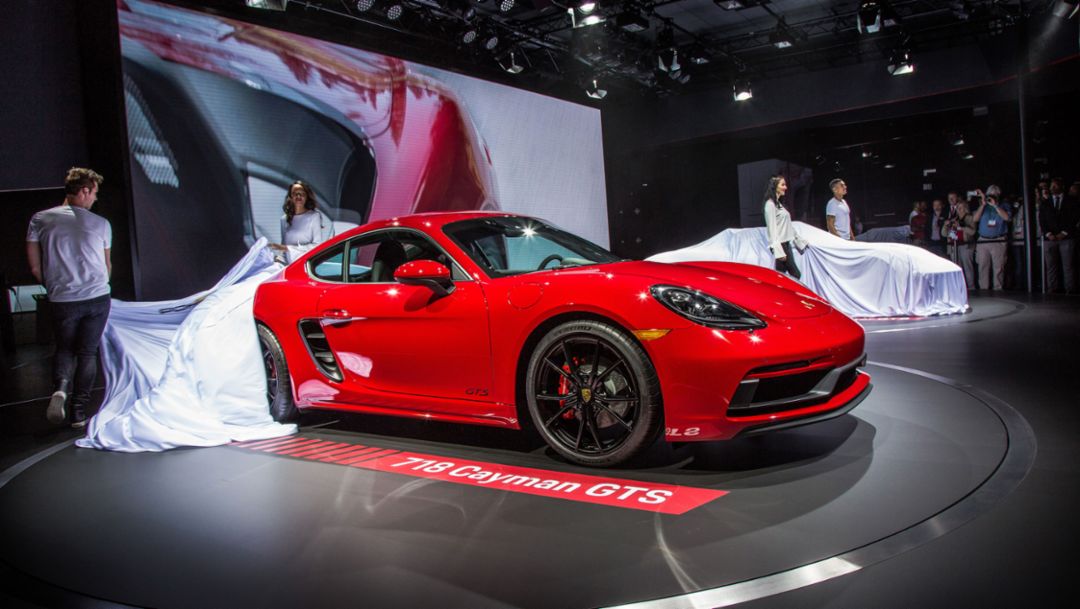 The Los Angeles Auto Show runs from November 29 to December 10, 2017.
On the path to success
Porsche is continuing on the path to success in the USA in 2017. With 45,952 vehicles delivered, sales for the first three quarters of the year are up 2.7 per cent on the same period in the previous year. Growth has been particularly strong for the Macan (+16.3 per cent) and the new Panamera (+52.5 per cent). The figures reflect the high level of appreciation from our US customers. In the latest "Automotive Performance, Execution and Layout (APEAL) Study" conducted by US market research institute J.D. Power, for the 13th time in succession, the sports car manufacturer has finished top of the overall rankings, meaning that Porsche remains the most attractive vehicle brand for drivers in the USA. The Porsche 911, Cayenne and Macan models also took the top positions in their categories.
Consumption data
718 Boxster GTS: Fuel consumption combined 9.0 – 8.2 l/100 km; CO2 emissions 205 – 186 g/km
718 Cayman GTS: Fuel consumption combined 9.0 – 8.2 l/100 km; CO2 emissions 205 – 186 g/km
911 Carrera T: Fuel consumption combined 9.5 – 8.5 l/100 km; CO2 emissions 215 – 193 g/km
Panamera Turbo S E-Hybrid Sport Turismo: Fuel consumption combined 3.0 l/100 km; combined energy consumption 17.6 kWh/100 km; CO2 emissions 69 g/km
Model Range Cayenne: Fuel consumption combined 11.9 – 9.0 l/100 km; CO2 emissions 272 – 205 g/km