Taking the holiday at full throttle
Despite the FIA World Endurance Championship's long summer break, Porsche's LMP1 works drivers are not getting bored. In addition to testing with the Porsche 919 Hybrid, they have made numerous appearances.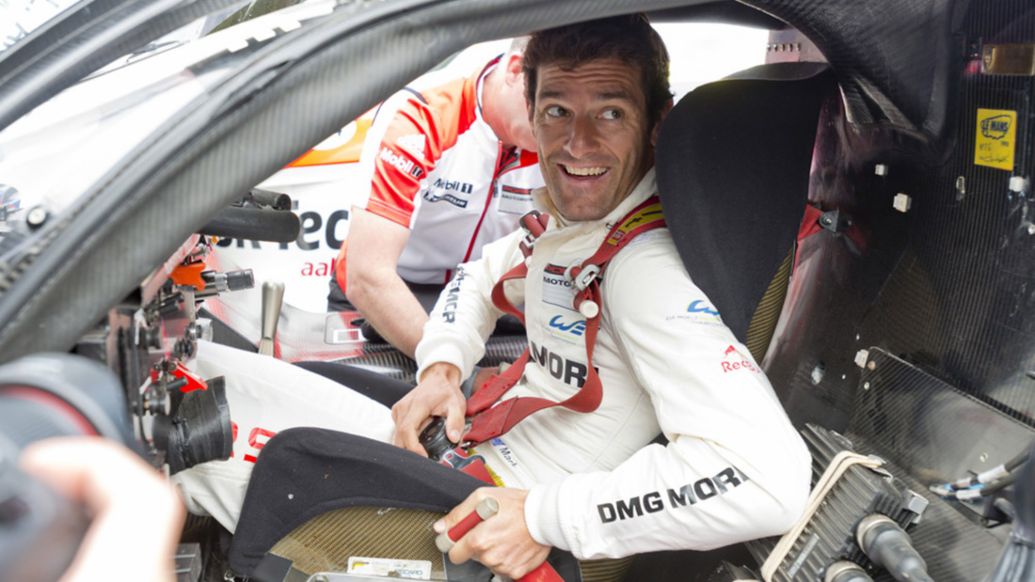 Timo Bernhard
Timo Bernhard's passion is driving Porsche cars – be it for the works team on the track or in a private capacity in rallying or recently hill climbing, too. Two weeks after the 24 Hours of Le Mans, he enjoyed taking part with his Porsche GT3 Cup as the course car in the Rallye Warndt in the German Saarland. With his team-mate Mark Webber he subsequently attended the British Grand Prix at Silverstone, where he naturally also dropped by for the Porsche Supercup. The most successful holiday and family excursion came on 13th July - on son Paul's first birthday, Timo took overall victory in the 41st Homburg ADAC Hill Race in a Porsche 991 Cup (Typ 991) in Germany. The car is normally driven by Earl Bamber (NZ) in the Porsche Carrera Cup Deutschland for Team 75 run by Timo's dad Rüdiger Bernhard. From 21st to 23rd July, Timo and LMP1 colleagues Brendon Hartley and Marc Lieb were busy testing at Paul Ricard, France, which was followed by a detour for Team 75 Berhard's participation at the Red Bull Ring in Austria, before it was then off on holiday with wife Katharina and little Paul. And where does a petrol head like Timo Bernhard go on holiday? To the very sedate area of Salzburger Land in Austria.
Romain Dumas
Romain Dumas devoted himself to his rally team as soon as the hype of Le Mans subsided. He had big plans: two weeks after the 24-hour race, he turned out with his own team for the famous hill race on Pikes Peak in Colorado (U.S.). 9:05.801 minutes was the time he needed for the 'Race into the Clouds', making him the overall winner. En route from the start at 2,865 metres to the peak at 4,301, he mastered 156 corners over a distance of 20 kilometres. While Dumas was driving a 600-kilogram prototype (Norma M20 RD Limited), Vincent Beltoise secured a class victory for the team in a Porsche. The young Frenchman from the Porsche Carrera Cup won in a GT3 RS. Three weeks later, on 20th July, Romain Dumas too was again sitting in the cockpit of a Porsche. With his 911 Group 4 from 1977 and co-driver Denis Giraudet, he took overall victory in the Rallye de la Drôme in France. The Dumas family's two-week holiday also had a good tempo to it: on the Côte d'Azur the emphasis was on water sports. Also there with Dumas, of course, was little Gabin, who was born on, by happy coincidence, 9.11.2013.
Brendon Hartley
Brendon Hartley, at 24 the youngest of the LMP1 works drivers, enjoyed some practical lessons in matters of Porsche racing history over the summer. At the Goodwood Festival of Speed on the land owned by Lord March in West Sussex he drove the RS Spyder and two winning Le Mans cars, the Porsche 962 and GT1 98. "It was an honour to be allowed to drive those cars," he said. "And I also had the privilege of driving the GT1 in the Silverstone Classics on the racetrack as well." He was brought back to planning for the future by three days of testing with the LMP1 at the end of July at Paul Ricard and another five days of work in Weissach, where the 2015 racing car is being developed. "I also had the great good fortune there of being permitted to drive a 918 Spyder on the test grounds," he said with a beaming smile. "I knew that it was a fantastic car, but it's even more fantastic than I thought!" He in turn impressed clients at the Porsche test circuit in Leipzig with his skills as an instructor and taxi driver in the Porsche Cup car. Many hours of fitness training have further toughened him up. And the climax of his summer travels led him down into the deep: during a one-week Caribbean holiday, Brendon took and passed his diving test.
Neel Jani
Neel Jani spent most of the time where he finds it "still the loveliest place to live": in Switzerland. "I've got a shift-stick go-kart with six gears and an outdoor track nearby - it's good practice and great fun." Moto2 driver Dominique Aegerter also occasionally joins him. Workwise Jani attended a driver event in Monza, Italy, as an instructor along with Marc Lieb and a 918 Spyder. Away from work, he visited his former team-mates at the German Formula One Grand Prix. Things were somewhat quieter on Mallorca, where he enjoyed a few days' holiday with his wife Lauren. "It was my first time there and the island is ideal for cycling and boat trips." A secret reason for the visit, however, was to take a look at the island's own racetrack. Next it was off to Seefeld in Austria for some intensive training. "As a wonderful form of stamina training, mountain climbing is second only to skiing," reckons Jani. After that there followed meetings in Weissach and, ahead of testing on the Eurospeedway in the Lausitz region, a quick visit to 'Show Time Interlaken'. "A fantastic Porsche event," was Jani's verdict. "Over 1,500 cars and each lovelier than the other!"
Marc Lieb
Marc Lieb was behind the wheel of a familiar old friend on his first Porsche appearance after Le Mans: at the Goodwood Festival of Speed he drove the 918 Spyder, in which in September 2013 he achieved a record lap of the Nürburgring Nordschleife in under seven minutes. Employed once again in the role of 918 Spyder expert, he attended the driver event in Monza along with Neel Jani. A few days later, Lieb appeared at the Ennstal Classic. There he sat behind the wheel of what is currently Porsche's most recent winning Le Mans car, the GT1 from 1998. "Of all the historic vehicles, the relatively modern GT1 was truly exotic and a real attraction," says Lieb. Testing in the 919 Hybrid from 21st to 23rd July at Paul Ricard then had him looking again to the future. Together with colleagues Timo Bernhard and Brendon Hartley, Lieb was evaluating some initial enhancements for the remaining five rounds of the World Endurance Championship. After that, holiday time began for the Lieb family as well: an opportunity to recharge the batteries in the Alps at Saalbach Hinterglemm, hiking and cycling with wife Alexandra and sons Benedict and Jonathan.
Mark Webber
Mark Webber slipped initially into the role of chauffeur after Le Mans, bringing tennis star and brand ambassador Maria Sharapova safely to the Wimbledon party in a Porsche 918 Spyder. Then, at the Austrian Grand Prix, he joined the celebrations of Formula 1's successful return to the Red Bull Ring. From Styria it was off home to England - for Porsche to Goodwood for the Festival of Speed and to Silverstone for the GP2 race, where his protégé, New Zealander Mitch Evans, achieved a podium finish. At the end of July, he took a three-week trip to the USA. "It was my first time ever in Colorado," says Webber, "and I immediately fell in love with the area and the people. The landscapes simply take your breath away. Everything is wide and open and the people are laid-back. You can do lots of things there that in more populated areas are simply not possible." For example, taking part in a brutal mountain-bike race near Aspen. Start at 3,000 metres, finish at 4,300. Conquering the 100 miles from Leadville had been on Webber's wish list for a long time. He's enjoying the longer timeframes that are now available to him. "But by August I could hardly wait to get back testing again. The world championship still has a long way to go and we still have a fair bit we want to achieve."
Consumption data
918 Spyder: Combined fuel consumption: 3.1 l/100 km; CO₂ emission: 72 g/km; Electricity consumption 12.7 kWh/100 km
918 Spyder (Weissach package): Combined fuel consumption: 3.0 l/100 km; CO₂ emission: 70 g/km; Electricity consumption: 12.7 kWh/100 km