Both Porsche 919 Hybrid on front row again
In the seventh round of the 2015 FIA World Endurance Championship in Shanghai the Porsche 919 Hybrid has made it onto the front row again. The Porsche 911 RSR starts on the second grid row.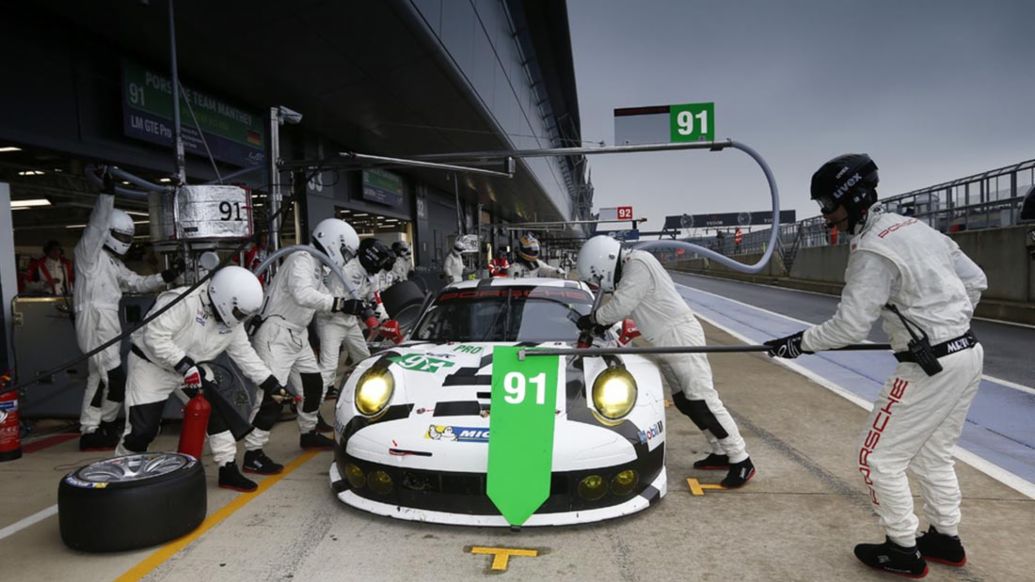 On the Shanghai International Circuit car number 17 of Timo Bernhard (DE), Brendon Hartley (NZ) and Mark Webber (AU) took pole position for the fourth time this season. The sister car number 18 of Romain Dumas (FR), Neel Jani (CH) and Marc Lieb (DE) qualified second for Sunday's six-hour race in China. In the WEC the average of the best laps of two drivers counts for the grid position. In Shanghai Hartley/Webber and Dumas/Lieb were the qualifying drivers.
In bright sunshine Brendon managed to set a new record for prototypes on the 5.451 kilometre long Grand Prix circuit by lapping in 1:42.621 minutes. The average lap time for the number 17 car was 1:42.719 minutes, their number 18 team mates' average lap time was 1:43.488 minutes. In the morning, during the third free practice session, Brendon had done an impressive lap already. A time of 1:42.799 minutes had put the number 17 car on top of the time sheets. Dumas/Jani/Lieb came second and, for precautionary reasons, had their combustion engine changed for qualifying.
Early title possible
Thanks to an advantage of a now 54 point margin ahead of Audi in the constructors' standings, mathematically Porsche could secure an early title win on Sunday in China. It would be the first Constructors' World Championship title since 1986 for Porsche and the 13th in the brand's endurance racing history.
At the wheel of the Porsche 911 RSR, Frenchmen Patrick Pilet and Frédéric Makowiecki tackle the penultimate round of the Sports Car World Championship WEC (World Endurance Championship) on the Shanghai International Circuit from the second row of the GT field. For Sunday's race in Shanghai, the pair planted their 470 hp racing version of the iconic 911 sports car on the fourth grid spot.
Richard Lietz currently leads
In the sister 911 RSR fielded by the Porsche Manthey squad, their teammates Richard Lietz (Austria) and Michael Christensen (Denmark) head into the six-hour race directly alongside them on fifth place. Richard Lietz currently leads the FIA World Endurance Cup for GT drivers, with Porsche Team Manthey ranking first in the GTE-Pro team classification.
Round seven of eight will start on Sunday at 11:00 hrs local time (04:00 hrs CET). The TV channel Eurosport will broadcast the entire race and the podium ceremony live. Live feed, timing and more is available at the FIA WEC App. Live features such as on-board cameras, timing and GPS tracking are also available in the Porsche Motorsport App (free of charge).
Quotes after qualifying
Fritz Enzinger, Vice President LMP1: "This is potentially our most important pole position this season. Having both cars on the front row gives us the best conditions for a race in which we have the chance to secure the constructors' World Championship. Many thanks to the entire team for their great commitment. We now have to stay focussed for the race as well and then we should come home with a good result to achieve our target."
Andreas Seidl, Team Principal: "Thanks to an outstanding team performance we remain unbeaten in qualifying and have both Porsche 919 on the front row for the seventh time. Since the first free practice here we kept improving the car and also the lap times from our long runs were encouraging. We will now prepare carefully for the race. We expect some rain overnight which might give us extra challenges."
Drivers Porsche 919 Hybrid number 17
Brendon Hartley (25, New Zealand): "For Mark and me it was a perfect qualifying with everything going according to plan. I made a mistake in turn one on my lap but nevertheless both of us had very good lap times straight away and that is crucial here because with the abrasive tarmac you don't get a second chance with your tyres. The team did a fantastic job to give us a car more than four seconds quicker than last year's."
Mark Webber (39, Australia): "It is great for Porsche and our team to have both cars on the front row again. Brendon and I had a great time in qualifying. It was a good battle between us and in the end it was safe with a very strong average of our two timed laps. However, qualifying is a bit of show business in endurance racing; the main race is tomorrow and there is some wet weather around."
Drivers Porsche 919 Hybrid number 18
Romain Dumas (37, France): "On my qualifying lap the first two sectors were really good but then a Rebellion got into my way. However, we are second and that is good for the team."
Marc Lieb (35, Germany): "It was all okay. I started with an installation lap because we wanted to double check the newly fitted engine and did one flying lap afterwards. I lost some time in traffic but still it was fine."