Le Mans: Porsche to start one, two and three
Porsche will start the Le Mans 24-Hours from one, two and three in the LMP1 class. In the GTE-Pro class, the 911 RSR will take up the race from place 7 and 8.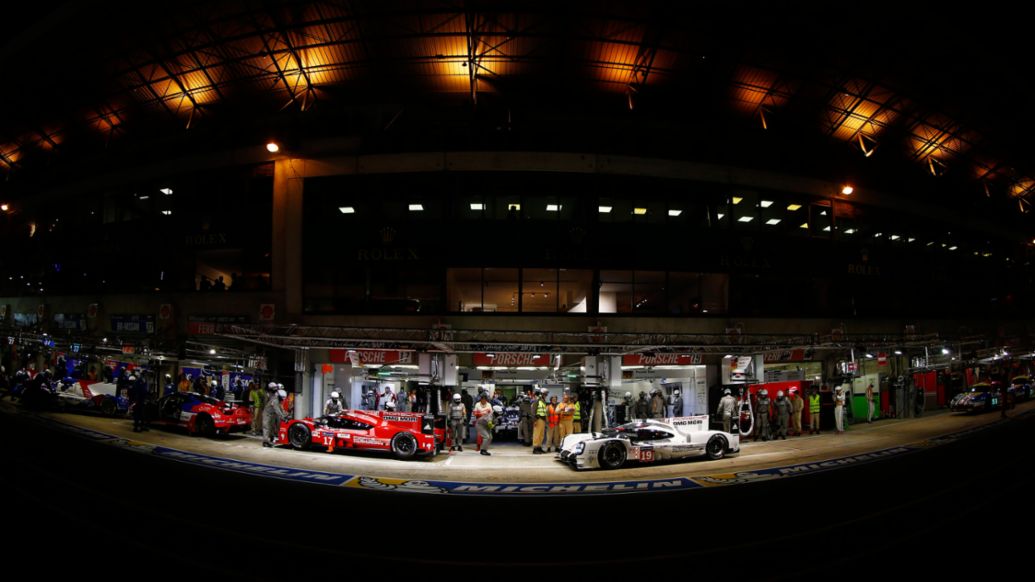 LMP1 class
This is the 17th pole position for Porsche in Le Mans, and prior to this the most recent one dates back to 1997. Furthermore it is the ninth time since 1968 that three Porsche race cars have locked out the front of the grid for the Le Mans 24-Hours with a one-two-three. This happened last in 1988.
Switzerland's Neel Jani did his fastest lap time during the first qualifying session on Wednesday night and, despite dry conditions in both qualifying sessions on Thursday, it remained unbeaten. With his lap of 3:16.887 minutes, he has set a new qualifying record for the current track length of 13.629 kilometres by beating Peugeot's pole position time from 2008 (3:18.513 min). Timo Bernhard (GER) was second fastest on Wednesday and his time of 3:17.767 minutes was also good enough to beat the old record. In the third Porsche LMP1 Nick Tandy (GBR) improved his lap time in Q2 on Thursday to 3:18.862 minutes and claimed P3.
Jani shares the black number 18 Porsche 919 Hybrid with Romain Dumas (FR) and Marc Lieb (GER). Bernhard partners Brendon Hartley (NZ) and Mark Webber (AUS) in the red number 17 car. Tandy's team mates in the white number 19 prototype are Earl Bamber (NZ) and Formula One driver Nico Hülkenberg (GER').
Starting drivers: Timo Bernhard, Neel Jani and Nico Hülkenberg
The three Porsche 919 Hybrids are the most innovative in the 56 car field and carry future technology for Porsche's road going sports cars. The revolutionary technical regulations' focus on efficiency for class 1 Le Mans prototypes (LMP1) attracted Porsche in 2014 to return to top level motorsport. The combination of a two-litre, V4 turbo charged and petrol fuelled engine with two energy recovery systems (brake energy and exhaust energy) produces a power system of around 1000 HP.
Wolfgang Hatz, Board Member Research and Development Porsche AG: "Claiming first, second and third is obviously a perfect qualifying result. Nevertheless, today we have worked a lot for the race and were quite good on longer runs on used tyres. I have told everybody not to look at the competition but to focus on maximising our package. The technicians, engineers and drivers – the entire team worked directly in the same direction and did a fabulous job. The result is a real pleasure and makes me proud of the team. I'm very much looking forward to the race."
Fritz Enzinger, Vice President LMP1: "Finishing first, second and third in qualifying at what is only our second attempt in Le Mans is outstanding. A big thank you to the team at the track and back at the factory in Weissach. We are still a very young team and every bit of success is important. This result helps us to start the race full of confidence. It will be a hard race with tough competition, but we are looking forward to it."
GTE-Pro class
Porsche works drivers Richard Lietz (Austria), Michael Christensen (Denmark) and Jörg Bergmeister (Germany) take up the third round of this year's Sports Car World Endurance Championship (WEC) from the fourth grid row of the GT class in their #91 Porsche 911 RSR. Whilst Richard Lietz has already notched up three class victories with Porsche at Le Mans (2007, 2010, 2013), and Jörg Bergmeister has gained the most extensive Le Mans experience with 13 starts as a Porsche GT works driver, Michael Christensen tackles the world's toughest automobile race for the first time. Their French factory pilot colleagues Frédéric Makowiecki and Patrick Pilet team up with Wolf Henzler in the number 92 Porsche 911 RSR. The trio starts from the sixth row of the GT grid.
As the best Porsche customer team in the GTE-Am class, Dempsey Proton Racing concluded the qualifying session on fifth place. At the wheel of the 911 RSR with the starting number 77, the American race driver and actor Patrick Dempsey tackles the race with Porsche works driver Patrick Long (USA) and Marco Seefried (Austria). Lining up on the grid one position behind them is the 911 RSR of Abu Dhabi Proton Racing, with Christian Ried (Germany), Khaled Al Qubaisi (Abu Dhabi) and the former Porsche Junior Klaus Bachler (Austria) sharing driving duties.
Dr Frank-Steffen Walliser, Head of Porsche Motorsport: "That qualifying was difficult for us. It took us a while to find the best setup for our 911 RSR. Our focus was clearly on race preparation. In the last session we managed to balance the car the way we wanted it. At the end we were ready to pick up the pace again and improve not just our lap times but also our starting positions. But a red flag and caution phase prevented us from turning a fast lap. I'm feeling optimistic for the race. We're consistent and the team is well prepared."
Starting positions GTE-Pro class
1. MacDowall/Stanaway/Rees (GB/NZ/BRA), Aston Martin, 3:54.928 minutes
2. Bruni/Vilander/Fisichella (I/SF/I), Ferrari 458 Italia, + 0.097 seconds
3. Turner/Mücke/Bell (GB/D/GB), Aston Martin, + 0.538
4. Rigon/Calado/Beretta (I/GB/MC), Ferrari 458 Italia, + 0.664
5. Sörensen/Thiim/Nygaard (DK/DK/DK), Aston Martin, + 0.855
6. Magnussen/Garcia/Briscoe (DK/E/AUS), Chevrolet Corvette, + 1.035
7. Lietz/Christensen/Bergmeister (A/DK/D), Porsche 911 RSR, + 1.690
8. Makowiecki/Pilet/Henzler (F/F/D), Porsche 911 RSR, + 1.994
9. Gavin/Milner/Taylor (GB/USA/USA), Chevrolet Corvette, + 2.153
Le Mans 2015
Time schedule:
Saturday, June 13, 9 - 9.45: warm-up
Saturday, June 13, 3 pm - Sunday, June 14, 3 pm: race
Coverage:
Live communication during the race on Porsche Newsroom. News and Updates from Le Mans also on Twitter from @PorscheNewsroom and @PorscheRaces. Moreover: Videos on Vimeo and Youtube. Live Features, Onboard cameras, timing and GPS tracking at porsche.com/LeMans and in the new Porsche Motorsport App which is ready for download for Apple and Android devices in the respective App Stores free of charge. Further information at porsche.com/FutureSportscar.