Fast Porsche LMP1 trio in rainy Spa
In each of the two free practice sessions for the race in Spa-Franchorchamps (WEC) a Porsche 919 Hybrid topped the time sheets.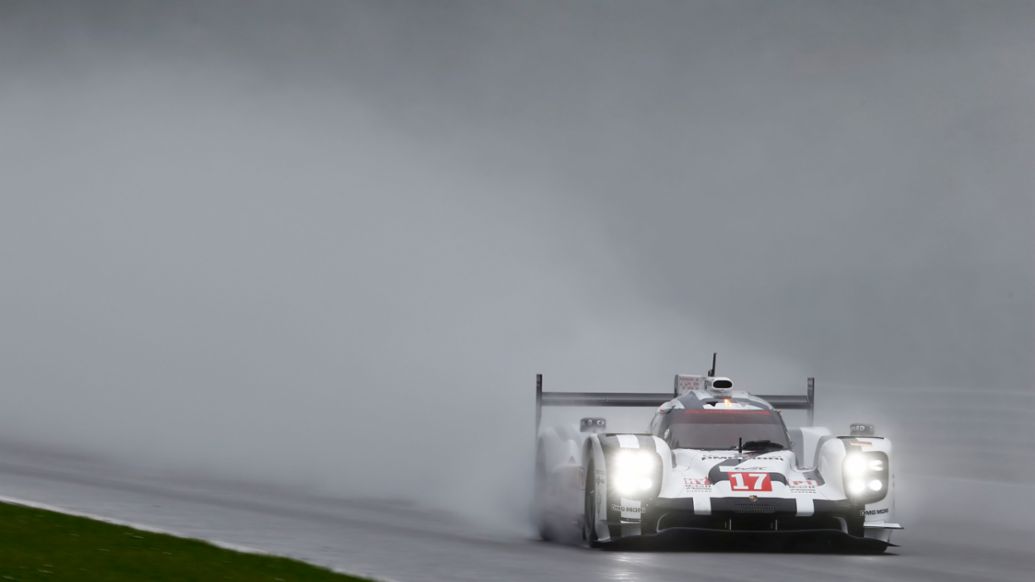 The first appearance of the Porsche team with three Porsche 919 Hybrids went well but with limited driving in free practice because of a very wet race track in Spa-Francorchamps. The famous Belgian race track is the venue for the second of eight rounds of the FIA World Endurance Championship (WEC).
While car numbers 17 and 18 are, as usual, in the hands of Timo Bernhard (Germany), Brendon Hartley (New Zealand), Mark Webber (Australia) and Romain Dumas (France), Neel Jani (Switzerland) and Marc Lieb (Germany), Spa also saw the debut of the car number 19 crew. Earl Bamber (New Zealand) and Formula One driver Nico Hülkenberg (Germany) shared driving duties with Nick Tandy (Great Britain) and were pleased with their first day. Due to the shortened sessions Mark Webber didn't get in the car at all on Thursday.
Bad weather conditions
In the first 90-minute session the Porsche 919 Hybrid no. 18 with Dumas/Jani/Lieb topped the time sheets with a lap time of 2:16.616 minutes. The sister car no. 17 (Bernhard/Hartley/Webber, 2:17.309 min) was third and the new crew of Bamber/Hülkenberg/Tandy in car no. 19 came fourth with a fastest lap of 2:18.157 minutes.
In the second wet session Bamber/Hülkenberg/Tandy set the fastest time (2:25.495 min), followed by Bernhard/Hartley/Webber (2:25.984 min) in P2 and Dumas/Jani/Lieb (2:26.721 min) in fourth.
Alexander Hitzinger, Technical Director: "Because of the weather conditions we couldn't get the track time we wanted and weren't able to complete our programme. This is obviously the same for the entire pit lane. However, we have now had a proper test in the wet and learned a lot about the rain tyres' performance and the car's set up for these conditions."
Qualifying for the top category (LMP1) will take place on Friday from 18:35 to 19:00 hrs local time (CEST) with the six-hour race being started on Saturday at 14:30 hrs.
Quotes after free practice
Drivers Porsche 919 Hybrid number 17
Timo Bernhard (34, Germany): "I obviously didn't have much driving today. There was a lot of standing water and very poor visibility. You could hardly see the slower cars. Therefore it didn't make sense to keep driving and we stopped early in both the free practice sessions. It will be an extra challenge if our first laps here on a dry track are in qualifying but it is the same for everyone."
Brendon Hartley (25, New Zealand): "For me it was a good start to the weekend and good practice to have full wet sessions. I think I could sense some improvements compared to Silverstone in similar conditions."
Drivers Porsche 919 Hybrid number 18
Romain Dumas (37, France): "I'm happy with the car and I think it is good it was wet today. This way we were able to check the improvements we have made since Silverstone and confirm that we have better traction."
Neel Jani (31, Switzerland): "I only managed to do one timed lap today. That was it but this is how Spa can be sometimes."
Marc Lieb (34, Germany): "At the start this morning it was quite okay with the light drizzle, but then the rain got heavier and the track became really slippery. Apart from that, our Porsche 919 worked very well. We also had a "slow zone" safety test today and I think this is quite a good solution for Le Mans."
Drivers Porsche 919 Hybrid number 19
Earl Bamber (24, New Zealand): "It was quite a difficult day although the Porsche 919 Hybrid is really good to drive in all the conditions we have had here so far. I'm really enjoying it here, learning a lot and I can't wait for Saturday."
Nico Hülkenberg (27, Germany): "I have had my first wet session with the Porsche 919 Hybrid this morning and it was very positive. I felt comfortable with the car and it worked very well. I also got used to the traffic quickly, driving with the slower GT cars. It was a lot of fun and now I'm really hungry for more."
Nick Tandy (30, Great Britain): "I didn't want to take a risk. Despite the bad conditions the Porsche 919 Hybrid's traction was good even on the wet tarmac and it was very quick on the straights."