Professional surfer Nikki van Dijk is known for her smooth style, environmental focus and powerful transitions in the water. From a young age, she was a trailblazer, going against the grain of her sport by outperforming her male contemporaries on the way to earning her place at the front. For this world-class athlete it was never a case of catching a wave but creating one, echoing the same approach Ferry Porsche took 75 years ago, when he couldn't find the sports car he dreamed of, so built his own.
"My dad taught me to surf when I was four years old," says van Dijk. "As soon as I knew I could surf there was never a doubt; this was what I wanted to do. It's simply become my life. It's a part of who I am."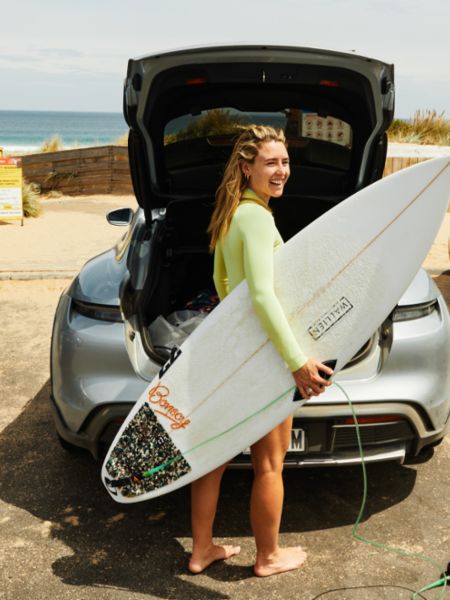 That first ride in the ocean captivated the now 28-year-old and its grip remains strong. In fact, the ocean has a hold on her entire family. Her older sister Nina and younger brother Joe are also keen surfers and it's her family who sparked the competitive drive that's pushed Nikki to the top of her sport.
"I was so competitive with my sister. And then when my younger brother got into it, it was just game on! They're the reason I got to where I am and I'm still inspired by them every day," she says.
First contest at eight years old
But it was an event 20 years ago that fanned her competitive fire, setting her on the course that's taken her to the heights of the World Surfing Leage.
"When I was eight years old I surfed in my first contest. It was a little later that an all-women's surf event took place on Phillip Island. I saw all these female pro surfers come to town and that's when I realised surfing was a potential career – one with longevity.
"I started traveling Australia for contests when I was around 10. Then we went international and it became my full time 'job' when I was in high school."
Van Dijk's talent in the water was matched only by her work ethic, where she mixed a focus on technique with a deep will to win. Her approach would have impressed Ferdinand Porsche. This deep dedication to honing her craft put her on the path to mastery, which she bolstered with the input of skilled support. "So much goes into it," she explains. "From my board shapers to my trainers and physiotherapist; they have all helped shape my craft and it all comes out in my surfing, which is my creative expression."
Her efforts have been rewarded with the kind of results most people dream about. "I won the World Junior Title in 2012, which was my final year of high school. The very next year I qualified for the World Tour and it all happened so quickly. I was on the tour for seven years and it's crazy when I look back to those times."
First victory in 2017
In 2013 van Dijk competed in the Association of Surfing Professionals' Qualifying Series and ended the year winning the Pantin Classic Galicia Pro in Spain. The following year she joined the World Surf League tour, steadily rising each season. In 2015 she earned six quarter final appearances in a row and the following year she broke through with a third place at Trestles. She claimed her first victory at the Cascais Women's Pro in Portugal in 2017, finishing the season ranked number seven on the World Surfing League leader board. She also won a World Tour Event in 2019.
While it has been a wild ride it has also presented van Dijk with a fair share of challenges. "I've spent the last two years managing an injury," she says. "This year is my first year back in the WSL Challenger Series and I've spent a lot of time preparing for these contests."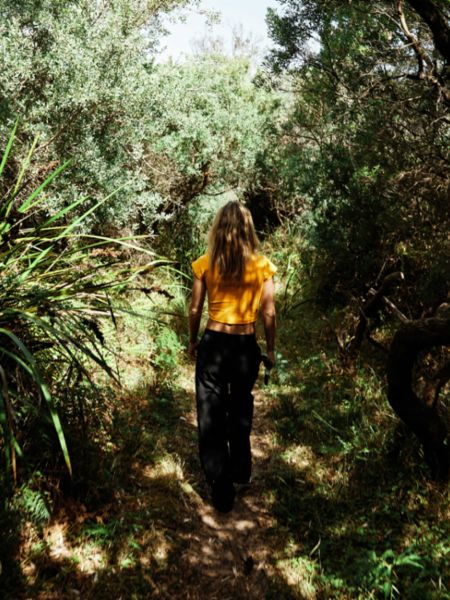 Passionate about being a voice for mother nature
Van Dijk used her recuperation time to pursue another personal passion.
"During my injury period I started running surf yoga retreats. It was through these I was able to share my love of the environment and share my knowledge. Long ago I realised the impact of climate change and the impact our choices have on our environment. Because I'm in the ocean every day I see it first-hand.
"I'm passionate about being a voice for mother nature. I owe my life to the ocean and I hold a huge responsibility here." As her second home, the ocean holds a special place for van Dijk. But there's another change she has witnessed over the last 20 years, and it's one that she says warms her heart.
"Growing up on Phillip Island I used to hang out with all the boys. I would compete in the boys division and for so long I thought "what's going on here?" but I didn't give it too much attention. I just loved the ocean and what I was doing and I felt like that's where I belonged, whether I was female or male. When I realised how male-dominated surfing was it just drove me even more.
"Today when I'm in the ocean there are probably more females in the water than males. I'll always honour the women who paved the way before me because without them, and seeing what they did when I was 10 years old when they came to Phillip Island, my career might never have eventuated."
"Electric cars are the standard now"
Returning to Phillip Island in the Porsche Taycan 4 Cross Turismo, Nikki soaks in the place that started her surfing journey. It's home to many great memories and while the winding roads are the same, they are even more enjoyable thanks to the Taycan. "Electric cars are the standard now," she says, accelerating down Back Beach Road, windows down. "It's evident everywhere. You can see it with the number of EVs and chargers that have popped up in my home town.
"Having driven hybrid vehicles for many years I have a deep appreciation for what Porsche has achieved with the Taycan. It's exactly what our world needs, both now and in the future."
After enjoying the familiar waves of home, van Dijk heads into San Remo and charges the Taycan 4 Cross Turismo while she grabs a coffee at her favourite café.
"You can do whatever it is you dream of this world," she says, feeling the strong offshore wind. "You have the power to create your own destiny."