In the vibrant Southeast Asian nation of Thailand, the names of each day of the week originate from Sanskrit, and much like the days in the Western world, they are based on the names of planets and the Sun. However, according to ancient Hindu astrological influences, each planet is also protected by a deity – and each deity is assigned a colour.
In addition, while other cultures may emphasise the date of a person's birth, in Thailand the day of the week a person is born is also very important. In the past, Thais would dress to the colour of the day – and while this practice is not as prevalent today, ask any Thai person and chances are they can instantly tell you the day they were born.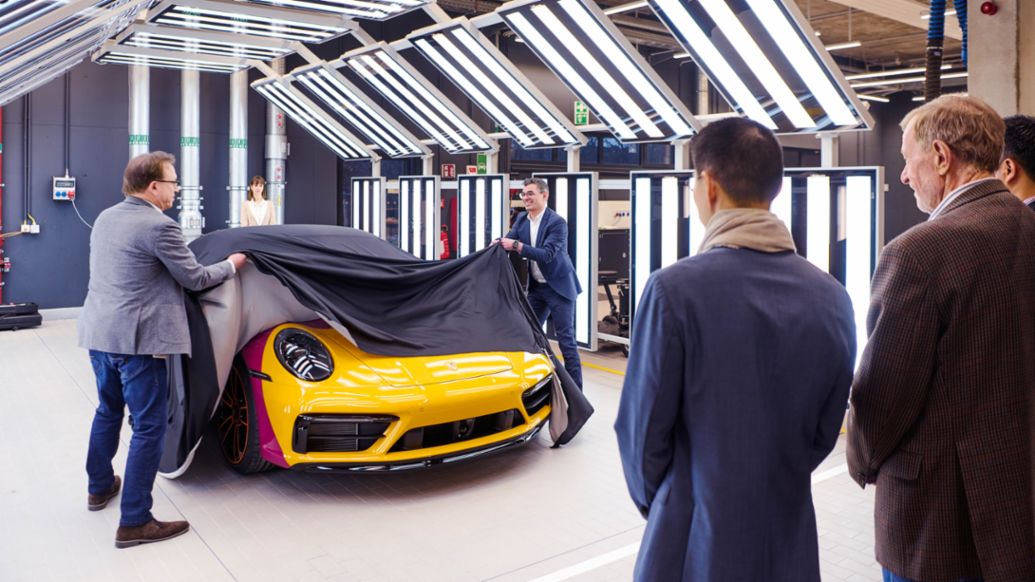 As Porsche celebrates three decades of enduring passion in Thailand, the marque marries German precision engineering with local heritage to create a truly unique offering: the bespoke Porsche 911 Carrera GTS 30 Years Porsche Thailand Edition.
As the brand for those who are driven by dreams, Porsche worked with its in-house "dream division" – Porsche Exclusive Manufaktur – to create this Edition, engineering innovative individualisation options in honour of the colourful culture in the Kingdom of Thailand.
"The values that make up the Porsche DNA – pioneering spirit through heritage and innovation in perfect harmony – are thoroughly aligned with the values of Thai people, honouring their rich history but at the cutting edge of modern technology," said Mr. Hannes Ruoff, CEO of Porsche Asia Pacific on this remarkable collection.
"With this Porsche 911 Carrera GTS 30 Years Porsche Thailand Edition, we pay tribute to this amazing country that has been so welcoming to our brand, and that keeps inspiring us with its vibrant culture and people that are truly driven by their dreams," Mr. Ruoff continued.
The 30 Years Porsche Thailand Edition – as colourful and unique as Thai dreamers
The 911 Carrera GTS 30 Years Porsche Thailand Edition is rooted in a proud heritage and brimming with artisanal qualities – just like the country it draws inspiration from.
To reflect the rich history of Thailand, the base model for this collection had to be equally timeless and legendary; to this end, the distinctive and dynamic 911 Carrera GTS, Porsche's icon of design and performance was chosen.
A limited run of these highly-collectible 911 Carrera GTS models will be produced, and each can be specified in one of seven iconic Paint to Sample (PTS) colours, paying homage to every colour of the day in the week in Thai culture. The PTS colours in the 911 Carrera GTS 30 Years Porsche Thailand Edition range are listed below:
Monday (Yellow) – Signalyellow
Tuesday (Pink) – Rubystar
Wednesday (Green) – Signalgreen
Thursday (Orange) – Pastelorange
Friday (Blue) – Rivierablue
Saturday (Purple) – Ultraviolet
Sunday (Red) – Firered

The processes for creating a Paint to Sample colour require extensive manual labour and careful craftsmanship. Mixing of the paints is a complex task that requires great care and high levels of expertise.
For each application, new pigments are mixed and the paint reflects the desired colour sample precisely. All Porsche Exclusive Manufaktur paint finishes are applied with the closest attention to detail. Colourists monitor every single vehicle throughout the entire process, and experts perform an extensive final visual inspection of the paint under various standardised conditions.
The 911 Carrera GTS 30 Years Porsche Thailand Edition is elevated through the Paint to Sample offer, with the seven selected exterior colours imbuing the vehicles with an exclusive character, ensuring that each finish is as unique as the Thai dreamer it is going to.
Bespoke touches from Porsche Exclusive Manufaktur
Over and above the exterior paint finishes, the highly-trained artists and craftsmen at Porsche Exclusive Manufaktur also curated more bespoke touches to set the 911 Carrera GTS 30 Years Porsche Thailand Edition apart as truly special.
To complement the car's exterior, the 20- and 21-inch Turbo S centre lock wheels, standard on the Carrera GTS models, are finished in a unique black/exterior colour two-tone, corresponding to the body colour. The brake callipers are also finished in a stealthy black, but a splash of colour is provided by the Porsche crest on coloured wheel centre caps at all four corners.
The car further exudes subtle sporting ability with black high-gloss contrast finishes across the exterior, extending to the SportDesign front apron, front intakes, side window sills, rear apron inlays, rear lid inlays and exterior mirrors. On the B-pillars, a one-off "30 Years Porsche Thailand Edition" plaque is proudly hand-applied.
Another artistic touch that pays homage to Thailand is revealed on the car's rear decklid: five slats on the driver's side are painted red, white and blue according to the colours of the Thai flag. Finally, the standard model designation trim is replaced with a more subtle and contemporary '911' logo.
Contrasting interior trim pieces
More bespoke touches continue inside the car, with contrasting interior trim pieces finished in the corresponding exterior colour on the passenger and centre consoles. Seat inlays in Black corduroy, as well as Pebble Grey seat pipings and contrast stitching provide elegant highlights throughout the premium black leather interior, and a unique anniversary logo is stitched onto each of the headrests.
Anniversary mentions continue on the passenger console, centre armrest and on the door sill guards. A cross-stitching in Pebble Grey adds special accentuating details to the dashboard upper part, the door panels, and the rear side trim.
A one-of-a-kind Inspiration Car
At a spectacular gala event celebrating 30 Years of Porsche in Thailand at Queen Sirikit National Convention Centre, Porsche also unveiled a one-of-a-kind Inspiration Car in addition to the launch of the 911 Carrera GTS 30 Years Porsche Thailand Edition.
The Inspiration Car is finished in all seven colours, exquisitely hand-painted from body and paint specialists at Porsche Exclusive Manufaktur.
The one-off car exhibits all of the artistic elements of the 911 Carrera GTS 30 Years Porsche Thailand Edition on its exterior and interior, proudly bearing every shade the Edition collection will be available in.
About Porsche Asia Pacific Pte. Ltd.
Porsche Asia Pacific Pte. Ltd. is a subsidiary of Dr. Ing. h.c. F. Porsche AG, the leading sports car manufacturer based in Stuttgart, Germany. Best known for the 911 model line, Porsche also manufactures the Cayenne, Macan, Panamera, 718 Boxster and 718 Cayman models. In 2019, it introduced the Taycan, its first fully-electric sports car.
Porsche Asia Pacific commenced operations on 1 October 2001 and currently oversees 13 countries from its headquarters in Singapore: Brunei, Cambodia, French Polynesia, Indonesia, Malaysia, Mongolia, New Caledonia, New Zealand, the Philippines, Singapore, Sri Lanka, Thailand and Vietnam. As a market incubator, it offers support to its importers and dealers in After Sales, Business Development, Marketing, New Business Fields, Public Relations and Sales, helping them to further professionalise operations and cater to customer needs to ultimately grow their business.