For its third of eight rounds, the ESL R1 Autumn Series took place on the digital version of Germany's Grand Prix circuit at Hockenheim. In a repeat of the races two weeks earlier in Spa-Francorchamps, Belgium, all four Porsche Coanda Esports Racing factory drivers once again made it through to the semi-finals in their digital 911 GT3 R. American driver Mitchell deJong and Mack Bakkum from the Netherlands had finished their respective knockout races on Thursday against eleven challengers in sixth place, thus clearing the hurdle to advance. Dayne Warren finished fourth, while fellow Australian Joshua Rogers claimed his 19th heat win in the fledgling ESL R1 series. Rogers had taken the virtual trip to Germany's Baden region ranking fourth in the standings.
In the first semi-final on the 4.574-kilometre Formula 1 track, DeJong and Warren were pitched against ten other competitors. Once again, advancement to the final heat was reserved for the top six. Posting eleventh place in qualifying, the American went into the race with a disadvantage, however, he succeeded in working his way up to ninth place over the ten-lap race distance. Warren started from the third grid spot and battled with German Maximilian Benecke (Mouz) for second place in the first lap before having to defend himself against North Macedonian Erhan Jajovski (R8G Esport). At the flag, the Australian managed to maintain third place.
Mack Bakkum and Joshua Rogers went up against each other in the second semi-final. The first disappointment came in qualifying: While the Dutchman set the eighth-fastest time, his teammate received a slow-down penalty – replaying his race in Spa-Francorchamps. Rogers had to start from the back of the field alongside championship leader Sebastian Job from Great Britain (G2 Esports) due to exceeding the track limits. Despite his spirited charge, the Australian's pursuit to catch up ended after ten laps in seventh place. This meant that he and Bakkum, who finished tenth, were out of contention for the final.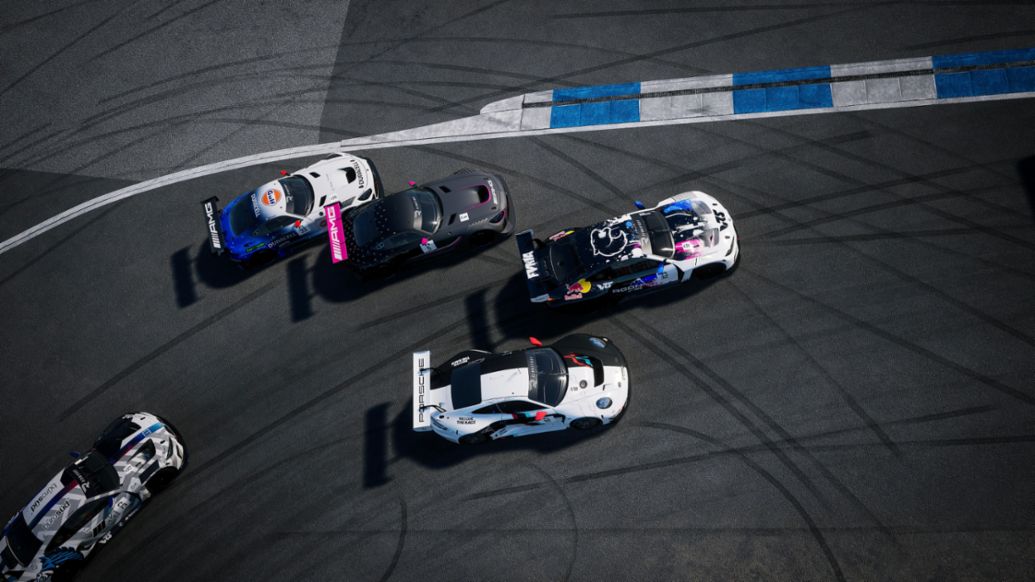 The hopes of the Porsche Coanda Esports factory team thus rested on the shoulders of Dayne Warren for the final. The Australian started in sixth place and miraculously held onto this position throughout the melee of the first lap. He then came under pressure from a pursuing Erhan Jajovski, who forced him to concede his place shortly before the end of the race. Warren finished the race in seventh place. Victory went to Maximilian Benecke, who saw the chequered flag 0.323 seconds ahead of Czech Jiri Toman (R8G Esports).

Like the inaugural ESL R1 series in spring, eight heats are initially scheduled in the autumn championship until 11 November. The Major Final will take place two weeks later in Jönköping, Sweden. Prize money of 40,000 US dollars awaits both the winners in the team and drivers' standings.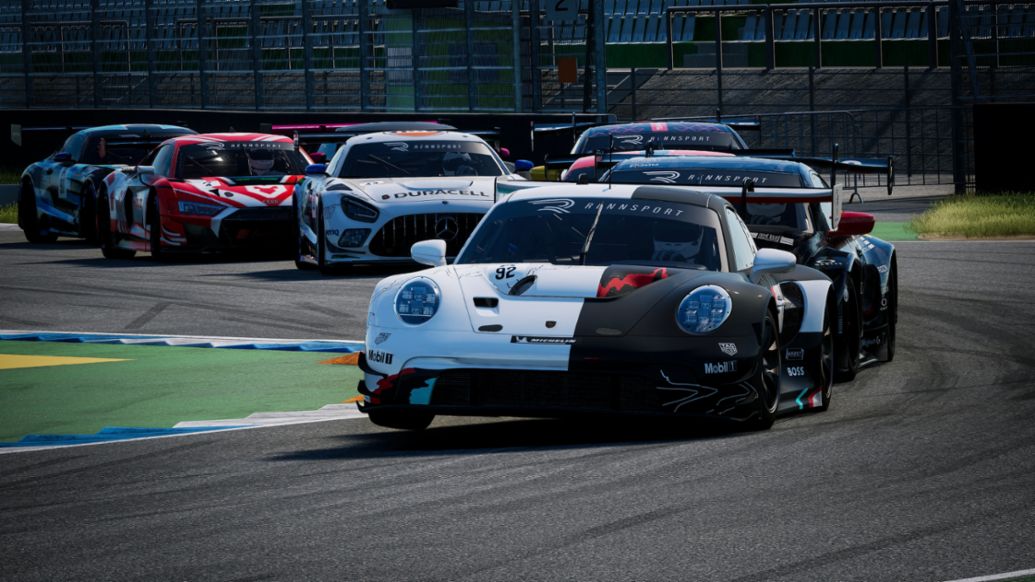 Impressions after the race
Nina Braack (Manager Esports Porsche Motorsport): "With a quarter-final win and three top-6 finishes, we did what had to be done on Thursday. On Friday, it wasn't quite enough and only Dayne Warren made it to the final. Nevertheless, we collected a lot of points overall and improved to third place in the team ranking. Next up is the Nürburgring where we'll continue pushing next week."

Jörn Jens (D, Team Manager Porsche Coanda Esports Racing): "The Hockenheimring proved to be difficult for us during the preparation. So, that makes it all the better to get all four drivers into the semi-finals. Especially for Mitchell deJong and Joshua Rogers, things didn't go so smoothly in the qualifying. Dayne Warren did very well and finished seventh. Now we're looking forward to the Nürburgring. We want to get at least two drivers into the final again there, that's our goal. Joshua in particular has always been very strong on the Eifel circuit."

Dayne Warren (AUS, Porsche Coanda Esports Racing): "Not a bad day today. I'm happy to have made it to the final. Unfortunately, things didn't go so well there in qualifying and again in the race, I got caught up in midfield position battles the whole time. Still, seventh place earned a lot of championship points. We'll continue to improve before heading to the next race."
Results
1. Maximilian Benecke, Audi R8 LMS GT3 evo II (D, Mouz)
2. Jiri Toman, Audi R8 LMS GT3 evo II (CZ, R8G Esport)
3. Moritz Löhner, Audi R8 LMS GT3 evo II (D, Mouz)
7. Dayne Warren, Porsche 911 GT3 R (AUS, Porsche Coanda Esports Racing)
Drivers' standings after 3 of 8 rounds
1. Sebastian Job (UK, G2 Esports), 174 points
2. Daire McCormack (IRL, Williams Esports), 165 points
3. Jiri Toman (CZ, R8G Esport), 161 points
4. Maximilian Benecke (D, Mouz), 154 points
5. Erhan Jajovski (MZ, R8G Esport), 139 points
6. Joshua Rogers (AUS, Porsche Coanda Esports Racing), 137 points
9. Dayne Warren (AUS, Porsche Coanda Esports Racing), 101 points
20. Mitchell deJong (USA, Porsche Coanda Esports Racing), 41 points
26. Mack Bakkum (NL, Porsche Coanda Esports Racing), 29 points
Team standings after 3 of 8 rounds
1. R8G Esports, 511 points
2. Wiliams Esports, 308 points
3. Porsche Coanda Esports Racing, 307 points
4. G2 Esports, 301 points
Full results and all points standings:
https://eslr1.com/fall23-2/
2023 ESL R1 autumn series
31.8/1.9 Monza (I)
7./8.9 Spa-Francorchamps (B)
21./22.9 Hockenheim (D)
28./29.9 Nürburgring (D)
5./6.10 Monza (I)
28./27.10 Race 6 (tbd)
2./3.11 Race 7 (tbd)
9./10.11 Race 8 (tbd)
24.11 Major Finale Jönköping (S)