The 7.004-kilometre "Ardennes rollercoaster" of Spa-Francorchamps set the virtual stage for round two of the ESL R1 Autumn Series on the "Rennsport" simulation platform. In the knockout round on Thursday evening, all four Porsche Coanda Esports factory drivers had secured a spot in the semi-finals with the digital 911 GT3 R: Mitchell deJong from the USA and Dutchman Mack Bakkum qualified with results in the top four, while the two Australians Dayne Warren and Joshua Rogers earned valuable points for second place in their heats.

DeJong and Warren both tackled the first semi-final. The American qualified tenth on the grid and was unable to improve his position in the race. Warren defended sixth place against his pursuer Erhan Jajovski for almost the entire race distance of the Belgian Grand Prix Circuit; however, on the last of seven laps, the Macedonian from Team R8G Esports pulled ahead in the Les Combes chicane. Warren ultimately wrapped up the second Autumn round of the ESL R1 in seventh place.
Mack Bakkum started the second semi-final in the twelfth and last place. While he gained two positions, a top-six result was out of reach for him. Rogers made a clean start from P2. On the first lap, he took advantage of Sebastian Job's slipstream on the long Kemmel straight and squeezed past the British G2 Esports driver at Les Combes. At the finish, the Porsche Coanda driver's lead had grown to almost two seconds – a true show of power in the world of sim racing. This marked Rogers' 18th race win in the still-young history of the ESL R1 series.

Thus, the Porsche works team's hopes for the final were pinned on the 23-year-old Australian. In qualifying, Rogers posted the tenth-fastest lap time and returned from the opening lap in seventh place. Although the top eight race cars were locked in a bumper-to-bumper battle to the flag, the Porsche Coanda Esports driver was unable to make up further ground. Due to the penalty of the German Maximilian Benecke (Mouz), who had reached the finish line first ahead of Sebastian Job, Rogers still moved up to sixth place.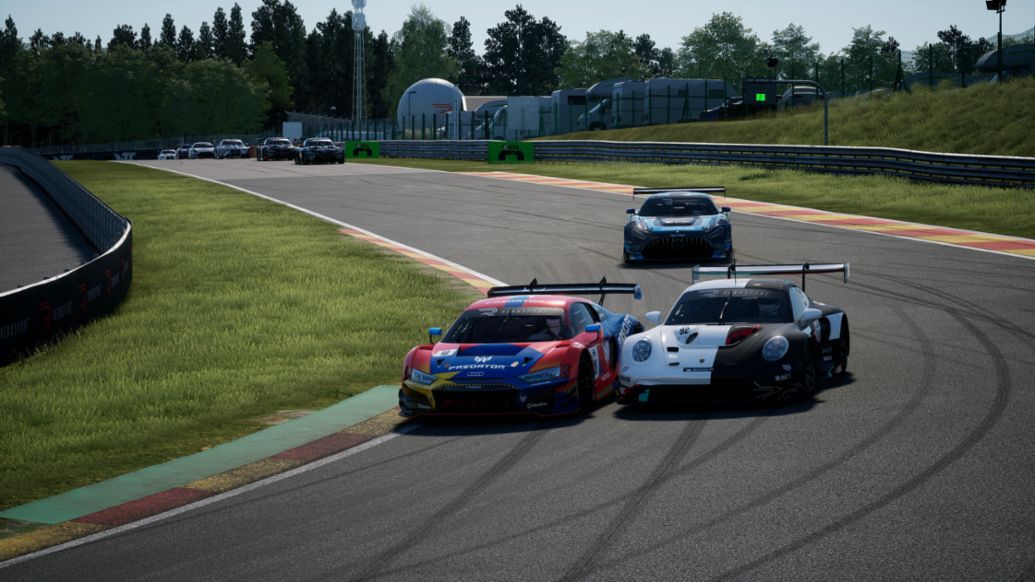 Like the inaugural edition of the ESL R1 spring series, eight races make up the initial calendar of the autumn championship, which runs until 11 November. The major final will be held two weeks later in Jönköping, Sweden. Prize money of 40,000 USD awaits each of the winners in both the team and driver classifications.
Quotes after the race
Nina Braack (Manager Esports at Porsche Motorsport): "We came through the knock-out races well on Thursday with all four drivers and achieved two second and two fourth-place finishes. On Friday, Joshua Rogers was the only qualifier for the final. Unfortunately, his qualifying round was not quite perfect but he got off the line well at the start of the race and worked his way up the field. Again, we're taking away important insights and heading into round three of the ESL R1 season in a fortnight feeling optimistic."

Jörn Jens (D, Team Manager Porsche Coanda Esports Racing): "It's great that we got all four drivers into the semi-finals on Thursday with decent placings. Joshua scored good points by winning the semi-final. In the final, he managed to make up some ground after a mediocre qualifying. It was particularly unfortunate that Dayne Warren dropped out of the top six just before the end of his semi-final race."

Joshua Rogers (AUS, Porsche Coanda Esports Racing): "All in all, I feel positive about today's second round of the ESL R1. I won the semi-final race from second place on the grid, which was great. The final was a bit more challenging. My qualifying lap was okay, but unfortunately not perfect – considering the high level of competition, it was only enough for tenth place on the grid. But I was able to make up some positions and bring home important points. Two finals in a row, we have to continue this streak."
Results
1. Sebastian Job, BMW M4 GT3 (UK, G2 Esports)
2. Erhan Jajovski, Audi R8 LMS GT3 evo II (MZ, R8G Esport)
3. Daire McCormack, Mercedes-AMG GT3 Evo (IRL, Williams Esports)
6. Joshua Rogers, Porsche 911 GT3 R (AUS, Porsche Coanda Esports Racing)

Full results and points standings:
https://eslr1.com/fall23-2
2023 ESL R1 autumn series
31.8/1.9 Monza (I)
7./8.9 Spa-Francorchamps (B)
21./22.9 Hockenheim (D)
28./29.9 Nürburgring (D)
5./6.10 Monza (I)
28./27.10 Race 6 (tbd)
2./3.11 Race 7 (tbd)
9./10.11 Race 8 (tbd)
24.11 Major Finale Jönköping (S)