For the penultimate event of the ESL R1 autumn series, sim racers embarked on a virtual journey to Road Atlanta in the state of Georgia. Every year, the 4.088-kilometre forested racing circuit is the venue for the "Petit Le Mans", the ten-hour finale of the North American IMSA sports car series. Just how demanding the circuit is, even in its digital form, was underlined on Thursday in the so-called knockout round: while Rogers and Warren each won their 30-minute races, their teammates Mitchell deJong and Mack Bakkum finished eighth and eleventh respectively. As only the top six finishers in each heat are eligible to go on to the next round, the American and the Dutchman had to call it a day early.

Warren and Rogers tackled the first semi-final from fourth and fifth on the grid. However, Warren briefly ran off the track on the opening lap and rejoined the field in the third-to-last position. From there, the 24-year-old launched a spirited pursuit, ploughing up the order to seventh place. Due to a time penalty against Jeffrey Rietveld (Team Redline) in front of him, he subsequently progressed into the top six and secured a spot in the final. Rogers also qualified for the final. After the chaos of the start, he strategically kept his Porsche 911 GT3 R out of all the skirmishes and brought home to an unchallenged fourth position.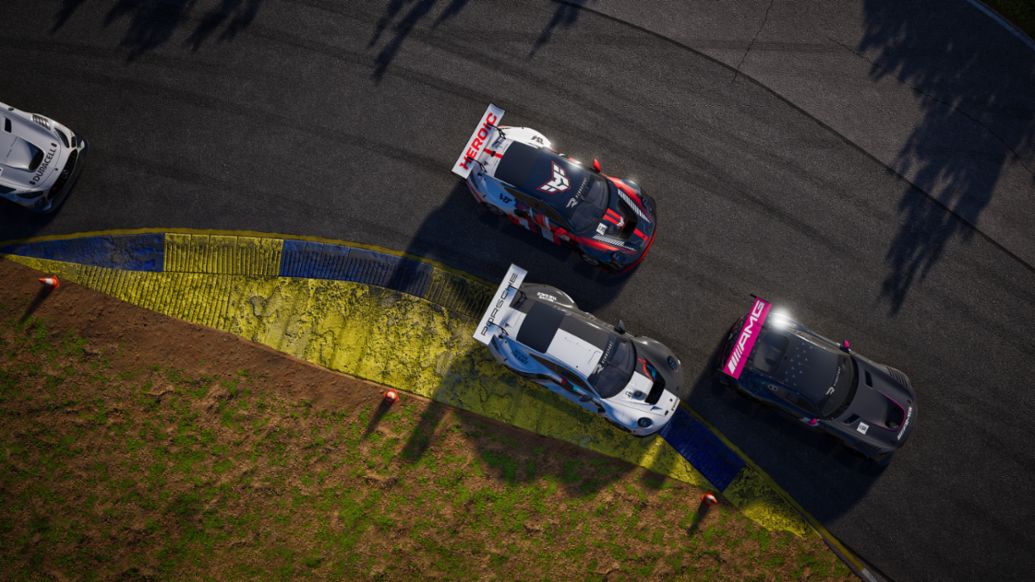 The two Australians tackled the final with the top twelve drivers from positions ten for Warren and twelve for Rogers – which meant that top results on Road Atlanta, which offers few overtaking opportunities, were effectively out of reach from the get-go. Nonetheless, Rogers squeezed his way past championship leader Sebastian Job on the very first lap. Both had started from the back row. In ninth place, however, Rogers was able to improve his position in the drivers' standings and overtake Czech Jiri Toman to move up to second place. Warren was also ahead of Job until shortly before the end of the race. Ultimately, he was forced to let the British G2 Esports driver pass and crossed the finish line in eleventh place. This result was enough for him to gain one position in the standings.

Like the debut edition of the ESL R1 series in spring, eight heats are initially scheduled in the autumn championship until 11 November. The Major Final will take place two weeks later in Jönköping, Sweden. Prize money of 40,000 US dollars awaits both the winners in the team and drivers' standings.
Impressions after the race
Jörn Jens (D, Team Manager Porsche Coanda Esports Racing): "Unfortunately, Road Atlanta's track characteristics don't lend themselves to the strengths of the digital Porsche 911 GT3 R. Although our rivals made up more points in the team standings, we're still relatively secure in second place. In terms of the drivers' championship, we hope that Joshua Rogers will continue to close the gap to the leader in the next race – this would put him in a very favourable starting position for the Major Finale in Sweden. We're also eager for Mitchell deJong to defend his 24th position. That would mean we'd be travelling to the grand final in Jonköping with at least three drivers."

Joshua Rogers (AUS, Porsche Coanda Esports Racing): "It was a final day of mixed fortunes for me. Of course, I'm happy to have reached the final but I knew that we lacked a bit of pace today. Unfortunately, I had to start the final from the back of the grid, but I quickly made up a few positions. From there, however, I didn't manage to make any more progress. In terms of the drivers' championship, it still went quite well in the end."

Dayne Warren (AUS, Porsche Coanda Esports Racing): "It was a satisfying weekend for our first ESL R1 guest appearance at Road Atlanta. Things went really well in the knockout round on Thursday: pole position and victory. A lot of things worked well in qualifying today, too. But then I made a mistake on the very first lap of the race, which relegated me back to tenth place. Nevertheless, I qualified for the final. We went into the final race with low expectations. I started from the back of the field and had to fight hard throughout the race. In the end, I finished eleventh."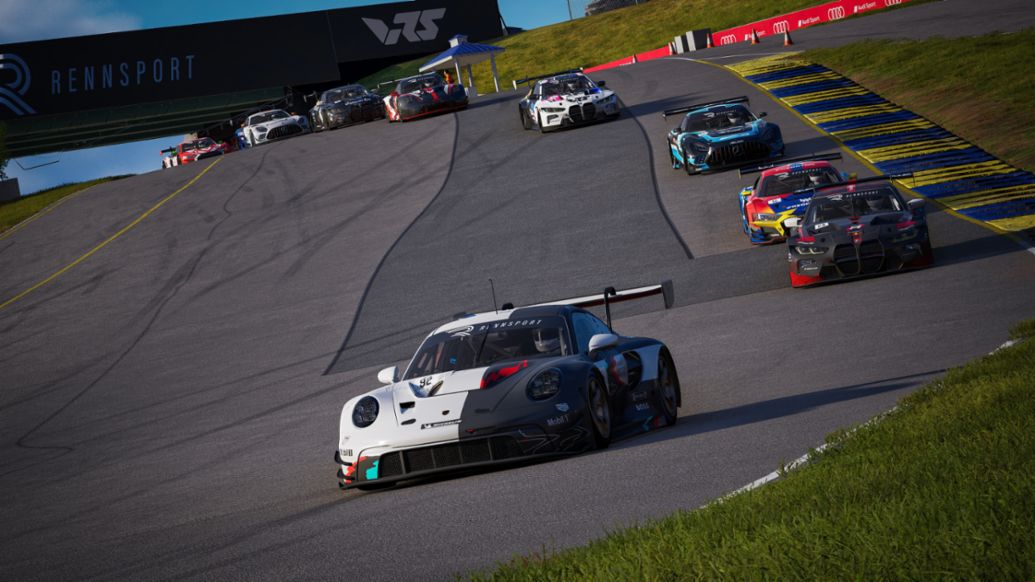 Road Atlanta (USA), result of the final
1. Jamie Fluke, Mercedes-AMG (UK, Apex Racing Team)
2. Marcel Csincsik, Audi R8 LMS GT3 evo II (CZ, R8G Esports)
3. Kevin Ellis Jr., Mercedes-AMG (UK, Apex Racing Team)
4. Luke Bennett, BMW M4 GT3 (UK, Team Redline)
5. Daire McCormack, Mercedes-AMG GT3 Evo (IRL, Williams Esports)
9. Joshua Rogers, Porsche 911 GT3 R (AUS, Porsche Coanda Esports Racing)
11. Dayne Warren, Porsche 911 GT3 R (AUS, Porsche Coanda Esports Racing)

Drivers' standings after 7 of 8 rounds
1. Sebastian Job (UK, G2 Esports), 415 points
2. Joshua Rogers (AUS, Porsche Coanda Esports Racing), 341 points
3. Jiri Toman (CZ, R8G Esports), 339 points
4. Daire McCormack (IRL, Williams Esports), 315 points
5. Martin Csincsik (CZ, R8G Esports), 314 points
6. Dayne Warren (AUS, Porsche Coanda Esports Racing), 261 points
24. Mitchell deJong (USA, Porsche Coanda Esports Racing), 89 points

Team standings after 7 of 8 rounds
1. R8G Esports, 963 points
2. Porsche Coanda Esports Racing, 746 points
3. Team Redline, 672 points
4. Apex Racing Team, 652 points
5. G2 Racing Team, 628 points

Full results and points standings
https://eslr1.com/fall23-2/
2023 ESL R1 autumn series
31.8 Monza (I)
7/8.9 Spa-Francorchamps (B)
21/22.9 Hockenheim (D)
28/29.9 Nürburgring (D)
5/6.10 Monza (I)
28/27.10 Spa-Francorchamps (B)
2/3.11 Road Atlanta (USA)
9/10.11 tbc
24.11 Major-Finale Jönköping (S)