On February 15th, Porsche Taiwan officially enters its demi-decade episode by recounting the past victories while presenting its social commitments and business prospects at the Porsche Taiwan 5th Anniversary Press Conference.
Looking back: recount past wins
Although the automotive industry has transformed significantly over the past few years, despite global uncertainties and challenges, Porsche Taiwan has solidified its position as a Pioneergeist in the local automotive industry in such a short time. The German automaker entered a new era by going public at the Frankfurt Stock Exchange in late September last year being one of the biggest IPOs in European history. Its Taiwanese subsidiary has experienced a remarkable 36% growth since its inception in 2018.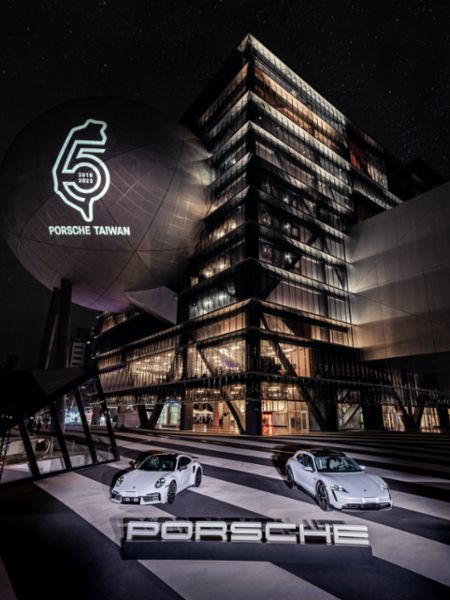 Besides thriving in sales performances, Porsche Taiwan has revered numerous victories in areas such as the expansion of its dealer network. Currently, it has 3 dealer partners and a total of 11 dealer locations island-wide. Competitive products like the 3rd generation Cayenne, the latest 911 (992), and a diversified GT product line-up were introduced to the market, closely followed by a large, devoted fanbase. The Taycan, launched in late 2020, has expectedly remained in high demand as one of the most successful electric sportscars in Taiwan.
Along with its dealer partners, Porsche Taiwan has worked diligently to build and expand its charging network over the past five years. The foundational infrastructure was ready before Taycan's local arrival. To date, the dream of having a Turbo Charging station every 150 kilometers has become a reality --14 Porsche Turbo Charging locations have been completed, with 29 Turbo Chargers and 201 Destination Chargers located throughout the island.

Porsche Financial Services was made available for local customers in 2019 offering a range of customizable financing solutions. In 2022, 26% of Porsche owners have utilized this option. Rolled out in 2020, Porsche Approved Warranty has generated an outstanding 50% growth in performance in 2022 compared to 2021. Digitization and optimization between Porsche owners and their vehicles have advanced further through the instigation of Porsche Finder, Porsche Taiwan LINE account, and the updated My Porsche and Porsche Charging apps.
As a brand inspired and driven by dreams, Porsche Taiwan believes that the future can be shaped through education and knowledge development. In 2019, Porsche Taiwan embarked on the journey in supporting others in pursuit of their dreams through the collaboration with BOYO Social Welfare Foundation. More than 2,200 students have benefited as a result. In 2020, Porsche Taiwan expanded our sustainability mission to the via a synergetic adventure with the Society of Wilderness. Efforts in supporting local wetland conservation and marine debris analyses are missions Porsche Taiwan plans to carry on as long as possible.
"Porsche believes that a diversified workforce is a key success factor for an innovative and forward-thinking future," says Christian Nater, CEO of Porsche Taiwan. As the youngest subsidiary in a refined market, Porsche Taiwan has actively invested in promoting professional expertise and fostering potential talents. Through a courageous, innovative, and forward-thinking business model, Porsche Taiwan will persist onwards as a loyal believer in and supporter to the courageous minds behind big dreams.