Most business leaders are currently grappling with the topic of "transformation." Major change is especially evident in the mobility sector. But not for Richard Enning. "That doesn't concern us," says the CEO of Mr. Wash AG, a medium-sized family-owned company that now operates 38 car washes in Germany. These aren't small setups, by the way, but huge facilities with long tracks on as many as three floors. Mr. Wash cleans more than eight million cars a year. It posts 140 million euros in wash sales, 110 million from the adjacent filling stations, and another 40 million from its "mac Oil" service, namely oil changes with no appointment needed.
Richard Enning is Mister Wash himself. "Cleanliness is a fundamental human need," he says. His business is tailored to fulfilling the need of car-crazy Germans for vehicles that veritably sparkle both inside and out. "'Clean car — happy heart' is our slogan," he notes. The second-generation head of this family-run business has turned washing one's car into an experience, starting at 10 euros, which includes cleaning the rims. A combination of price and performance is what makes Mr. Wash so competitive and ensures its success — for six decades now. For Enning goes well beyond what a single wash bay at a filling station can offer. And he moves with the times, responding immediately to new developments, new types of cars, and changing customer needs. Viewed from an outside perspective, transformation is simply part of business as usual, and has always been so.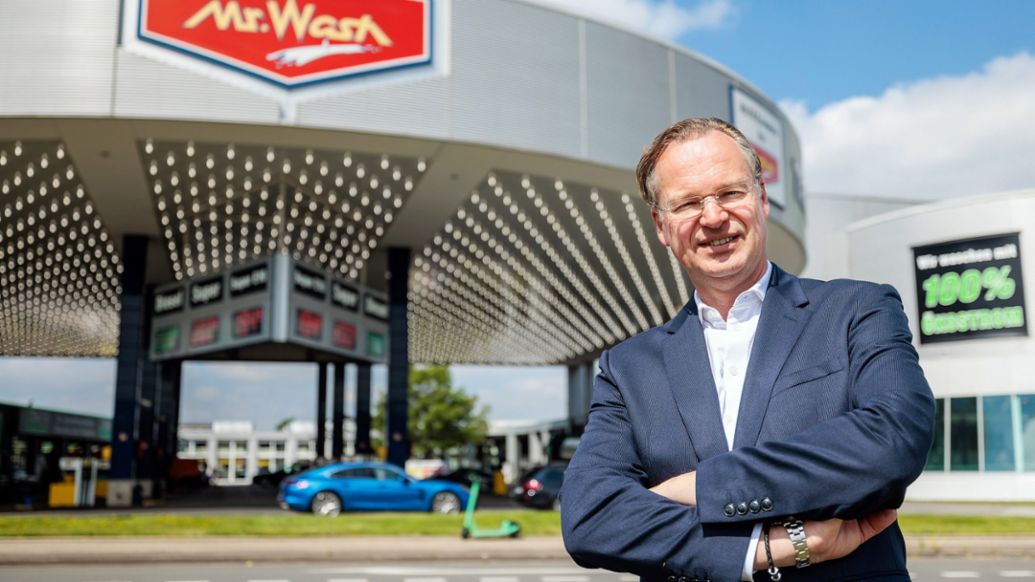 Cosmetics and cappuccinos
The company's newest site is in Enning's hometown of Mülheim an der Ruhr, in the western state of North Rhine-Westphalia. "It's probably the world's first large-scale car wash to meet all its electricity needs with its own solar power," observes Enning, who never tires of trying to make the entire process even more sustainable. The exterior wash, interior cleaning, manual application of wax on the paint, and final polish with freshly washed plush yellow towels are all designed to quicken the hearts of car owners. There's now even a make-up treatment for the walls of tires, in either "jet black" or "stylish gloss." Enning worked with the top chemist at a tire dye maker to come up with this environmentally friendly, non-toxic, and exclusive product. But that's not all. While the smartly attired and invariably courteous crews are devoting expert and respectful attention to the finest automotive cosmetic procedures, customers can not only watch but also relax with freshly brewed espresso drinks and hot chocolate in white porcelain mugs. Their children, in the meantime, can ride a carousel free of charge.
But here's the real highlight: the customer lounge with its comfortable seats also has a book exchange. Its volumes, from a wide range of genres, can be taken home. Customers can then return their books to the well-curated little library. It's a popular place. So popular, in fact, that Enning needs to keep it stocked. "We buy old books on eBay by the kilo," he says. Generosity is part of his business model. As is quality. Every year he has around 12 tons of Dallmayr beans brewed in fully automated professional-grade Franke machines, each of which costs around 16,000 euros, not counting maintenance. The beans are organic and fair-trade, of course. "When we do something," remarks Enning, "we really want to do it right."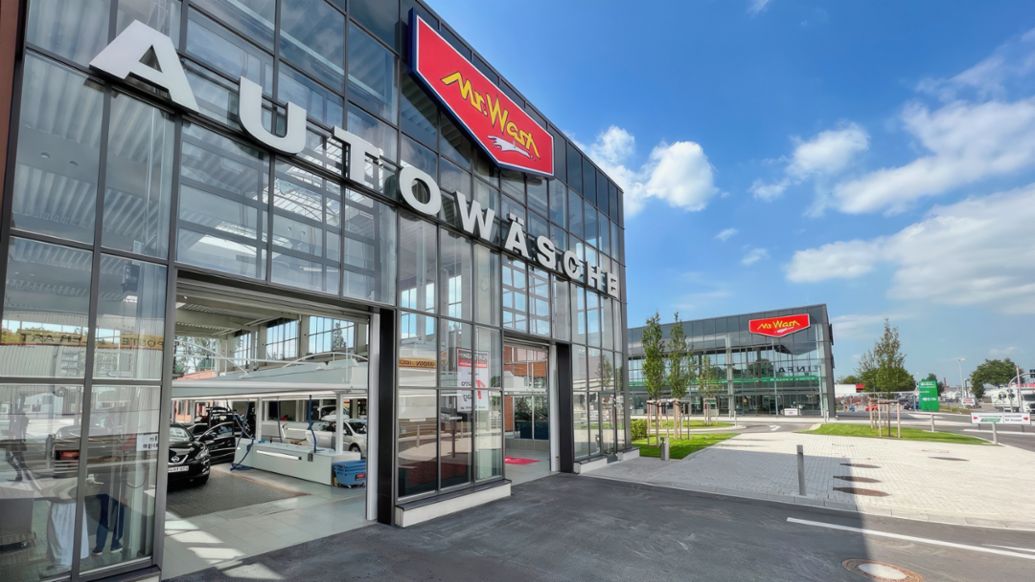 Extras without extra charges
All of that needs to pay off, without sending the price of a wash through the roof. In fact, it should do precisely the opposite. Customers who want to save the additional cost of having the interior cleaned may do so themselves for as long as they like in the superbly maintained vacuum hall, at no extra charge. In addition to high-powered vacuum equipment, they can use a compressed-air pistol to remove dust and water droplets, a small stainless-steel basin with warm water, and a device that intensively cleans floor mats — all at each station so they don't have to wait in line. Tire pressure can also be checked at the vacuum stations. With their cars now sparkling inside and out, Mr. Wash customers drive contentedly away out onto the roads, perhaps with a new book on their passenger seat.
For some people the wash experience might even be addictive. Enning has a found a solution for them too, namely a flat rate. Customers who buy multi-month packages can wash their cars as often as they like, even several times a day if that floats their boat, so to speak. It also gives them VIP status. Flat-rate holders have their own dedicated track. Not only that: a red-and-white bar immediately rises when its sensor detects the inconspicuous black flat-rate bar code at the edge of the front windshield. A few meters later the preferred customer's car is standing under the track's first spray arch ready to be shampooed.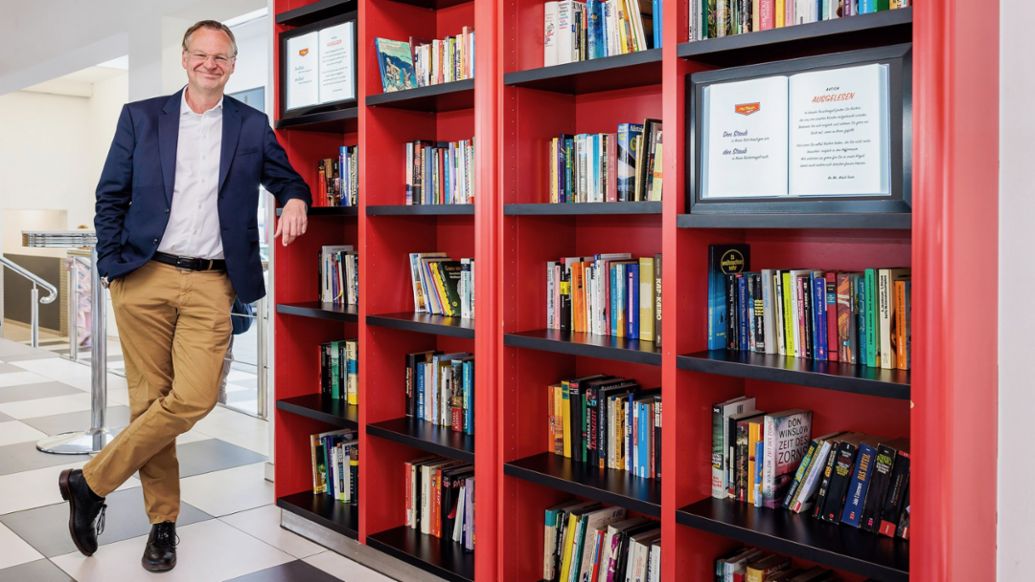 Put it on your (pub) tab
That being said, Mr. Wash hardly trades in snobbery. It offers attractive services for everyone. Customers who come on weekday evenings between 6 and 7 pm get a voucher with their receipt for an identical wash free of charge — also on a weekday between 6 and 7. It's no wonder, therefore, that a sizeable fan club gathers at the entrance shortly before 6 in anticipation of a free wash. This "clean hour" features disco lighting and the appropriate music. "It's almost like a bar," says Enning with a smile, pleased with the appeal it enjoys especially among younger clientele.
Enning wants his facilities to run at high capacity all day from 8:30 in the morning to 7 in the evening, of course, in order for his business model to both succeed and fuel growth. He welcomes not only individual customers but also large fleets from businesses and public agencies. For them he has developed a "Flex Wash" program. "It's kind of like your neighborhood pub," he explains. "You wash the car, put it on credit, and pay later." Once registered along with its license plate, each fleet vehicle can be washed whenever desired at any of the 38 locations. A detailed invoice is sent to the fleet operator at the end of each month, which saves paper and administrative costs. The recipients of these collective invoices enjoy discounts of up to 20 percent, which puts the price of a standard wash down to 8 euros. This program also makes Mr. Wash an attractive option for the growing car-share business, which needs to keep its communal vehicles clean.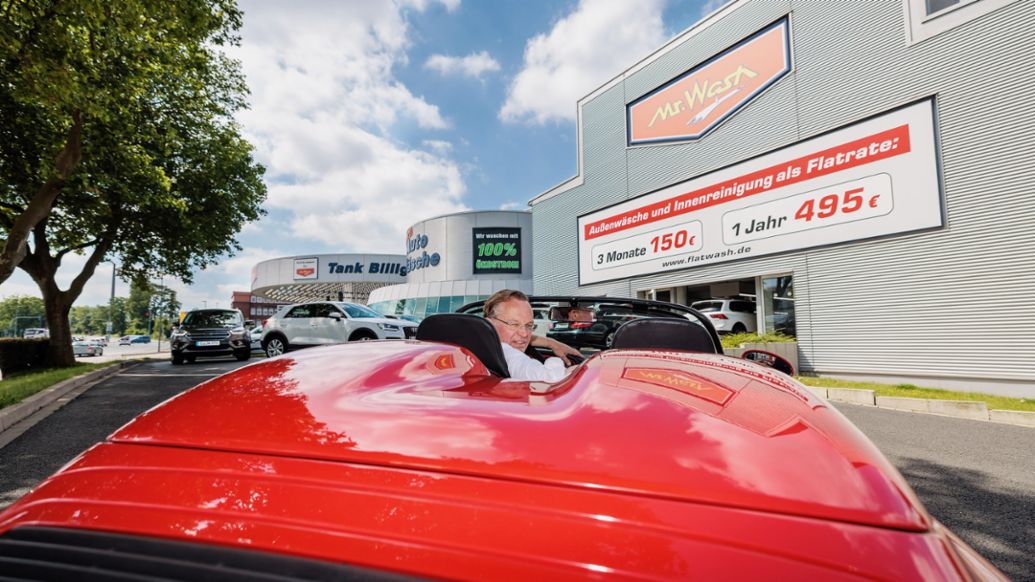 Countering inflation for customers and staff
The "wash price brake" is a good example of how Enning moves with the times and is quick to offer mini-reforms under striking headlines. "It reflects our promise not to raise our car wash prices for the entire year of 2023," he says. He also addresses the needs of his more than 1,800 employees (starting wage of at least 14 euros an hour). Every month from April to December in 2023, they are receiving a tax-free bonus of 100 euros to compensate for inflation. "It's our way of slowing the rate of monetary devaluation — on both sides," he notes. Additional benefits also enhance the attraction of Mr. Wash as a place to work. For example, all employees get their birthdays off, at full pay. And in the interest of his employees' family lives, Enning halted the practice that some locations used to have of opening on Sundays.
Hailing from 73 different countries, the employees are Enning's greatest asset. But not the only one. If you have the occasion to visit his office, you might spot real estate offers and land register maps on his two monitors. The company is expanding, and is therefore always on the lookout for new locations. Enning only rarely signs a lease, however. "Whenever possible, we buy the property," he says. Sites on thoroughfares in major cities are choice pieces of property and enormous business assets. They also keep costs stable. No landlords can help themselves to a slice of the expanding sales pie.
The company recently made a purchase, namely 22,100 square meters on a major artery in the eastern German city of Leipzig, near the center of town. "We're planning a new Mr. Wash with attractive architecture," says Enning. Each site has its own individual design. In the port city of Hamburg it takes the form of a cruise ship. In environmentally conscious Münster it features enormous leaves on the ceilings and walls. And graffiti art graces the premises in hip Cologne. The company invests an average of 20 million euros in each new wash factory.

Nothing off the rack
There's more to see in the CEO's office, such as prototypes of technical advances that are soon to be introduced. But Enning doesn't divulge any specifics, nor about potential new locations in the future. The rest of the industry watches the ever expanding dominant player with wide eyes. How can he do that: offer superb services with free extras at competitive prices? One key factor is sheer stubbornness — in a positive sense. The company designs its technical facilities itself, with its own personnel including electrical engineers, mechatronics specialists, and experts in automation engineering. "Nothing here is off the rack," remarks Enning on a tour of his site in Essen. "We draw on our experience in everyday operations to keep refining the technology in our machinery and processes, which means we're always becoming a little better." This new site in Mülheim is also now home to the company's own 15-member mechanical engineering team, which is responsible for equipping existing and future locations and updating the relevant technology.
It's abundantly clear that the head of this family-owned company loves independence in every respect. To maintain this freedom, he needs to stay on the ball, keep abreast of the times, and continuously develop his company. Can we really say that transformation isn't a concern for Richard Enning? It might be that transformation simply comes naturally to him, and is an integral part of his everyday operations. At any rate, this son of the company founder is constantly reinventing his own business — with a sharp eye for detail. And an unswerving focus on his customers. "But as you know," says Enning as we part, "that's also a key part of the philosophy at Porsche."
Info
Text first published in Porsche Consulting Magazine.