It's just after 13:00 when the 'Ellenator' pulls up. This isn't the nickname of his G-Series, but the name of the modified Fiat 500 that Merlin Assfalg has been able to drive since the age of 16 thanks to an almost tricycle-style conversion by the Bavarian company Ellenator. But today it's all about the young Porsche driver and his car.
I meet 17-year-old Assfalg straight from school. He's not anxious, but a little tense all the same: a few days before our encounter, the control unit in his 911 went on the blink and he won't be able to drive his 911 today unless a new part arrives. An unusual Porsche customer: Assfalg will graduate from St. Konrad Educational Centre in Ravensburg in 2023, after 12 years of school. His advanced courses are maths, physics, and economics. He's spent a lot of time learning about the stock market in recent years, and under the strict supervision of his parents, he started trading at the age of 14. His fascination with the subject has stayed with him ever since. With his Apple shares in particular, Assfalg was able to lay the foundation for achieving his big 911 dream in 2020 and 2021.
Passion for two wheels without propulsion
But the decisive factor was a small start-up that he founded last year, at just the right time. Beyond his enthusiasm for four wheels and engines, he has just as much passion for two wheels without propulsion. It's not surprising; his father David is the CEO of Propain, which makes premium mountain bikes from the Allgäu region, and sells exclusively online. Thanks to their high quality, the bikes are the benchmark in their segment.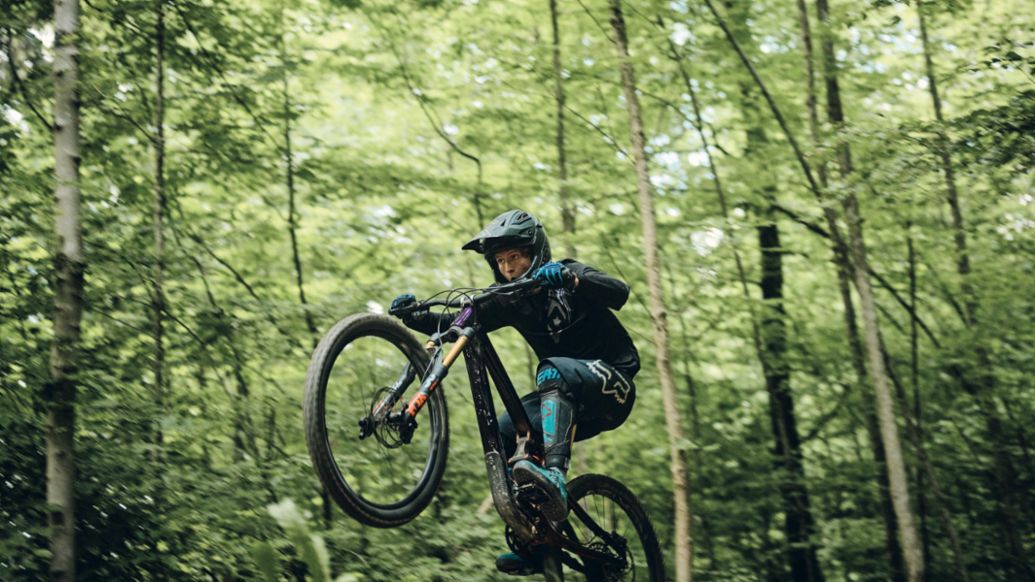 Being close to his father's company, Assfalg was quick to realise that the demand for bike parts was rising, especially during the COVID period, and he acted fast. At just 16 years old, he founded his own company to sell predominantly used bike parts on the internet. In addition to classics such as wheels, forks or suspension parts, Merlin focuses on finely accentuated equipment such as clamping rings, saddle clamps, stems, pedals and handlebars. "These parts are simply beautiful. I especially love the bright colours – pedals in nugget gold and clamps in neon yellow," he says. Every day, dozens of parcels have to be packed and shipped from the small container that the young businessman uses as an office and warehouse. The question of how a 17-year-old manages to balance work and school is a fair one.
Maximum-exertion principle
"I wouldn't call myself an excellent pupil, but I am a good one. I could be better if I focused completely on school, but I try to do the best I can with limited effort," he says with a wide smile. In business, he does the opposite; here, Assfalg always applies the maximum-exertion principle. His entrepreneurial approach is to identify the problem, then develop a solution. His entrepreneurial roadmap from here is already clear. The money he earns with the first project is intended to boost the financing of the next idea. He also already knows his further educational path. "I would like to study business information systems and create my first app ideas at the same time," he says. Assfalg doesn't want to reveal what the ideas are, but his thematic focus is to improve efficiency in everyday life.
His success story is all the more astonishing given the fact that Assfalg spent his 16th birthday seriously ill in hospital. His health suddenly declined in late summer 2020. He had a range of symptoms, including nausea, exhaustion and high fever, for which he received antibiotics. But the drugs didn't work as had been hoped and his condition deteriorated dramatically. He was admitted to hospital, where it became clear he was dealing with a life-threatening situation. After three weeks Assfalg was finally able to return home to his family. His parents, his younger sister Romie (six) and his brother Elron (12) eagerly awaited him; unfortunately, so did another three months of convalescence. He never got a clear diagnosis; all that was clear was that he is allergic to antibiotics and has a vitamin D-related genetic defect.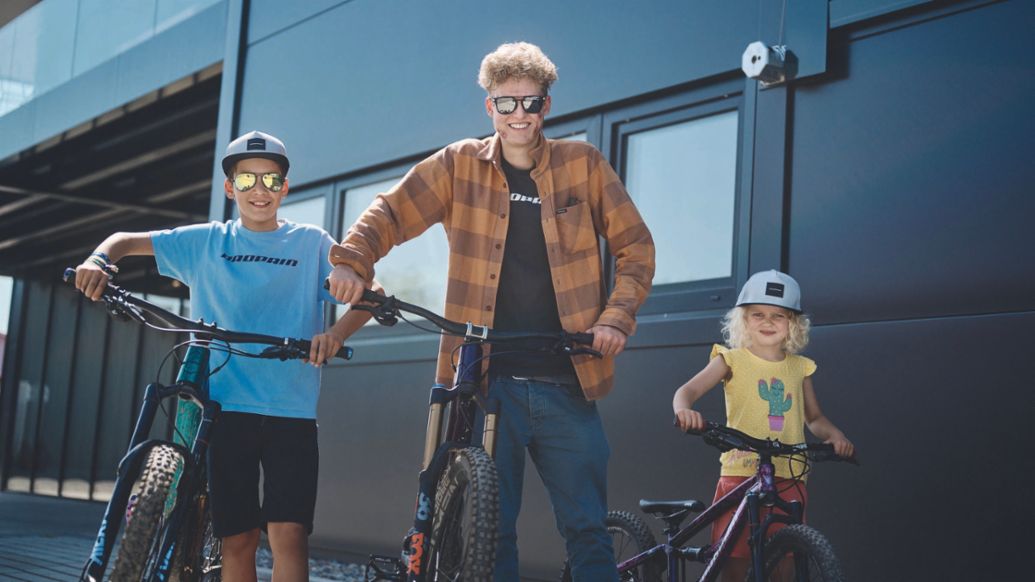 Time and disease have left Assfalg with scars, mainly visible ones. Nevertheless, he is cheerful and full of life, has a charismatic effect on his counterparts and is great fun to listen to. Especially when it comes to cars. His own, the fruit of his young success, waits at a farm a few kilometres away from his container on the Propain company premises.
1980 911 SC Weissach Edition
It's a 1980 911 SC Weissach Edition. Assfalg acquired it in September 2021, shortly after his 17th birthday, from a local dealer who specialises in importing cars from North America. The special edition was designed exclusively for that market. To spur on the Sonderwunsch (special request) department, the limited run of 407 cars was designated the 'Weissach Edition', a nod to the Porsche racing department. The vehicle, which was marked with the equipment option number M439, could be ordered with only two exterior paintwork variants: Platinum Metallic and Black Metallic. Assfalg drives the latter. He particularly likes the interior design. Porsche described the leather shade of the grey-brown sports seats from the Turbo as Doric Grey. The centre section of the seats is perforated, while the outer part is trimmed with burgundy piping. The colours can also be found on the leather-covered dashboard, the door panels and the carpet.
The unrestored car is in good condition and shows no signs of rust, although 42 years and 285,000 kilometres have not passed entirely without a trace. Assfalg only has some minor adjustments in mind. An overhaul is planned for the five-speed manual gearbox and he may swap his silver wheels for the platinum-coloured, 15-inch Fuchs rims that were fitted to many of the Weissach Edition models. Assfalg definitely wants to replace the American speedometer: "The German goes up to 300 km/h," he says with a wink. The slight traces of patina in the paint don't bother Assfalg. "This outlaw style is cool, and there's no point being annoyed by every scratch or chip."
For now, he can't imagine ever selling the car – the 911 is simply too good for that. "The thing is ancient, but it drives way cooler than most new cars. The best way to drive a real car is with a classic model. You get better feedback from the steering wheel, you have to do everything yourself and there are no assistance systems, and so you learn to drive better," he says. He sounds like anything but a novice driver.
Despite his enthusiasm for fast cars and plenty of horsepower, a sustainable lifestyle is important to Assfalg. He is a dedicated vegetarian, and recently did a paper on eFuels. The title: "How can we be mobile without a guilty conscience? E-mobility and eFuels and their environmental and social impact." The young Porsche driver can well imagine filling up his 911 with synthetic fuel in the future. But his G-Series, alas, will have to remain in the stable today. Much to Assfalg's disappointment, the replacement control unit hasn't arrived on time.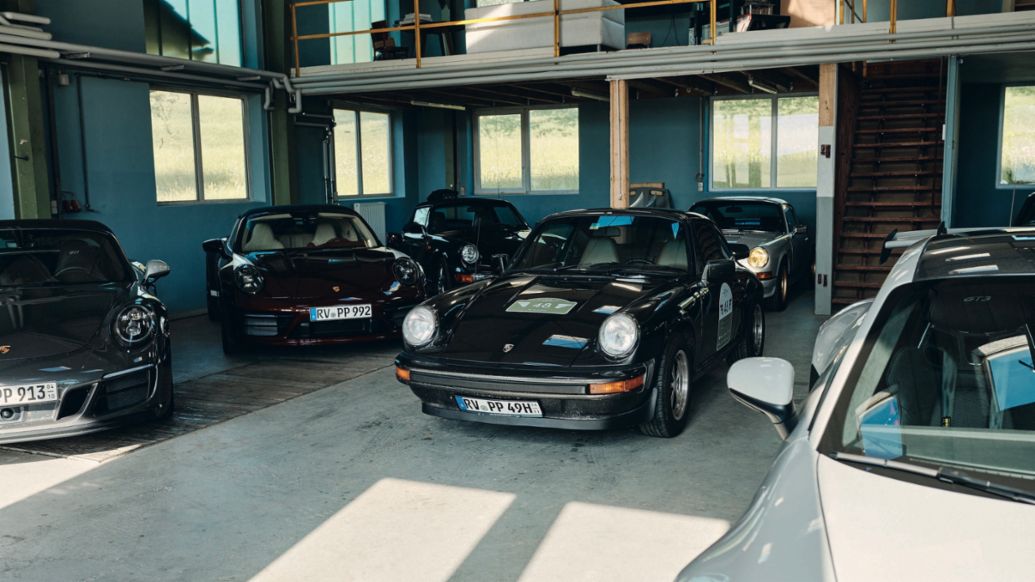 He does manage to drive a Porsche today, however. In his father's 964 Carrera 2, he shows us one of his favourite routes between Waldburg and Weingarten, with his father riding shotgun. As naturally and confidently as the teenager talks about Porsche, for now, one of the five people listed on his driving licence has to be sat beside him when he drives one. Driving a Porsche at 17 can only be done accompanied. But that will change for Assfalg on 19 September. Then he will turn 18, so the days when someone has to sit next to him are numbered.
Porsche 911 SC Weissach Edition
Model year: 1980
Units: 07 examples
Colour: Black Metallic
Engine: 3.0-litre, six-cylinder Boxer
Power transmission: 80 PS five-speed manual gearbox
Kerb weight: 1,160 kg
Info
Text first published in the magazine Porsche Klassik 24.
Author: Marco Brinkmann
Photographer: Tom Ziora
Copyright: All images, videos and audio files published in this article are subject to copyright. Reproduction in whole or in part is not permitted without the written consent of Dr. Ing. h.c. F. Porsche AG is not permitted. Please contact newsroom@porsche.com for further information.