One of the world's largest zinc mines lies around 170 kilometers north of the Arctic Circle and about 1,000 kilometers northwest of Anchorage, Alaska. In operation since the 1980s, Red Dog mine accounts for approximately 10 percent of the world's zinc production. The ground at the site is in a completely frozen state of permafrost. But if the permafrost should thaw, the Germany-based BAUER Group was commissioned to do field tests to determine the steps needed to shore it up. It conducted these tests on jet grouting and cutter soil mixing (CSM) processes, and showed that the latter would be suitable. CSM processes cut up soil, shift it, and mix it with an aggregate. The BAUER Group was also commissioned to construct a secant pile wall with 93 secondary piles, using a multipurpose BG 30 drill rig with special Arctic equipment. The two pieces of machinery involved were developed and produced by BAUER Maschinen GmbH in the southern German town of Schrobenhausen.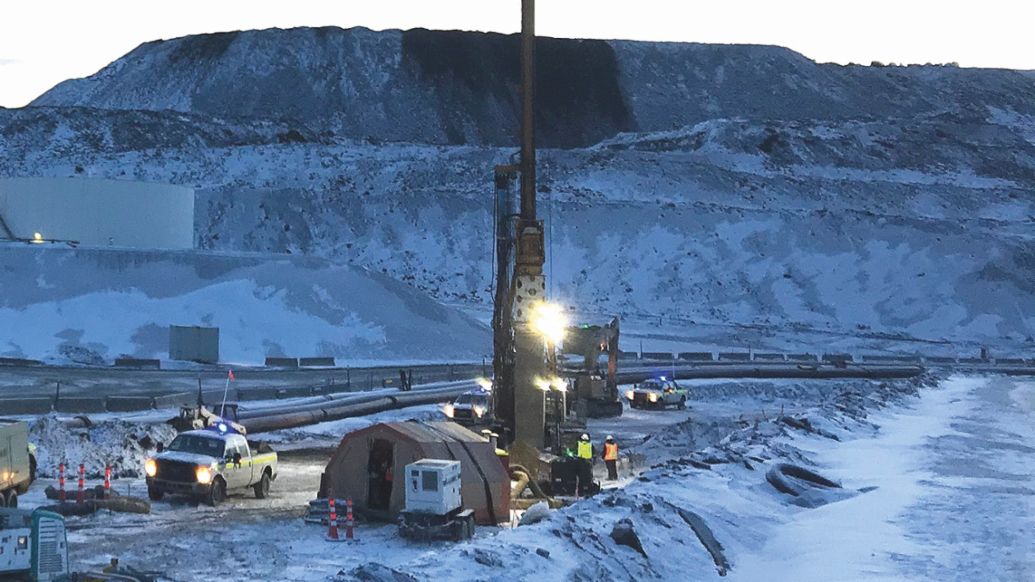 Of special note here is the combination
The family business is listed on the stock exchange with 11,000 employees at 110 subsidiaries and total Group revenues of a good 1.5 billion euros. Its work is divided into three segments. The construction segment does large-scale specialized foundation projects worldwide (sales share: 45 percent). The equipment segment is a global market leader in developing and producing machinery for specialized foundation engineering (40 percent). And the resources segment is a service provider in the fields of drilling, water wells, environmental systems, constructed wetlands, mining, and rehabilitation (15 percent). The BAUER Group is positioned as an innovative and highly specialized provider of products and services for specialized foundation work and associated markets. Its machines can bore, ram, cut, shift, and compress soil. They are not restricted to the Arctic but can see action anywhere: examples include building dikes at the Dead Sea in Jordan, extending Bruce Highway in Queensland in Australia, and expanding the port of Alexandria in Egypt. The heavy-duty rigs can weigh up to 300 tons (BG 72), and cost from 500,000 to a good five million euros.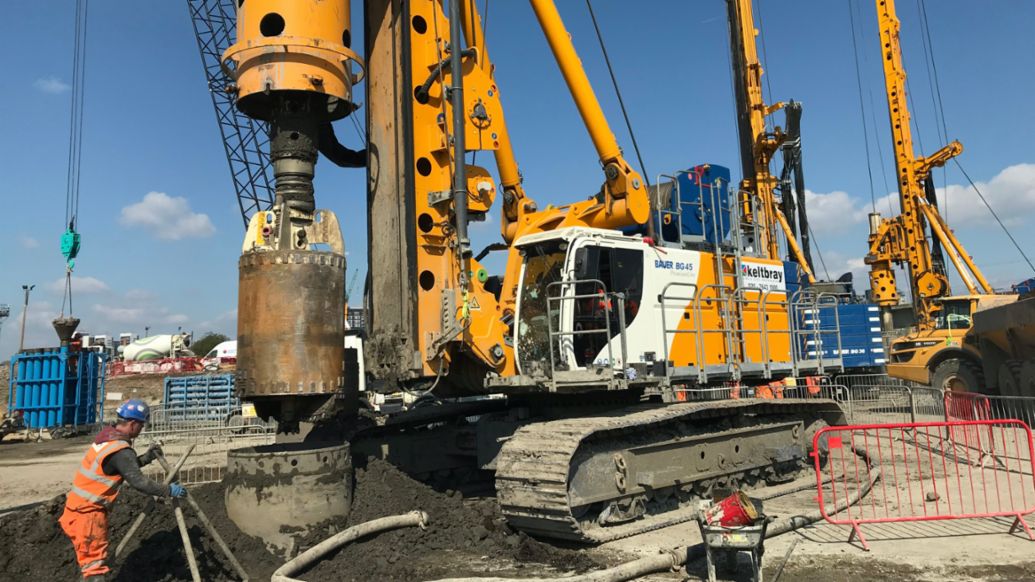 The Bauer brand—a worldwide name in specialized foundation engineering
In 1790, Sebastian Bauer acquired the right to found a copper smithy in the southern German town of Schrobenhausen and began producing household utensils, brewery vats, and roof cladding. Around 110 years later Andreas Bauer drilled an artesian well for the local train station. A new field of business was born. His son Karl built the centralized water supply system for the town of Schrobenhausen in the 1920s, followed by wells and water systems for other southern German cities and industrial facilities. Karlheinz Bauer promoted the company's specialization in foundation engineering. In 1958, injection anchors were invented and a patent filed for the construction process. In 1976, the first BG drilling rig went into operation, which would become the focus of Bauer's mechanical engineering expertise. And in 1984, the company made its first diaphragm walling machine.
In the 1980s the company's mechanical and foundation engineering activities became increasingly international in scope. Then the owners took a major new course. They decided to offer their "made by Bauer" machines to the competition in order not to encourage imitators. This turned a specialized foundation engineering company that produced its own machinery into a globally active group that also supplies other specialized foundation engineering companies. "It's a balancing act," observes Professor Bauer. "Our customers need to be sure that our business fields are separate and their confidential information will not be passed on within the group."
Following multiple acquisitions and start-ups, BAUER Aktiengesellschaft was founded in 1994 and went on the stock market in 2006. Activities expanded to include well construction, hydrology, and geothermal projects. The company put its construction, equipment, and resources structure into place. Synergies among these three segments enable it to transfer experience from specialized foundation engineering to mechanical engineering and thereby promote ongoing further development.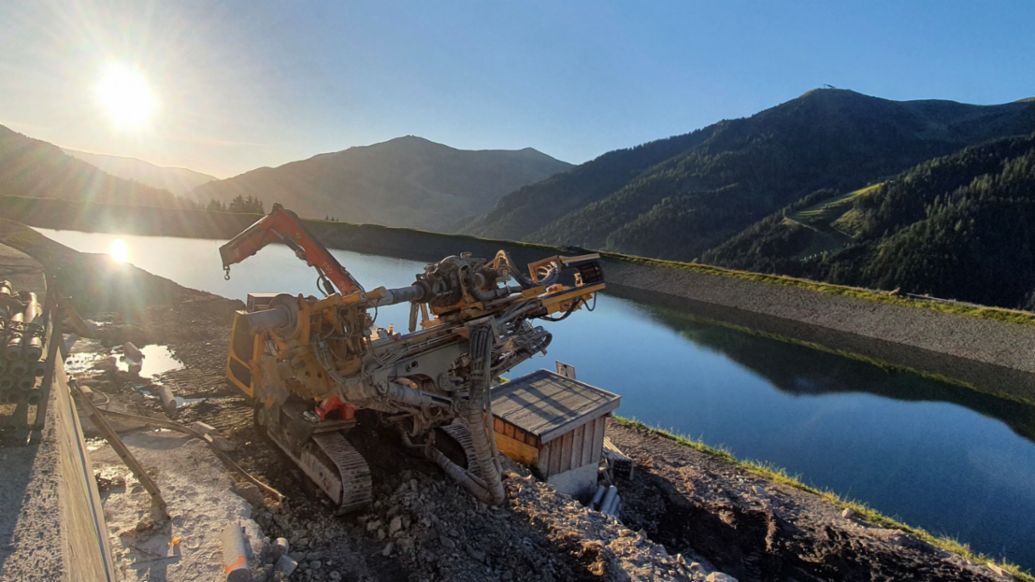 Bauer is a very special type of hidden champion. Over its 230-year history the company has constantly acquired new markets and responded successfully to change. "A readiness for change is part of our genetic makeup," says Professor Sebastian Bauer, member of the owning family who directs research and development for BAUER Maschinen GmbH. The entire BAUER Group needs this ability too, as its customer structure is extremely heterogeneous. As Bauer observes, "Each customer is different, each construction site poses special challenges, and each country has its own soil and transport conditions. Maximum depth will be important in one country, drilling power in another, and transport weight will be the crucial sales criterion in yet another." That is one reason why each of the approximately 200 large-scale pieces of machinery the company produces annually is unique. Only very rarely is one of the machines just like its predecessor. Also of note is the fact that many buyers will wait to order their specialized drilling rig or diaphragm wall cutter until the contract they seek is confirmed. But then they need to act fast. For a long time the company focused on meeting customers' needs with ready-made products that were adapted to individual specifications shortly before delivery. BAUER Maschinen GmbH produced equipment to "keep in stock," and therefore had to store a large number of machines on its premises.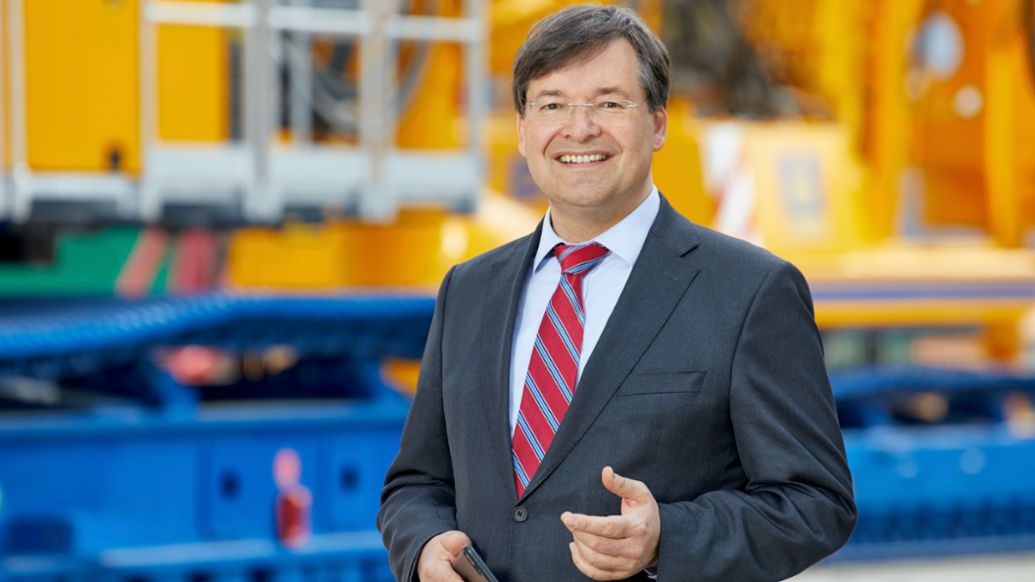 This type of production carries high capital commitment costs. But that's not all. As Bauer explains, "For a long time we were incorporating a great many functions into our machines so they'd be suitable for nearly every customer and application, in an attempt to avoid distribution problems and alteration costs." This "ultra-standardization," as Bauer calls it, meant that customers ended up with more complex machines than they actually needed. As a result, they only used or appreciated a fraction of the applications their machines could perform. "We're now in the process of changing that," he notes. The overall project is one of strategic transformation. New competitors on the market, especially from Asia, are another reason this step is needed. As Bauer continues, "If we want to safeguard our leading position in international competition, we have to become faster, more flexible, and more economical." The goals are to shorten production throughput times, reduce inventory, lower costs, and increase customer choice. The chosen instrument is a supply-chain strategy. "It puts us in a position to supplement our basic models in such a way that we can provide each client with a largely customized and unique product—in a rapid and streamlined manner," he says.
The aim is to produce 80 percent of all machines on commission and to deliver them within six weeks. In a word, the aim is ambitious. The idea is to achieve this by using prefabricated modules and components that are produced either in-house or by suppliers and are already "on the shelf". When a machine is ordered, the production team can immediately retrieve the requisite components and modules from the warehouse and adapt the overall configuration to the specific requirements. As Bauer explains, "We're no longer determining the machines' detailed specifications a year in advance and then essentially adjusting the entire thing. Instead, we're assembling each individual piece of equipment in a high-speed precision process." What's important here is to keep the level of prefabricated parts as low as possible. It's also clear that this transformation requires employees to change how they think and act. "We need more flexibility here too," notes Bauer.
Strategic transformation with Porsche Consulting
The contract came in May 2020. Following preliminary talks with several consultancies, BAUER Maschinen GmbH selected Porsche Consulting as its partner for turning the vision of strategic transformation into reality.
"We wanted a partner who would challenge us, and who would turbocharge our progress." René Gudjons, Managing director of BAUER Maschinen GmbH
"Porsche Consulting understands production," says René Gudjons, the managing director of BAUER Maschinen GmbH in charge of production, in explaining the choice." And it has experience in managing change." Transformation was on the agenda, and ideas were already formulated. "We wanted a partner who would challenge us, and who would turbocharge our progress," he says. And that is what happened. The project is now in the stage of internal implementation.
"The consultants served as catalysts in accelerating the supply-chain strategy." Rainer Rossbach, Managing director of BAUER Maschinen GmbH
Rainer Rossbach, the managing director of BAUER Maschinen GmbH in charge of commercial administration, adds: "The consultants spurred us on, put our ideas into practice, and served as catalysts in accelerating the supply-chain strategy." The organizational changes introduced have also played an important role. "At the beginning, the process felt like a minor revolution, whereas the next two or three years will be more a matter of evolutionary changes," says Gudjons. Initial successful results of the transformation are expected to become evident in mid-2022.
A successful supply-chain strategy for a globally active mechanical engineering company absolutely has to build on current and consistent data. That is all the more true when it comes to planning. After all, the Schrobenhausen-based company has to anticipate as accurately as possible which machines will be needed on construction sites worldwide in twelve or eighteen months. "For that we need to front-load the process with a lot of intelligence," says Gudjons. This requires all the company divisions to change the way they think. All the departments and all the subfields require plannable processes. Data exchange processes need to be improved as well, both within the group and with suppliers. As Rossbach puts it, "We want our supply-chain approach to relieve the distribution and production processes that previously had to contend with far too many ad hoc measures."
Info
Text first published in Porsche Consulting Magazine.