The company also manufactures the component parts of these structures. With the courage to pursue an individual course yet also to think in systems, it has become one of Germany's most successful medium-sized enterprises. "We've always done things differently," says Jörg-Uwe Goldbeck, managing director of the Goldbeck construction and real estate company in Bielefeld. In 2007, he and his brother Jan-Hendrik took over the company founded back in 1969 by their father, Ortwin Goldbeck. Today, the corporate group employs more than 8,000 people, making it the largest family-run enterprise in Germany. Courage and innovative power are the driving forces behind its rise to become one of the country's most successful medium-sized companies.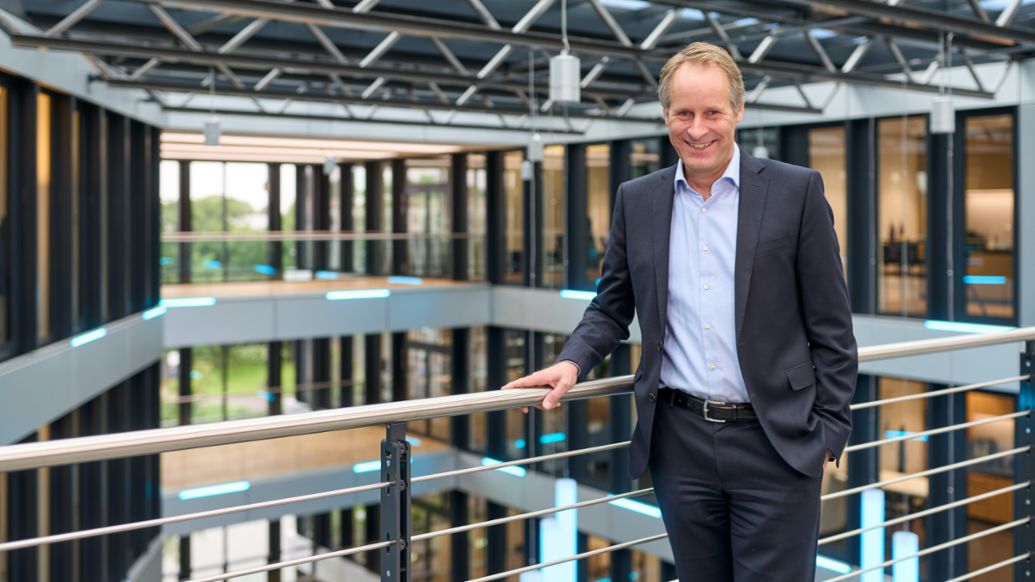 "We don't build anything we don't plan, and we don't plan anything we don't build." Jörg-Uwe Goldbeck, Managing Director, Goldbeck GmbH
The positioning of this owner-run construction company does not sound terribly exciting. It is a general contractor for commercial and municipal above-ground buildings, and also provides some related services. What distinguishes this Westphalian business, however, is its approach.
Goldbeck uses systematic modular means to make turnkey halls, office buildings, and multi-level car parks. It views buildings as products. It develops and produces major components itself, then erects the buildings, and if desired will operate and manage them as well. Customers receive everything from a single source. As Jörg-Uwe Goldbeck says, "We don't build anything we don't plan, and we don't plan anything we don't build."
Better, faster, more economical
The systems approach taken by this industrial company in the construction sector derives from practices in the automotive sector. The latter is considered a pioneer in manufacturing different models on a single platform. "A lot of our competitors made fun of our course in the beginning," recalls Jörg-Uwe Goldbeck. But that soon changed when the courageous family met with success. "A systems approach has made our work better, faster, and more economical," says the company head. Goldbeck's own plants prefabricate 80 to 90 percent of the components used at its construction sites—including seven-ton roofs and 18-meter concrete pillars. The company has ten such plants. Some make concrete walls and roofs, and others produce supporting structures, windows, and doors from aluminum and steel. It has more than 70 branch locations throughout Europe.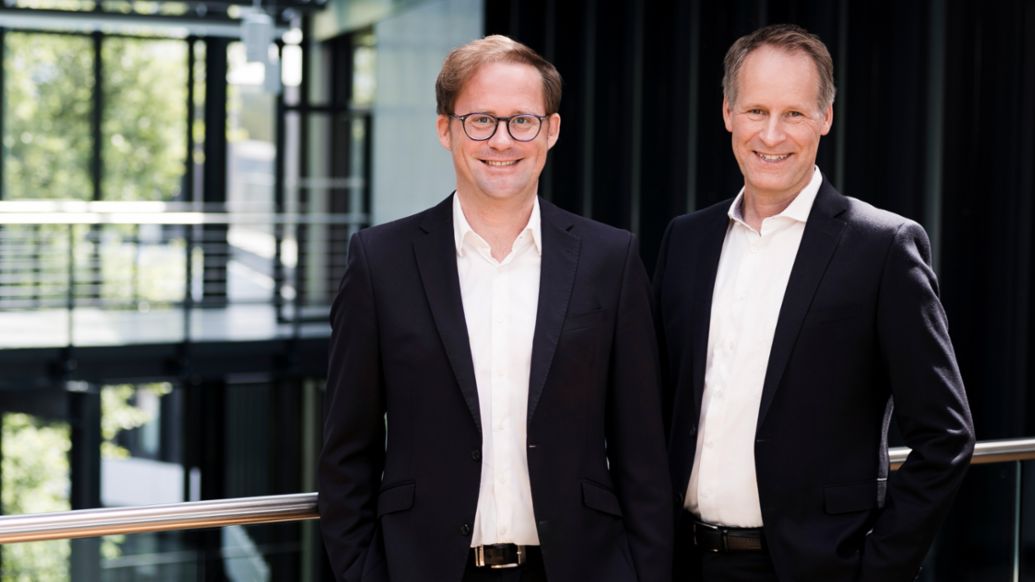 Despite the modular construction, every building is an individual creation with different floor heights and its own façade. Around 50 percent of the approximately 500 projects that Goldbeck handles each year are logistics halls; the rest are office complexes, parking garages, and other buildings. The company is the undisputed leader in its sector—around half of Germany's multi-level car parks are "developed and made by Goldbeck." A special coup was the contract to build Tesla's gigafactory in Grünheide, near the capital city of Berlin. After winning the contract in June 2020, Goldbeck was able to hand over the plant to the California-based electric carmaker just eleven months later in May 2021—on schedule and within budget. The plant was a flagship project. "It would not have been possible if we didn't have our own industrial capacities to prefabricate construction components," notes Goldbeck.
Thinking outside the box
Innovations are another key to the company's success. And Goldbeck's leaders think outside the box here. What do companies in other fields do better? What can Goldbeck learn and adapt for its own purposes? As just one example, two years ago it sent a small R&D team to Silicon Valley to assess potential collaborative ventures with start-ups that combine construction with digitalization. Goldbeck also maintains ties with the Center for Integrated Facility Engineering (CIFE) at Stanford University, which specializes in digitalized construction. "Our vision is to build intelligently with new technologies," says Jörg-Uwe Goldbeck. In short, the company seeks future-oriented production. Advances such as robots are already playing a role at its construction sites. They are being tested for tasks such as drilling and painting, while a "doglike" robot scans and documents progress on site.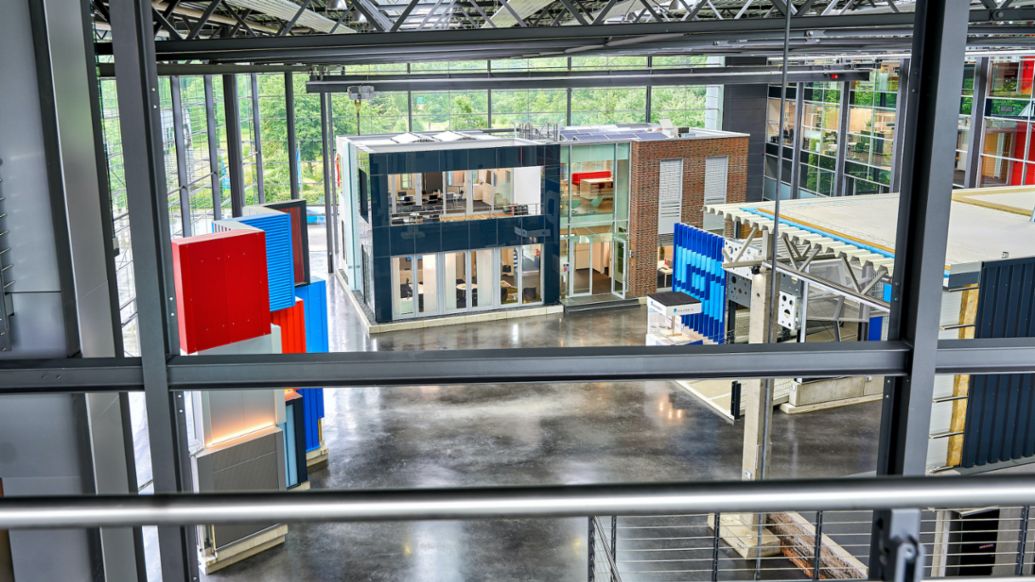 Yet another reason for the success of the company lies in how its two leaders work together. Jan-Hendrik is primarily responsible for technology, digitalization, and internationalization, whereas Jörg-Uwe is in charge of matters like finances, personnel, and production. "We complement each other very well," says the latter. The brothers place a premium on teams with smart and motivated members. "It's extremely important to us to use the different abilities and skills of our employees in the best possible ways," he emphasizes. They should be problem solvers, inventors, guides, and teachers with a high level of commitment and dependability. Founder Ortwin Goldbeck's saying holds to this day: "We write out strategies with pencils and our values with fountain pens."
The recruitment process actively seeks these values. As Jörg-Uwe Goldbeck explains, "We make sure to have a broad range of talent and people who want to go the extra mile." The construction company with the blue logo develops its management personnel in large part internally. Yet it deliberately fills key positions in production with external managers, for example from the automotive industry. "To remain successful in the future, we have to look beyond our own ranks and bring in some top individuals with objective views and fresh ideas."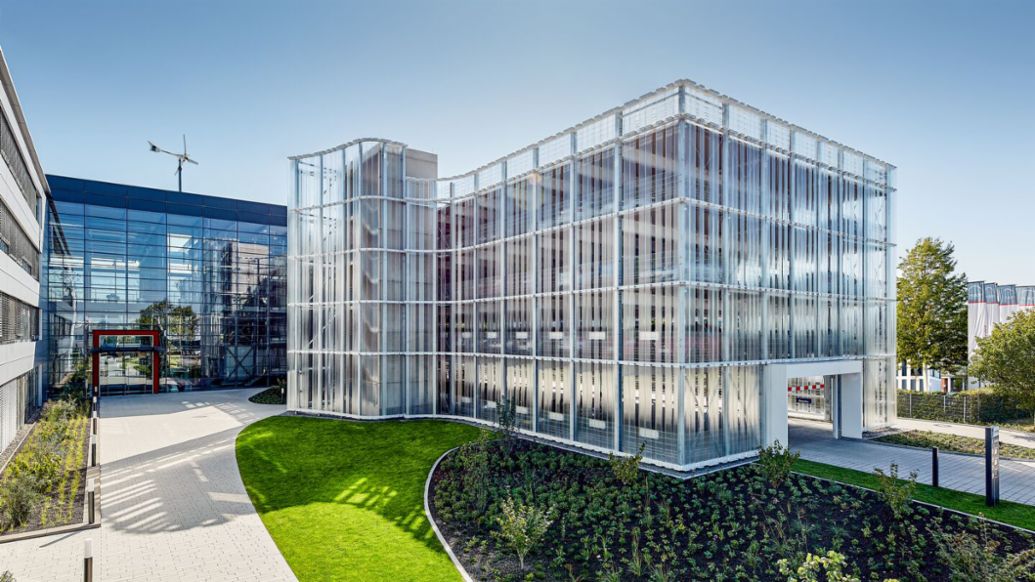 Steel versus carbon
The same is true for sustainability. This quality has always played an important role for the Bielefelders, whom the Intes Academy named "family-run company of the year" in 2019. This can be seen in the question of steel versus carbon. Anti-corrosion, high performance, and reduced weight are the goals—not only in construction but also in aviation and automotive engineering. Industrially produced fibers made of carbon elements are a good 20 percent lighter and 40 times stronger than steel, and can withstand extreme loads. "By using carbon in construction we can reduce the size of our foundations and lower the amount of concrete we use," says Goldbeck. "Carbon concrete doesn't corrode, so it also has a longer service life and doesn't need much maintenance."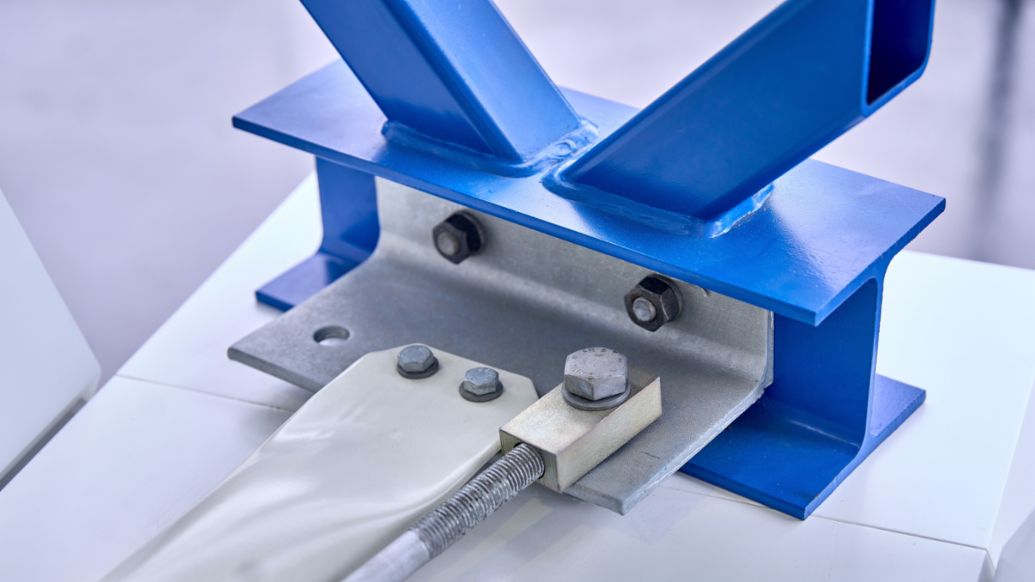 Demands continue to rise for durable substances, sustainability, and long-term flexibility based on construction methods that also simplify deconstruction. "As soon as we start designing a building, we're already envisaging an average life cycle of 30 or 40 years." Whenever possible, therefore, the company uses mechanical connectors that make deconstruction easier and recycling more precise. A sustainable approach that transcends product life cycles means that Goldbeck's experts are already accounting for demolition even before construction begins.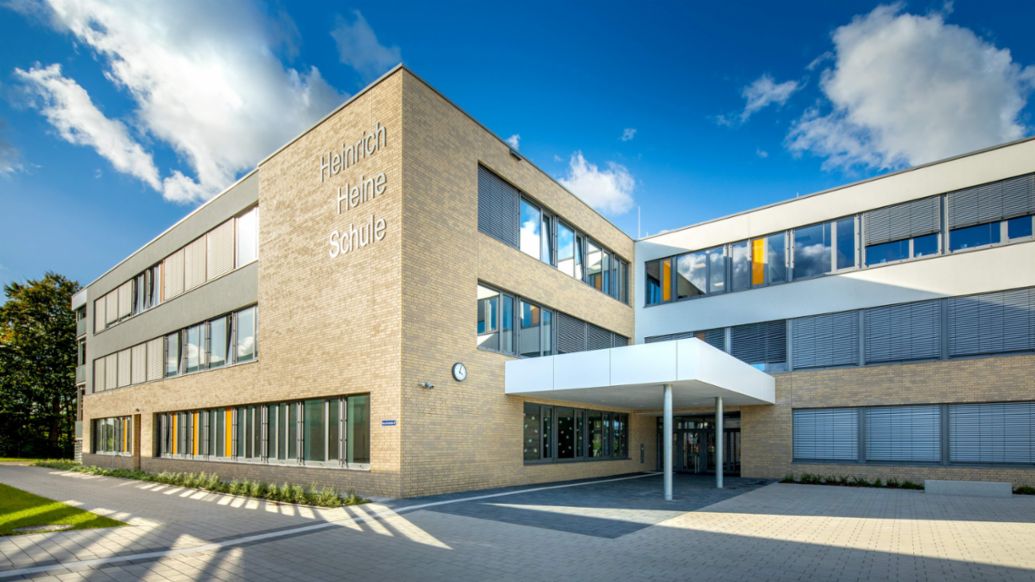 Construction projects in the public sector are a promising future field for Goldbeck. The company already enjoys a good reputation for its schools and administrative buildings. In 2017, it added residential buildings and has completed its first reference projects. "We want to gain experience and incorporate as much expertise as possible from other areas," says Jörg-Uwe Goldbeck. The company is expected to grow, especially in Germany and its neighboring countries. "Wherever you go, people welcome high levels of performance."
Future-oriented production
The decision was made in November 2020. Dr. Wulf Härtel, Managing Director Goldbeck Manufacturing in Bielefeld, commissioned experts from Porsche Consulting to conduct an ambitious project together with a team from all divisions of his company. The goal is to transform the technologies used in concrete and steel construction and thereby set a secure future course for this leader in the industry. "The main reason for selecting Porsche Consulting was its strong reputation, particularly in this area," says Dr. Härtel, who himself has long years of experience in the automotive sector.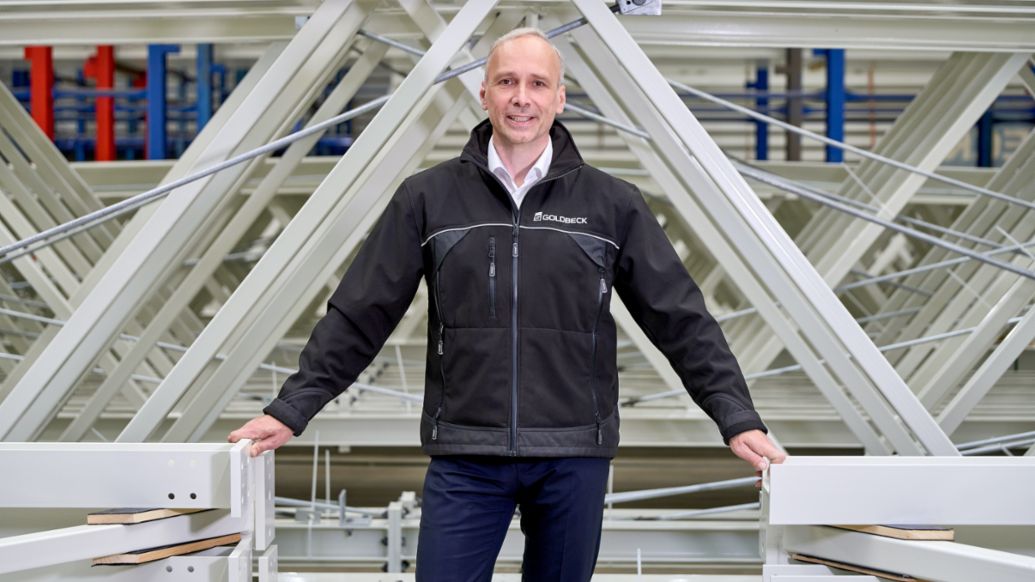 "We wanted to answer the question of what technologies will put us in a good position to produce the construction components we need to further expand our edge over the competition and remain the leader in our field." Porsche Consulting was asked to serve as both sparring partner and technology scout. The project started by defining 27 areas in which to search for new technologies relevant to future-oriented production—from production and intralogistics to delivery. It then closely examined around 200 technologies. As Porsche Consulting project manager Dr. Manuel Schönwitz explained, "We did intensive research in a number of databases and came up with a quite a few new developments." The team finally selected 33 technologies that should soon be put to use. They are now part of the company's toolbox for modular means of renewing existing factories and building new ones. These technologies show a high level of development and stand ready for use. "Practicality and robustness were the main criteria for selection, but also future potential," says Dr. Härtel.

The second part of the project consisted of designing a model layout for future concrete and steel factories. "It's more than just a vision of factories made by modular means," says Dr. Härtel. "Feasibility is also important, because you want to put the vision into practice." The project was completed in June. While still only on paper at the moment, it could soon become reality—and Goldbeck will then have concrete and steel factories whose modular construction and innovative technologies enable them to respond in flexible ways to changing demands.
Info
Text first published in Porsche Consulting Magazine.