Porsche is celebrating the world premiere of the new Panamera at the Beijing International Automobile Exhibition in China – the model's largest market. Among the highlights of the Porsche presence will be the Panamera Turbo S and the Panamera 4S E-Hybrid Executive – the two new models of the range – and, for the first time, fans will be able to visit the exhibition stand virtually.
Tour via smartphone
Visiting via a smartphone has the added bonus of allowing the viewer to see a bit more of Beijing: all virtual tours of the motor show start with a skyscraper in the heart of the city before moving to the Porsche exhibition stand to check out the Panamera Turbo S, Taycan Turbo S and the 99X Electric Formula E car.
Using sophisticated gaming technology as the inspiration, the cars can be viewed against realistic backdrops – for example, the Taycan Turbo S is displayed in a virtual Chinese garden. This virtual world is designed to appeal to Chinese customers as well as Porsche enthusiasts worldwide, and both Chinese and English language versions are available. A special app isn't needed to access the online stand – instead, the web-based application can be accessed via a link.
"For companies like Porsche in particular, there is no substitute for experiencing a product live – whether that is by driving a car or seeing it at a motor show. However, the possibilities for such direct contact are still limited in many regions of the world. With the virtual exhibition stand, we have created a novel way of experiencing the brand by using a mobile device – whether you are in Beijing or thousands of kilometres away," says Ragnar Schulte, Director Experiential Marketing at Porsche.
The new Panamera: the highlight of both worlds
Whether at the virtual or real exhibition stands, the new Porsche Panamera is a special attraction at this year's Beijing International Automobile Exhibition. The vehicle combines the performance of a sports car with the comfort of an exclusive saloon. With the Panamera Turbo S, the sports car manufacturer successfully supports its claim to best-in-class performance. The new top-of-the-range model betters the performance figures of the previous Panamera Turbo by a wide margin.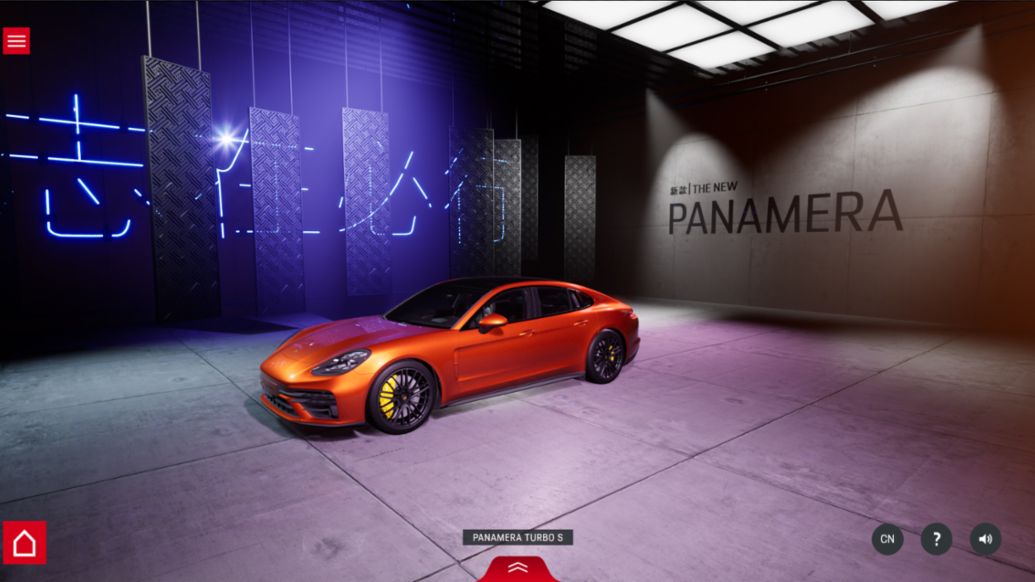 Continuing Porsche's pursuit of its E-Performance strategy, the Panamera 4S E-Hybrid is a new addition to the range of plug-in hybrids, offering a completely new drive system. Compared with the previous hybrid models, the all-electric range has been boosted by up to 30 per cent. Comfort and sportiness both benefit from enhanced chassis components and control systems, in combination with the new-generation steering and tyres.
Info
Visit the virtual Porsche stand via this link.